Coin Race: Top Winners/Losers of November; XRP Steals the Month From Bitcoin
Disclosure: Crypto is a high-risk asset class. This article is provided for informational purposes and does not constitute investment advice. By using this website, you agree to our terms and conditions. We may utilise affiliate links within our content, and receive commission.
Even without looking at the charts, anybody who remotely followed what's been happening in the broad crypto market will have noticed what a great month November was for – some of it. Particularly its second half brought another small spring to many coins, building on top of the October one, with projects turning green left and right, reaching double-digit rises. Major coins including bitcoin (BTC) and ethereum (ETH) surged to levels not seen in years. Others, though few, ended the month in red.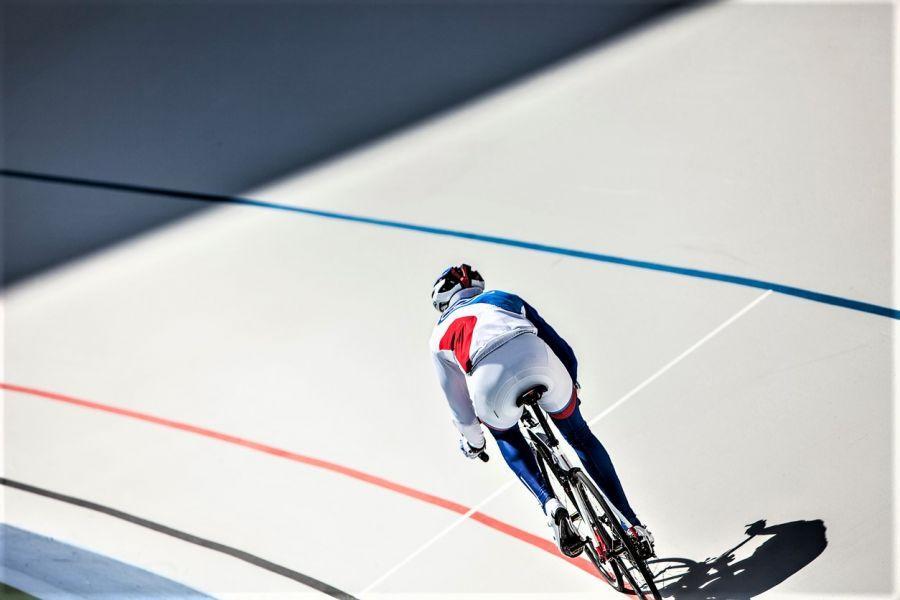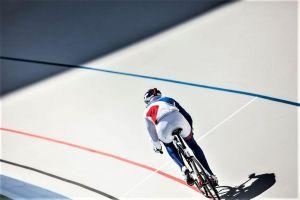 Source: iStock/takoburito
A correction did follow the initial surge, as it often does, and after individual coins had been pulled down, some of them by double-digit percentages, the very end of the month saw plenty of greenery yet again, with the world's number one coin even breaking all-time highs on its path to USD 20,000.
But all was not green. November was good to some, but also quite bloody for others.
And as we enter the last month of 2020, let's take a look at the best and the worst perfumers in the month behind us.
Top 10 coins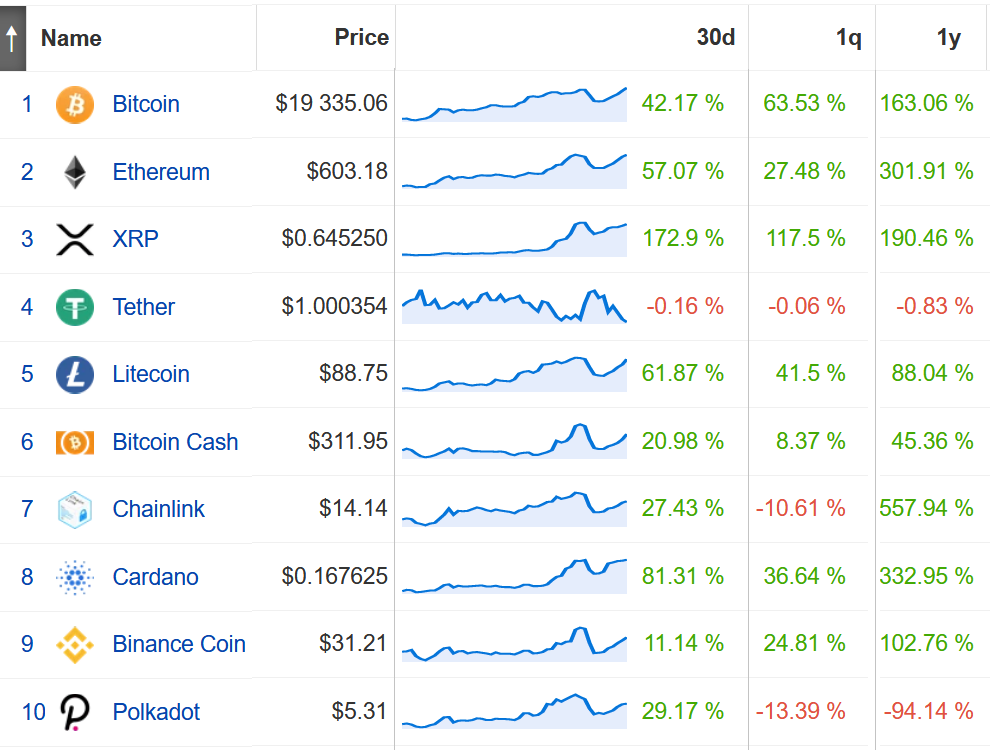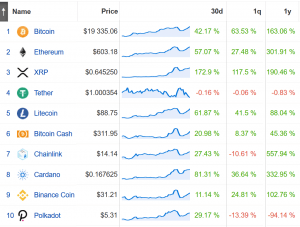 Source: coinpaprika.com, 05:14 UTC
There is no better place to see the fruits of November than on the list of the top 10 coins by market capitalization. It is led by XRP, which over the past month appreciated a whopping 117.5%. It's the only three-digit increase on the list. It was a busy month for XRP-affiliated Ripple, during which a single week saw the coin's price more than double, while the interest in the term 'XRP' on Google search had also reached its highest point in more than two years.
The second place is taken by bitcoin and its 63.53% increase. The number one coin by market capitalization has had an adventurous month so to say, climbing from USD 13,700 at its beginning to nearing the all-time high, dropping as it was about to surpass it, then finally reaching USD 19,696 on the month's very last day.
For some, the price rise and volatility seen by many coins in November, particularly the major ones, and again, particularly bitcoin, was not a surprise. As Cryptonews.com reported, Kraken Intelligence had estimated that after the second least volatile October on record, BTC price and volatility could both be expected to climb in November.
Litecoin (LTC) took the third place, having gone up 41.5%. The coin grew fast over the past month, overtaking bitcoin cash (BCH) and now sitting as the 5th coin by market capitalization. Its price also went from USD 55 to USD 93 at its highest in November.
Cardano (ADA) sat on the fourth place this past month with an increase of 36.64%, and it's followed by the second coin by market capitalization, ethereum (ETH), which appreciated 27.5%. The latter's price went up from USD 386 to USD 621. This was a very important period for Ethereum, which launched its Ethereum 2.0 smart contract in November and is scheduled to launch the very first phase of ETH 2.0, Phase 0, today.
Binance coin (BNB) follows ETH closely with a nearly 25% rise, while the least to appreciate in November was bitcoin cash, with a rise of 8.4%. It was an eventful month for BCH too as it went through yet another hard fork on the 15th.
But as we said – November wasn't just about price appreciation. For some, the month was more volatile than for the others, and two on this list ended it red. Polkadot (DOT) dropped 13.4%, and chainlink (LINK) 10.6%.
Top winners in October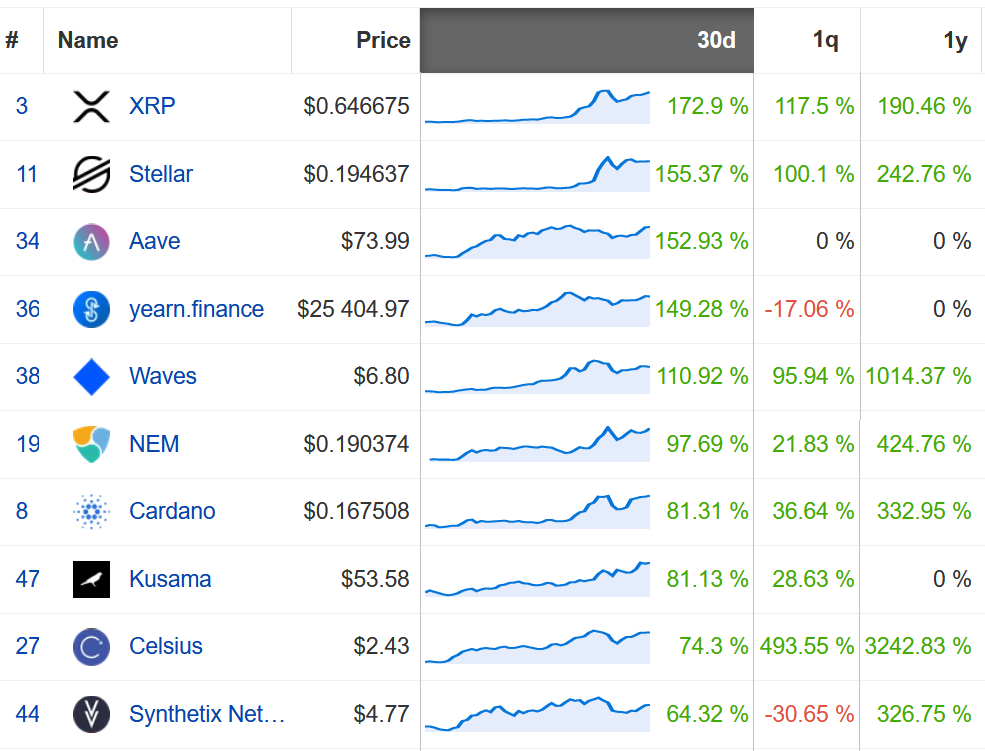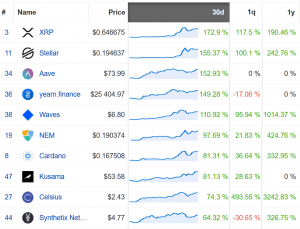 Source: coinpaprika.com, 05:14 UTC
Looking at the top 50 coins by market capitalization, among the 10 best-performing ones, XRP takes the first place yet again.
Relatively closely behind it stand stellar (XLM) and AAVE, both of which have appreciated between 152% and 156%. Two more coins saw three-digit increases, these being the major decentralized finance (DeFi) project yearn.finance (YFI) and WAVES. And while YFI was on the losers' list in October rising to the winners' list now, this is the second month in a row in which WAVES is one of the winners.
Besides XRP, the only other top 10 coin by market capitalization to make it to the "10 best performers among the top 50 by market capitalization" list is cardano. It sits after NEM (XEM) and its nearly 98%, and it's followed by kusama (KSM), celsius (CEL), and synthetix network token (SNX) on the 10th place with a rise of 64.32%.
Top losers in October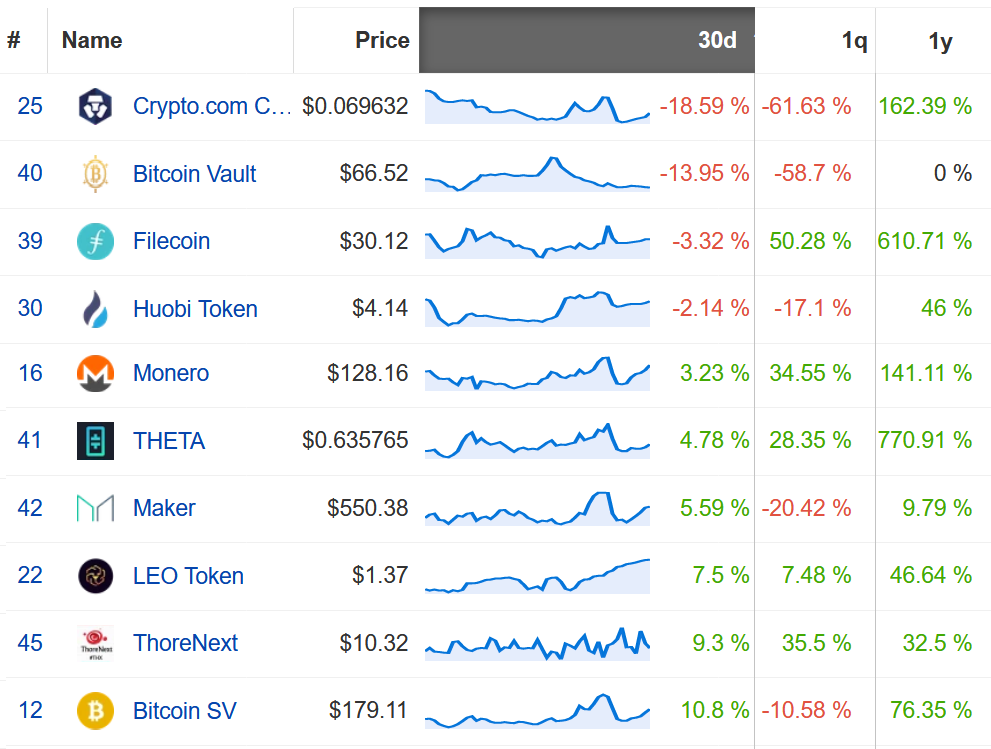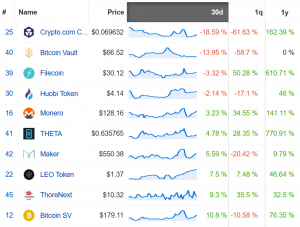 Source: coinpaprika.com, 05:14 UTC
November didn't give us a complete list of 10 worst-performing coins among the top 50, and the drops are relatively small. Instead, we have only four red coins to discuss, out of which crypto.com chain (CRO) dropped the most, 18.6%. Bitcoin vault (BTCV) follows it as the only other coins with a double-digit decrease in its price, of nearly 14% in its case.
Both CRO and BTCV were among the red coins in October as well.
The only two other coins that saw drops in their price over the past 30 days are filecoin (FIL) and huobi token (HT) – and these fell between 2.1% and 3.4%. FIL was one of October's winners, after its creators had finally launched the much-anticipated mainnet.
Winners & losers from top 100
Now looking at the best performers in the top 100 coins by market capitalization category, we find horizen (ZEN) in the first place, with a nearly 190% rise. XRP is right behind it, followed by AAVE, YFI, XLM, THORChain (RUNE), WAVES, and decred (DCR) – all of which have three-digit rises. Status (SNT) is in the 10th place with an increase of 99.4%.
The red list is a lot shorter. Sitting on its top, are SEELE (which was also an October winner) and ABBC coin (ABBC), that dropped by 38.85% and 34.5%, respectively. CRO and BTCV follow it, as well as quant (QNT), sologenic (SOLO), energy web token (EWT), FIL, and HT.
---