CELR Dives After Exchange Listing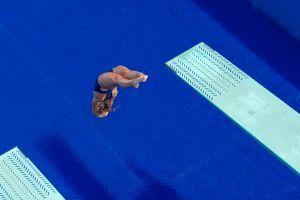 It seems that another token, launched on Binance Launchepad, just followed the similar hype-pump-dump scenario as its two predecessors.
The native token of Celer Network, CELR, has dropped after Binance and Gate.io listed it on Monday. However, it's still up by 190% compared to the token sale price on Binance Launchpad, a token sale platform, a week ago.
The coin is down by more than 21% in the past 24 hours and is trading at USD 0.019416 (UTC 02:19 PM), compared to USD 0.0067 investors paid per coin during the public sale.
CELR price chart: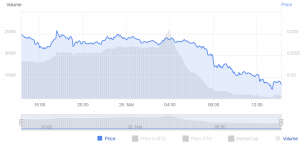 Binance, which at the time of writing is responsible for almost 97% of CELR trading volume, opened trading of CELR against Binance Coin (BNB), Bitcoin (BTC), and Tether (USDT) on March 25th at UTC 4:00 AM, at the coin's all-time high of USD 0.025777, which is also almost four times higher than its token sale price.
After the drop, despite the price is still higher than a week ago, some members of the crypto community have started to criticize Binance.
"We'll see how the market responds to events like this though, and how much it trusts Binance in the future. Do let me know how you think CZ [Binance CEO Changpeng "CZ" Zhao] has made Celer Network profitable for anyone except himself," as Reddit user u/throwawayLouisa puts it.
"Let's call a spade a spade, the @binance Launchpad program is an absolute disaster. It's not only bad for people that are looking to invest, but it's terrible for the company that is a part of this program. Best of luck to @CelerNetwork this is not good look," wrote Twitter user @Brad2pointO.
Last week, Celer Network, a developer of layer-2 blockchain scaling system, raised around USD 4 million in less than 18 minutes during the sale on Binance Launchpad. Moreover, during the sale investors paid half the price of what other investors paid in its private token sale a year ago.
It was the third token sale on Binance Launchpad. After the initial hype, both previously launched tokens - BTT and FET - decreased in value, also.
BTT price chart: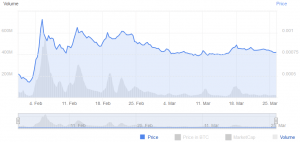 ___
FET price chart: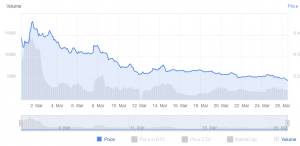 Meanwhile, Binance has announced recently that "the next Binance Launchpad token launch will be conducted as a lottery, instead of a first-come-first-served system." The exchange promised to introduce the next token launch project within the next two weeks.
Binance Coin price chart: