Canada Joins Lebanon and Turkey in 'Bitcoin's Marketing Team'
Disclosure: Crypto is a high-risk asset class. This article is provided for informational purposes and does not constitute investment advice. By using this website, you agree to our terms and conditions. We may utilise affiliate links within our content, and receive commission.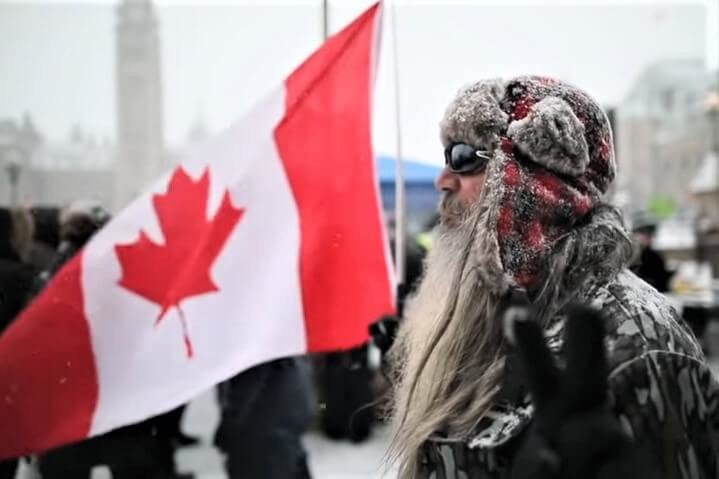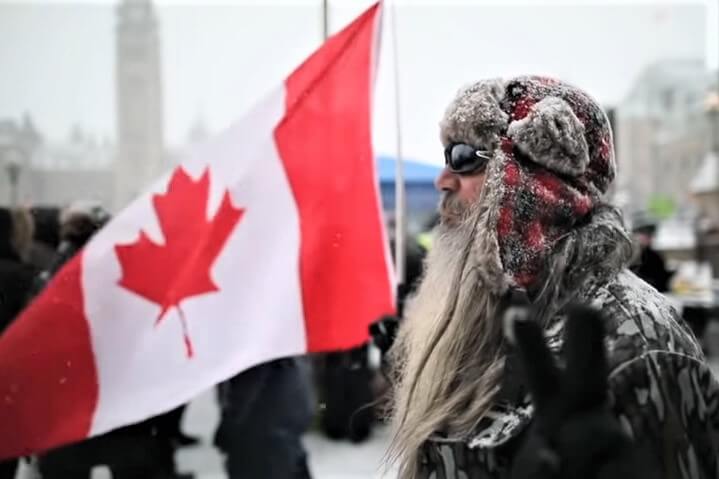 The Deputy Prime Minister and Finance Minister of Canada has claimed that banks in the country could be asked to immediately freeze or suspend the bank accounts of individuals in the country, as the "truck drivers' protest" over Canadian COVID-19 restrictions continues.
The finance chief and Deputy PM, Chrystia Freeland, stated: "We are broadening the scope of Canada's anti-money laundering and anti-terrorist financial rules so they cover crowdfunding platforms and the payment providers they use."
She added:
"These changes cover all forms of transactions, including digital assets such as cryptocurrencies."
This is literal madness.

Canada's Deputy Prime Minister says, under the Emergencies Act, banks can immediately freeze or suspend bank accounts without a court order and be protected from civil liability.

Is this still a free country? pic.twitter.com/IzAALIxzbB

— Greg Price (@greg_price11) February 14, 2022
This last statement will have been most worrying for the nation's many crypto enthusiasts, implying that such measures could also be used to impose cryptoasset wallet freezes and seizures.
In theory, such measures can be enacted without the need for a court order or worries about civil liability.
Freeland justified the government's stance, claiming:
"The illegal blockades have highlighted the fact that crowdfunding platforms, and some of the payment service providers they use, are not fully captured under [existing anti-terrorism legislation]."
The likes of Brian Armstrong, the CEO of the crypto exchange giant Coinbase, was quick to point out that self-custody solutions could help anyone attempting to evade having the government reach into their bank accounts or crypto wallets.
Google searches for terms like "bank run," which briefly peaked in Canada on February 10, began rising again on the news – and are particularly high in Alberta and British Colombia, per Google Trends data.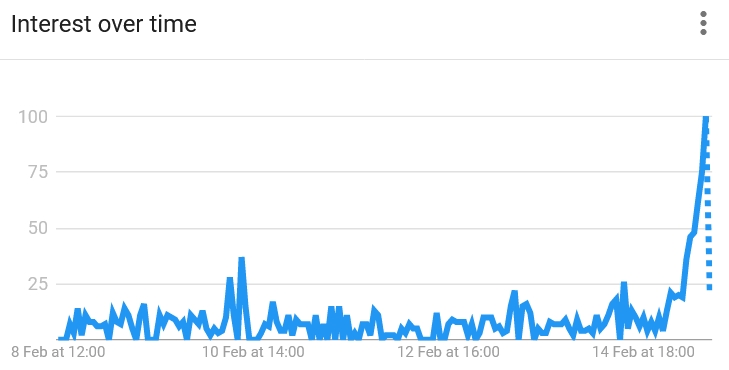 El Salvador's president Nayib Bukele, who has pioneered the adoption of bitcoin (BTC) as legal tender in his country, offered some stinging criticism of the nation so often held up as a bastion of level-headed liberal democracy.
Are these the people who like to give lessons to other countries about democracy and freedom?

This is one of the top ranking countries in the "democracy index"?

Your credibility on these topics is now worth 0.pic.twitter.com/wCjh9bXwDt

— Nayib Bukele (@nayibbukele) February 15, 2022
Meanwhile, it appears that many of the protestors' international backers have been unveiled in a hack on the GiveSendGo Christian crowdfunding site that has helped back the protests to the tune of almost USD 9m.
Vice reported that the "names and personal details of over 92,000 donors" were briefly "leaked online." The majority of donors appear to be United States-based, and many were reportedly religious groups or individuals. Many made reference to "tyranny" in the messages accompanying their donations, the media outlet noted.
Some media outlets have suggested that some support has been sent to protesters in the form of crypto after the government moved to block bank transfers.
The news follows developments in Lebanon, where – for a very different reason – the government is also reportedly considering freezing citizens' assets and delving into their bank accounts. The Lebanese government is reportedly considering the move as a last-ditch attempt to fight inflation. Meanwhile, as reported, the Turkish government is working on plans to get its citizens to hand in 'under the mattress' gold in its latest scheme to prop up the value of its national currency, the lira.
But in all these cases, now Canada including, the solution, for bitcoiners, is the same.
And THIS is why we #BITCOIN.
Doesn't matter if you agree with the protests or not.
Consider if you think it's okay for a gvmt to freeze your bank account for protesting about something you DO believe in. https://t.co/GhijWXkYKB

— Kristin Thompson (@SpeakServeGrow) February 15, 2022
Authoritarian governments are Bitcoin's marketing team.

— Pomp 🌪 (@APompliano) February 15, 2022
Ryan Selkis, the founder and CEO of crypto researcher Messari, responded to the news by writing that the Canadian government's move proved that BTC's "narrative remains the most important thing in crypto."
He remarked that "a modern democracy just labeled political opponents domestic terrorists."
The protests – which have seen trade almost screech to halt in Canada due to extensive road blockages and closures – saw Ottawa enact a state of emergency earlier this month. But despite widespread condemnation from many international observers, who claim that QAnon conspiracy theorists and anti-vaxxers are behind the protests, others have claimed that draconian measures could compromise Canadian democracy.
In an opinion piece, the New York Times wrote:
"Allowing non-violent, even if disruptive, protest is an important tool for maintaining social cohesion in a polarized society."
____
Reactions:
More of this is coming like a tsunami. And there is only one government hard money. pic.twitter.com/JBRl7V0TyF

— Heavily Armed Clown (@heavilyarmedc) February 15, 2022
"With no need for a court order, banks will be able freeze personal accounts of anyone linked with the protests."

This time it's "their" protest.

Next time it's yours.

The banking system should not be a weapon used by governments on their people.

We need a new banking system.

— RYAN SΞAN ADAMS – rsa.eth (@RyanSAdams) February 15, 2022
the funny thing is getting into Bitcoin tends to dramatically increase your risk of asset seizures/immobilizations by the state.

— nic 🌠 carter (@nic__carter) February 14, 2022
Cryptocurrencies are the most democratic systems of money, assets and markets in the world.

Anyone who is anti-crypto is anti democracy.

— AdrianoFeria.eth 🦇🔊 🛡️ (@AdrianoFeria) February 15, 2022
Anyone who has a truck at a Canadian protest, send me an LN invoice or BTC Address, I'll send 22k sats ($10) to the first 5.
I will send directly to a protester, not a fund. #honk

— Sachin Meier (@SachinMeier) February 15, 2022
Sure, the US regularly halts financing of Hamas et al. Why not do the same here? These assholes are terrorizing ordinary Canadians and costing the country's economy hundreds of dollars in lost trade

— Jeff Roberts (@jeffjohnroberts) February 14, 2022
https://www.twitter.com/prestonjbyrne/status/1493436320877846531
I'm not aligned with the truckers but shutting down bank accounts of protestors strikes me as too much like the shit the CCP does to cripple critics in Hong Kong. You lost the plot if you call yourself a liberal democracy while calling people you disagree with "terrorists".

— Warren Togami (@wtogami) February 15, 2022
They want CBDCs because they want to be able to turn your money off.

There is no other reason.

— Eric Yakes (@ericyakes) February 15, 2022
Two days ago I thought this was a joke.
Canadian government: 'Hold my beer'.#cryptofixesthis pic.twitter.com/GbTF1sK6P6

— $in¢lair Davidson (@SincDavidson) February 15, 2022
____
Learn more:
– Bitcoin Is More 'Public' Money than Central Bank-Issued Fiat Currencies
– Canadian Trucker Protesters Eye Bitcoin Amid Court-Ordered Fund Freeze

– Canadian Tax Agency Launches Audit To Thwart Crypto Tax Evasion
– What's Behind the KPMG Bitcoin & Ethereum Hype?

– Ontario Teachers Keep Investing in FTX Which is Not Available in Ontario
– How Global Economy Might Affect Bitcoin, Ethereum, and Crypto in 2022
---