How to Buy Memag Token – Step-by-Step Guide for Beginners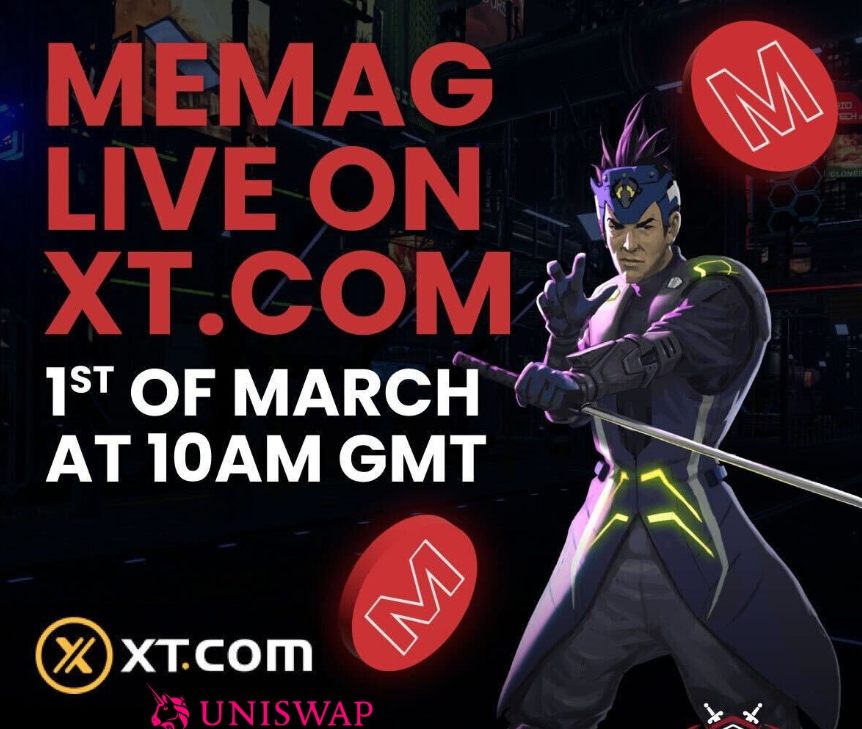 Disclaimer: The Industry Talk section features insights by crypto industry players and is not a part of the editorial content of Cryptonews.com.
Meta Masters Guild is tipped to be one of the hottest crypto presales of 2023. The project is building an innovative ecosystem that will enable players to enjoy play-and-earn crypto games in a fun, secure, and decentralized manner.
In this beginner's guide, we explain how to buy Memag tokens at the best price possible.
The presale has now closed after the $4.97 million hard cap was reached in just five weeks, with Memag tokens now available to purchase on XT.com and Uniswap.
We also offer some insight into the Memag project so that investors can make an informed decision on the prospect of its play-and-earn concept.
What is Memag?
Did you know that MEMAG is one of the best AI crypto projects in 2023? Meta Masters Guild is a brand-new blockchain project that is looking to bring its innovative play-and-earn concept to the masses. There is a clear difference between the better-known play-to-earn model to that of the play-and-earn phenomenon being brought to the market by Memag.
Put simply, play-and-earn ensures that the primary focus is on the enjoyment of the respective game. When there is mass enjoyment, this will enable the play-and-earn game to thrive in a sustainable manner.
In comparison, the play-to-earn concept is largely focused on earning money, which is an unsustainable model to incorporate in the long run. Memag defines itself as a gaming 'Guild'. For those unaware, this means that Memag will sit between gamers and gaming developers.
In other words, the Memag ecosystem will partner with some of the best up-and-coming developers in this space - meaning that players will have access to a wide variety of titles. As per the Memag whitepaper, three games have already been commissioned.
This includes Meta Masters Word, Raid NFT, and Meta Kart Racers - more on this later. Irrespective of the title, all games that will be hosted in the Memag ecosystem will enable players to earn rewards. This will incentivize players to remain active in the game long-term.
There are actually two digital currencies that are unique to the Memag project. First, there are 'Gems'. In a nutshell, when players generated rewards through gameplay, they will be rewarded in Gems tokens. The second, and primary token is 'Memag'.
Memag sits at the heart of the project's ecosystem and this will be traded on both decentralized and centralized exchanges once the presale concludes. When players earn and accumulate Gems, they can exchange the tokens internally to Memag.
Alternatively, Gems can also be used for a variety of purposes within the Memag ecosystem. This includes the ability to buy in-game assets. Moreover, all in-game assets are backed by NFTs on the Ethereum blockchain - which means they can be bought, sold, and traded on the open marketplace.
Ultimately, those looking for cryptos with the most potential might wish to explore the Memag.
There were several stages to the Memag crypto presale, with the tokens increasing in price from $0.007 in stage 1 to $0.023 in stage 7.
However, as mentioned above, the presale has now finished and Memag is listed on XT.com and Uniswap.
Join the Meta Masters Guild Telegram group for the latest news and announcements on the project.
How to Buy Memag Token – Full Tutorial
Investors that have prior experience in crypto presale launches will likely know the required steps to complete the purchase.
Beginners, however, might need some guidance.
Therefore, in this section, we offer a step-by-step tutorial on how to buy Memag tokens via presale in under 10 minutes.
Update: These are instructions for the presale, which has now ended. Memag is now available to purchase on XT.com and Uniswap.
Step 1 – Set Up a Crypto Wallet
As is the case with all new coin listings, the Memag presale requires investors to have access to a crypto wallet.
There are multiple wallets that can be used to invest in the Memag presale, but many would agree that MetaMask is the best option.
MetaMask is used by tens of millions of traders from all over the world and it is supported by several device types. This includes a mobile app for iOS and Android smartphones.
For an even smoother investment experience, consider downloading the MetaMask browser extension - which is supported by Google Chrome, Microsoft Edge, and Firefox.
Once MetaMask has been downloaded, the investor will need to set up a new wallet. This requires the investor to choose a password and write down the 12-word backup phrase displayed on-screen.
Step 2 – Buy Ethereum
The Memag presale supports two cryptocurrencies as a means of payment - Ethereum or Tether. Either will do, but for the purpose of this step-by-step walkthrough, we will explain the steps with Ethereum - the world's second-largest cryptocurrency.
The most cost-effective way to buy Ethereum online is to use a crypto exchange like Binance.
The reason for this is that it takes just two minutes to open an account with Binance and subsequently complete the KYC process.
After that, investors can buy Ethereum with a debit/credit card or bank transfer.
The other option is to buy Ethereum via the Memag presale dashboard with a debit/credit card. the payment will be handled by a third-party processor and fees will likely amount to 3-5%.
Step 3 – Transfer Ethereum to MetaMask
Assuming that Ethereum was purchased from a crypto exchange like Binance, the next step is to transfer the tokens to MetaMask.
In order to do this, the investor will first need to copy their Ethereum deposit address from the MetaMask interface.
This is displayed beneath 'Account 1'.
Click on the 'Copy' icon.
Then head over to the crypto exchange that is holding the Ethereum tokens. Request a withdrawal from the exchange and paste the receiving address that has just been copied from MetaMask.
In most cases, an Ethereum transfer from a crypto exchange to MetaMask will take around five minutes to process.
Step 4 – Connect MetaMask to Memag Presale
At this stage, the MetaMask wallet should now have a suitable amount of Ethereum or Tether tokens.
The next step is to connect the MetaMask wallet to the Memag presale dashboard.
First, visit the Memag presale website and click on 'Connect Wallet'.
When prompted, select 'MetaMask' as the chosen wallet.
Upon opening the MetaMask wallet, there should be a notification asking the user to confirm a connection with Memag. Confirm this and proceed to the final step.
Step 5 – Buy Memag Crypto Tokens
MetaMask should now be connected to the presale. All that is left for the investor to do now is to specify how many Memag tokens they wish to buy.
After confirming the purchase, one final confirmation via MetaMask will be required.
Open the MetaMask wallet again and confirm the Memag presale order.
After the presale has finished, go back to the Memag presale website and claim the tokens. The Memag tokens will then be deposited into the same MetaMask wallet that was used to make the investment.
A Closer Look at Memag
Now that we have explained how to buy Memag tokens via its much-anticipated presale launch, we can now dive a little bit deeper into the project itself. This will enable investors to have a 360-degree overview of what Memag is looking to achieve in both the short and long term.
As noted earlier, the overarching concept being developed by Memag is play-and-earn. This means that players will be able to generate real-world rewards simply by playing games that are hosted in the Memag ecosystem.
However, unlike play-to-earn, play-and-earn ensures that the overarching focus is on quality games that will be enjoyed by the masses. Another thing to note about Memag is that it is a gaming guild. As such, it will not be designing games itself.
On the contrary, Memag is partnering with a wide range of developers that in turn, will provide games for its guild framework. This benefits players greatly, as they will have access to a sizable selection of games from various genres.
For example, as the name suggests, Meta Mart Racers is a play-and-earn game centered on racing. This is a player-vs-player game, so users from all over the world will be able to compete with one another via racing championships.
Another important metric to note is that Memag will be hosting mobile games exclusively. This is a smart move by Memag, considering that mobile gaming continues to grow exponentially year-on-year. This will also open Memag to the masses, as players simply need access to a smartphone to enjoy its games.
Memag Tokens – The Heart of the Memag Ecosystem
As noted above, this project is backed by Memag tokens. Memag operates on the Ethereum blockchain and as such, it follows the ERC-20 standard.
This proof-of-stake coin offers real-world utility, which is one of the most important factors to consider when searching for the best crypto to buy. The core utility is that users will play games not only for enjoyment, but to earn Memag tokens.
As a result, Memag is tipped to be one of the fastest-growing cryptocurrencies in 2023. When playing games, users will initially earn Gems. Users can, however, exchange Gems into Memag tokens. The user can then decide to swap their Memag for other tokens, such as Ethereum.
The other option is to stake Memag tokens. This enables users to grow their Memag allocation and subsequently earn passive income. Staking yields are yet to be announced so this is something to keep an eye on.
The total supply of Memag is 1 billion tokens and, of this figure, 35% has already been sold via the presale, which raised $4.97 million in just five weeks to sell out.
Now that the Memag presale has concluded, the tokens will be listed on exchanges. According to the Memag whitepaper, the listing price will amount to $0.023.
Memag tokens are now listed to purchase on XT.com and Uniswap.
For more information, join the Meta Masters Guild Telegram group.
Is Memag a Good Investment? Key Points
Investors should always do their own research when contemplating a crypto asset investment.
Nonetheless, in this section, we explore whether or not Memag has what it takes to become the best future cryptocurrency project of 2023.
Sustainability
The Memag whitepaper makes it clear that the ultimate focus is sustainability. The reason for this is that many crypto games entering the market in the prior 1-2 years are no longer in operation. Crucially, this is because play-to-earn developers place an unsustainable emphasis on 'profit'.
In other words, users are primarily drawn to play-to-earn crypto games with the sole purpose of making money.
However, as explained by Memag, this ultimately results in an unsustainable economic model that will eventually see the respective play-to-earn token lose substantial value, not to mention a significant issue with liquidity.
In contrast, Memag games will prioritize fun and enjoyment first, with earning capabilities naturally following suit. This means that Memag games will be designed to last in the long term and thus, this is a solid business model to incorporate.
Mobile Gaming
Memag is specializing in mobile games and according to a recent study by Newzoo, mobile gaming was worth $92.2 billion in 2022 - as much as console gaming ($51.8bn) and PC gaming ($38.2bn) combined - and will be worth at least $103 billion by 2022.
It is much more attractive to casual players as, after all, more than 90% of the global population now have access to a mobile phone. Playing games on a mobile is a lot more accessible when compared to legacy consoles like PlaySation or XBox.
This means that users from all over the world can simply load up their mobile phone, download the respective app, and begin enjoying play-and-earn games.
Gaming Guild
One of the biggest mistakes that play-to-earn projects make is that they design their own game. This means that the project will allocate vast resources to building a game that could take several years to truly develop.
Once again, this isn't a business model that is likely to remain sustainable in the long run.
In contrast, and as noted earlier, Memag is actually building a gaming guild.
This is essentially an ecosystem that enables top-rated developers and indie studios of all shapes and sizes to develop games for the Memag community.
From the perspective of players, this means that there will be plenty of options when it comes to choosing a play-and-earn game.
For example, those that enjoy racing games can consider playing Meta Kart Racers, which is expected to launch in late 2023 and will see players purchase and upgrade karts and drivers and race in player-vs-player and solo modes for rewards.
Another game, Raid NFT, will likely appeal to players that enjoy turn-based fantasy games, while Meta Masters World is an open-world metaverse where players roam, explore, collect resources and complete missions.
Earn Passive Income
Another reason why investors might elect to buy Memag tokens is that the ecosystem is set to offer a staking feature.
This means that long-term investors can enjoy passive income simply by depositing their tokens into the Memag staking tool.
More details about staking yields and lock-up periods are set to be released soon.
$100,000 Giveaway
The cryptocurrency industry is hugely competitive and as such, many newly launched projects are offering generous giveaways as a means to get the word out to the masses.
In the case of Memag, investors have the chance to win $100,000 worth of tokens.
The first stipulation to stand a chance of winning this giveaway is to ensure that at least $150 worth of MEMAG tokens are held.
Based on an approximate price of $0.007 in stage one of the presale, this amounts to just over 21,000 Memag tokens.
Once this criterion has been met, investors will then need to gain ticket entries to the giveaway. In total, each investor has access to 11 tickets.
Each ticket is earned by completing a basic task. This includes entering the crypto wallet address used to make the presale purchase, following Memag on Twitter, and visiting the project on Reddit.
Memag Price Forecast
It is wise to avoid Memag price predictions developed by third-party analysts. After all, crypto prices are largely unpredictable. Moreover, the health of the broader crypto market will generally dictate the price action of individual tokens.
With that said, it is possible to assess the future price of Memag based on its presale campaign and subsequent exchange listing.
As we covered earlier, stage one of the Memag presale prices the token at 0.007 USDT
Stage two will increase the presale price of Memag to 0.01 USDT
Therefore, those investing in stage one already had an upside of over 40%
Once Memag is listed on a crypto exchange, it will be priced at 0.023 USDT
As such, an investment in stage one of the presale at 0.007 USDT will result in an upside of over 230% once Memag is listed on an exchange.
This once again highlights why Memag has already been one of the best upcoming ICOs of the year.
The Verdict?
To summarize, Memag carries all of the requirement hallmarks to become one of the best crypto presales of 2023 and beyond.
Not only is it developing a sustainable play-and-earn concept, but as a guild, its ecosystem will host multiple games. And as such, this will ensure that its gaming portfolio is enjoyed globally by the masses.
As mentioned above, the Memag token presale is now closed, with tokens now available to purchase on XT.com and Uniswap.
FAQs
How do I buy Memag tokens?
Memag tokens are now available to buy on XT.com and Uniswap.
What is the price of Memag?
Memag tokens are currently trading at around $0.02 at the time of writing.
Is Memag a good investment?
Memag is building an innovative gaming guild ecosystem that will host a wide range of play-and-earn games. Each game will be available to play on iOS and Android smartphones. From an investment perspective, should the project take off in 2023, the upside potential could be attractive - especially considering the hype around the presale, which sold its $4.97 million hard cap in just five weeks.
What is the total supply of Memag tokens?
The total supply of Memag is 1 billion tokens. 350 million tokens have already been sold during the presale. The balance will be allocated to various segments, including but not limited to development, liquidity, and exchange listings.
---