Blockchain.com Aims At 1B Wallets by 2030; Some Doubt Their Numbers
Major crypto company Blockchain.com says that, over the course of the next decade, they're planning to hit 1 billion wallets. Some, however, doubt their claim that they make a third of all Bitcoin (BTC) transactions.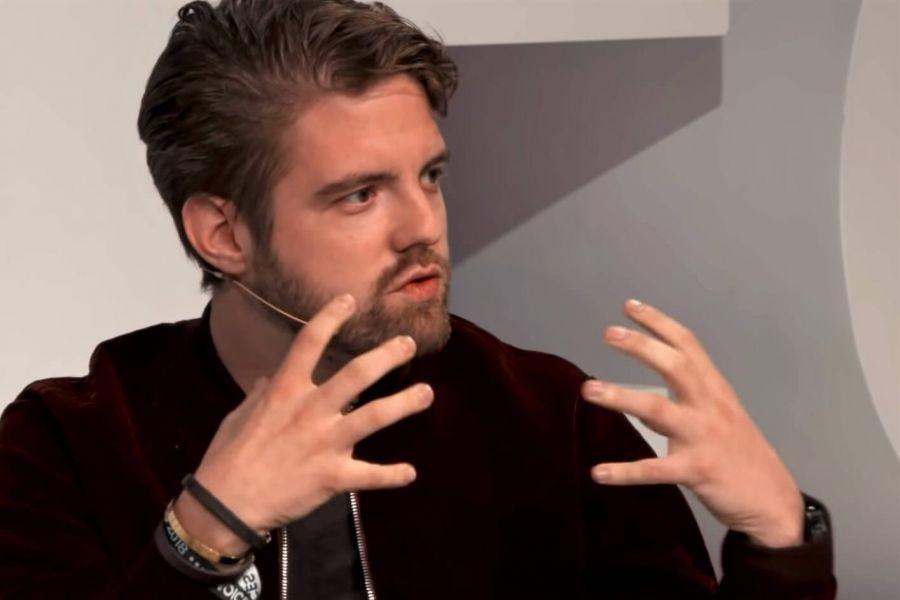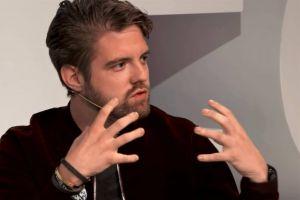 Discussing their achievements since their establishment in 2011, Blockchain.com states that they're "about to hit a huge milestone for the company" with 50 million wallets created. However, "today, I'm announcing our goal of getting to 1B wallets by 2030," writes CEO and Co-founder Peter Smith. As a reminder, one user can have multiple wallets.
Smith argues that it's all about making crypto mainstream and making people financially sovereign. The company believes that the internet will have its own financial system, and that system is crypto. This new system will be "enormous," more people will be pouring in it, and there will be crypto assets traded, as well as tokenized financial assets and instruments.
Among their achievements in the last nine years, the company highlights that they "now make up 1/3rd of all bitcoin transactions." They add that, since the beginning of May, they "made up 32% of all BTC transactions just within the Blockchain.com Wallet." If the Trading API and Exchange are included, it's "well over 33%." Since 2012, Blockchain.com made up 27% of all BTC transactions, the company claims.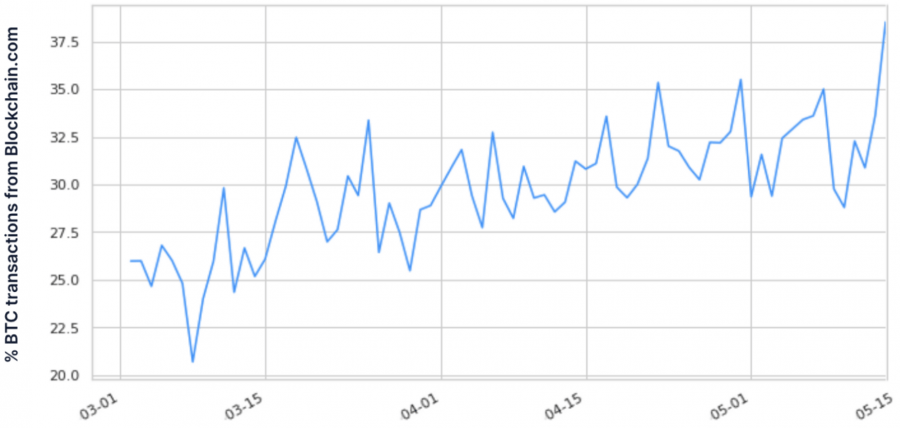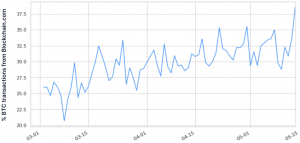 Some commenters, however, are questioning these claims, stating that Blockchain.com has no evidence to support their 32% claims and the numbers they provided, nor is it possible to verify those.
Bitcoin developer and Open Source Engineer at Square Crypto, a crypto-focused branch of Square mobile payment company, Matt Corallo, has had some doubts about the number of transactions, adding that the company was "way off when it comes to [transaction] stats. But, at least the past 2 hrs, about 50-66% of non-Segwit [transactions] use their fee estimates (their claim is 66)." Corallo also shared a chart he says "trivially disproved various Blockchain Com claims about their [transaction volume]" a few years back.
CEO at Stockholm-based digital gift cards and mobile phone refill provider Bitrefill, Sergej Kotliar, says Blockchain.com counts transactions, while most custodials do batching. The numbers seem high, but not unlikely in his opionion. He wondered if its possible to estimate their market share by counting non-SegWit transactions.
We asked Blockchain.com for a comment and will update should they reply.
Blockchain.com also announced a refreshed logo and website, updated blockchain explorer, new features built directly in the wallet, adding USDT and Algorand (ALGO) in the wallet, interest accounts, margin trading, expansion of the Borrow option globally, adding support of XRP trading pairs against USD, EUR and BTC, buying crypto with a credit or debit card globally on Visa and Mastercard networks, enabling a direct connection to a bank, etc.
---