BitTorrent Tokens Sold Out in Minutes, Sceptics Cry Scam
A public sale of 59.8 billion BitTorrent Tokens (BTT), worth around USD 7.2 million, sold out in a matter of minutes on major cryptocurrency exchange Binance's token sale service Launchpad. However, some members in the crypto community are in disbelief that such enthusiasm could end well.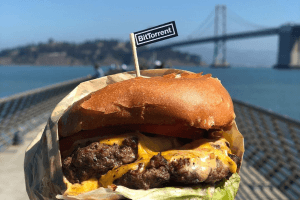 "I'm getting visions of Bitcoin Private all over again. Good luck guys," writes Reddit user u/flamingowax, referencing how the Bitcoin fork caused a lot of hype before crashing.
"Most of the crypto 'community' share a common interest (albeit, a toxic one), and it's this ego-driven obsession of constant growth that can have a negative impact on us all. Time for thing's to change and return to the roots of honesty, trust and sharing a passion with this community that's thriving, otherwise this movement won't go anywhere," adds another Reddit user u/ballsacul.
Others are not mincing their words. "You all just handed scammy AF JSun your money," says u/hashparty. Meanwhile, u/bannercoin thinks this is all a scheme to drive TRX and BNB up: "BNB and TRX both required to buy into the ICO. Now both of those tokens will get hit hard. What other reasons can Sun [Justin Sun, founder of Tron and CEO of BitTorrent] and CZ [Changpeng Zhao (CZ), CEO of Binance] come up with to keep scamming people into buying TRX and BNB?"
The most common reply to the news of the sale, however, is simple disbelief in the value of BTT: "[Don't worry] guys, we'll be able to buy it 80% below ICO price," says u/YouPoro. "'Only 962 participants got into sale, buying the bulk of the vaporware tokens.' Will dump at a premium on retail market," believes u/CryptoToit.
Meanwhile, the CEO of Binance announced that "Tron team generously agreed to do a small airdrop":
Separately, on February 11th, 2019, BitTorrent Foundation will initiate its first airdrop of BTT to TRON holders.
Also, BitTorrent warned that it "registered an important number of fraudulent websites, ICOs, and airdrops offering so called BitTorrent (BTT)."
Yesterday, January 28th at UTC 3 PM, two separate sale sessions for BTT started on the Binance Launchpad - one for investors paying with Tron's TRX token, and the other for those paying with Binance's BNB token. According to sale information on the Binance website, each BTT token was valued at USD 0.00012 during the sale. According to a tweet from Justin Sun, the 23.76 billion token cap for the BNB session was reached in just 13 minutes and 25 seconds, while the 35.64 billion token cap for the TRX session was fulfilled in 14 minutes and 41 seconds.
The Launchpad platform was actually dealing with technical difficulties during the sale, and Changpeng Zhao tweeted, "Both sessions concluded. Took about 18 minutes, due to a system issue, would have taken 18 seconds otherwise. Demand was astronomical."
BTT is based on a Tron TRC-10 token, and will be used on the platform to "transact in computing resources shared between BitTorrent clients and any other participating service requesters and service providers."
TRX price chart: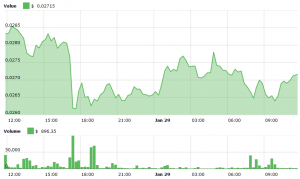 ____
BNB price chart: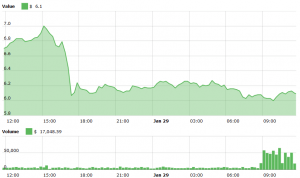 ---