Bitcoin SV Pushes Monero Out of Top 10 Coins
Less than two weeks old Bitcoin SV (BSV), the Bitcoin Cash (BCH) fork, just pushed Monero, the most popular privacy coin, out of the top 10 biggest cryptocurrencies by market capitalization, and and is now moving around the top 7-10 coins.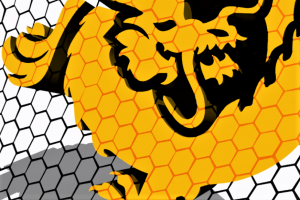 BSV had been resisting a permanent split previously, until CoinGeek, previously largest BCH mining pool and chief backer of BSV, formally called for an end to the hash war.
Following the end of the war, Bitcoin ABC retained the Bitcoin Cash ticker in most places, while BSV, backed by infamous Craig Wright, dubbed as Faketoshi, is considered a separate cryptocurrency. The former is still the fourth-largest cryptocurrency by market cap, while the latter took the 7th place above the likes of Litecoin, Cardano and Monero, before moving down.
Top 10 coins: (UTC 10:53 AM)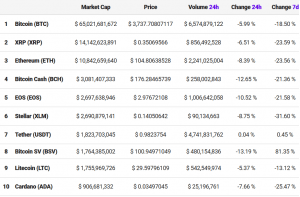 ____
The coin's jump mimics that of Bitcoin Cash itself from more than a year ago: only a few days after its fork from Bitcoin, BCH made it into the top 5 coins in August of 2017 and it's still there.
The difference in market capitalization of BCH and BSV - around USD 1.3 billion - is slightly offset by the fact that BSV is still on a relatively upward slope compared to the rest of the market, having more than doubled in the past few days.
Also, the 24-hour volume of Bitcoin ABC is around USD 280 million, while Bitcoin SV boasts USD 490 million. Although Bitcoin ABC won the allegiance of major crypto exchanges, BSV was trading on Binance against USDT and BTC with a volume of almost USD 230 million, and on Upbit against the KRW, volume of USD 181 million earlier today. In comparison, Bitcoin ABC is also traded on those exchanges, but Upbit saw the volume at USD 108 million, while on Binance it's USD 77 million.
Another major exchange, Coinbase, announced recently that it "intends to allow customers to withdraw BSV at a future date, though we do not currently intend to support trading, buys or sells."
Bitcoin SV price chart: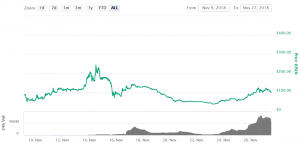 Development plans
"We plan to open development of systems that will have billions of people using Bitcoin [SV] in the coming years, without even knowing that they are using Bitcoin," he said in a recent Medium post. The BSV website provides a a list of services integrating support for BSV; however, it also notes that "some on this list support multiple BCH implementations, but many below choose to only support SV."
Also, in a press release, CoinGeek founder Calvin Ayre said, "Although ABC may keep the damaged BCH ticker symbol, BSV is winning over BCH's native application ecosystem in droves. We look forward to out-competing BCH (and BTC) in the marketplace, rather than in further chain battles."
Ayre added that, "Bitcoin SV is the original Bitcoin, not the original Bitcoin Cash." He later refers to Bitcoin as "Segwit BTC" in the article, accusing supporters of both BTC and BCH of having "tinkered it [Bitcoin] to death," as their cryptocurrencies "abandoned Bitcoin's core principles by abandoning Nakamoto consensus and trust in miners' Proof of Work."
As to who really won, according to data aggregator Coin Dance, BCH ABC has been accumulating more proof-of-work (PoW) than BSV since the date of the split. Other signs suggesting that BCH ABC has come out ahead include platforms like CoinMarketCap merging BCH and BCHABC listings, and cryptocurrency hardware wallet Ledger, which resumed its BCH services in the form of BCH ABC only.
---