Best Crypto to Buy for Reddit Fans - Wall Street Bets Movement & Top NFT Project Inspire New Meme Coin $WSM – Time to Buy?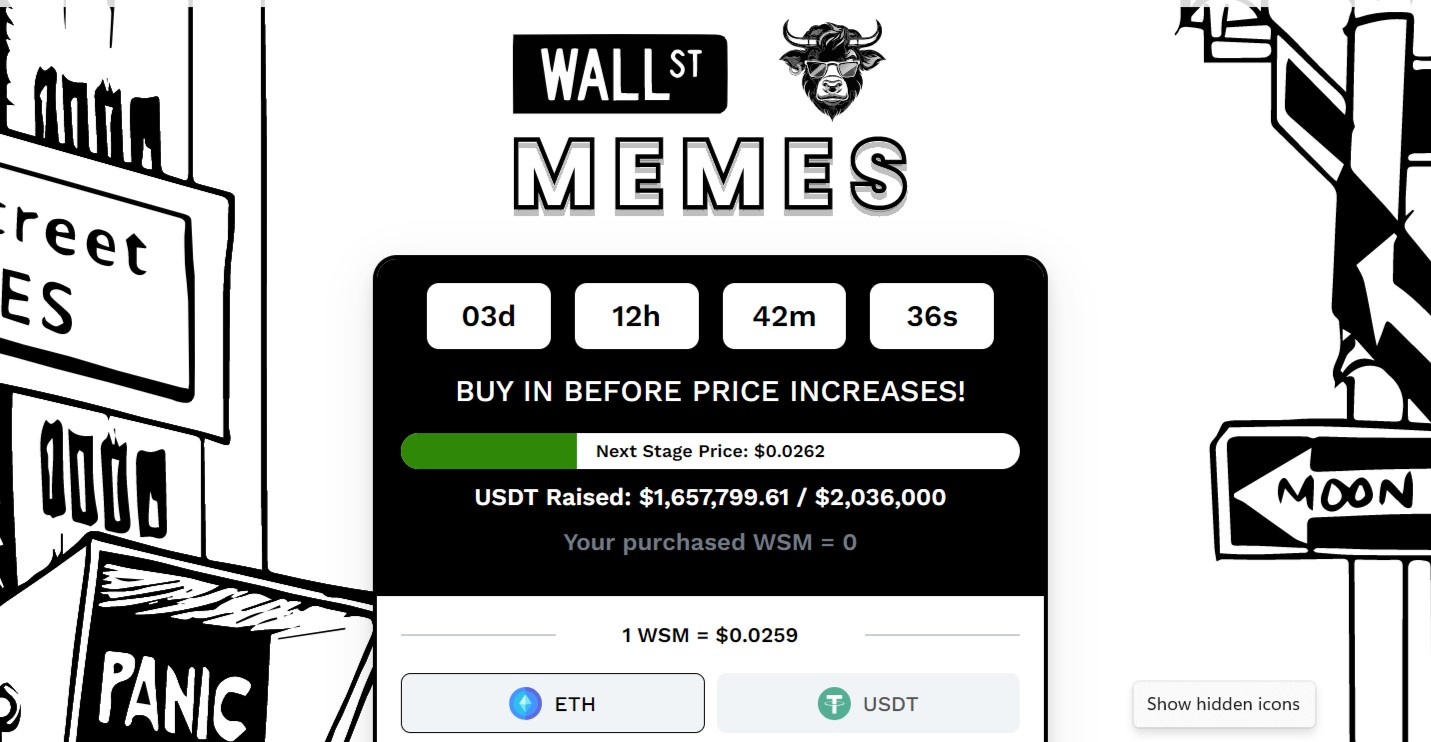 It's not often a project comes along with the potential to significantly disrupt an entire crypto industry vertical, but the Wall Street Memes ($WSM) token presale, inspired by the Wall Street Bets Movement and top NFT project, is doing just that.
With the promise of a complete shake-up of the meme coin world, Wall Street Memes is garnering substantial attention from retail investors worldwide.
The $WSM Presale: An Investment Not to Be Missed
Wall Street Memes is indeed not just any meme community, boasting an engaged audience of over a million across various social platforms, including Twitter, the community's relevance and reach have even caught the eye of billionaire innovator Elon Musk.
The presale for their token, $WSM, has already soared past the $1.3 million mark in less than a week, with investors racing to secure their stake in what could be the next big meme coin.
Priced currently at $0.0259, investors have an exclusive window of opportunity to capitalize on the next price increase to $0.0262 as the presale proceeds.
The rate at which tokens are being scooped up is staggering, with daily figures exceeding +$300,000.
This rapid uptake implies that early investors could be sat on over 30% paper gains by the end of the presale, with further price appreciation expected once $WSM gets listed on major exchanges later this year.
Transforming the Power Dynamic: Wall Street Memes Strikes Back
This is not the first time Wall Street Memes has made waves in the digital asset markets.
The group's Wall Street Bulls NFT collection sold out in a mere 32 minutes, netting a cool $2.5 million.
Born from the retail investor uprising against institutional dominance, Wall Street Memes has turned this sentiment into a brand, tokenizing the movement with the $WSM token.
But there's more to the $WSM token than meets the eye - this coin is not merely a memetic representation of a moment; it's a project poised to redefine the power dynamics surrounding how markets view digital value.
The $WSM Opportunity: A Strong Case for Investors
Analysts predict the sizeable Wall Street Memes community almost guarantees $WSM's listing on tier 1 crypto exchanges such as Binance, leading to significant bullish drives for the token.
Wall Street Memes has a firm commitment to empowering its community.
Notably, a generous 30% of the total token supply is set aside as community rewards, with a current competition promising a bountiful $50,000 $WSM airdrop to five lucky members.
With these many compelling aspects, it's little wonder that crypto enthusiasts are predicting big things for $WSM.
Indeed, with exchange listings, improved accessibility can result in increased trading volume and liquidity, which often positively impacts the token's price.
As the presale continues to surge ahead, there's never been a better time to get involved.
With the clock ticking and price set to increase, it's an investment opportunity that won't wait.
Join the Wall Street Memes revolution today - get your $WSM and be part of the story as the King of Stonks becomes the King of Meme Coins.
---