Akon Joins Brock Pierce's Presidential Campaign + More News
Get your daily, bite-sized digest of cryptoasset and blockchain-related news – investigating the stories flying under the radar of today's crypto news.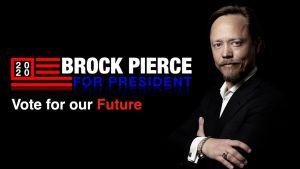 Business news
Akon, a singer who's been spending most of his time building a "crypto city" in his native Senegal, will be joining Brock Pierce's presidential campaign. This was confirmed by the 2020 candidate via Twitter. Akon will serve the campaign team as chief strategist.
Bella, a crypto company behind the decentralized finance (DeFi) project Bella Protocol, raised USD 4 million in seed funding. Per the press release, the company said the round was led by Arrington XRP Capital, with participation from Alphabit, Koi Ventures, Force Partners, RockX, and a number of others.
Hash based accumulator Utreexo researcher and developer Calvin Kim is the winner of 100x Group's one-year grant, the company announced in a press release. The USD 40,000 grant was given to Calvin for being "instrumental in the development of the first demonstration release" of Utreexo. This marks the end of a series of USD 615,000 of 100x Bitcoin developer grant commitments announced in 2020, said the announcement, with the program set to start again in the summer of 2021.
Regulation news
The Deputy Secretary of the Security Council of the Russian Federation has called crypto "innovative" – but has also warned of "associated risks." In an interview with media outlet Argumenty I Facti, the council's Oleg Khramov called on state bodies to step up their regulation of crypto, stating that only with state intervention could tech firms in the country provide the "required level of protection against rapidly growing and dynamic IT threats." The council orchestrates Russian national security affairs-related policies.
The UK's main financial regulator, the Financial Conduct Authority (FCA), proposed a new policy under which crypto exchanges and wallet operators in the country would be obliged to provide additional information about potential money laundering. If the proposal gets the green light, exchanges and wallet providers would need to report to the FCA on the firm's customers in "high-risk" jurisdictions, the number of customers who "refused or exited for financial crime reasons," and "the top three most prevalent frauds." The policy statement will be published on or after November 23, and until then the FCA is seeking comments on the proposal.
Adoption news
The People's Bank of China, the Chinese central bank, is currently testing its digital currency in the provinces of Shenzhen, Suzhou, Xiongan and Chengdu and plan to use it at the 2022 Winter Olympic Games in Beijing. This was confirmed by head of the monetary policy department, Sun Guofeng, in a news conference, Reuters reported. The timetable for the rollout is not yet available.
Legal news
Global remittance firm Ripple is facing a lawsuit over intellectual property, Rohan Pearce of Communications Day said on Twitter. Allegedly, New Payments Platform Australia (NPPA), an Australia-based financial services company, has a service called PayID, the same as Ripple, and the lawsuit seems to be filed over the trademark.
Mining news
Tavanir, Iran's power generation and distribution company, shut down more than 1,100 cryptocurrency mining farms that were operating without proper licenses, the media reported. Per the reports, many farms were operating without proper licenses, using heavily subsidized electricity to cut down on costs and increase their earnings. With Tavanir struggling to pinpoint illegal activity by analyzing electricity consumption patterns only, it turned to whistleblowers for help.
Coronavirus news
A new cluster of coronavirus infections in South Korea has been traced back to a cryptoasset-related firm in the national capital, reported Asia Kyungjae. The news outlet stated that at least 44 people at the as-yet-unnamed firm had tested positive for the virus, which is based in the southern Gwanak District of Seoul – a hub for industry 4.0 and other IT companies.
Exchanges news
The Japanese crypto exchange Coincheck is hoping to launch a joint-venture initial exchange offering (IEO) before the end of 2020, per a press release. The firm will team up with Tokyo-based blockchain firms Link-U and Hashport for the token release, which will be part of a "cultural contents platform" with "manga, sport and music" offerings.
Binance.US, the American iteration of the global crypto exchange Binance, has aligned its business operations with Florida's laws on crypto. This means that Floridians, approximately 17 million of them, can now sign up on Binance.US and use it to buy and trade more than 40 digital currencies supported on the platform. Florida has thus become the 38th US state supported on Binance.
Qtum announced its offline staking as it's set to undergo a hard fork enabling network participants to stake and earn rewards from tokens held in offline wallets. In an emailed press release, it was said that the expected date is August 28, and a number of major exchanges are set to support the update, including Binance, OKEx, Huobi, Coinone, CoinDCX, and Gate.io.
---