Binance.US
In this review, we shall cover Binance.US as the American branch of the global cryptocurrency exchange Binance. Upon launching its registration and depositing features on September 18, 2019, the platform promises to establish itself as a secure marketplace for digital assets for customers in the United States. Offered features are described as being developed in line with the experience and technology its "parent" platform managed to fine-tune over the years, including the matching engine and wallet from Binance.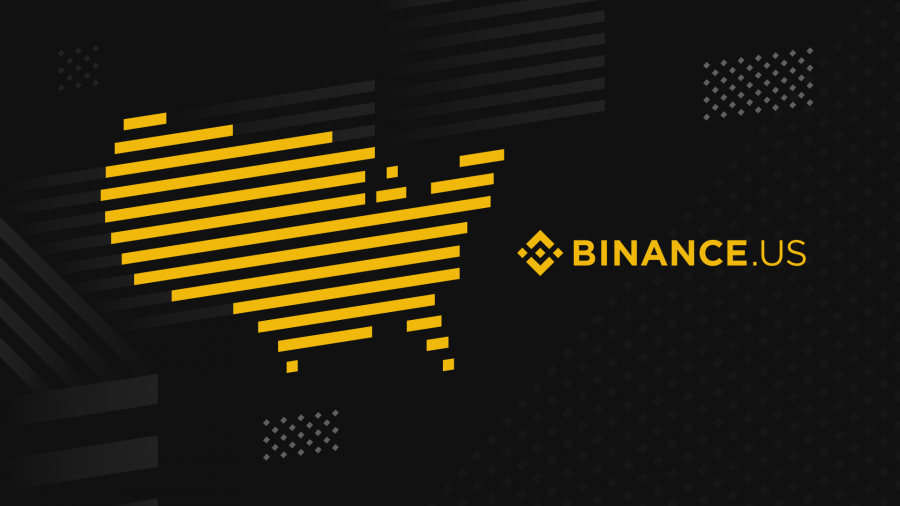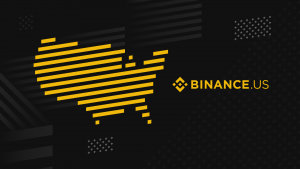 Binance.US Coverage
General info
| | |
| --- | --- |
| Web address: | Link |
| Main location: | United States |
| Daily volume: | 0.0 BTC |
| Mobile app available: | Yes |
| Is decentralized: | No |
Parent Company:
BAM Trading Services
Transfer types:
Bank Transfer, Crypto Transfer,
Supported fiat:
USD
Supported pairs:
59
Has token:
BNB
Fees:
Low(Compare rates)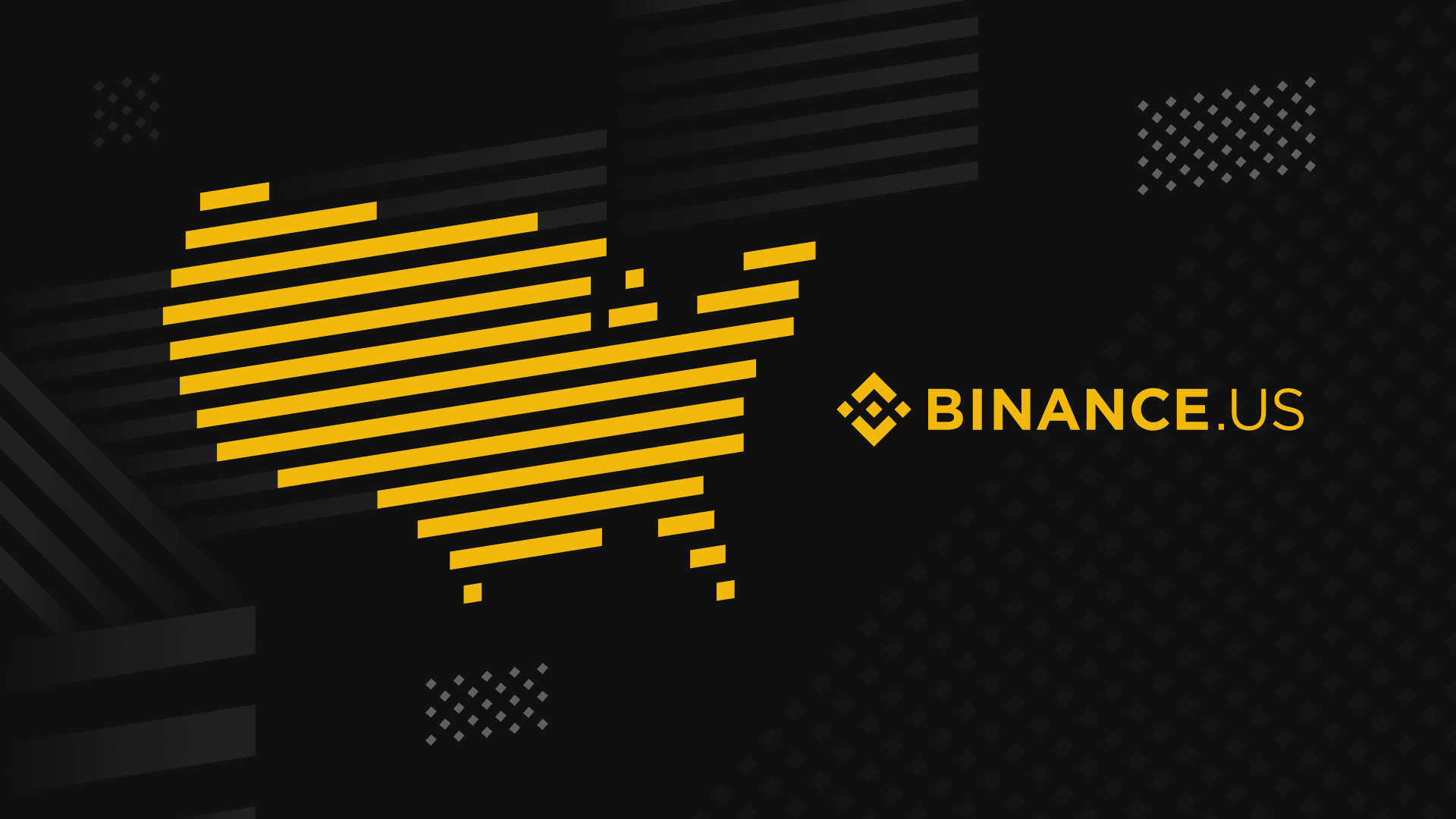 Based in San Francisco, Binance.US is operated by the U.S.-registered company BAM Trading Services which acts as its official partner. Its relationship with the international Binance franchise is strong enough for Binance.US to be designated as its "arm", yet the Binance CEO Changpeng Zhao claims that he has no "legal titles" or an "operational role" in it. Binance.US is headed by Catherine Coley, a former executive at Ripple.
While the platform has started accepting account registrations and deposits/withdrawals of cryptocurrencies, its services do not yet cover the entirety of the US market, as the following states have been excluded from its support as of the time of writing the review (September 19, 2019):
Alabama
Alaska
Connecticut
Florida
Georgia
Hawaii
Idaho
Louisiana
New York
North Carolina
Texas
Vermont
Washington
At the moment, Binance.US officials promise that this gradual coverage is only the beginning, making it their mission to eventually include as many US states as possible.
Review of Supported Assets on Binance.US
At the time of writing this review, Binance.US has supported seven cryptocurrencies, including:
Bitcoin (BTC)
Bitcoin Cash (BCH)
Binance Coin (BNB)
Ethereum (ETH)
Litecoin (LTC)
Tether (USDT)
Ripple (XRP)
This list by no means final, as Binance.US designates it as "Phase 1" digital asset offering, promising to support a wider range of cryptos down the line. The platform hopes to garner broader support in the US by enabling trading USD for popular cryptocurrencies.
Some experts have already expressed concern that the inclusion of the Binance Coin on the platform may prove controversial in the United States. While Binance.US is described as a subsidiary, its business model might draw attention from the U.S. Securities and Exchange Commission based on the fact that BNB token acts as both a security and a utility token. As such, it could pass the so-called Howey test for being security, thus potentially becoming a snag on the Binance's path to establishing itself in the US.
As this platform does business as a separate entity from Binance, the users' digital assets will be stored in Binance.US wallets only.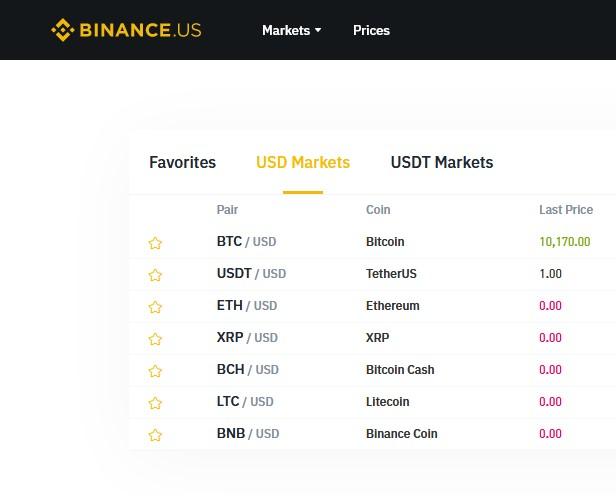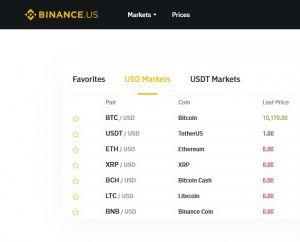 New Asset Addition Policy
Initially, Binance.US considered listing up to 30 crypto assets, with those deemed most important making it to the Phase 1 list. Some have noted the absence of high-profile Binance IEOs (initial exchange offerings) from this list as well as the lack of support for Tron (13th by market capitalization at the moment).
Thus, Binance.US will not initially support its projects such as BitTorrent (47th by market capitalization), Fetch.AI (207), Celer (180) and Matic Network (127), despite having these raise capital on the Binance Launchpad platform.
Yet, for the planned Phase 2 launch, the platform promises to give consideration to each new listing candidate asset, providing that they meet the following criteria from its Digital Asset Risk Assessment Framework:
Whether trading the candidate asset will affect Binance U.S.'s ability to comply with applicable legal requirements, including, without limitation, U.S. AML/CFT and securities laws and their implementing regulations;
Whether the candidate asset's core team has a clear strategy to solve a real problem and make the world a more efficient place;
Whether the candidate asset's community has a record of reaching compromises and consensuses to move the project forward, and how well the asset's core team interacts with the asset's community members;
Whether the candidate asset's market supply and demand are reasonably fair and likely to meet Binance US's quantitative standards; and
Whether the candidate asset is technologically secure to transact and/or realistic to build.
While the current level of currency support leaves room for improvement, it is necessary to remember that it is still early to make the final judgment on the Binance's policy, particularly regarding the outcomes of its initial implementation at the time of writing this Binance.US review. The platform advises holders of currently unsupported assets to use services of other custodians in any form (cold storage, hot wallet) while other currencies await approval.
Binance.US Fees
Following the platform's launch, up until November 1, 2019, the trading fees on the Binance.US will be kept at zero for all supported trading pairs. This move is described as a part of the company's efforts to remove barriers to a broader adoption of crypto assets.
Once this initial interval expires, Binance.US will introduce a uniform fee schedule, with flat-fee amounting to 0.10% per trade for personal accounts. In other words, the purchase of 100 USD worth of BTC, for example, will take USD 0.10 out of your pocket. The fee schedule for corporate accounts will be adjusted based on the associated trading volume.
Binance.US currently supports desktop and mobile-based web access upon initial launch, with the promise to provide app version down the road. No matter what type of client is served, the platform guarantees access to the Binance's matching engine which supports up to 1,400,000 orders per second.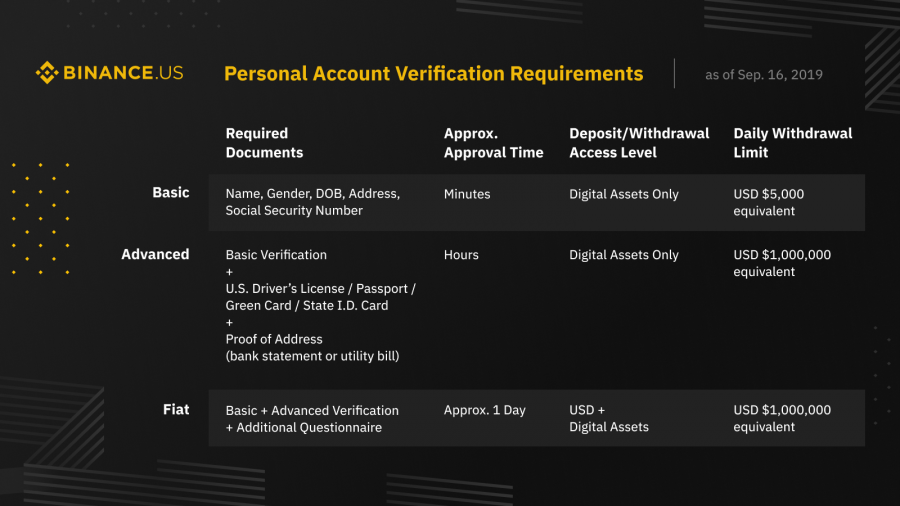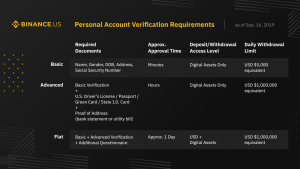 Account Verification Requirements
Registering an account on Binance.US is a relatively straightforward affair and includes providing a user's email address and password and interacting with a verification email.
Yet, trading on Binance.US obliges the customers to undergo the KYC (know your customer) procedure. First, the users are required to go through either of four types of verification available on the platform:
Basic verification for personal accounts. This level requires the users to submit their name, gender, DOB, address and social security number information, with deposit/withdrawal services catering to digital assets only and daily withdrawal limit amounting to USD 5,000 equivalent in crypto.
Advanced verification for personal accounts. In addition to what is required for basic verification, the users will be required to submit their U.S. driver's license/passport/green card/state I.D. card in addition to a proof of address in the form of a bank statement or utility bill. The daily withdrawal limit is capped at USD 1 million equivalent in crypto.
Fiat account verification. This level combines requirements from both basic and advanced verification levels in addition to submitting a completed questionnaire. Depositing fiat with the platform is supported by two options: deposits via an automated clearing house (ACH) account ACH and via wire. In addition to added support for USD deposits/withdrawals, the users can withdraw up to USD 1,000 with ACH or 1,000,000 USD with wire.
Corporate verification.
Depositing and Withdrawing Fiat and Crypto on Binance.US
Depositing fiat and digital assets on Binance.US depends on a user's account verification level described above. Depositing/withdrawing is done quickly and entails going to the Binance.US homepage and clicking on a customer's profile and selecting an appropriate option from the dropdown menu in the provided dashboard.
Customers' digital assets held on other trading platforms are not automatically transferred to Binance.US. Transferring a cryptocurrency from other wallets requires the customers to use the deposit address on the Binance.US account as the target address. Upon selecting the desired crypto, the user can either copy the address or scan the appropriate QR deposit code. Wallets also support insights into deposit and withdrawal history.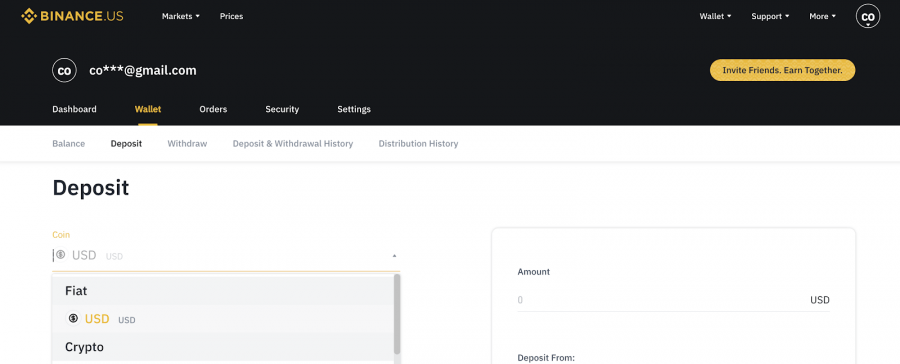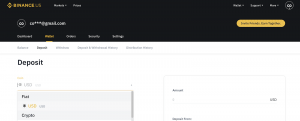 Security
Binance.US claims to have undertaken appropriate measures dedicated to protecting its customers from theft and hacking, in line with its policy of prioritizing security.
At the moment, it is too early to say if Binance.US will employ security technologies from the global Binance platform which are usually described as being solid, despite a major hack this platform suffered in May 2019. Yet, the platform also responded to this incident in a generally well-received and timely manner.
Referral Program
Immediately after the platform went live, Binance.US also launched its Referral Program with a range of rewards being available to the customers and their referees under certain requirements.
Upon logging in to their user accounts, the customers will find unique invite links, with their friends being required to sign up using the referral link to become eligible for rewards.
The program offers the following benefits and is limited to personal account owners on the platform:
Completing fiat account verification and handling at least USD 100 in trading volume (buying and/or selling with any trading pair) to receive 15 USD.
The same reward is available to users whose friends also complete fiat account verification and achieve 100 USD in trading volume.
Referrals can be sent to an unlimited number of users, with Binance.US reserving the right to change this option in the future.
Referees are required to sign up through the provided referral link or referral ID.