A Crypto Vanity Dream Now Features Musk, Beeple, Justin Sun, DOGE and NFTs
Disclosure: Crypto is a high-risk asset class. This article is provided for informational purposes and does not constitute investment advice. By using this website, you agree to our terms and conditions. We may utilise affiliate links within our content, and receive commission.
The year is but two and half months old, but 2021 is already going into full meltdown mode, with Tesla's Elon Musk seeking to sell an EDM song about non-fungible tokens (NFTs), digital artist Beeple composing a portrait of a naked Musk mounted on a dogecoin (DOGE) dog – and Tron (TRX) boss Justin Sun wading into the chaos waving pots of money about.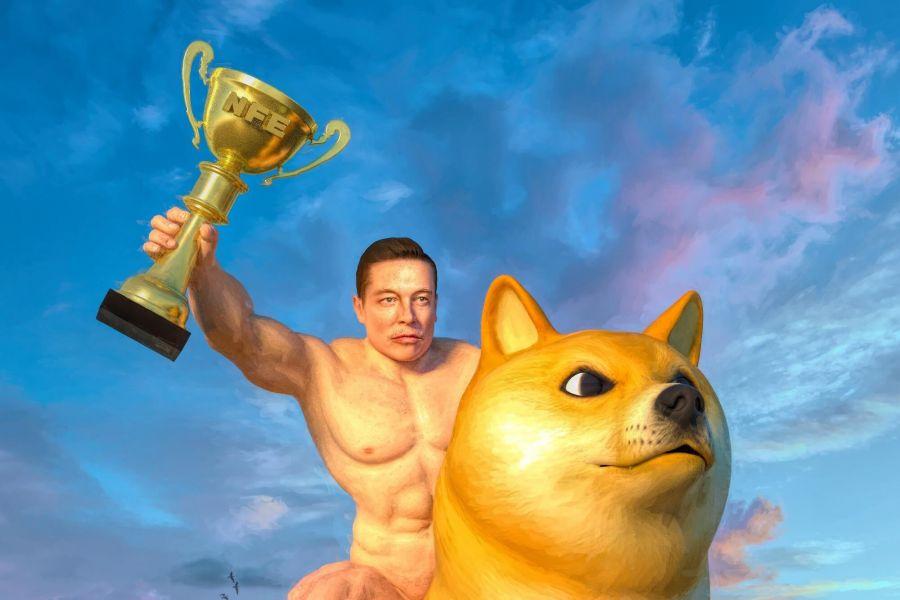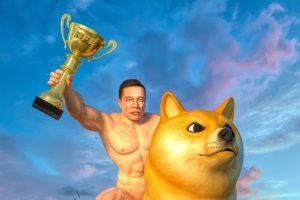 Yes, you're not dreaming, although you might wish you were by the time you've finished reading this.
Weeks after his partner Grimes picked up a cool USD 6m from selling her own NFT artworks, Musk has finally boarded the NFT bandwagon in typically dramatic fashion.
He wrote on Twitter: "I'm selling this song about NFTs as an NFT."
The up-tempo track is accompanied by an animation that features a spinning golden trophy with the words "Vanity Trophy" at its summit, and the words HODL and "Computers Never Sleep" at the base. Dogs and spinning coins also adorn the base, and at its center is the praise or thanks emoji, with a rocket taking off included for good measure.
The lyrics involve a female vocalist chanting "NFT/For your vanity/Computers never sleep/It's verified/It's guaranteed" in a reverb-heavy loop.
Man-of-the-moment Beeple – freshly flush with cash after the biggest digital art sale in history – rushed in with a bid of USD 69 million.
Musk later tweeted that his asking price for his musical and visual monstrosity was actually a lot less: DOGE 420 million (around USD 24,3m at the time of writing).
Beeple, undeterred by the price tag and choice of currency replied: "SOLD."
And the story does not end there (although you'll wish it did).
Hours later, Beeple returned to Twitter with an artwork featuring a naked and impossibly buff Musk seated atop a gigantic Shiba Inu dog, staring with intent into the distance as birds circle behind and clutching a golden trophy. The caption was "Non-fungible Elons."
Popular Twitter-based analyst and crypto fan The Chairman quipped that "Tomorrow's headline" would be: "Tesla converts 10% of balance sheet into NFEs."
The Guardian Circle CEO Mark Jeffrey, meanwhile, recoiled from the unfurling spectacle, writing that his "horror continues to unfold."
But Sun – who was gazumped at the very last hurdle in his bid to buy Beeple's record-breaking artwork – was hopeful that he would not miss out on the artist's latest effort, writing, accompanied with a laughing face emoji,
"Sell this to me."
As a final cherry on the cake, Sun now wants you to vote on how much he should spend on the Beeple work, with the options being the following:
More than USD 69 million
Less than USD 1 million
0
Come on…
What further "horrors" this gang and their pals will concoct on April 1 probably doesn't even bear contemplating.
___
Learn more:
– Elon Musk and Kirkhorn are 'Technoking of Tesla' and 'Master of Coin' From Now
– Who's Metakovan, The Buyer of USD 69M Beeple's NFT
– Hack Sunday: NFT Theft Follows a Personal Token Attack
– Second-Hand NFT Market for NBA Top Shot Packs Appears on eBay
– Consider These Legal Questions Before Spending Millions on NFTs
– NFT Overtakes Litecoin, Bitcoin Cash, and XRP on Google
– Check These 4 Make-Your-Own-NFT Platforms
– Non-Fungible 2021: Prepare Your NFTs For DeFi, Staking, and Sharing
---