8 Best Hot Wallets for 2023 - Top Software Wallet Reviews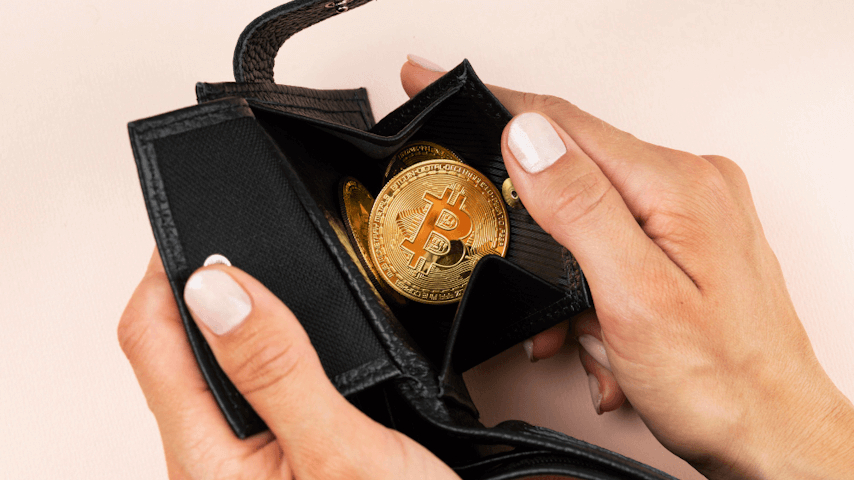 Hot wallets aren't as secure as their cold counterparts, but they are more convenient. They allow users to store, trade, and manage digital assets with ease. There are hundreds of wallets out there, but not all are worth your time and attention.
After extensive research, our team narrowed the list down to the best hot wallets. Let's see how you can benefit from it.
Top 8 Hot Crypto Wallets Ranked
eToro — Our top pick offers a web wallet and mobile app with licenses from ASIC, FINRA, CySEC, and FCA, ensuring regulatory compliance. The eToro Money wallet can connect to the exchange, support a wide range of cryptocurrencies, and provide features such as copy trading and staking.
MetaMask — Launched in 2016, MetaMask supports a range of ERC20 tokens and NFTs. It also allows investors to stake Ethereum 2.0 and add other networks, such as Polygon, manually.
Trust Wallet — Trust is an established hot wallet solution available as a mobile app and a browser extension. It supports an extensive range of over 70 blockchain standards, allowing users to manage a diverse selection of cryptocurrencies within a single platform.
Electrum — The leading hot wallet focuses on secure Bitcoin storage. It is compatible with Windows, Mac, and Linux desktops, as well as Android. Electrum offers cold storage for private keys, which enhances security.
Coinbase Wallet — This reliable storage solution mainly caters to Coinbase exchange users due to its seamless integration. It supports a range of cryptos and is regulated in the US. It is, however, a costly option.
Exodus — This versatile wallet for iOS, Android, Windows, and Mac caters to long-term investors. It offers real-time portfolio valuation in the user's local currency and supports over 260 cryptocurrencies.
OKX — Part of the OKX trading platform, this wallet comes with a built-in bridge aggregator, facilitating the discovery of optimal interest rates for staking and yield farming.
Mycelium — Mycelium is a secure wallet with high-end security and built-in exchange. The FIO network includes inter-wallet interoperability, and newbies can benefit from educational content that's part of this product.
Hot Wallets: What Are They?
The term hot wallet refers to a digital asset storage solution that remains connected to the internet, enabling users to manage and conduct cryptocurrency transactions conveniently. "Hot" denotes that the wallet is online, giving users more freedom for sending, receiving, buying, selling, staking, and more.
They are the opposite of "cold" wallets, which keep your funds safe and disconnected from the world wide web. We'll discuss other distinctions later in this article.
Despite their convenience, hot wallets come with an inherent security risk, as their internet connectivity exposes them to potential threats like hacking attempts and malware. Still, some of them are better than others at protecting their users, and we decided to describe the eight most secure hot wallets in this guide.
Top Hot Storage Crypto Wallets Reviewed
In the following section, we'll review the best hot wallets in more detail so that you can understand their differences and their respective advantages and disadvantages. This should help you decide what's best for you.
1. eToro — Best Hot Wallet With Unlosable Private Keys & Top-Level Security
eToro is our top pick for the best hot wallet. It's part of the eToro platform, which offers brokerage services for all kinds of assets, including cryptocurrencies. One of its features is eToro Money, a standalone crypto app where you can store your digital assets securely.
eToro is regulated by the leading financial authorities in the UK and the US, including FinSEC and FCA. Therefore, it complies with all relevant guidelines, making it one of the safest options in the market. The wallet itself is regulated by the GFSC — Guernsey Financial Services Commission.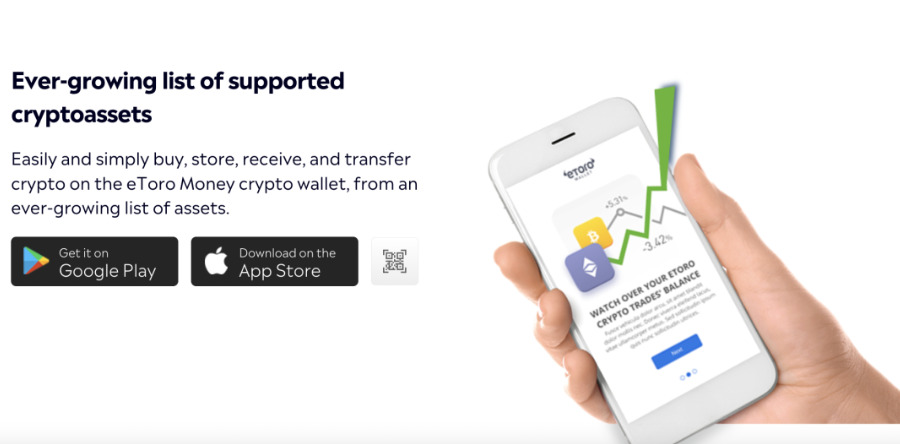 eToro Wallet has all the relevant security protocols in place, including 2FA. Mobile devices also feature biometric authentication, meaning users can log in with their fingerprint or face scan (touch ID and face ID).
Even though it's the best hot wallet for crypto on our list, its main disadvantage is the lack of supported cryptocurrencies. Namely, you can store only eight cryptos, which just so happen to be the most popular ones, starting with Ethereum.
Pros:
User-friendly interface across devices
Available as a stand-alone app for smartphones
Licensed and regulated
Top-notch security protocols
Ability to connect to the main eToro platform
Cons:
Cannot convert crypto to fiat money
2% transaction fee between eToro and eToro Money
Custodial wallet
| | |
| --- | --- |
| Wallet type | Hot wallet (cryptos on the eToro trading site are held in cold storage) |
| Number of supported cryptos | 8+ |
| Fee for buying Bitcoin | 1% |
| Mobile app | Yes |
| Staking and interest | Yes |
| Interest rate | 75% for regular users, up to 90% monthly |
2. MetaMask — Popular Crypto Hot Wallet for the Ethereum Network, Offers Staking
MetaMask only communicates with the Ethereum network. Therefore, it means you can only store ERC tokens. This is actually not a disadvantage, given that the Ethereum platform is home to hundreds of thousands of projects, each with its own ecosystem that follows ERC standards.
MetaMask is often used to buy various coins during the initial sale. For example, most of the best metaverse coins in 2023 can be purchased and stored in this wallet. In other words, as the Ethereum network grows, more crypto tokens are accepted.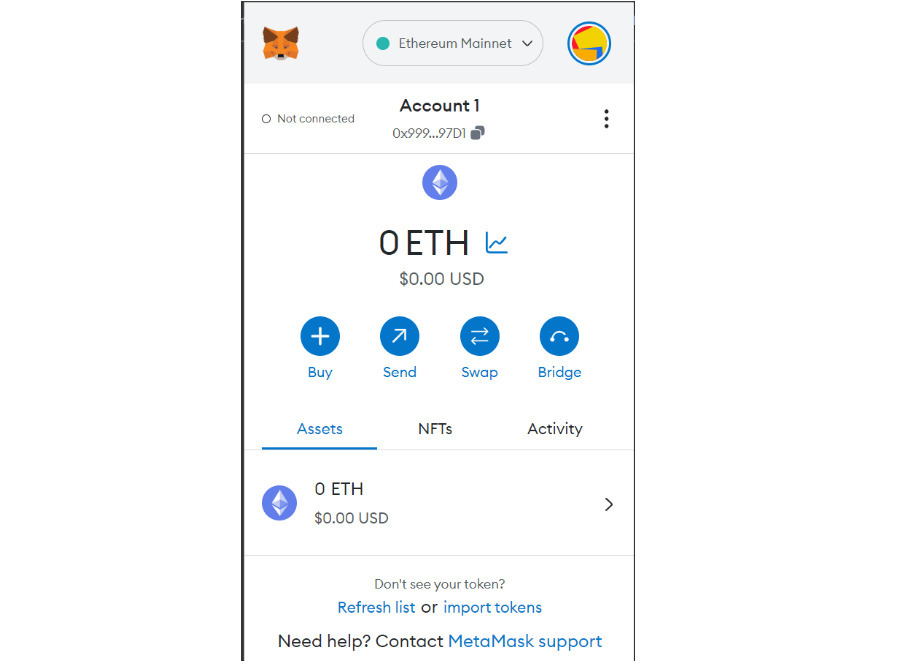 MetaMask is different because it streamlines how we access decentralized apps and smart contracts on Ethereum. As a Chrome plugin, you just need to give access to MetaMask if you're going to use a dApp, without having to register and provide any sensitive data.
Pros:
Accepts thousands of Ethereum crypto coins
Available as a Chrome plug-in
Non-custodial, ensuring maximum privacy level
Easy to use and intuitive
Easily connected to decentralized applications on Ethereum
Cons:
Desktop app not available
Bitcoin is not accepted (only Ethereum coins)
| | |
| --- | --- |
| Wallet type | Hot wallet, non-custodial |
| Number of supported cryptos | 550,000+ (and counting, as it accepts all ERC tokens that are part of the Ethereum network) |
| Fee for buying Bitcoin | Bitcoin not accepted; check the gas fee structure for Ethereum |
| Mobile app | Yes |
| Staking and interest | Yes |
| Interest rate | Up to 4.19% at the moment |
3.Trust Wallet — Top Hot Crypto Wallet for Binance Users with Built-in Staking Features
Trust Wallet is part of the Binance family, the largest online cryptocurrency exchange in the world. It's for this reason that it made it to our list of the best hot crypto wallets.
It's a software app with a built-in Web3 browser that accepts a range of popular cryptos, including the Binance-native token BNB. The wallet can be easily connected to the Binance crypto exchange, and 60+ million people use it.
Users also believe Trust Wallet deserves recognition, ranking it high on App Store and Google Play. Thanks to its great service, Trust Wallet also made it to our list of the best decentralized crypto wallets of 2023.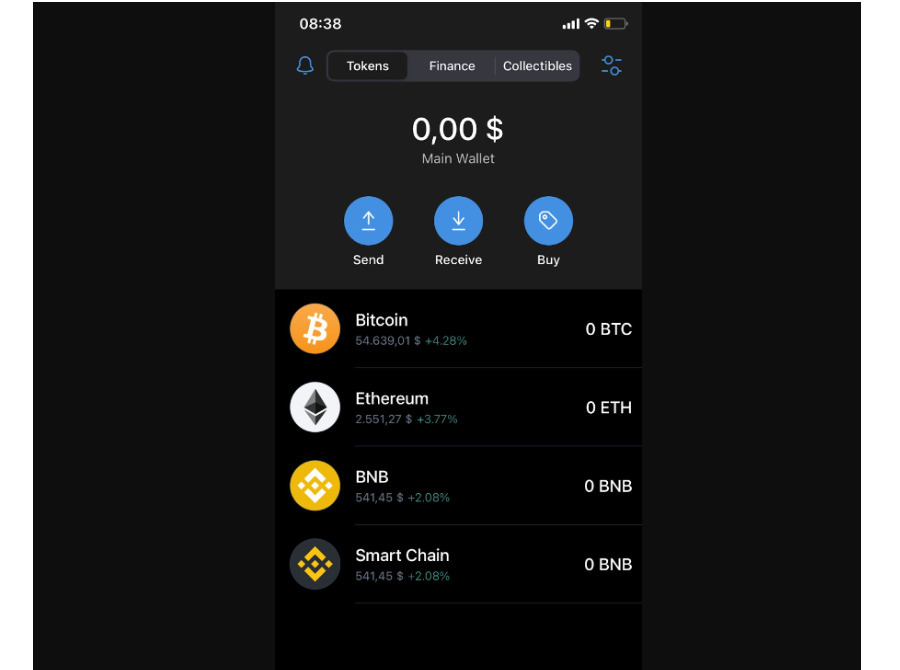 The only downside is that some newcomers might find the buying feature confusing. After all, Binance is an exchange mainly designed for experienced traders.
Pros:
Highly ranked on Google Play and App Store
Part of the Binance family of products
Suitable for new users (except for buying/selling)
Built-in staking functionalities
Many cryptos and NFTs accepted
Cons:
Some features might be confusing for inexperienced users
Cold storage not an option
| | |
| --- | --- |
| Wallet type | Hot wallet, non-custodial, browser-based and mobile wallet |
| Number of supported cryptos | 4.5 million |
| Fee for buying Bitcoin | No fees |
| Mobile app | Yes |
| Staking and interest | Built-in staking |
| Interest rate | Varies and goes up to 84% |
4. Electrum — Bitcoin-Focused Hot Wallet with Multisig support
Electrum likes to keep things simple, so we consider it the best Bitcoin hot wallet for beginners. Moreover, it's an open-source app, meaning anyone can access its code. It was made in the spirit of decentralized technologies, which makes it popular among Bitcoin owners.
The bad news is that Electrum won't help you much if you want to store cryptos other than Bitcoin, as digital gold is all it accepts. Therefore, if you want to use other cryptocurrencies or trade them actively, it's best to opt for a different hot wallet. On the other hand, if you're going to focus only on BTC, Electrum will give you everything you need for a seamless experience.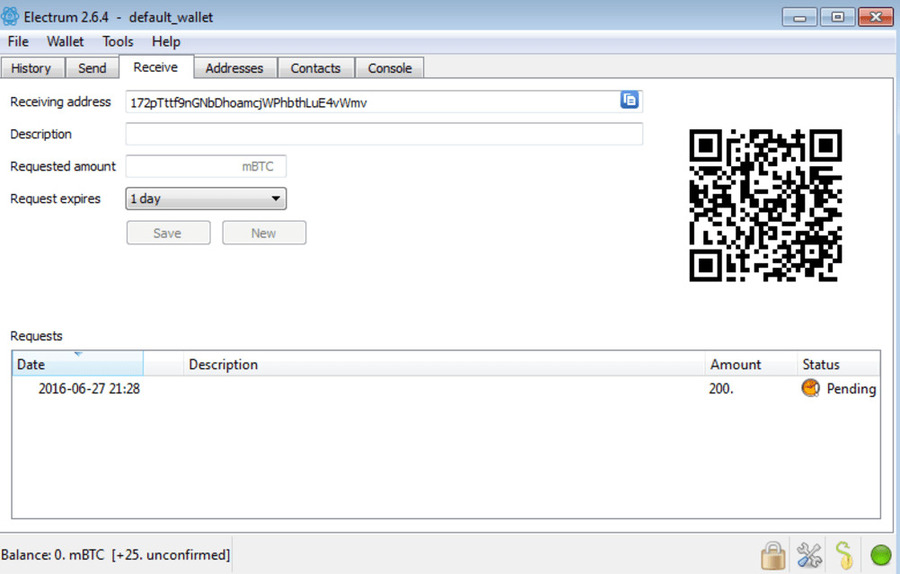 Since it only focuses on BTC, learning how Bitcoin mining works could give you a more comprehensive understanding of how to use this wallet.
One of the biggest disadvantages of this option is the lack of support for iPhones, as it's only available for Android users besides desktop computers.
Pros:
Secure and trustworthy
Open-source
Multisig support
Easily implemented with third-party plugins
Beginner-friendly BTC-only wallet
Cons:
Only Bitcoin is accepted
Staking not available
Not available on iPhone
| | |
| --- | --- |
| Wallet type | Hot wallet, non-custodial |
| Number of supported cryptos | Bitcoin |
| Fee for buying Bitcoin | No fees |
| Mobile app | Yes, but only for Android |
| Staking and interest | No staking or interest available |
| Interest rate | None |
5. Coinbase Wallet — Leading Crypto Wallet with 2FA Security and Staking
Like Binance, Coinbase is one of the most popular online cryptocurrency exchanges in the world, focusing mainly on the US market. However, it also operates in many other countries around the globe, albeit at a limited capacity.
Coinbase Wallet can communicate with the main exchange, making it a suitable solution for Coinabse traders. Coinbase definitely wants to grow more beyond the US, and the Hong Kong legislator is one of the bodies to invite the popular platform to its market.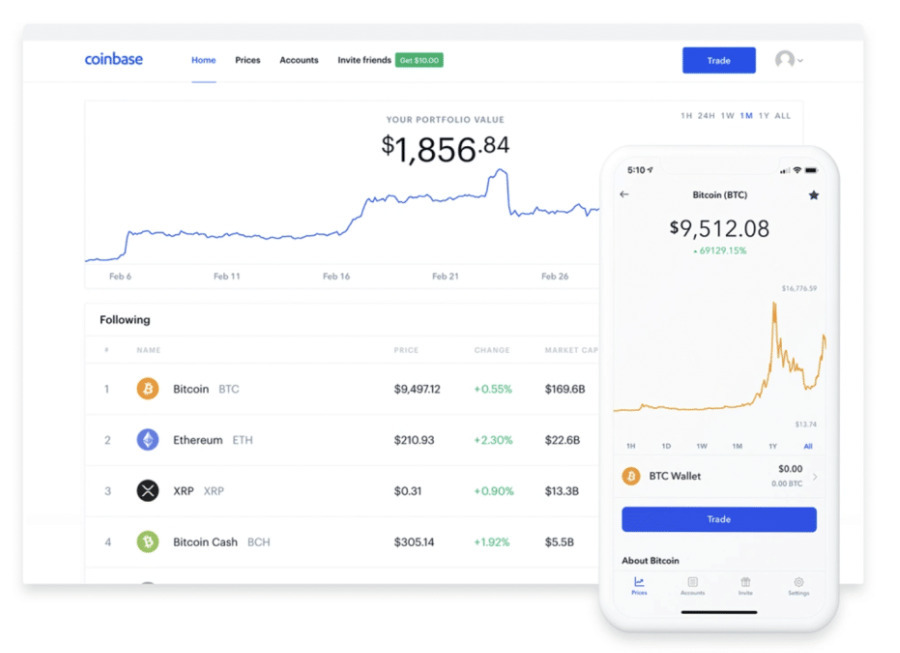 So far, we only noticed two disadvantages to using this wallet. The Coinbase wallet isn't open-source, and the brand itself has been subject to penalties from US regulators for not fully complying with the law.
Still, we would list it as the safest hot wallet for US residents relying on Coinbase to exchange funds.
Pros:
Intuitive user interface
Easy setup
Part of the Coinbase exchange
Easy transfer
Range of useful features
Cons:
Costly
Not open-source
Limited access
| | |
| --- | --- |
| Wallet type | Web hot wallet, custodial |
| Number of supported cryptos | 100+ |
| Fee for buying Bitcoin | Wallet storage free; 1.49% on trading; up to 35% charge on staking income |
| Mobile app | Yes |
| Staking and interest | Available for 90+ cryptos |
| Interest rate | Varies heavily |
6. Exodus — Popular Non-Custodial Cryptocurrency Wallet with $0 Fees when Buying Cryptos
Exodus is a crypto wallet accepting a range of cryptocurrencies — more than 260, to be precise. The wallet is suitable for experienced users and beginners alike and is available on various devices, including PCs, Androids, iPhones, and more. You can even install it as a Chrome plugin. You can also download it as a standalone app for Windows, macOS, and even Linux.
Exodus is so versatile it even appeared on our list of the best Ethereum wallets of 2023. On top of that, it's partnered with Trezor, a popular cold storage device provider. As a result, you can seamlessly connect your Trezor wallet to Exodus to manage your digital assets.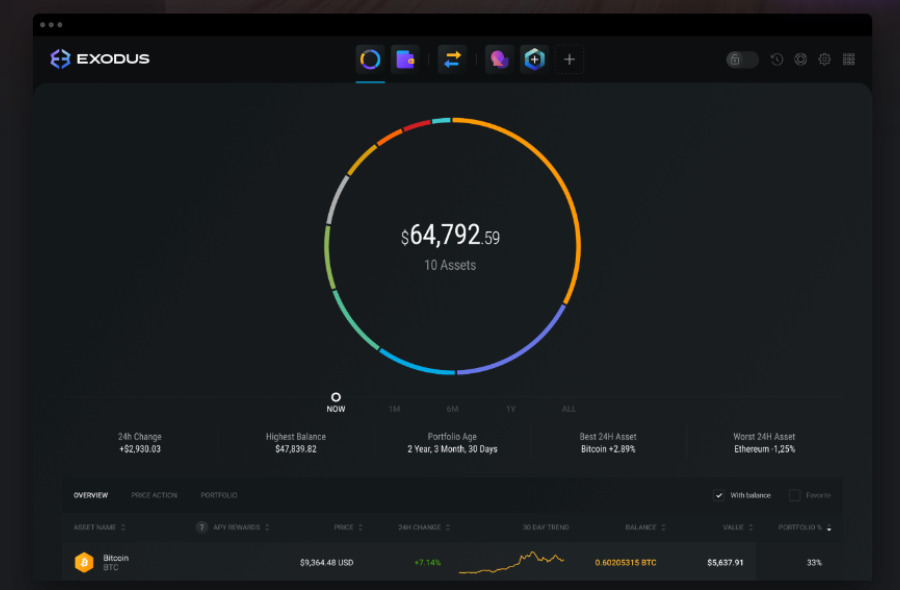 Pros:
Suitable for beginners and advanced traders
Built-in staking
Round-the-clock support
No fees for buying crypto
Easily connected to the Trezor wallet
Cons:
Not open-source
Lack of some security features
| | |
| --- | --- |
| Wallet type | Hot wallet, non-custodial |
| Number of supported cryptos | 260+ |
| Fee for buying Bitcoin | None |
| Mobile app | Yes |
| Staking and interest | Yes, built-in for several cryptos |
| Interest rate | Varies, but promises up to 18.97% |
7. OKX — Self-Custody Hot Wallet for Mobile Devices Connects with More Than 200 dApps
OKX is one of the best hot wallets relying on self-custody for private keys. It's connected to 15 different blockchain networks, meaning it can accept thousands of cryptocurrencies. The only downside: Bitcoin isn't one of them. In other words, OKX doesn't accept digital gold, but it supports a range of alternatives, including Ethereum, Binance Smart Chain, Polygon, and more.
The wallet can work with 200 different dApps you can access without providing any personal information. Overall, OKX's convenience was enough for us to list it as one of the best crypto wallets for beginners.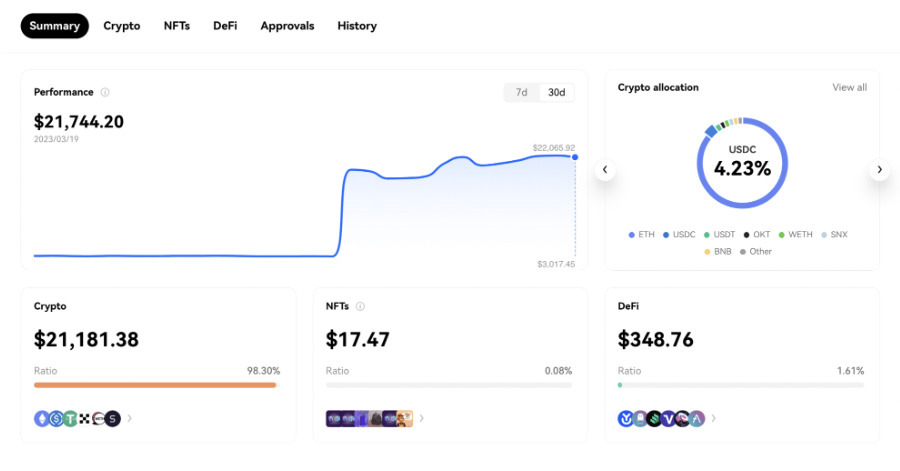 Pros:
Easy to accept tokens
Connects with more than 200 dApps
Accepts 15 different blockchains
Supports thousands of cryptos
Available for iOS and Android
Cons:
Bitcoin not accepted
Fee structure determined by the connected dApp
| | |
| --- | --- |
| Wallet type | Hot wallet, non-custodial |
| Number of supported cryptos | Thousands, across 15 networks |
| Fee for buying Bitcoin | Custom, depending on the tokens |
| Mobile app | Yes |
| Staking and interest | Yes, it can be connected to 200+ dApps for staking, yield farming, and more |
| Interest rate | Depends on the dApp |
8. Mycelium — Security-Focused Mobile Hot Wallet with Streamlined Payment Verification
Mycelium is, first and foremost, a mobile cryptocurrency wallet that places a strong emphasis on security. The wallet gives you complete custody of your private keys, which are retrievable with a single seed phrase. Unlike many competitors, Mycelium doesn't include any staking options or similar capabilities, as it's mainly used for storing digital coins.
Mycelium's great security earned an honorable mention in our list of top privacy wallets. Users aren't required to register or provide any sensitive data when using Mycelium, effectively making it an anonymous crypto wallet.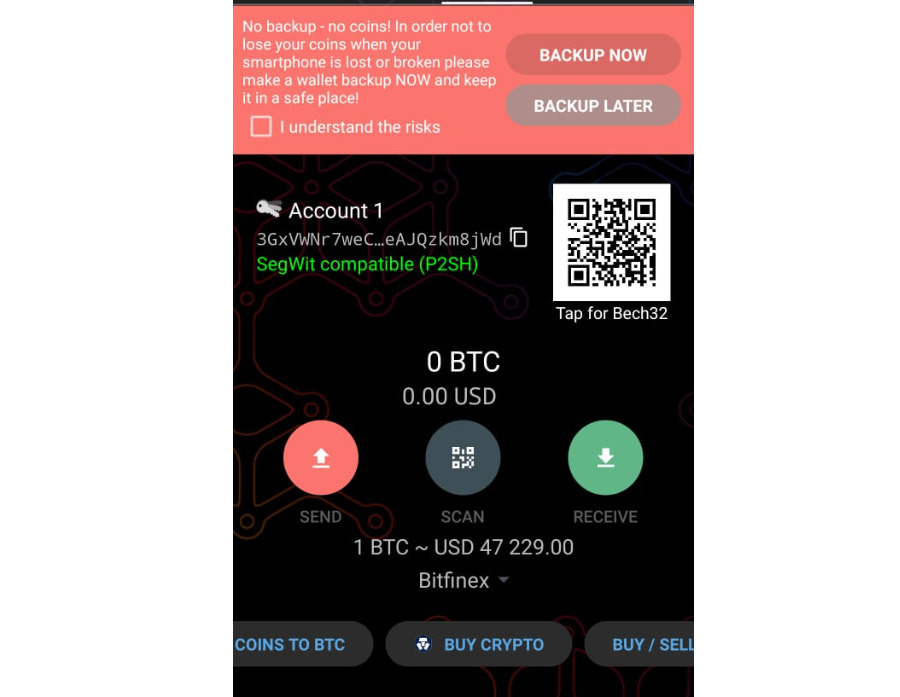 Pros:
Very secure wallet
No personal info requirements
Great track record
Not part of any CEX, a standalone wallet
Streamlined payment verification
Cons:
Only available for mobile devices
Steeper learning curve
| | |
| --- | --- |
| Wallet type | Hot wallet, cold storage options |
| Number of supported cryptos | 8+ |
| Fee for buying Bitcoin | Varies from $0.25 to $8 |
| Mobile app | Yes |
| Staking and interest | Not available |
| Interest rate | None |
Benefits of Using a Hot Crypto Wallet
There are arguments for both hot and cold wallets. Here's a short overview of the most popular benefits of using a hot wallet.
Easy access
No additional cost
Staking and swapping
Easy access to dApps
Recovery and backup
Let's take a look at each of these aspects in more detail.
Easy Access
Hot wallets allow you to access and manage your crypto funds anytime, as long as you have a stable internet connection. The software helps users access their crypto from a range of devices. For example, a hot wallet can come in handy if you need to send money to someone or make a payment quickly. Many even feature QR codes and other functions that simplify transactions, so you don't have to deal with tedious wallet addresses.
No Additional Cost
Cold or hardware wallets require you to have a dedicated piece of hardware where you'll store your crypto wealth. You'll need to purchase one of the Trezor or Ledger hardware options and spend up to several hundred dollars. The good news is that all hot crypto wallets are free of charge, meaning there are no upfront payments. These wallets usually make a profit by charging a small fee for your transactions.
Staking and Swapping
Staking has become increasingly popular in the crypto world, as it allows crypto owners to make passive income with their coins. Therefore, many wallets offer various staking options, although not all can be beneficial. As with crypto trading, staking does not guarantee a profit, so you have to be careful where you choose to invest your funds.
In addition to staking, many wallets have built-in exchanges or are part of bigger exchange platforms. For example, eToro Money is part of the eToro broker platform, while Coinbase Wallet belongs to the Coinbase cryptocurrency exchange. This means you can easily and conveniently swap your tokens as you see fit.
Quick Access to dApps
Many hot wallet crypto solutions feature access to exchanges where you can use various trading options. In addition, some wallets are compatible with a wide range of decentralized applications.
For instance, MetaMask can be easily connected to various Ethereum projects. If you go to CryptoKitties, one of the original NFT-based collectible games, and launch it, the MetaMask plugin in your browser will automatically pop up, and you can connect it to start playing.
Access to dApps is perhaps the biggest advantage that hot wallets have compared to their cold counterparts.
Recovery and Backup
Many hot crypto wallets offer all kinds of recovery and backup options should you lose or damage your device or in case of theft. The process often entails using your recovery phrase or mnemonic seed that you should remember at all costs. Following the backup procedures can help you successfully retrieve your funds, which is one of the main advantages of hot wallets.
Furthermore, in the ever-evolving landscape of hot wallets, new security features are being introduced to augment the backup and recovery process. Some cutting-edge hot wallets offer advanced mechanisms like biometric authentication, such as fingerprint or facial recognition, to enhance the security of wallet restoration.
By leveraging these state-of-the-art technologies, hot wallets provide an additional layer of protection, ensuring that only authorized individuals can access and recover the wallet. These forward-thinking security measures exemplify the continuous efforts of hot wallet developers to prioritize safeguarding users' funds and personal information.
Ranking the Best Hot Wallet for Cryptocurrency
Creating our best hot wallet 2023 list was no easy feat, as we had to carefully examine dozens of options based on various factors, including their security, supported cryptos, additional features, fees, and more.
Security Features
First and foremost, we ensured that all hot wallets that made it to our final list adhered to the required security protocols to ensure maximum protection for your funds. Cold wallets are overall more secure, but that doesn't mean hot wallets get hacked all the time.
As long as you stick to reputable and trustworthy options with regular security updates, you shouldn't have to worry about your private keys and crypto wealth being stolen. Of course, if you have millions of dollars in crypto, it's better to keep the majority in a cold storage wallet. In that case, investing in a good hardware wallet shouldn't be too difficult.
User-Friendliness
A user-friendly hot wallet prioritizes simplicity and ease of use, making it effortless for users to interact with their cryptocurrency. Its interface is clean and intuitive, allowing users to easily navigate through various features, including sending or receiving funds, checking transaction history, or managing account settings.
By focusing on user experience, hot wallets aim to provide convenience and accessibility, helping individuals feel comfortable and confident in managing their digital assets.
Supported Cryptocurrencies
Some wallets support more currencies than others. However, this shouldn't be the factor you focus on when choosing a wallet. Instead, you should pick a wallet with the cryptos you intend to use and store.
If you look at our list of the best hot wallets, you'll notice that some support literally millions of coins while others accept just one. For example, if you want just to use and store Bitcoin, you should opt for a wallet like Electrum, which specializes in BTC. For Ethereum-based decentralized apps and storing ERC tokens, wallets like MetaMask are a great choice.
Why does MetaMask only work with the Ethereum blockchain and accept hundreds of thousands of tokens, but Electrum doesn't? Simply put, all those tokens are built upon the Ethereum network. In contrast, Bitcoin is the only cryptocurrency that's part of the BTC network if we count out the forks.
Many wallets on our list, like eToro, can accept both Bitcoin and Ethereum, along with other popular coins. For those new to crypto wallets, the safest bet is to go with one that communicates with two or more popular blockchains and accepts their most relevant digital coins.
Device Compatibility
Device compatibility can vary among hot wallets since different wallet providers support various operating systems and devices. However, most well-known hot wallets are developed to be suitable for use with a diverse range of devices.
Therefore, users should check the wallet's compatibility requirements before selecting one. By doing so, they can ensure that the hot wallet they choose is suitable for their preferred device and operating system.
For example, if you're an iPhone user looking for a dedicated iOS app, you shouldn't pick Electrum, as it's not compatible with Apple's products.
Ultimately, you must ensure your device has the hardware required to launch and run a hot wallet. Of course, all hot wallets are light enough to run without cutting-edge computers or smartphones, but ancient Android devices definitely won't be able to run your Coinbase Wallet as effectively as the newest model of Samsung Galaxy.
Community and Support
Popular wallets have active communities, so you can find relevant sites, forums, and social media groups with other users and exchange your experience with them. Moreover, a community can also assist you if you want to learn more about using a specific wallet. This was an integral aspect of our research, as users will often tell you the pros and cons without hesitation.
We also carefully examined customer support for each wallet we picked. Most options feature a support team but don't expect them to answer fast every time you contact them. For some hot wallets, especially open-source ones, reaching out to the community for support is a better approach.
Recovery and Backup Feature
Hot wallets are digital wallets connected to the internet, making them more vulnerable to hacking and other security risks. Therefore, robust recovery and backup mechanisms are crucial for the safety of your funds.
First, we looked for wallets with a seed phrase or a private key backup option. This feature allows you to restore your wallet on another device if yours is lost, stolen, or damaged.
Moreover, we checked if all wallets on the list provide at least one backup option. These are either physical copies (e.g., paper wallets or hardware wallets) or digital backups (e.g., encrypted files or cloud storage).
Integration With Exchanges and Other dApps
Some wallets are part of exchanges or have integrations with them. Not all featured options have this, as some people prefer standalone crypto wallets that aren't connected to any platform. When applicable, we mentioned CEXs in our reviews.
Wallets such as MetaMask can be connected with various decentralized applications. This is something we also paid attention to when making the final list since some people only consider these features.
Updates and Future Roadmap
Some wallets are continuously upgraded with new functionality and security features. We examined their respective roadmaps in detail to ensure there was a plan for the future. We also paid attention to past updates to see if the wallets are well-maintained.
User and Professional Reviews
For every wallet we selected, we checked numerous reviews, both from users and professionals, before including them in our final hot wallet list. However, it is important to take these testimonials with a grain of salt, as some may be biased or fake.
Therefore, it is essential to do your research on a wallet before making a decision. Ultimately, you should use your best judgment to evaluate the quality of the wallet and decide if it is the right one for you. Be sure to consider factors such as the ones listed in this guide to make your final selection.
How Do Hot Wallets Work?
Digital wallets known as "crypto hot wallets" allow instant access to and storage of cryptocurrencies. They work by using computer programs or internet distribution hubs that produce and store the private keys needed to access the assets.

As a result of these wallets' internet connectivity, users may easily send, receive, and manage their cryptos in real-time. Hot wallets are more vulnerable to security threats than cold wallets since they are always connected to the web, thus it is crucial for users to have strong security measures in place and to be cautious about safeguarding their digital assets.
Before using a hot wallet, you may have to open an account. If the wallet is non-custodial, you'll likely just get your public and private keys and complete the process, meaning there's no need to provide sensitive data. For custodial wallets, which have custody of your private keys, you'll probably have to go through the full registration process and provide information such as your email, password, and more.
In both cases, your private key, a secret cryptographic code, should remain hidden. Due to their connection to the internet, hot wallets can be vulnerable to malicious attacks. It is, therefore, important to take all necessary precautions to protect the private key and wallet from potential threats.
Since they're connected to the web, hot wallets have many different functionalities, including swapping, access to various dApps, exchanges, and more. Nowadays, many wallets, hot and cold, feature staking functionalities.
Cold Wallets vs. Hot Wallets
As stated, hot wallets are connected to the web, as opposed to cold storage wallets. A Bitcoin cold storage or cold wallet, on the other hand, is not on the web.
Which one should you pick, then? Well, that depends on how much money you intend to store. If you have millions in crypto, using a cold wallet is a must, as it will enhance your security.
Finally, you should take into account that the amount you own changes every day. According to Reuters, the price of BTC could go up to $100,000 by the end of 2024, so you should move some of your "digital gold" to a cold wallet when the time comes.
Which Cryptocurrencies Can You Store in a Hot Wallet?
In most cases, you'll be able to store Bitcoin, Ethereum, and other popular cryptos. Nonetheless, some wallets will only focus on one crypto or one blockchain. Why, you may wonder? Here's the deal, hot wallets can be divided into single- and multi-blockchain wallets.
Single-blockchain wallets communicate with one chain. For instance, if it only communicates with the Bitcoin blockchain, you can only store one crypto: BTC. Some blockchains handle more than one crypto. If the wallet communicates with the Ethereum blockchain, it means you can store all ERC tokens in it.
These wallets are generally more secure since they are specialized for one blockchain. Additionally, they tend to have more features tailored specifically to the coin or blockchain they support. However, you'll have to create several wallets if you want to store multiple cryptocurrencies. For example, if you want to store Bitcoin and Ethereum, you'll need two different wallets.
Multi-blockchain wallets communicate with two or more chains. Users can manage their Bitcoin and Ethereum funds from the same wallet. Multi-blockchain wallets also enable users to exchange digital assets from different blockchains in a single transaction without moving funds from one wallet to another. This makes it much easier to diversify digital asset portfolios and access funds from different blockchains.
Multi-blockchain wallets provide an efficient and secure way to manage digital assets. However, there are also some potential downsides.
First, managing multiple digital asset wallets can be confusing for users unfamiliar with different blockchains. Second, those who lose access to their multi-blockchain wallet might not have access to any of their digital assets, as some millionaires experienced, according to the NY Times. Finally, multi-blockchain wallets could be less secure than single-blockchain wallets, as they provide more opportunities for hackers to access users' digital assets.
How Many Cryptos Can You Store in a Hot Wallet?
Wallets usually don't have any minimum and maximum limits on how much of a single crypto you can store. In other words, you can hold your entire crypto wealth in a crypto hot wallet. However, that's not the best idea if you have a lot of money stored in digital currencies. At some point, switching to a cold wallet might be a good idea.
Finally, you should remember that the number of supported cryptos changes over time. Usually, they incorporate more cryptos — if a new ERC-20 token is added, you can store it via MetaMask.
However, there are also factors that could result in a negative impact. For instance, Coinbase trading volumes fell after tightening the regulations around the exchange in the US. This could also affect the Coinbase wallet in the near future, limiting what digital coins Americans can store in it.
That's why it's crucial to stay on top of the latest developments in the crypto sphere and understand how specific regulations or shifts in the industry could influence your crypto wealth and, ultimately, your crypto hot wallet.
Conclusion
To sum up, hot wallets provide the convenience of storing and using your cryptocurrencies. Many can be easily connected to various exchanges or used for accessing decentralized applications. Our current top choice is eToro Money, as it's a multi-blockchain hot wallet that's part of eToro, one of the most popular online crypto exchanges and broker platforms.
References
https://ethereum.org/en/developers/docs/intro-to-ethereum/
https://www.reuters.com/technology/bitcoin-could-hit-100000-by-end-2024-standard-chartered-says-2023-04-24/
https://www.ft.com/content/e904f8bd-0d4f-4d38-8d71-a199e7e9c131
https://www.nytimes.com/2021/01/12/technology/bitcoin-passwords-wallets-fortunes.html
https://www.bloomberg.com/quicktake/bitcoins#xj4y7vzkg
https://www.coinbase.com/wallet
FAQs
Which hot wallet is the best at the moment?
At the moment, our top choice for the best hot wallet is eToro. It features a separate eToro money app, which facilitates the storage and management of eight popular cryptocurrencies. The platform's main advantage is that it's licensed by the Financial Securities Exchange and several other leading authorities around the globe.
What hot wallet is the safest for cryptocurrency?
Overall, all wallets in our list have top-notch security, and make sure your funds are protected. We suggest reading our reviews for each before making a decision. eToro is currently our top choice because it's both licensed by leading authorities and features cold storage for some cryptocurrencies.
Is it safe to use a hot wallet?
Hot wallets are considered less safe compared to cold wallets. However, some hot options proved secure and trustworthy in the long run, including eToro, Exodus, Electrum, and the rest that made it to our best crypto hot wallet list.
Which hot wallet can support BTC?
All hot wallets communicating with the Bitcoin blockchain network can store "digital gold." From our list, those are eToro, Trust Wallet, Electrum, Coinbase, Exodus, OKX, and Mycelium — virtually all except MetaMask, which only focuses on the Ethereum network.