11 Best Ethereum Wallets for Beginners in 2023
This guide will give you a comprehensive overview of everything you need to know about the best Ethereum wallets for beginners – we also explain how Ethereum wallets work and how to use them. 
The cryptocurrency ecosystem is a dynamic, fast-paced environment. Beginner traders can struggle to navigate the volatility and security requirements needed to engage in safe crypto trading. A user-friendly digital wallet can allow beginners to store their crypto assets such as Ethereum and Bitcoin safely.
This article dives into the top 11 best Ethereum wallets for beginners. We will help our readers understand how Ethereum wallets work and how they provide security to crypto assets. We will also explore what qualities separate the best Ethereum wallets from others and how users can easily use these wallets for themselves. 
The Top 11 Ethereum Wallets
After considering a multitude of factors such as security features, user-friendliness, fees, etc., we list the top 12 best wallets for Ethereum storage.
Best Wallet – Overall, the best Ethereum wallet that provides a non-custodial Web3 app for Ethereum, Polygon, and BSC Mainnet, with Bitcoin coming soon. Users can access a DEX, portfolio management tools, market insights, and exclusive token airdrops on Best Wallet with NFT integration and high-security measures.
YouHodler – Leading Ethereum wallet that lets you earn up to 4.5% annual percentage yield on ETH and up to 12% on stablecoins. If you need liquidity, use your ETH as collateral and borrow other cryptocurrencies or fiat.
Ledger – One of the best hardware wallets, Ledger offers high security and also has a mobile app to allow trading, staking and lending. Its lack of open-source software has been criticized, however
Trezor – Leading hardware wallet, Trezor is one of the absolute safest wallets around but does charge to purchase the physical wallet, while many others are available for free
Binance – Connected to crypto's top exchange, Binance, the Binance wallet supports almost 400 cryptos and allows for easy trading, although it is more vulnerable than other wallets on this list
OKX – Linked to the leading exchange, the OKX wallet has excellent staking options for high APYs, as well as a range of DeFi services, but is not available in the US
MetaMask – One of the most popular multi-chain wallets, MetaMask has more than 30 million users, cross-chain support, high levels of security and is perfect for beginners
Trust Wallet – Another extremely popular choice, Trust Wallet is also backed by Binance, and supports 65 different blockchains, but does not employ cold storage
Coinbase – Connected to the leading US-based exchange, the Coinbase wallet has a strong focus on security, and yielding and staking options but does not support some prominent tokens
Exodus – The hot wallet has multi-chain support and an NFT marketplace, as well as supporting dApps and is compatible with Trezor – it does not feature 2FA, however
MyEtherWallet – The open source wallet is compatible with multiple blcokchains and NFTs, but only supports ETH-based products 
Review the Best Ethereum Wallets For Beginners
Beginner traders need to take into account the pros and cons of different types of wallets in order to choose the best Ethereum wallet for their needs. Let's now review each wallet on our Ethereum wallets list. 
1. Best Wallet – Best Ethereum Wallet With Market Insights And Cutting-Edge Features Like NFT & DEX Integration
On the top of our list of the best Ethereum wallets is Best Wallet. As a cutting-edge, non-custodial wallet, it aims to revolutionize how we manage our digital assets.
Best Wallet offers a single platform for all your tokens, including Ethereum, Polygon, or BSC Mainnet. Furthermore, plans to include the Bitcoin network and other blockchains are underway.
Instead of relying on multiple platforms for market intelligence, Best Wallet offers Market Insights to provide real-time industry news, token sentiment, and event updates.
Moreover, the 'Upcoming Tokens' feature lets users stay ahead by getting exclusive access to trending new tokens like Bitcoin Minetrix.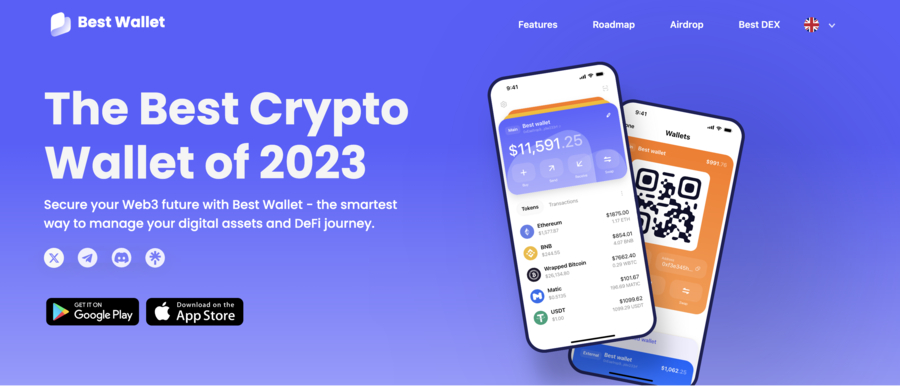 This lets them gain insights into these tokens before they hit the exchanges and helps them invest early to reap greater rewards.
Also, the Token Airdrops section will launch soon. This section will help users stay updated on the latest airdrops and allow them to earn free cryptos.
At the center of the Best Ecosystem is the BEST token. Users gain access to advanced tools, feeless swaps, and NFT drops.
Staking BEST tokens promises exciting benefits, including zero gas fees and exclusive access to new project launches. The platform also offers an exclusive BEST token airdrop for early users of Best Wallet. 
The platform also has a decentralized exchange integration. This DEX is designed to offer hassle-free trading.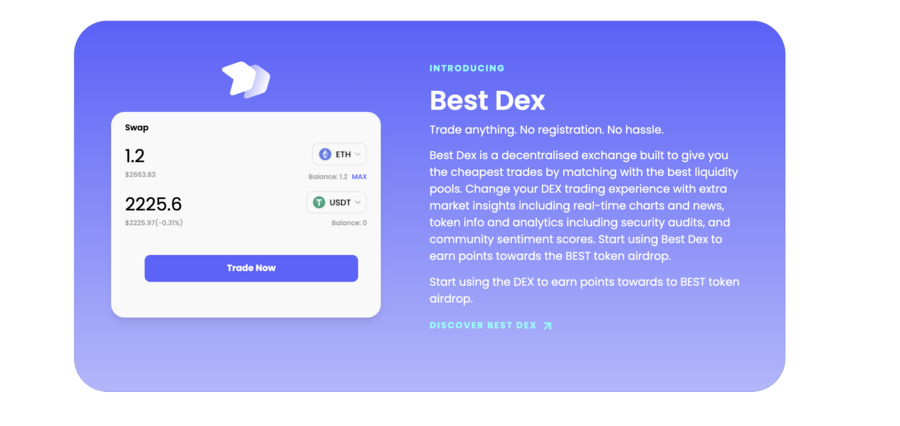 With low fees, advanced market insights, and real-time analytics, users get a better trading experience. And the best part? There is no registration or KYC; you can just connect your wallet and start trading.
Notably, the Best Wallet also supports NFTs. Users can organize, trade, and showcase their NFT collections.
The platform's roadmap outlines a structured phase-wise release of features. Users can expect biometric security, multi-wallet support, in-app swaps, a dedicated crypto news feed, an NFT gallery, and innovative staking options in the coming phases.
Best Wallet ensures top-notch security using advanced cryptography, multi-factor authentication, and biometric measures.
Interested users can enter the Best Wallet Telegram channel for the latest updates. You can also check out the platform's Linktree to get links to its other social media channels like X (Twitter) and Discord.
Pros
Cross-Chain Compatibility
Holistic Security Framework
Unified Trading Platform
Incentive-driven Ecosystem
Cons
Presently limited to only mobile devices. But has plans to launch a browser extension in the near future.
| | |
| --- | --- |
| Type of Wallet | Software |
| Number of Supported Cryptos | Ethereum, Polygon, BSC, and others. |
| Fee to Buy ETH | Depends on the third-party service providers. |
| Mobile App | Yes |
Cryptoasset investing is highly volatile and unregulated in some EU countries. No consumer protection. Tax on profits may apply.
2. YouHodler – Popular Ethereum Wallet That Comes With Up To 4.5% APY on ETH, Crypto Lending, And Multi-Chain Swaps
YouHodler lets you trade your ETH coins to earn a profit or you can use them in YouHodler's yield earning program and earn up to 4.5% APY. Stablecoins have one of the best APY of up to 12% for USDT and USDC. But to get this yield for stablecoins and ETH, you need to advance your levels by trading or holding a certain amount of funds in your account.
The Basic level APY is 2% for ETH and 6% for stablecoins, which is still competitive with other DeFi services and enough to offset the yearly inflation.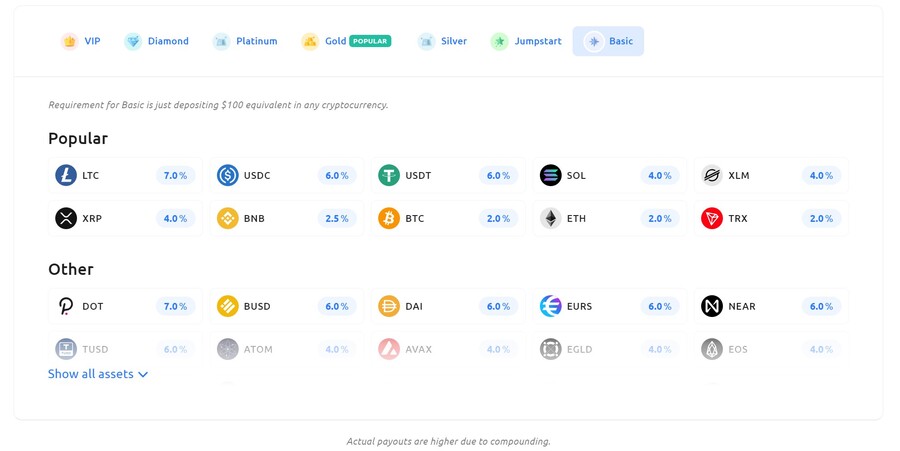 Those who you want to diversify can swap your ETH for other coins, or you can directly buy cryptocurrencies within the YouHodler wallet. Other coins include Bitcoin, Ripple, Solana, Tron and Litecoin.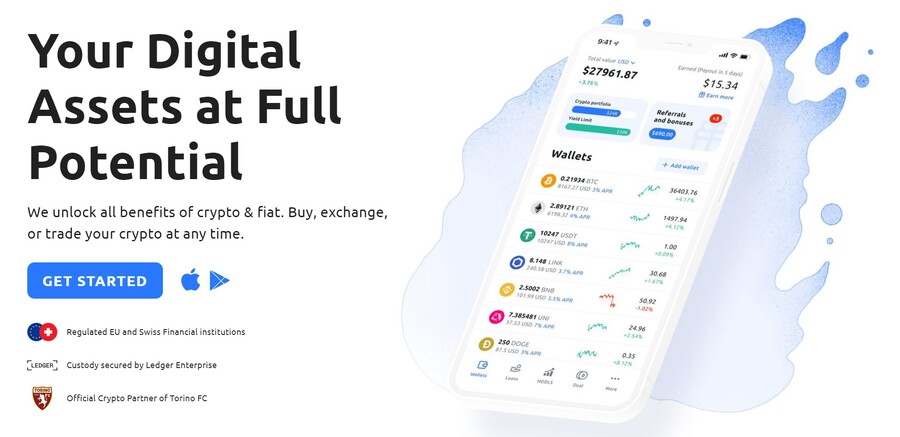 If you need instant liquidity, you can use your Ethereum as collateral and borrow cryptocurrencies or fiat currencies like EUR, USD, CHF and GBP and withdraw them if you need to with a 90% loan-to-value. 
To keep your mind at ease, YouHodler is regulated in Switzerland and in some EU countries. The funds you keep in your YouHodler's wallet are secured using the Ledger Vault technology with $150 million in pooled crime insurance. You can increase your wallet's security by activating 2FA and biometrics.
Pros: 
Supports multiple cryptocurrencies
Up to 4.5% yield on Ethereum
Crypto loans with 90% LTV
Crypto to fiat exchange
Cons: 
Not available for US residents
$100 minimum crypto loan
| | |
| --- | --- |
| Type of Wallet | Hot |
| Number of Supported Cryptos | Ethereum, Polygon, BSC, and others |
| Fee to Buy ETH | No fees, only the spread between bid and ask prices |
| Mobile App | Yes |
3. Ledger – One of the Best Ethereum Hardware Wallets With High Security, In-App Staking and Swapping
The Ledger hardware wallet specializes in offering maximum security without compromising user experience. It utilizes a military-grade secure chip called the Secure Element to store the user's private key. User authentication data is isolated from the internet, providing a high degree of safety.
The Ledger hardware wallet utilizes the Ledger Live app on desktop and mobile to provide a seamless user experience for crypto enthusiasts. Investors can manage over 5500 tokens using the app. This includes purchasing with a card, swapping via decentralized exchanges, sending and receiving, as well as staking supported coins, including Ethereum. The app also supports Ethereum-based NFTs.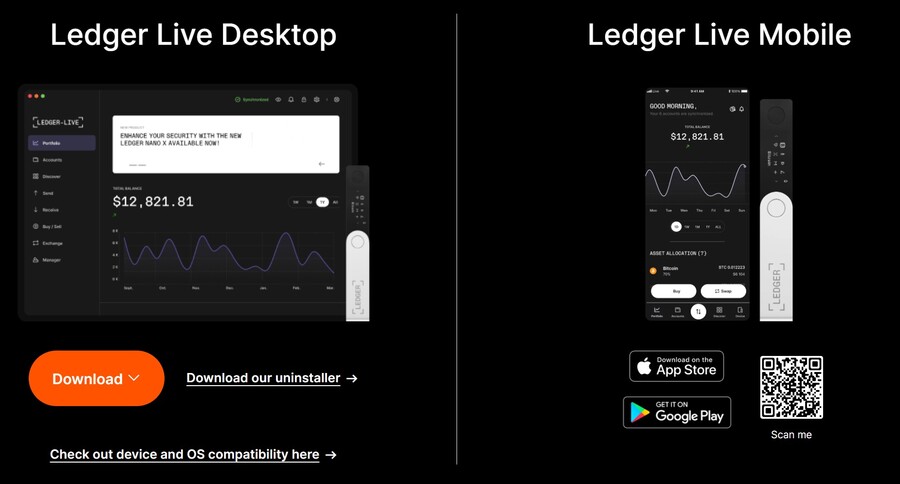 There are three Ledger wallets to choose from: Ledger Nano S Plus, Ledger Nano X and Ledger Stax. Nano X offers Bluetooth compatibility, which makes it an excellent choice for smartphone users who want to authorize transactions wirelessly.
Pros
Maximum security features
Military-grade technology
Millions of users
Huge number of cryptos supported
Ledger Live to trade, stake and buy Ethereum
Cons
| | |
| --- | --- |
| Type of Wallet | Hardware |
| Number of Supported Cryptos | 5,500+ |
| Fee to Buy ETH | Variable |
| Mobile App | Yes (Ledger Live) |
4. Trezor – Security-Focused Hardware Wallet with Simple Functionality
The Trezor hardware cryptocurrency wallet is one of the most secure crypto wallets, protecting users from all kinds of malicious activities. Hardware wallets keep your seed phrase offline, thus reducing the chances of hacking and data theft.
Trezor Model T, Trezor Model One and Trezor Safe 3 are the three models to choose from. The Trezor Model T is a more advanced wallet design, with wider crypto token support and more comprehensive security features. As a result, it is also significantly costlier than the Model One.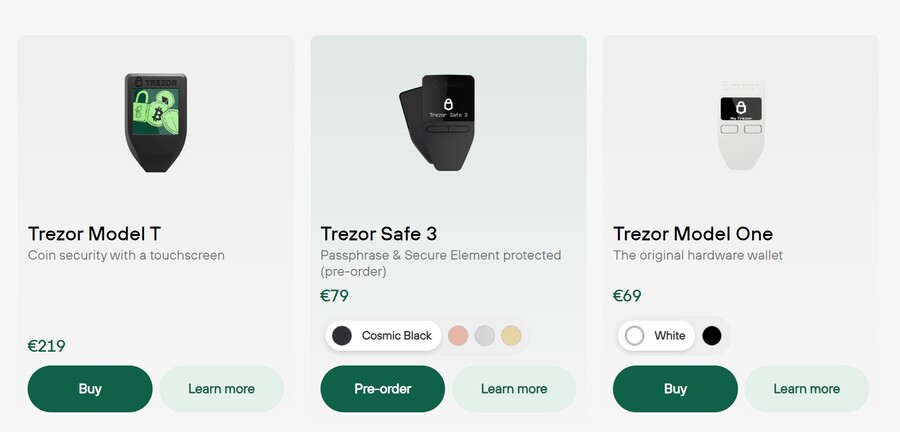 Users can connect to Trezor's Suite app which provides several user-friendly features on desktop, mobile and in your browser. Investors can easily trade crypto assets without any additional fees, as you just pay whatever fees the exchange you're trading on charges.
Pros
Extremely secure hardware wallet
Comprehensive security features
Ability to recover wallet
Mobile app to allow trading
Cons
Missing some features of software wallets
| | |
| --- | --- |
| Type of Wallet | Hardware |
| Number of Supported Cryptos | 8,000 |
| Fee to Buy ETH | Variable |
| Mobile App | Yes |
5. Binance – Top Ethereum Wallet Linked to Leading CEX Binance
The Binance wallet is a secure crypto wallet for Ethereum, Binance Beacon Chain and Binance Smart Chain. Its biggest strength is its inherent connection with the Binance crypto exchange.
Binance is the largest Bitcoin and altcoin crypto exchange in the world. It supports 385 different crypto assets and tokens on its platform. Binance's reputation as the largest crypto exchange in the world allows users to trust its Ethereum wallet.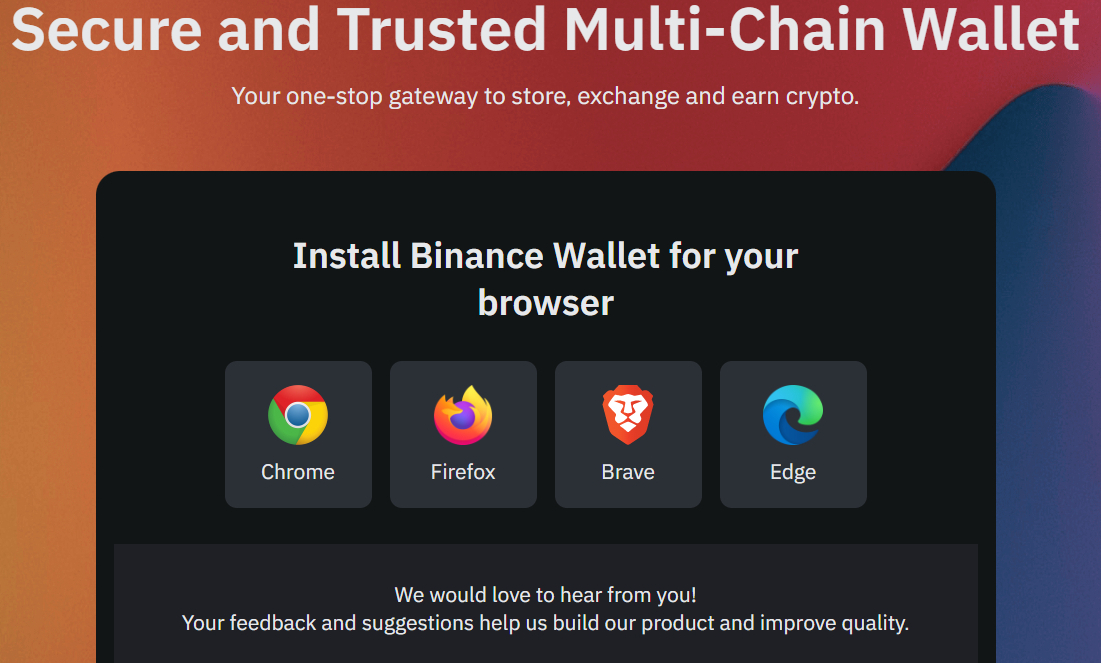 Users can operate the Binance crypto wallet as a web extension. The wallet extension is available for Google Chrome, Firefox, Brave and Edge.
It is user-friendly and allows users a wide range of crypto services. For example, users can send tokens through a QR code. This allows beginners to safely engage in crypto trading without making any costly errors.
The Binance wallet is also looking to launch a new swap feature. The swap feature will allow users to swap their tokens from the wallet without visiting any crypto exchange platforms. The swap feature would also employ DEX aggregators and market makers to ensure that the users can access tokens at low prices.
Due to the wallet's link with the Binance exchange, users can instantaneously transfer their crypto funds from the wallet to the exchange and trade to maximize their profits. Users can also take advantage of Binance's NFT marketplace and stake-to-earn service.
While the wallet's connectivity to the Binance exchange has numerous advantages, it does make the wallet vulnerable to malicious activity.
Pros
Connected to crypto's top exchange, Binance
Available as a web browser extension
Huge number of cryptos
Low fees
Cons
Some vulnerability due to connection with Binance
| | |
| --- | --- |
| Type of Wallet | Software |
| Number of Supported Cryptos | 385 |
| Fee to Buy ETH | 0 Deposit Fee, 0.1% Trading Fee |
| Mobile App | Yes |
6. OKX – Multi-Platform Wallet with Excellent Yields
The OKX crypto wallet is one of the best Ethereum wallets which allows users an opportunity to access the entire Web3 ecosystem. Apart from secure and user-friendly storage, the OKX wallets offer its users a wide range of DeFi services.
The wallet is available on Android and iOS, as well as a Chrome extension.

OKX offers comprehensive security to its users. It employs an effective KYT system to monitor fraudulent activity in its wallets. It utilizes over 200 million labels to improve to effectively protect users from any fraud risks.
OKX is considered a universal wallet. It supports over 50+ decentralized networks and their native tokens such as Ethereum, Polygon and Bitcoin.  OKX allows beginner users to gain a broad understanding of their investment through its Web3 dashboard.
Another big advantage that OKX users enjoy is the stake-to-earn service, which is rated among our best crypto staking platforms. It provides staking, farming and pooling services that can boost the portfolio performance of its users. For example, Ethereum investors can utilize the Lido protocol to earn an annual percentage yield of 4.38%.
Furthermore, the OKX platform acts like a one-stop NFT aggregator, allowing users to create and trade NFTs on 11+ networks. Users can easily access some of the biggest NFT brands such as Wrapped Cryptopunks, Bored Ape Yatch Clud, etc.
OKX's swap feature utilizes over 10 networks and over 100 decentralized exchanges to allow users to swap their crypto tokens at the best prices. Beginner traders can struggle to compare the prices offered by various platforms on their own. However, OKX's swap feature helps solve this problem.
Despite the various advantages offered by OKX, it is not available to US investors due to compliance reasons.
Pros
Comprehensive security 
Universal wallet supporting both DEXs and CEXs
Stake-to-earn offering high APYs
NFT Marketplace
Cons
| | |
| --- | --- |
| Type of Wallet | Software |
| Number of Supported Cryptos | 350+ |
| Fee to Buy ETH |  0 Deposit Fee, Variable market maker/taker |
| Mobile App | Yes |
7. MetaMask – Most Popular Multi-Chain Wallet
MetaMask is one of the most trusted Ethereum wallets in the world. Currently, over 30 million users trust MetaMask to secure their crypto assets. The wallet is available as a browser extension and as a mobile application as well.
MetaMask is an extremely user-friendly crypto wallet that allows beginner users to buy, send, store and swap crypto assets such as Ethereum.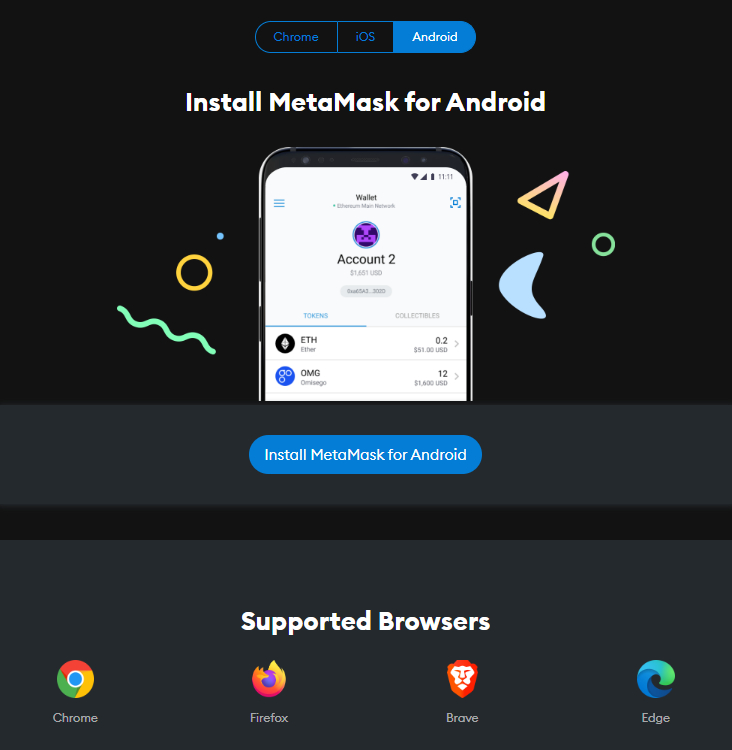 The wallet protects user data by ensuring that only users have custody of their private key. This prevents any third party from accessing the user's account, making the MetaMask wallet self-custodial.
Users can purchase crypto tokens from a variety of networks such as Ethereum, Polygon, Celo, Binance Smart Chain, Fantom and Avalanche.
MetaMask's biggest strength is its ease of use in purchasing cryptocurrency. Users can choose from a wide variety of payment mechanisms such as credit/debit cards, Paypal, Apple Pay, Google Pay, bank transfers, etc. This makes Metamask ideal for beginner users.
MetaMask's only tradeoff is its lack of support to store Bitcoin as it is an Ethereum-based wallet.
Pros
Extremely high user and industry trust levels
More than 30 million users
Browser extension and a mobile app
Self-custody
Huge amount of cryptos supported
Cross-chain functionality
Cons
Cannot convert tokens to fiat
| | |
| --- | --- |
| Type of Wallet | Software |
| Number of Supported Cryptos | 500,000+ |
| Fee to Buy ETH | Depends on payment provider |
| Mobile App | Yes |
8. Trust Wallet – Popular Binance-Backed Ethereum Wallet
Trust Wallet is another cryptocurrency wallet owned by Binance. It provides users easy access to a vast number of crypto assets. Trust Wallet supports more than 4.5 million crypto tokens and over 65 different blockchain networks.
Beginner users can struggle to find the most profitable crypto assets. Trust Wallet's expansive network allows users to invest in the best cryptocurrencies of their choice.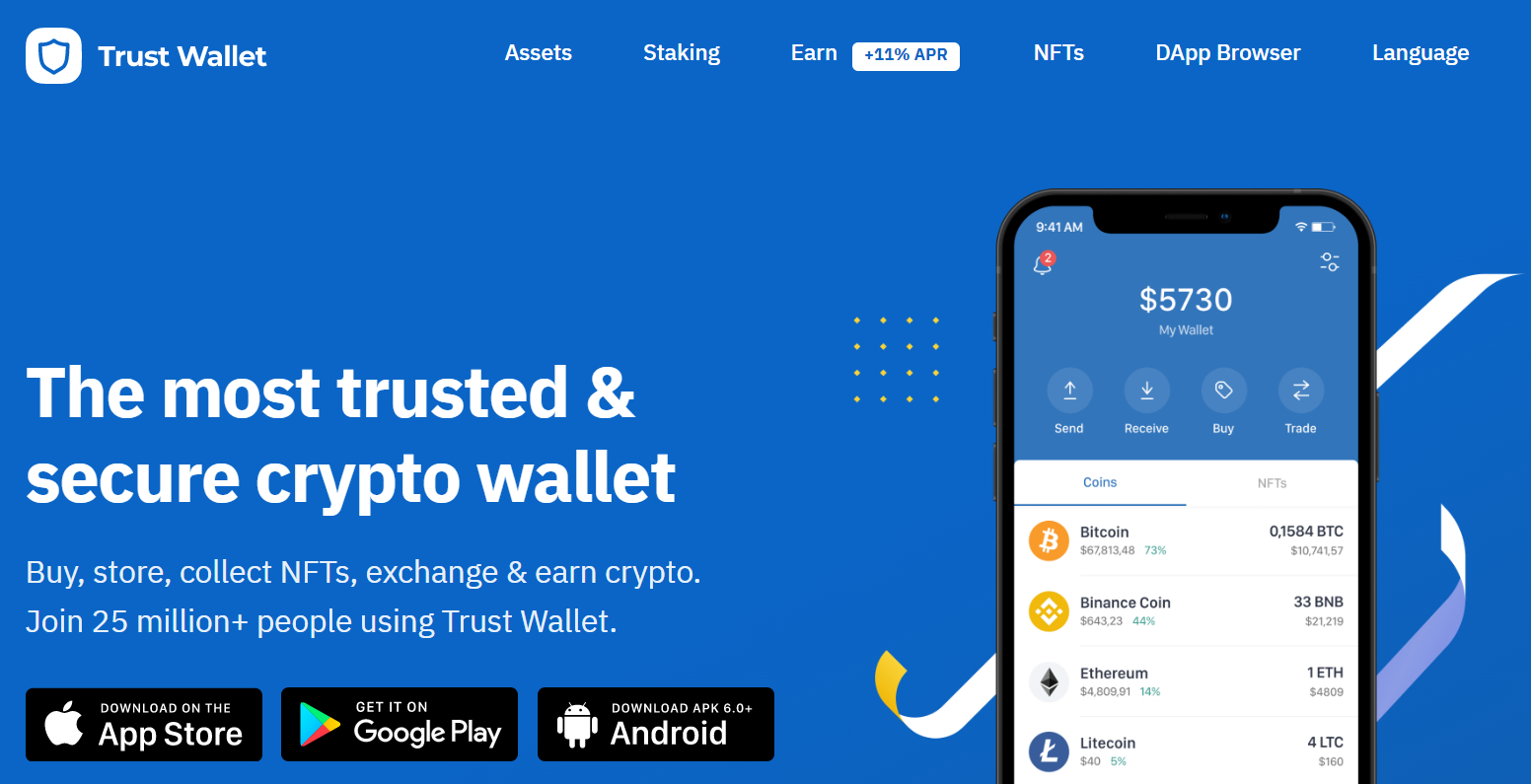 Trust Wallet is a very user-friendly wallet that is available on both the Android Google play store and the iOS app store. It is also available as a browser extension.
Trust Wallet also benefits from its strong link with Binance. Binance's reputation allows over 25 million users to choose Trust Wallet as their best Ethereum wallet. It acts as a hot wallet that allows users to swap crypto assets and track prices from the wallet. It also allows beginner users to invest in art and NFT collectibles.
However, Trust Wallet does not employ cold storage to further strengthen its security features.
Pros
Huge number of cryptos supported
Multi-chain support
Extremely simple and user-friendly
Mobile app and browser extension
NFT marketplace
Cons
| | |
| --- | --- |
| Type of Wallet | Software |
| Number of Supported Cryptos | 4.5 million |
| Fee to Buy ETH | 1% on in-app purchases |
| Mobile App | Yes |
9. Coinbase Wallet – Popular Self-Custody Ethereum Wallet
The Coinbase cryptocurrency wallet is a self-custody wallet, which allows users to secure their crypto tokens and NFT collectibles. The wallet's ultimate selling point is its strong connection with the Coinbase exchange, the largest crypto exchange in the US.
The users can easily link their wallets to their Coinbase accounts. This allows users to easily buy, sell and store their crypto assets in a user-friendly manner.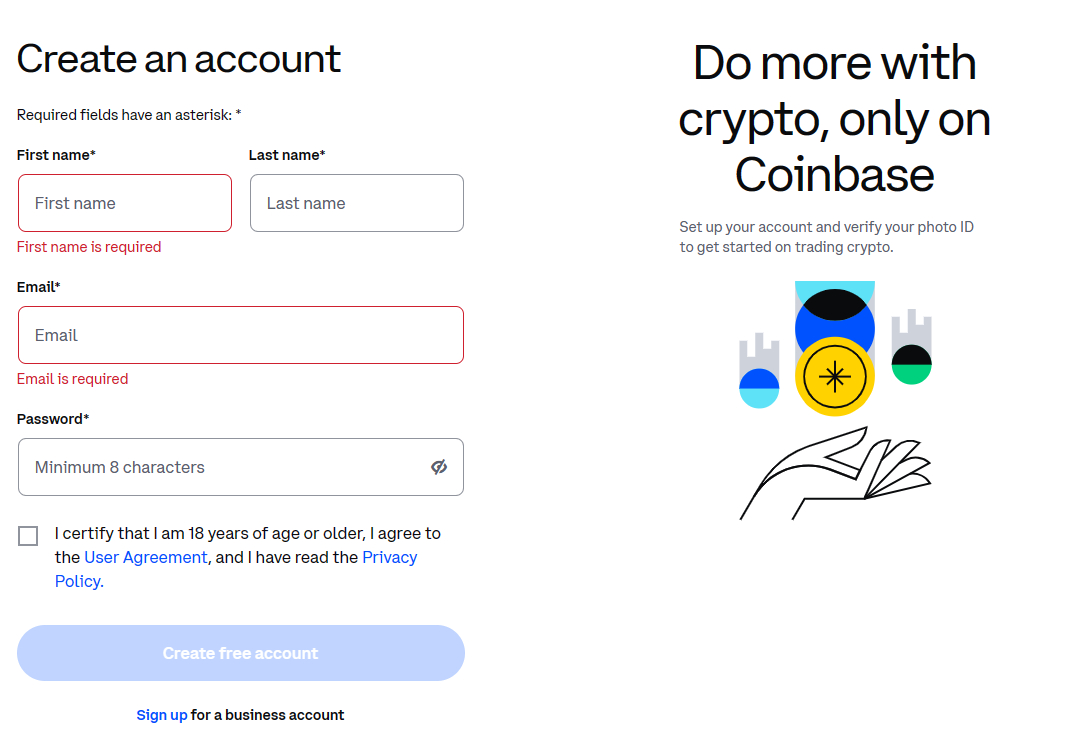 The Coinbase wallet is fully self-custodial. This provides a strong layer of security between the secure wallet and the crypto exchange. It allows users to be in complete control of their private keys and safely access their wallets.
The Coinbase Wallet is considered an extremely secure wallet that employs industry-leading security features such as two-factor authentication, biometric authentication, PIN verification and cloud backups.
The wallet opens a wide range of crypto services to its users. Users can access DeFi liquidity pools, the crypto swap feature, the yielding and staking services, etc. Users can also become a part of DAOs and help shape the future of Web3.
The only disadvantage of Coinbase is that it does not support some popular tokens such as Bitcoin Cash and Ripple's XRP.
Pros
Self-custody wallet
NFT marketplace
Connected to leading exchange Coinbase
Excellent security features
Staking services and other features
Cons
Some leading cryptos not available
| | |
| --- | --- |
| Type of Wallet | Software |
| Number of Supported Cryptos | 100,000+ |
| Fee to Buy ETH | 0.5-3.99% |
| Mobile App | Yes |
10. Exodus – Best Desktop Ethereum Hot Wallet
The Exodus crypto wallet allows investors to securely manage over 260 crypto assets. Exodus wallets are available as mobile applications, web extensions, and desktop applications, allowing users the flexibility to choose the platform they are comfortable with.
The Exodus Web3 wallet is universal in nature and unlocks a wide variety of DeFi services to its users. It is a multi-chain wallet, supporting popular networks such as Ethereum, Binance Smart Chain, Solana, etc. Users can enjoy access to NFTs, decentralized applications and other crypto assets.

Users can purchase crypto tokens using the local currency with credit and debit cards and through Apply Pay.
Exodus wallets are also compatible with Trezor hardware wallets. Users can enjoy the right balance between Exodus's intuitive user experience and Trezor's comprehensive security. Investors can easily swap assets between Trezor and Exodus, thus utilizing a multi-layered approach to security.
Exodus wallets are self-custodial, i.e. the company does not store users' private keys. This provides an additional layer of security to users.
The wallet's drawbacks include a lack of two-factor authentication and open-source features.
Pros
Available as a mobile app or browser extension
Multi-chain support
NFT marketplace
DEXs and CEXs supported
Cons
No two-factor authentication
| | |
| --- | --- |
| Type of Wallet | Software |
| Number of Supported Cryptos | 260+ |
| Fee to Buy ETH | Third-party processing fees |
| Mobile App | Yes |
11. MyEtherWallet – Top Open-Source Ethereum Wallet
MyEtherWallet is a popular crypto storage solution that provides users with a free, client-side user interface to transact Ethereum. It is fully open-source and is available as a web wallet, chrome extension and mobile application.
MyEtherWallet is designed specifically to support Ethereum and is therefore ideal for ETH investment. It supports almost all Ethereum-compatible blockchains such as Ethereum Classic, Polygon, BNB Smart Chain, Optimism, Arbitrum, etc. Users can store ETH, ERC-20 tokens and Ethereum-based NFTs with MyEtherWallet.

MEW's new multi-chain wallet Enkrypt is set to offer support to a wider range of crypto assets and NFTs. It also has a broad crypto swap feature that lets users swap Ether for other tokens such as Bitcoin, Litecoin, Dogecoin, etc. MyEtherWallet has also partnered with Bity to convert Ether instantly to Euros or Swiss Francs. MyEtherWallet is also compatible with all major hardware wallets such as Trezor, and Ledger.
The only drawback to MEW is its lack of support for Ethereum-incompatible altcoins.
Pros
Mobile app and browser extension
Cross-chain support
NFT Marketplace
Strong security features
Cons
Only supports ETH-based tokens
| | |
| --- | --- |
| Type of Wallet | Software |
| Number of Supported Cryptos | Any ETH-compatible |
| Fee to Buy ETH | Customizable |
| Mobile App | Yes |
How Do Ethereum Wallets Work?
Beginner investors can easily choose the best Ethereum wallet from our list. However, it is imperative to understand how crypto wallets work to trust the allocation of your digital assets to them.
Ethereum wallets provide a secure, efficient and user-friendly mechanism to store ETH, NFTs and other crypto tokens and then later buy products with Ethereum if they so wish.
Crypto wallets are not unlike regular cash wallets. They also allow users to digitally hold their assets, the key difference being that crypto assets are not physically stored in the wallet.
Cryptocurrencies are bits of data that are located on a blockchain. The wallets essentially store the user's proof of ownership of crypto assets.
ETH tokens are stored in Ethereum's Externally Owned Accounts (EOAs). Most Ethereum wallets allow users to generate a new Ethereum account. Traders do not need to use a previously generated Ethereum account.
Users operate their ETH tokens through two cryptographic keys: a private key and a public key. 
Public Key: A public key can be intuitively visualized as a bank account number. Users can transfer ETH tokens from to others using their public key. Public keys are named so because users can publicly distribute this key to receive crypto assets from others.
Private Key: A private key is an alpha-numeric passcode that proves a user's ownership of an Ethereum account. Every Ethereum EOA has an associated private key. As the name suggests, a private key needs to be protected at all costs. 
If a malicious actor gets hold of the key, they can easily claim possession of all the crypto assets associated with it. Due to the decentralized nature of blockchain technology, in most cases, users cannot even recover their accounts.
A private key has another important use. Ethereum uses a user's private key to cryptographically generate a digital signature. This digital signature is used to sign all outgoing crypto transactions. A malicious actor can use the private key to forge transactions.
A wallet is primarily responsible for protecting this private key. Furthermore, a wallet can also generate multiple public keys. A public key is cryptographically derived from a private key. While the public key can be distributed, it can be used to track certain details about a user such as transaction history and account balance. Therefore, modern wallets generate a new public key after every transaction to protect a user's privacy.
A crypto wallet uses a seed phrase to authenticate the user's ownership of the wallet. Therefore, it is imperative that users protect their seed phrases from ever being stolen. Users can also choose to store the phrase at multiple locations for surety. 
Types of Ethereum Wallet
While all wallets generally perform the same set of functions, there can be several key differences between them. A beginner user needs to understand the tradeoffs involved in order to choose the best Ethereum wallet.
Based on the mode of availability, wallets are generally categorized into three categories: software wallets, hardware wallets and paper wallets. 
Software Wallet
A software wallet is an application that allows users to store their crypto assets by digitally securing their private keys.
A software wallet's best feature is its accessibility. Users can access these applications on commonly used devices such as Android and iOS phones, personal computers and even web browsers. They do not require the purchase of any new equipment or device.
Software wallets are commonly referred to as hot wallets. While those terms may be used interchangeably, a hot wallet is technically referred to as any wallet that is connected to the internet.
Software wallets being connected to the internet results in a tradeoff between ease of use and security. Software wallets allow users to quickly purchase and sell crypto assets using their private keys. The best crypto apps can also often support a wider range of crypto tokens and provide seamless transactions. Furthermore, they provide a range of payment options such as credit/debit cards, Google Pay, Apple Pay and PayPal.
While software wallets provide a bevy of advantages, they are considered less secure than hardware wallets. The connectivity to the internet can allow hackers and other malicious actors to gain access to a user's private key.
A software wallet can be further categorized into three categories: mobile wallets, desktop wallets and web wallets.
Mobile Wallet: As the name suggests, mobile wallets are applications that users can run on their Android or iOS platforms. Best Ethereum wallets such as Best Wallet offer these applications on both Google Play Store and Apple app store.
Desktop Wallet: Desktop wallets are wallet interfaces that users can download on their personal computers. Desktop applications store the private key on the computer's local storage. 
Web Wallet: Web wallets are one of the most popular kinds of software wallets. Users can usually search for these wallet services on the internet and add them as a web browser extension. While these wallets provide extremely user-friendly interfaces, they are considered the least secure. They can be subjected to keylogger hacks and distributed denial of service (DDOS) attacks. 
Hardware Wallets
Hardware wallets are considered one of the most secure forms of crypto storage. These wallets are physical pieces of equipment that secure the private-public key pair. Users need to connect the equipment to a device such as a personal computer to operate the wallet.
An Ethereum hardware wallet is also referred to as a cold wallet. Cold wallets are defined as any crypto storage device that does not connect to the internet. The lack of internet connection ensures that malicious actors cannot steal the confidential information of the users. Software wallets are as secure as the platform they are operating on while hardware wallets provide additional multiple layers of security for users.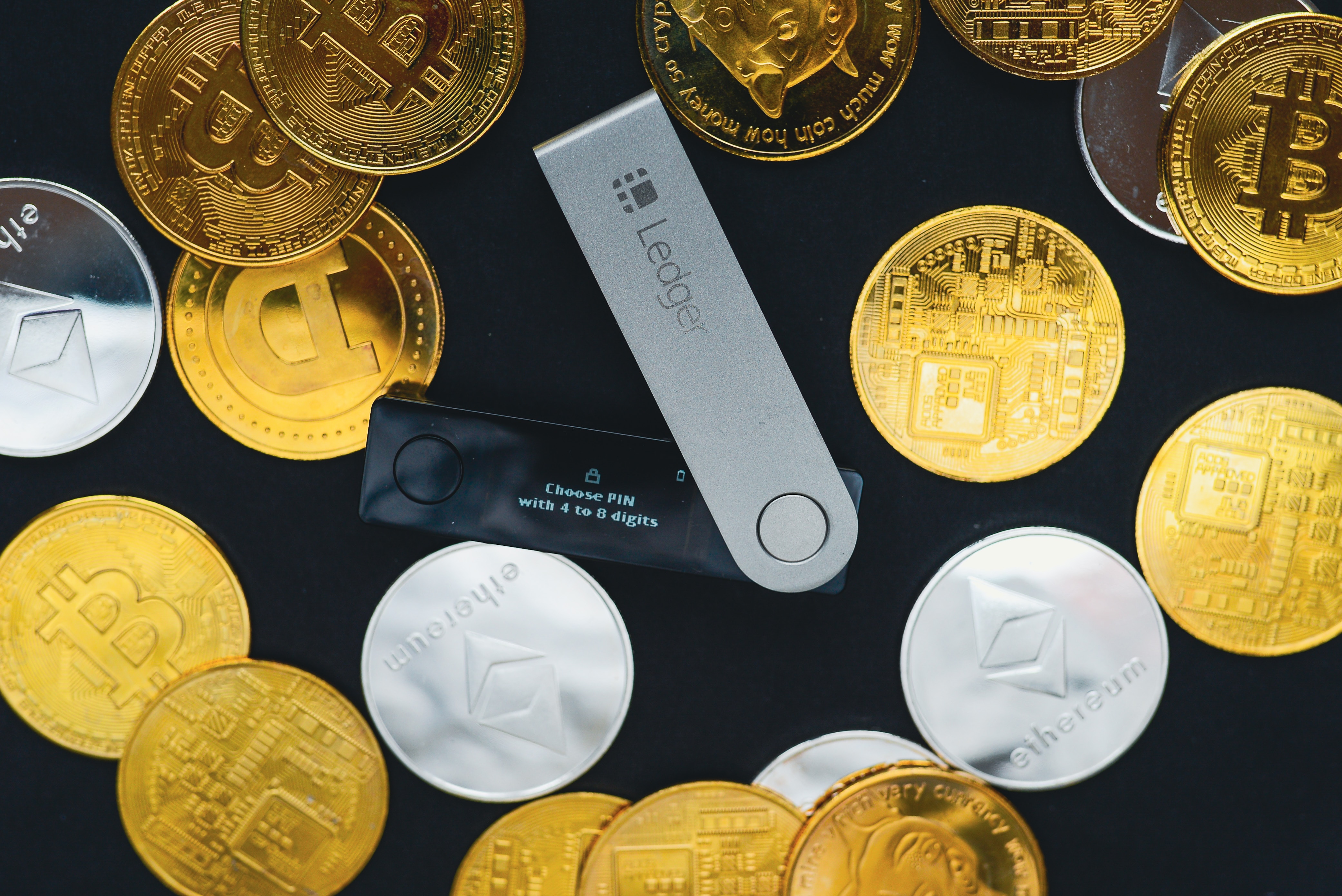 Hardware wallets can also provide additional security features. For example, modern cold wallets use security features such as a PIN code or a biometric scan that makes it impossible for a malicious actor to access the crypto tokens. Hardware wallets are also coming up with additional technology to replace seed phrases, thus eliminating the single point of failure.
While hardware wallets are secure, they also have some key disadvantages. Most importantly, hardware wallets are considered to be less user-friendly than software wallets. These wallets need to be connected to another device such as a desktop to operate.
Hardware wallets are also considered significantly more expensive than software wallets – the price of a hardware wallet can usually range between $50 – $300 and can be a deal breaker for several users. 
Paper Wallets
Ethereum paper wallet involves crypto asset holders writing down their private-public key pair on a piece of paper. This is an old method of storage that is rarely used with the advent of modern crypto wallet technology.
Paper wallets are a kind of cold wallet. However, unlike hardware wallets, they are considered unreliable and risky. Users with paper wallets require an interface to access the blockchain. Therefore, they often end up depending upon exchanges or software wallets, negating any advantage of cold storage.
Furthermore, paper wallets are a massive single point of failure risk. The private key can be lost, stolen or destroyed, making it impossible for the user to ever access their crypto assets. 
How to Find Safe Ethereum Wallets?
The primary function of an Ethereum wallet is to secure a user's private key and the crypto assets allocated to it. 
Investors, especially those just entering into crypto investment are always keen to know if cryptocurrency is safe to invest in and wallets are a necessary feature of participating in the space. However, there are several factors that a user can consider to choose the most secure Ethereum wallet. 
Reputation of the Provider
Due to the decentralized nature of crypto, scams and rug pulls are one of the biggest threats to the digital assets of a user. 
Therefore, considering the reputation of a wallet provider is the easiest step a user can take to trust the authenticity of the wallet.
For example, a wallet that is regulated by a leading regulatory body can generally be trusted. Similarly, providers with a strong track record of traditional financing can also be trusted with their crypto products.
Security Features
A good understanding of the various security features offered by crypto wallets can help users select the best wallet.
Hardware wallets are usually considered the most secure option. These wallets are not connected to the internet, preventing any malicious activity to access the user's confidential data. They can also provide additional security features such as biometrics and a PIN code.
On the other hand, a software wallet can also be trusted if it provides comprehensive security features.
Testing the Wallet
Testing the wallet may be the best way to develop trust. Users can send a small amount of crypto assets using the wallet before trusting it for significant amounts. A number of Ethereum wallets also allow users to try out the wallet on the testnet using fake crypto assets. 
How To Choose The Best Ethereum Wallet For You?
The choice for the best Ethereum wallet is a matter of personal choice and can differ from user to user. Here are the key factors that can help users make an informed choice. 
Security
As we have already discussed, a wallet's primary role is to ensure the security of a user's crypto assets. Therefore, users need to consider security as their top priority while selecting the Ethereum wallet. Beginners need to choose a wallet that is reputed and is certified by a regulatory body.
Beginners are also susceptible to losing their private keys. Therefore, they need to choose a wallet with proper wallet recovery options such as seed phrase, two-factor authentication. 
Remember, it is possible to avoid paying tax on crypto if you simply keep it in your wallet and don't sell it, but you want peace of mind that it will still be there when you return.
Supported Coins 
Beginners can be overwhelmed by the wide variety of assets available in the crypto market. A high-quality wallet supports a large number of crypto tokens, thus allowing users to diversify their portfolios.
Many top wallets are also universal in nature as they support more than one blockchain network.
Fees
Another important factor to consider is the fees required to purchase certain crypto assets through a wallet. Different wallets use different exchanges to allow users to purchase crypto tokens from the wallet interface. Hardware wallets can often partner with third-party services to offer crypto functionality to users.
Fees can be of various types such as processing fees, network fees, trading fees, withdrawal fees, etc. Hardware wallets also require users to purchase the device upfront which can be expensive.
User-Friendliness
Beginners need to consider that the wallet they choose is user-friendly. The idea of user-friendliness can differ from user to user. Beginner users may prioritize the ability to operate their Ethereum wallets from their mobile phones. Proper customer support and a broad ecosystem can also make wallets like Best Wallet user-friendly.
Most importantly, wallets must provide users with a clear user interface to buy, sell and store cryptocurrencies. 
Features
Users may prioritize the availability of certain features in their wallets. For example, NFT enthusiasts may prioritize that the wallet provides NFT support. Seasoned investors may require staking, farming and yield functionality in their wallets. 
Type of Wallet and Mobile Availability
Users need to make a careful choice between hardware wallets and software wallets. Most beginners prefer the availability of mobile wallets. Therefore, they need to ensure that the wallet of their choice provides Android or iOS support.
Seasoned investors may choose a multi-layered approach that involves both hot wallets and cold wallets. Such users usually store their assets in cold storage and transfer them to a hot wallet when they are looking to trade. 
How to Get & Use A Ethereum Wallet – Step-by-Step
By now, a user has enough information to choose the best Ethereum wallet of their liking. Now, let's go over how users can operate an Ethereum wallet seamlessly. We are taking the example of the Best Wallet due to its simplistic user interface.
Step 1: Downloading the App
To start, visit the Play Store (for Android users) or the App Store (for iOS users). Search for "Best Wallet" and tap the 'download' icon. The Best Wallet app is free and designed for a quick installation process.
Step 2: Account Registration
After the installation, the app will guide you through the registration process. You have two options here:
Enter an email address that you frequently use.
Use the 'Continue with Apple/Google' feature for a seamless integration with an email already associated with your device.
Step 3: Enhancing Security
For your account's protection:
The app offers two-factor authentication (2FA). This will send a six-digit code to your device whenever you log in, adding an extra layer of security.
Setting up a four-digit PIN is essential and cannot be skipped.
For those preferring quick access, you can activate a fingerprint login. This means no more PIN entries whenever you want to access your account.
Step 4: Explore The Best Wallet Features
Once registered, you can explore all the Best Wallet features. This includes insights on emerging and popular tokens, purchasing cryptos via third-party applications, and trading on its decentralized exchange platform with vast cryptos.
Crypto assets are a volatile investment product. Your capital is at risk.
Conclusion
Crypto wallets are crucial in allowing users to succeed in the crypto ecosystem. The Best Wallet provides beginners with the perfect crypto storage solution by balancing security and user-friendliness.
The platform has a plan that shows features being released step by step. Soon, users will get features like fingerprint security, support for multiple wallets, swapping within the app, crypto news updates, an NFT gallery, and new ways to earn staking rewards for its users.
Crypto assets are a volatile investment product. Your capital is at risk.
FAQs
Which is the Best Ethereum Wallet?
After considering a wide variety of factors, we believe that the Best Wallet is the best Ethereum wallet. They provide ease of use, uncompromising security, and a wide range of features. 
What is the Safest Ethereum Wallet?
Hardware wallets are usually considered more secure than software wallets due to the non-access to internet connectivity. However, Best Wallet software wallets provide a broad level of security using two-factor authentication.
Is there an Official ETH Wallet?
No. The Ethereum Foundation does not have an official ETH wallet. Users can choose the best wallet according to their liking.