Hacks, Exploits, Pauses and 20 Crypto Jokes
It was an eventful crypto-week. Seven golden crosses were seen shining among the top 10, including BTC, yet a surprising Bitcoin crash left the market bewildered, but still BTC may be at a pivotal point. Alibaba launched a blockchain-powered initiative amid coronavirus fears, Fcoin failed and has no money to pay back its users, IOTA came out with a remediation plan after the hack, Litecoin creator Charlie Lee called DeFi a "decentralized fiatre" after an attack on DeFi platform bZx, and DeFi lost USD 140 million in a few hours as bZx was attacked again. Deutsche Telekom, T-Mobile US, Telefónica, and Orange will pilot a blockchain-powered solution for automated roaming management, while the New York-based hedge fund upped its offer for creditor claims from the collapsed Mt. Gox.
As Telegram and the SEC met, and the judge promised the end of the case by April 30, G20 will once again discuss cryptos and CBDCs, Israeli attorney general defends crypto users in a case against banks, Russian central bank wants banks to flag crypto deals as 'suspicious', South Korean financial institutions have formulated crypto business plans they can't go public with due to a lack of regulatory clarity, and Japanese police believe that the senior management of a food retailer sank millions of investors' dollars into a shitcoin. Meanwhile, Binance encountered issues, pausing most trading services, and Content Protocol Token is set to close due to regulatory uncertainty and lack of business prospect. On the other hand, Coinbase became Visa principal member, and Japanese exchanges' employees are working from home due to coronavirus. Finally, Norwegian is set to allow customers to pay for air tickets using cryptocurrency within the year, Brad Garlinghouse said Ripple is like Amazon in its early days, and we looked into how censored, controlled and surveilled BTC really is and into what these much-talked-about flash loans are.
Where the summary ends, the jokes begin.
__________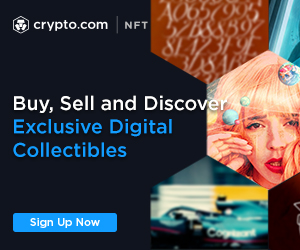 So, what's our plan? Ah, excellent!
Step 1: Get drunk
Step 2: Buy bitcoin
Step 3: ???
Step 4: Profit

— Gigi ☯️☣️ (@dergigi) February 19, 2020
__
Send the man some coins, he's starving!
3 days since $IOTA turned off the coordinator.

All the food in my IOT smart fridge has gone bad,

Tried to go to grocery store but my Volskwagon won't even start. Literally starving now.

Please I could really use some donations. My $IOTA address is EIDJAL12348015IOTAISASCAM.

— Kay Kurokawa (@kaykurokawa) February 15, 2020
__
When you're very satisfied with yourself.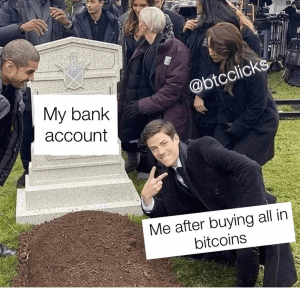 __
"Almost had it!"
Most of you trying to trade... pic.twitter.com/PzYOgNSgCR

— SHILL GATES (@ImShillGates) February 9, 2020
__
Too soon?
entering the bull market on #fcoin pic.twitter.com/k8KqOq9pr2

— The Crypto Dog📈 (@TheCryptoDog) February 17, 2020
__
What? This too soon? Thought you wanted to know what a flash loan is.
Behind the scenes of a @MakerDAO collateral swap using @AaveAave Flash Loans, @UniswapExchange and @chainlink oracles 📸 @daveytea @RyanSAdams @econoar @nanexcool @EthereumMemes $LEND $LINK $ETH #Woah pic.twitter.com/NyKo1JHV6x

— Jordan LG 👻 (@JordanLzG) February 20, 2020
__
Finally! Somebody who'll listen when you want to talk Bitcoin.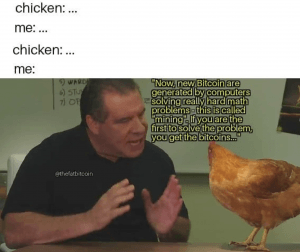 __
Hodl the hodler.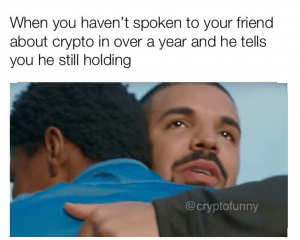 __
So close no matter how far… Actually, vice versa.
Altcoins trying to find support pic.twitter.com/LyEghKQuZh

— ⛏Crypto Chris Walken🥃 (@cryptochrisw) February 16, 2020
__
The dangers of staying behind.
bitcoin
○
く|)へ
〉
 ̄ ̄┗┓ fiat social engineers
    ┗┓  ヾ○シ
   ┗┓ ヘ/    
  ┗┓ノ
          ┗┓

— jeet ਪ੍ਰਭਜੀਤ🦎🔄🐊 (@jeetsidhu_) February 10, 2020
__
The benefits of being ahead.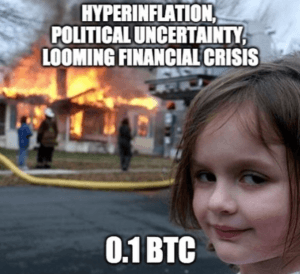 __
Can't forget them stoplosses, CT. See what happens?
When the whole of Crypto Twitter jumps on the same shitcoin without stoplosses pic.twitter.com/bmsa84B9ml

— TEDDY (₿) (@TeddyCleps) February 12, 2020
__
Don't worry, they have a plan for a plan for a schedule. It's coming.
Me waiting for those "we plan to decentralize" networks to decentralize pic.twitter.com/DYvq95ai2p

— nic carter (@nic__carter) February 18, 2020
__
Reading between the lines in the Cryptosphere?
__
No, sorry, crypto twitter is many things, but it's NOT cute.
Different factions of crypto twitter fighting each other for something they're both guilty of pic.twitter.com/wdPNhHUgRb

— Rob "Crypto Bobby" Paone (@crypto_bobby) February 10, 2020
__
It apparently requires some hard training, this is no joke, people.
Someone caught @brian_armstrong training to fight off #Bitcoin maximalist during the next bull run. https://t.co/wj3BUM60sI

— Brad Mills 🔑 (@bradmillscan) February 19, 2020
__
Look, it's very simple. I want it to drop a lot so I can buy as much as possible, and then I want it to rise only - to the Mooooon!
CryptoTwitter: if only we get a 5% dip, I'm going all in!!! #YOLO #ToTheMoon

Market: dips 7%

CryptoTwitter: we're going back to $5k, yo! pic.twitter.com/lIS5CTJKw1

— Mati Greenspan (@MatiGreenspan) February 17, 2020
__
The Cryptoverse's speed of adaptability is unprecedented.
Understanding this meme is key to your financial freedom#thistimeitsdifferent from r/Bitcoin
__
No, seriously, it's unsurpassed, the ability to get used to things. It borders masochism.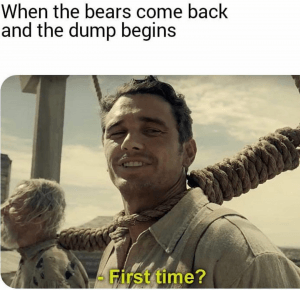 __
And finally, here's a tutorial on taxes for crypto traders. You're welcome.
Cryptocurrency traders be calculating their taxes like pic.twitter.com/Hedv8M5s49

— ChartStarHQ (@ChartStarHQ) February 17, 2020