DeFi On Bitcoin To Grow In The Shadow Of Ethereum
Bitcoin accounts for a small portion of all DeFi projects. It's more likely that Bitcoin will be further integrated with other DeFi ecosystems than develop a rival one. Projects working with DeFi on Bitcoin still plan to grow and improve their platforms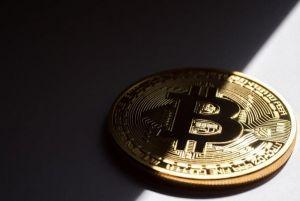 Decentralized finance (DeFi) is big and getting bigger, having accounted for only USD 1bn in total value locked (TVL) in July 2020 and now accounting for around USD 40bn. However, while almost everyone tends to treat the sector as a single, rapidly growing bloc, it's actually composed of a number of sub-sectors that are respectively growing at varying rates.
One of these sub-sectors is DeFi on Bitcoin (BTC). Featuring platforms and products built on the Bitcoin blockchain, it remains small compared to the Ethereum (ETH)-based DeFi ecosystem, yet it's starting to gain more attention.
Industry players speaking to Cryptonews.com estimate it will remain a niche area within the overall DeFi landscape, with BTC mostly being moved to Ethereum-based DeFi rather than the other way around.
DeFi on Bitcoin is small
According to DeFiPrime's latest figures, the Bitcoin blockchain accounts for 26 — or approx. 10.5% — of the 248 DeFi projects or platforms it currently lists.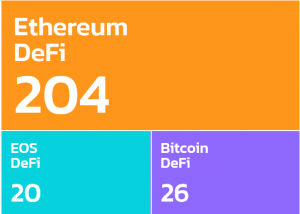 This seems like a fairly respectable (if modest) proportion, yet if you look at total value locked in, you begin to realise that DeFi on Bitcoin is pretty miniscule.
For Ethereum-based DeFi, the TVL is at around USD 40bn, the top ten platforms all enjoying at least USD 1bn in TVL (according to DeFi Pulse). If you look at some of the leading Bitcoin DeFi projects, you realize that DeFi on Bitcoin doesn't really come close.
"RSK provides the infrastructure for Bitcoin-based DeFi and is utilized by projects like Sovryn. Based on the data from rsk.co/openfinance TVL is around USD 22m, which is very small compared to the Ethereum or even Binance Smart Chain DeFi ecosystems," said Ilya Abugov, an advisor to DappRadar.
He added that the Lightning Network — which is also technically DeFi — has a TVL of around USD 55m, according to DeFi Pulse. As such, he concluded, "overall, the DeFi ecosystem in BTC is small at the moment."
Even platforms within the Bitcoin DeFi sub-sector agree with this assessment.
"As far as I know, the DeFi ecosystem on Bitcoin is very limited, since Bitcoin is not a smart contract platform like Ethereum or Tezos. Decentralized exchanges (DEX) based on Atomic Swaps (such as Atomex) are the most common applications on this topic related with Bitcoin," said Igor Matcak, Atomex's co-founder and core developer.
Likewise, a contributor to decentralized exchange Bisq (who wishes to remain anonymous) also acknowledged that Bitcoin-based DeFi is small, even if he takes issue with the narrow definition of DeFi.
"I've heard Hodl Hodl [a peer-to-peer BTC trading platform] and another project called Sovryn do lending with Bitcoin, but I'm not sure either of these projects serve a substantial base of users at the moment. So maybe the space is in an earlier stage of development on the Bitcoin side," he told Cryptonews.com.
Limited demand
Opinions differ on just how much growth the Bitcoin DeFi ecosystem is likely to enjoy in the coming months and years.
"BTC is establishing itself more and more as a store of value in the industry, and given the popularity of wrapped BTC options, it appears more likely, at the moment, that Bitcoin will become further integrated with other DeFi ecosystems than develop a rival one," said Ilya Abugov.
His argument is well-supported by available data, with figures from DeFi Pulse showing that ERC-compatible versions of BTC represent a much bigger area than DeFi on Bitcoin.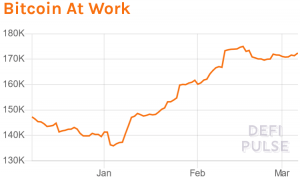 __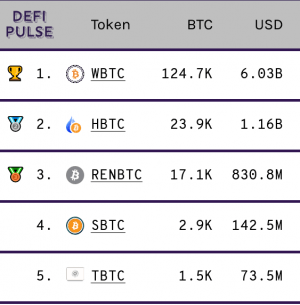 In other words, most people seem to be more interested in adding BTC to the Ethereum-based DeFi ecosystem than creating a Bitcoin-based version of this ecosystem.
"This suggests that bringing BTC into other DeFi ecosystems is an acceptable solution for the industry. If there is the demand for more Bitcoin-based solutions its DeFi ecosystem will grow, but for now, demand appears limited," added Abugov.
The projects working with DeFi on Bitcoin take a different view of the situation, with many emphasizing their plans to grow and improve their platforms.
As Atomex's Igor Matcak said, "In the near future we plan to add support for Segwit addresses for Bitcoin, as well as support for Lightning Network payment channels. A very important step is to allow anyone to become a market maker on Atomex."
Similarly, Bisq's contributor highlighted the progress it has made since it launched in 2016, including its successful launch of the Bisq DAO (decentralized autonomous organization) in April 2019. He also revealed that it has numerous plans for the future, including the possibility of streamlining Bisq trades to one on-chain transaction instead of four.
"An API to enable trading is set to debut in the next month or two, which should open the floodgates for app developers to extend and streamline the Bisq trading experience. The big longer-term goal is adapting Bisq to work more efficiently in a high-fee environment, which we're starting to see becoming a norm," he said.
Another platform within the DeFi space is Liquality, a multi-chain wallet with atomic swaps. According to co-founder Thessy Mehrain, it also plans to improve and expand itself in the near future.
"[We're] continuing to add more chains, building out the liquidity network by adding tools to the Market Maker Bot, [and] integrating customizable wallet features such as for time locking and increased privacy," she told Cryptonews.com.
'Might be more robust'
This all suggests that DeFi on Bitcoin is likely to grow in the near future, but not at a rate or on a scale that would turn it into a serious competitor to DeFi on Ethereum. Bitcoin is considered to be less smart contract-friendly, while, at this stage, it is also gravitating more towards a specific use case — store of value.
That said, advocates claim that DeFi on Bitcoin will retain a certain value over its rivals on other chains, particularly as it comes to decentralization and the absence of big centralized backers.
As Bisq's contributor concluded, "Decentralized finance applications on Bitcoin may not be as 'big' as those on Ethereum, but at least speaking from the Bisq perspective, I would say they might be more robust. I think this uncompromising approach will be better for Bitcoin-based projects in the long-run."
____
Learn more:
- Bitcoin Pioneer LN Markets Raising Capital, Building 'Liquidation Killer'
- Bitcoin DeFi Startup Atomic Loans to Launch Lending
- Decentralized Exchanges Set To Accelerate in 2021
- DeFi 'Genie Is Out' and Is Set For Growth in 2021
- Yield Farming-boosted DeFi Set For New Fields With Old Challenges in 2021
- If Traditional Finance Moves to CBDCs, 2 Scenarios Open for DeFi - INDX CEO
- DeFi Industry Ponders Strategy as Regulators Begin to Circle
- Crypto Security in 2021: More Threats Against DeFi and Individual Users
- Top 4 Risks DeFi Investors Face
- 'If DeFi Collapsed, Bitcoin Would Still Be Bitcoin'
---