Brazil, Japan, Istanbul and 20 Crypto Jokes
This week in the Cryptoworld: CryptoBridge is shutting down, while Vertcoin experienced another 51% attack, Huobi strengthens ties with China , OneConnect Financial Technology aims to raise up to USD 504M in an IPO, Hive found itself in a peculiar situation, SBI is considering issuing XRP as company-wide shareholder rewards, while Ripple again dismissed the security suit, and Bitfinex partnered with Bitrefill to let customers pay with BTC via the Lightning Network, with other tokens coming too. That's not all, as VeChain price jumps 20%, ETH price before Constantinople beat the price ahead of Istanbul upgrade, Bitcoin could hit USD 5K before rallying, and Poloniex co-owned by Tron's Justin Sun delisted DGB after its founder criticized Poloniex and Tron. Meanwhile, the Cryptoverse faced a massive moral dilemma with an arrest of an ETH developer, who then got himself a top lawyer, a London-based IT analyst admitted to blackmailing Apple for BTC, and the Australian Federal Police seized more than AUD 1.52 million (USD 1.04 million) worth of unspecified cryptocurrency on an electronic device.
In the meantime, Deutsche Bank reported that fiat is fragile and crypto inevitable, South Korean exchanges will struggle in 2020, PBoC issued USD 2.8 billion worth of blockchain-issued financial bonds, Russia confirmed it's planning measures to seize crypto, the EU has taken a firm stance on stablecoins, Brazilians made 2.5 million crypto transactions in just 8 weeks despite the latest tax laws, Mitsubishi UFJ Financial Group and Recruit will launch a "digital currency" and smartphone-based payment service, eToro is working on a debit card, and while 200 businessmen identified top four major challenges for DLT, we discussed if the market priced in Bitcoin halving.
And now, their crypto majesties – the weekly jokes.
__________
The Bitcoiniciousest thing ever. And yes, that's a word, no need to check.
This is the most absolutely bitcoin clip of all time. pic.twitter.com/RxpJsNiXG9

— Stephen Cole (@sthenc) December 2, 2019
__
First Istanbul, then Serenity, then... I can't wait to see what comes after it.
A figurative look at ETH 2.0. pic.twitter.com/BWwpwPlrmT

— WhiteRabbit (@WhiteRabbitBTC) November 13, 2019
__
👏 👏 👏 👏
Volatile

— Ledger Status (@ledgerstatus) November 26, 2019
__
Crypto Gatekeepers.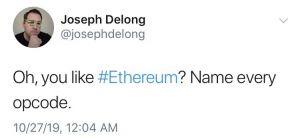 __
Perfect.
November 27, 2019
__
Well, that's an accomplishment.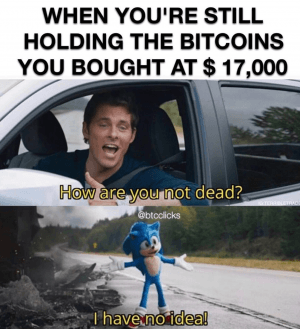 __
A heartfelt request.
To whoever is in charge, can we please go back to volatility during American or European hours instead of volatility at Asian hours?
I need my sleep and 6AM is just not going to cut it for me.

Yours kindly,
DonAlt

— DonAlt (@CryptoDonAlt) November 25, 2019
__
Listen well, young Crypto Padawan.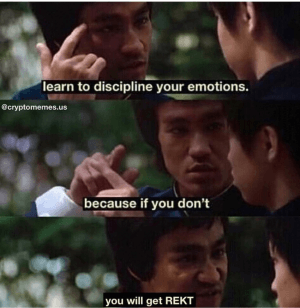 __
In case you didn't hear it the first several googolplex times.
HOOODDLLL!!! pic.twitter.com/NTNGznDidL

— Panama ₿ (@Panama_TJ) November 27, 2019
__
Attracting you romantic interest 101.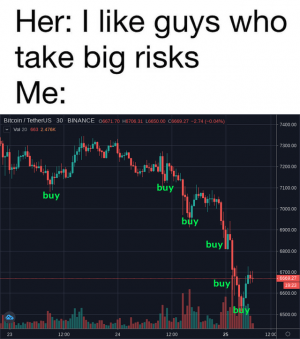 __
There you go. We're not twitter's biggest drama queens.
damn if you thought crypto twitter was wild you should check out pie twitter 🔥🔥🔥 pic.twitter.com/HhRkRWFvK2

— Lolli 🍭 (@trylolli) November 27, 2019
__
Whyyyyy?!
December 4, 2019
__
Once again - but whyyyyyyy?!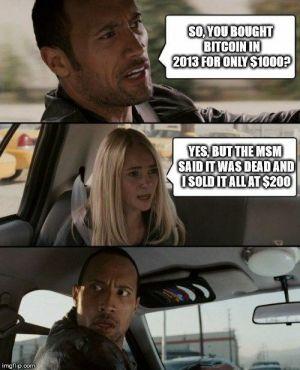 __
I believe it.
You may not like it, but this is what peak technical analysis looks like pic.twitter.com/c6pbjaKO5C

— Tom Shaughnessy🦉 (@Shaughnessy119) November 24, 2019
__
Charts made easy.
This one seems more like a Marge to me... pic.twitter.com/lv7vl7TfVc

— Mati Greenspan [not trading advice] (@MatiGreenspan) December 4, 2019
__
Here's what it looks like IRL, captured on camera.
Crypto trading group pic.twitter.com/UnYbjuAPBo

— Matthew Graham (@mg0314a) November 26, 2019
__
A new version of a classic.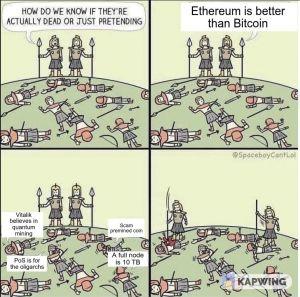 __
The different-same S.K.
In collaboration with @jivdontexist , let us introduce you to Saint Nakamoto!https://t.co/kwa8qXBOLX#cryptoart @SuperRare_co pic.twitter.com/ETyugS1ygN

— ᗩᒪᎧTTᗩ ᗰᎧᑎEY ❂ (@money_alotta) November 27, 2019
__
Absolute brilliance!
We're still hiring advisors https://t.co/tVm66Sd4Co

— 𝖤𝖽𝗆𝗎𝗇𝖽 𝖲𝖼𝗁𝗎𝗌𝗍𝖾𝗋 (@Edmund_Schuster) December 4, 2019
__
What's considered proper education in some families.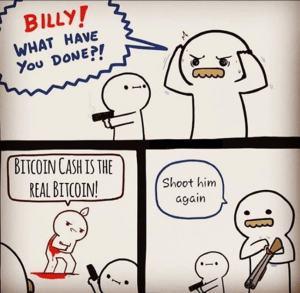 __
Look at him go!
Altcoin bag hodler from December 2017 / January 2018 spotted.

Watch till the end. pic.twitter.com/7SQXG8JkN3

— ₿lackbeard (@crypto_blkbeard) November 18, 2019