XRP the Best Performer Today; Ripple Dismisses Securities Suit Again
XRP is the best-performing top 10 coin today. This coincided with Ripple's recent court filing and statement that, even if XRP were a security, the plaintiffs still brought the case against the company too late.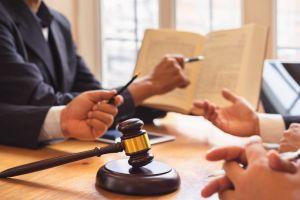 At the time of writing (9:19 UTC), XRP is one of only four green coins among the top 10 coins by market capitalization in the 24-hour period, while no coins have appreciated in the last week. The price appreciated 2.19% in a day, though it fell 2.49% in a week, and it now stands at USD 0.22. Its highest price in the past week was USD 0.23.
XRP price chart: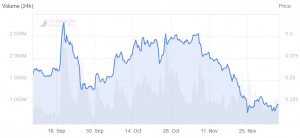 Ripple, a California-based blockchain startup focusing on payment technologies, said in a new filing dated December 4 that: "XRP is not a security, but that is irrelevant for purposes of this motion. Even if XRP were a security, Plaintiff's claims still fail as a matter of law."
This is one of several responses to a class action lawsuit according to which the company illegally sold unregistered securities. Investors sued Ripple and its executives back in 2018, claiming that they were persuaded by the company to purchase XRP, resulting in loss of money, that the company violated U.S. securities laws by selling XRP, and that XRP should be declared a security. Bradley Sostack was appointed the lead plaintiff by a federal court.
This filing pretty much reiterates what was reported in September. Ripple persists in their claims that XRP is not a security and is asking the federal court to dismiss the case. However, their primary focus is on the counterclaims that:
all XRP were created in 2013 and are entirely fungible;
by 2015, more than 30 billion XRP were already in circulation;
the investors bought XRP as a part of the general public on an exchange from an unknown third party, not directly from Ripple, when Ripple's sales accounted for 0.095% of all exchange-based XRP sales;
plaintiff filed the instant complaint in 2019;
therefore the complaint was filed too late (Ripple here uses a law protecting companies from lawsuits concerning the sale of unregistered securities after three years from the initial sale).
In other XRP-related news, Ripple's partner MoneyGram expanded its debit card deposit service internationally, to Spain and Philipines, via Visa Direct. Speaking of partners, co-founder of San Francisco-based company Forte, Brett Seyler, talked about the benefits of using blockchain in the USD 140 billion gaming industry. Forte uses the Interledger protocol (ILP) co-created by former Ripple Chief Technology Officer Stefan Thomas to connect multiple blockchains and XRP to raise the level of interoperability, for security and liquidity.
Furthermore, just yesterday, we've reported that Japanese financial giant SBI, which previously praised Ripple, is now considering issuing XRP as company-wide shareholder rewards.
In the meantime, Twitter personality, Crypto Bitlord, who started a Change.org petition calling for Ripple to stop dumping, has now shifted his focus on Tron.
---