Are We There Yet? 20 Crypto Jokes
This week turned out intense. Bitcoin got to USD 9,000, only to drop just below USD 8,200 in five hours and then become more difficult to mine than ever. With the Bitcoin spiking all over the place, the community is standing at attention. Meanwhile, there is no such thing as a meme-free week in the cryptosphere. And Vegeta is everywhere too.
The week kicked off with news that 10 cryptocurrency exchanges passed a wash trading test, and there was quite a lot of bull talk with many Bitcoin predictions, but also a number of warnings about private key generators and fake crypto wallets, and liquidators rushing to protect Cryptopia users' funds, cryptoverse celebrated the old inclusion of Bitcoin in Excel and the new options to buy digital racecars and dresses. Kin will use another USD 5 million in their legal fight with the SEC, investors and dapp users compared four major industry players to see who wins, and Fold sold 2,500 pizzas. We are reminded this week of the relationship between China and crypto and the importance of Chinese investors in the cryptoverse. Meanwhile, in South Korea, the country continues its relentless blockchain drive, the government is talking as the crypto prices skyrocket, millions of telecom customers are to be granted access to a blockchain platform, and one of its banks launched the nation's first blockchain-powered loans. Manse for South Korea!
___________________________
The comeback of a classic.
May 26, 2019
__
When you're in a bit of a hurry.
#cryptomeme of the day. 😂

Awesome month for bitcoin and congratulations to those who are still holding. 😃 Celebrate your wins and don't forget to adjust your Stop Loss for traders indeed. 👍#cryptomemes #crypto #memes #blockchain #blockchaintechnology pic.twitter.com/JKX5XjKStx

— Lisa Pace-Renata (@selflovelisa) May 27, 2019
__
Again. It's under 9,000 again.
May 27, 2019
__
And not a single smile was seen.
May 29, 2019
__
But a few laughs were heard.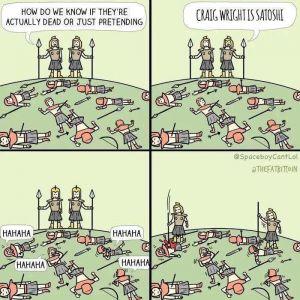 __
Heeeere, kitty-kitty-kittyyyy!
Ah... the classic scared cat formation.
Proud to say we taught u/tehsonicwombat everything he knows about crypto.....https://t.co/IKjPbi85pN pic.twitter.com/lYTTJgjmWl

— BLOCKTV (@BLOCKTVnews) May 29, 2019
__
It's a curse and a gi-- No, it's just a curse.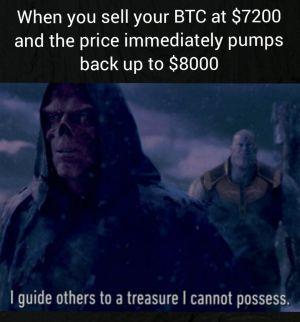 __
Well, now, if that's not convenient, I don't know what is.
As much crypto as you want. 😇 https://t.co/nYRH4843mO

— Mati Greenspan (@MatiGreenspan) May 28, 2019
__
When it's finally time to dust them sunglasses off.
Me when my hodlings pay me off!#crypto #hodl #bitcoin #cryptomemes #trading #money #profits pic.twitter.com/viLvHakYFD

— CabaretPerleBlanche (@PerleBlancheMtl) May 29, 2019
__
What have I done.....
That feeling! What coin did you miss out on?#bitcoin #neo #cryptocurrencies #cryptomeme #altcoins #binance pic.twitter.com/z75glaNxE5

— Crypto Supmeme (@cryptosupmeme) May 29, 2019
__
Why can't I just have my cake and eat it too?
1000 $BTC in your hand right now, but there is a catch:

* A snail is chasing you for the rest of your life and if it touches you, you die a terrible death.
* The snail cannot be killed.
* It knows your location at all times.
* it's only purpose is to find you.

Taking the $BTC? pic.twitter.com/n7WhxAS7MT

— Josh McGruff (@JoshMcGruff) May 28, 2019
__
An analysis.
The dollar community should stop trying to turn their token in to a religious cult, if they want to be taken seriously! pic.twitter.com/p7Le9cYr0O

— Pierre Rochard [🌮⚡️🔑] (@pierre_rochard) May 26, 2019
__
This week in the cryptoworld.
Everybody watching the price right now from r/cryptocurrencymemes
__
Just you wait...
After investing in Crypto😂😂😂#rekt #fud #fudnation #moon #btcdown #bitcoin #xrp #ethereum #cryptobabe  #bitcoin #xrp #tezos #cryptoindians #Crypto #TRON #dash #vitalik #reveal #cryptolife #Cryptomeme @satoshiclan #bullmarket #cryptofun #bitcoinrules #CoinMarketCap #altcoins pic.twitter.com/lSDqLgtsk9

— SatoshiClan (@SatoshiClan) May 25, 2019
__
Just a teeny-weensy bit of shaking happening there.
$BTC trying to hold support pic.twitter.com/PTyx04lWW4

— ⛏Crypto Christopher Walken⛏ (@cryptochrisw) April 7, 2019
__
The one that'll keep you up at night.
When you set a buy and $BTC has a 1k candle pic.twitter.com/2RhGWW4VgW

— ⛏Crypto Christopher Walken⛏ (@cryptochrisw) May 29, 2019
__
A nice view!
Looking out the window to all the successful private blockchain deployments pic.twitter.com/Q0UydNrnHZ

— Tom Shaughnessy🦉 (@Shaughnessy119) May 31, 2019
__
The Moon Express
Jumping into the train leaving for the moon🚀 pic.twitter.com/4eY7ymzPyN

— Mia Tam (@_blockandchain_) May 28, 2019
__
Speaking of trains....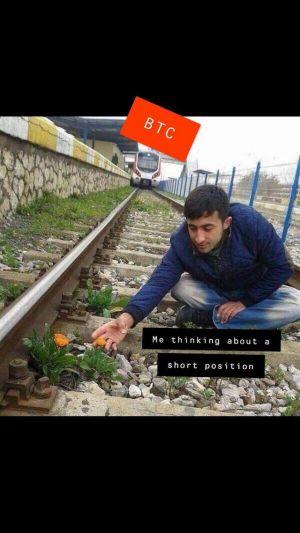 __
CryptoHymn for the Weekend.