Bull Talk: Bitcoin at USD 20K, Tip Of The Iceberg, and Time Traveler
Andy Cheung, Head of Operations at crypto exchange OKEx and Sonny Singh, Chief Commercial Officer of the crypto payment processor BitPay joined the Bitcoin bull talk this week, while the cryptoverse got back to their favorite "time traveler" for an advice.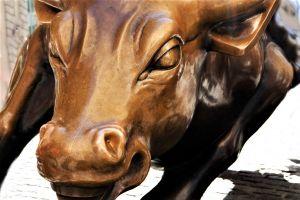 "USD 20,000 is a conservative prediction for Bitcoin price in 2019, as I said last year," Andy Cheung wrote in a recent newsletter, adding that the rally won't stop here, "because more institutional investors are coming into the market and the 2020 halving effect starts to take place."
Bitcoin price (c. USD 8,600) is up by 127% this year and more than 60% in May only.
Meanwhile, in an interview with Bloomberg from May 29th, Sonny Singh said he believes that Bitcoin will keep rising, particularly with all the upcoming developments. "Who knows what's going to happen", he says. "We didn't even think about Facebook six months ago […], it came out of nowhere, which is the most exciting part, because the industry changes so much", he explains, and adds that this is just the start, "just the tip of the iceberg."
He also explains the current rise of digital currency. It's all about fundamentals, he says, unlike the previous upturn and downturn, which were driven by "hysteria" and "momentum". With AT&T, JPMorgan, Facebook, and other major companies entering the crypto space, he finds that people are seeing that digital currencies have real use cases around the world. According to Singh, these companies working with crypto or having their own coin legitimizes the digital currency industry, which also prevents government from illegalizing a particular token; it brings digital currency to billions of people across the world, and also perhaps makes other tech giants join the crypto game.
As reported, there are quite a few forecasts going around, like Arthur Hayes, co-founder and CEO of cryptocurrency trading platform BitMEX, predicting that the coin will reach USD 10,000 by the end of 2019, or Jehan Chu, co-founder of Kenetic Capital, believing that Bitcoin will hit USD 30,000 by the end of the year.
Meanwhile, digital currency industry analysis service Diar said yesterday that big investors accumulate Bitcoin and are driving the bull market: "The number of addresses holding between 1,000 and 10,000 Bitcoins each has seen a steep rise with a whopping accumulation of 450,000 Bitcoins in less than 9-months." That means that over 26% of circulating supply, which is USD 36 billion worth of BTC, sits in the addresses with a balance of BTC 1,000-10,000. These addresses have USD 6 billion more than in August 20018, the last time Bitcoin hit USD 8,000.
However, the researchers at Bespoke Investment Group, in a note, cited by Marketwatch, reminded about the volatility which has recently increased: "Believe it or not, though, the current drawdown isn't even the largest peak to trough decline that Bitcoin has seen in its short history. In between the all-time highs from June 2011 through early 2013, Bitcoin's price fell more than 93%, and then in the period between December 2013 through March 2017, the price declined nearly 84%. Needless to say, the cryptocurrency's price is volatile!"
While we don't know what is going to happen, the cryptoverse is again talking about the "Bitcoin time traveler" from the year 2025, who apparently predicts USD 100,000 by the end of this year.
"On average, every year so far, the value of Bitcoin has increased by about a factor ten. From 0.1 dollar in 2010, to 1 dollar in 2011, to 10 dollar in 2012, to 100 dollar in 2013. From now on, there's a slight slowdown, as the value increased by a factor ten every two years, to 1,000 dollar in 2015, to 10,000 in 2017, 100,000 in 2019, and 1,000,000 in 2021," reads the original entertaining post on Reddit, published 5 years ago.
It goes on to add: "From here onwards, there's no good way of expressing its value in dollars, as the dollar is no longer used, nor is any central bank issued currency for that matter. There are two main forms of wealth in today's world. Land and cryptocurrency."
Well, let's get back to this in a few years.
---