Fake News-Fueled Bitcoin SV Pump Reminds of Power of Chinese Investors
The recent pump of the Bitcoin SV (BSV) price comes as a reminder of the importance of the Chinese investors in the cryptoverse, even if crypto exchanges are banned in the country with population of more than 1.38 billion people.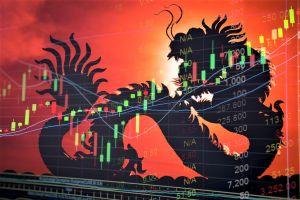 The price of Bitcoin SV, the infamous hard fork of Bitcoin Cash, almost doubled in the past 24 hours, raising by 90%, to USD 221 (05:14 UTC), and pushing the coin back among the top 10 coins by market capitalization. BSV is now ranked as the 8th largest coin by market capitalization.
BSV price chart:

According to Dovey Wan, a founding partner of California-based investment company Primitive Ventures, the pump started around the same time as fake news began circulating in China, claiming that Craig Wright, one of the main supporters of BSV, proved that he's the creator of Bitcoin, Satoshi Nakamoto, while major exchange Binance will list BSV again.
The claims were debunked by Binance CEO, Changpeng Zhao himself. "I got pinged 20 times today, clarifying it is fake," he tweeted.
Craig Wright is often dubbed Faketoshi due to his claim that he is Satoshi Nakamoto and general lack of any sort of proof. Binance delisted BSV in April 2019.
Earlier in May, BSV also jumped sharply after Craig Wright said he filed registrations with the U.S. Copyright Office and has been granted U.S. copyright registrations yesterday for the original Bitcoin white paper and Bitcoin code. However, this type of registration does not indicate ownership or official patent.
Meanwhile, according to Wan, "completely fake news" were "real enough" to trick many Chinese retail investors.
"Chinese retail is the best herd ever," she added.
Due to the crypto exchange ban, local investors are using VPNs (virtual private networks) that help bypass restrictions, while the over-the-counter (OTC) market is another popular option.
"There are thousands of telegram [a messaging app] users on the Chinese channels of most exchanges as an example," a Reddit user claiming to be from China said.
At pixel time, Asia-based exchanges such us Upbit, OKEx and Huobi are responsible for 48% of the BSV trading volume in the past 24 hours (USD 1,9 billion in total, or almost 10% of the bitcoin trading volume).
Also, as reported, Chinese crypto investors might prompt another "epic bull market" in case of a sudden and sharp yuan depreciation.
"Chinese asset holders are not stupid. They see the writing on the wall, and as the CNY has recently crept higher towards the magical 7.00 [yuan per U.S. dollar], Bitcoin exited the doldrums and more than doubled," according to Arthur Hayes, co-founder & CEO of cryptocurrency trading platform BitMEX.
Meanwhile, Eric Meltzer, another founding partner of Primitive Ventures, shared his recent experience in China.
Weekly LocalBitcoins, a peer-to-peer bitcoin marketplace, volume (in bitcoin) in China: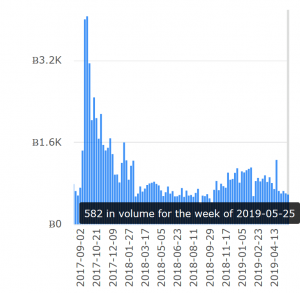 ____
Other reactions
__
__
__
__
---