Western Allies Claim their Targetted Russian Sanctions Trump a SWIFT Ban as Russian Occupiers Near Kyiv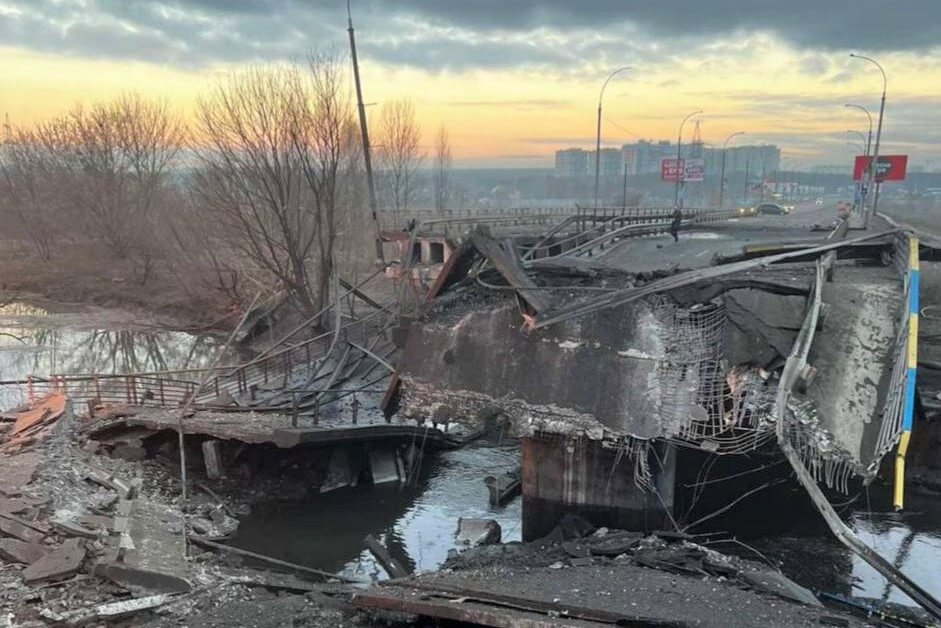 The EU claimed it has created a "package of sanctions" that will be "massive and painful" for Russia. It stated that the new sanctions would remove some 70% of Russia's banking capabilities – but Europe appears utterly divided as to whether it should block banks from an international banking protocol.
Meanwhile, a number of Western media outlets, including the BBC, have claimed that Russian occupiers could be ready to march on the capital, Kyiv, as early as this morning.
Crucially, European leaders have stopped short of placing bans on Russian exports of oil and gas. They also refused to consider a block on Russian access to the SWIFT banking network.
Per the Financial Times, EU leaders and other nations outside the bloc held talks on sanctions, but failed to agree on a SWIFT ban. German leaders reportedly spoke against such a move, while the UK was in favor.
Washington, meanwhile, has claimed that it "will limit Russia's ability to do business in dollars, euros, pounds, and yen to be part of the global economy." The United States has also frozen assets in VTB bank accounts and blocked allied financial institutions from providing services to Russia's biggest bank, Sberbank. A number of other banks have also been targeted.
Bloomberg reported that the "consensus among member nations is that they don't want to expel Russia from SWIFT due to "concerns that if adversaries are kicked out, they could break off to develop their own version." The media outlet confirmed that the stance had been outlined by "a person familiar with the matter, who spoke on condition of anonymity."
The American President Joe Biden had previously stated that a SWIFT ban was "always an option," but confirmed that "right now that's not the position the rest of Europe wishes to take."
Biden added that "the sanctions we've imposed on all [of Russia's] banks will have equal consequence and maybe more consequence than [a] SWIFT [ban]."
Meanwhile, Moscow has announced that it intends to unveil retaliatory sanctions on the countries that have issued sanctions on Russia – including the EU, the UK, the USA, and Asian allies of the Western allies.
Meanwhile, some experts in sanctions-related matters claimed that a SWIFT ban was not necessary, and that sanctioning individual banks was actually more effective – and that SWIFT bans could actually hurt Western companies.
Bloomberg quoted Daniel Tannebaum, the head of sanctions at Oliver Wyman in New York, as stating:
"If you would bar Russian institutions from SWIFT, they could still transact with the West by other means but if you designate banks by name, that's a far more effective way of punishing Russia. Everyone views SWIFT as this silver bullet. But the other point to bear in mind is there's never been a 100% embargo on any country. So if you're a legitimate company doing legitimate business with Russia, if you remove SWIFT from a country, those companies won't be able to get paid."
Regardless, the Senate Foreign Relations Chairman and Democrat Bob Menendez called on Biden to "impose maximum costs on Putin" and block Russian banks from SWIFT. He called on "Congress and the Biden administration" not to "shy away from any options."
Yesterday, Biden confirmed that sanctions against Putin are also on the table, but did not answer questions from reporters why it's not being imposed now.
The EU sanctions still need to be approved, but Bloomberg also reported that "leaders are expected to green-light" them at an emergency summit – but will "require the unanimous approval of the EU's 27 member states."
The EU claimed that its measures had been created in an attempt to cripple the Russian economy. The European Commission President Ursula von der Leyen was quoted as stating:
"These sanctions will suppress Russia's economic growth, increase the borrowing costs, raise inflation, intensify capital outflows, and gradually erode its industrial base."
The bloc, along with the UK and the USA, wants to place controls on "dual-use and high-tech goods," with "a particular focus on electronics, computers, telecom and information security, sensors and lasers and marine applications."
Von der Leyen was quoted as stating:
"Our measures will weaken Russia's technological position in key areas, actually from which the elite makes most of their money. And this ranges from high-tech components to cutting-edge software. This will also seriously degrade the Russian economy in all areas in the future."
Canada, Taiwan, and Japan have also announced new sanctions on Russia.
But Biden added that "restrictions on currency clearing would include carve-outs for energy payments," the same media outlet reported. Banning energy resource sales, it added, would "likely roil global energy markets and cause shortages in Europe."
____
Learn more:
- Bitcoin, the Ukraine Crisis and the Central Bankers Dilemma
- Bitcoin Shows Surprising Resilience Amid Russia Aggression-Provoked Selloff

- Ukraine Invasion: What the West Needs to Do Now
- Russia's Invasion of Ukraine: Bitcoin Set to Play a Role on Both Sides
---