Weiss Crypto Ratings Downgrades Bitcoin, Some Altcoins, Ups NEO
An updated grade list by Weiss Ratings, the financial ratings agency that covers Bitcoin and other cryptocurrencies, shows a number of top coins being downgraded last week, including the world's number one cryptocurrency, Bitcoin.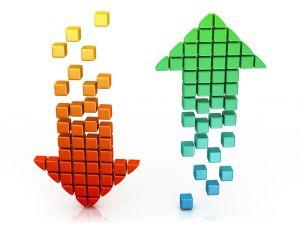 As previously reported, BTC was given its first A rating ever, an "A-" rating and a "strong buy" recommendation, in early July this year after a price drop brought upon by a huge rally. In August, it lost that rating and was downgraded to "B+". Well, now, a month later, it has been further downgraded from "B" to "B-".
A plus or minus sign indicates the upper third or lower third of a grade range, respectively.
The previous downgrade occurred after the bitcoin market had sold off from the high levels seen in June, which back then coincided with the "A" rating, while this downgrade could relate to the drop in price in August.
The potential risk of a BTC investment is deemed "fair," same as before, but the potential reward dropped further from good to "weak," according to the agency. As a matter of fact, BTC's overall risk/reward grade dropped from "C" to "D+".
However, its technology / adoption grade is "A", with the former graded as "good" and the latter as "excellent".
In either case, BTC is not the only coin that was downgraded. For example, Binance coin, Ripple, Monero, and Iota have all been downgraded from "C+" to "C". Furthermore, Stellar has been downgraded from "C" to "C-", and EOS from "B-" to "C+", but NEO was upgraded from "C" to "C+".
"Bear in mind that the Weiss Crypto Ratings reflect not only long-term, relatively stable factors such as technology and adoption, but also short-term, volatile factors such as investment risk and reward. Therefore, they can change with some frequency," the agency explained.
Top 10 coins by their rating: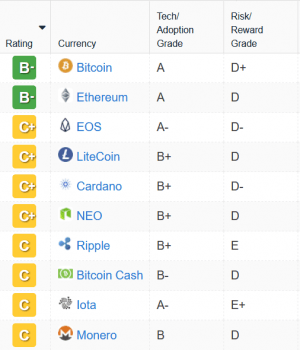 ---