Watch: Spanish Police Bust a Suspected 111-rig Crypto Mining 'Farm'
Spanish police have captured a raid on a suspected illegal underground crypto mining facility on video – breaking into a private house that was allegedly housing over 100 functioning mining rigs.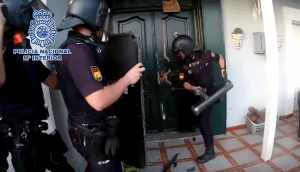 In a video shared by the National Police, officers were shown battering down a door and piling into a property in a residential area of Toledo's Yeles municipality – a sleepy suburb with just over 3,000 inhabitants.
According to El Mundo, officers were called in to investigate after they had been informed that the house in question had been using up an abnormally high amount of electricity, with sky-high thermal emissions – totally out of line with the consumption and emissions of a typical family home.
In the video, one officer is shown attempting to batter a door open using a heavy ramming device – before another, brawnier individual takes over, finally forcing the door open. A number of armored police officers then move into the house.
Police in such situations are typically charged with breaking into houses to bust drug dealers, the media outlet reported. But instead of narcotics, they were instead confronted with a "tangle of computer equipment."
Later in the video, police officials are shown examining the still-functioning mining rigs and the cooling equipment used to stop the units from overheating.
Summer temperatures in Toledo typically rise up to the mid-30s in degrees Celsius. However, Spain has been in the grips of a savage heatwave in recent weeks, with mercury levels rising to the mid-40s in some parts of the country. This summer, Toledo temperatures have regularly hit the late 30s, presumably putting an enormous strain on the mining "farm" and its cooling equipment.
Police said that a woman is being investigated for suspected crimes relating to energy theft from the local grid.
Police claimed that the "mine" was fitted with "111 [mining units] and sophisticated air conditioning systems to prevent the temperature from rising" to dangerous levels.
The police did not specify which tokens were being mined, but added that "coins are regularly used as a means of payment in illicit activities linked to high-tech crimes and money laundering."
The officers concluded:
"Our investigation is continuing as we look to fully clarify the facts in this case."
____
Learn more:
- Two Suspects Arrested in USD 1.5m Crypto Mining Electricity Theft
- Employee Found Mining Ethereum Beneath Seoul's Premier Opera House
- Suspected USD 330M Crypto Scammer: Set Me Free and I'll Refund Investors
- 'Exponential' Rise in Crypto Tax Inquiries in Spain as Monitoring Intensifies
- Spanish Crypto Firms will Have to Run their Campaigns Past Regulator
- Controversial New Overseas Crypto Declaration Law Approved in Spain
- Spanish Regulator Green-lights Institutional Crypto Investment
- Spain Crypto Warning Was 'to Spook Companies Planning Tesla-type BTC Buys'
---