Uruguay Senator Sartori Unveils Crypto Adoption and Regulation Bill
A powerful young Uruguayan entrepreneur and senator has launched a bid that might ensure that businesses in the country can legally accept crypto as payments.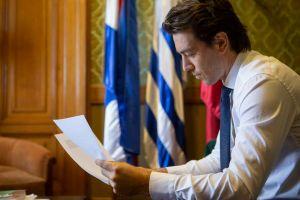 Juan Sartori, 40, is the founder of the Union Group conglomerate and the co-owner and director of the British football club Sunderland AFC. He also won a seat in the Senate in February last year.
The senate's committees will consider the new bill, which Sartori unveiled this week. The measure also outlines how Uruguay would regulate the use of tokens in the nation.
Sartori wrote:
"Cryptocurrencies are an opportunity to create investment and jobs. Today we are presenting a bill, a globally pioneering bill, which seeks to establish the legitimate, legal and safe use of [cryptocurrencies] in businesses related to the production and commercialization of [tokens] in Uruguay."
The bill proposes carrying out the following measures:
Bringing the domestic crypto industry under the regulatory umbrella of the central bank and the SENACLAFT anti-money laundering body
Ensuring that crypto is "considered a valid means of payment"
Providing a legal definition of terms such as "cryptocurrency mining," "blockchain," "token" and so on
Creating a system of customer protection for crypto exchange users
Creating a national registry system for domestic Virtual Asset Service Providers (VASPs)
Imposing "sanctions" on crypto firms that fail to abide by the regulations
Interestingly, perhaps, the bill also proposes the "creation of a" crypto "training program" that would be free to access for all citizens, led by the Ministry of Education and Culture.
The media outlet El Observador quoted Federico Lemos, a lawyer and professor of Banking Law at the Catholic University of Uruguay (UCU), as stating that the bill could well be met with approval in some sectors. He stated:
"Any project aimed at regulating these issues will always be well received by legal operators, since ultimately what it seeks to do is give legal certainty to an area that has had a great impact worldwide and has kept regulators awake at night trying to find a good balance."
Lemos added that the matter was an issue that must be regulated "with great caution" as it was "an economic phenomenon that has not been fully understood worldwide."
On Twitter, reaction to the bill in Uraguay was mixed – with some questioning whether crypto could truly ever be regulated, while others opining that Uruguay should try to potion itself at the center of technological innovation in the Latin American region.
____
Learn more:
- Chinese, Taiwanese Bitcoin Miners Eyeing Paraguay Move
- Demonstrators Hold Bitcoin Protest Outside El Salvador Parliament
- Pundits Label Paraguayan MP's Crypto Bill a 'Huge Nothing Burger'
---