Trump & Biden Voters Put Crypto Prediction Markets To The Test Today
Though several prediction markets appeared in the Cryptoverse recently, today they are being tested with their first US presidential elections.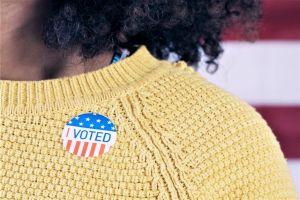 On the day of the 2020 presidential elections in the US, the prediction market tables seem to have turned against the still-President Donald Trump, and now favor the potential-President Joe Biden.
There have been a few crypto/blockchain-related prediction markets developed in the past few years. The decentralized prediction market protocol Augur (REP) was launched in 2018, after raising funds in 2015. Crypto derivatives exchange FTX started operations in 2019, Omen in 2020, as well as Polymarket. Therefore, there wasn't an opportunity to check how accurate their results are during an election in the US - until now.
As numerous traditional polls predict a Biden win, crypto-related prediction markets do so as well. Trump may have had a narrow victory after the last presidential debate when, as reported, the prediction markets and some poll voters on the crypto Twitter placed him ahead of Biden - but on the very day of the election, things look quite different. According to these markets, there is a 63% chance that Biden will win this race, compared with 38% in the case of Trump.
On Tuesday morning (UTC time), the Trump 2020 futures contract on crypto derivatives exchange FTX dropped 0.53%, standing at USD 0.377. However, there has been a c. 6.5% rise since November 1, as seen on the chart below.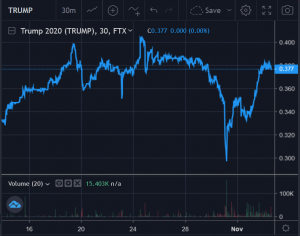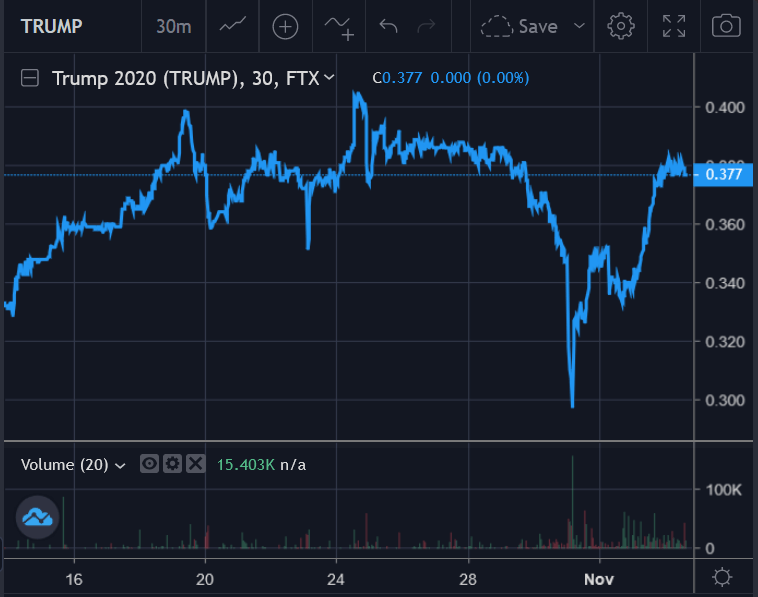 Meanwhile, Biden 2020 future contract shows a change of -1.88%, and it's standing at USD 0.626. Furthermore, it dropped c. 3% since November 1.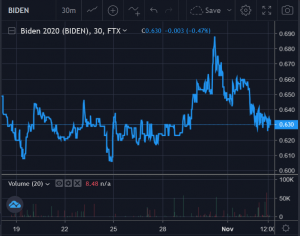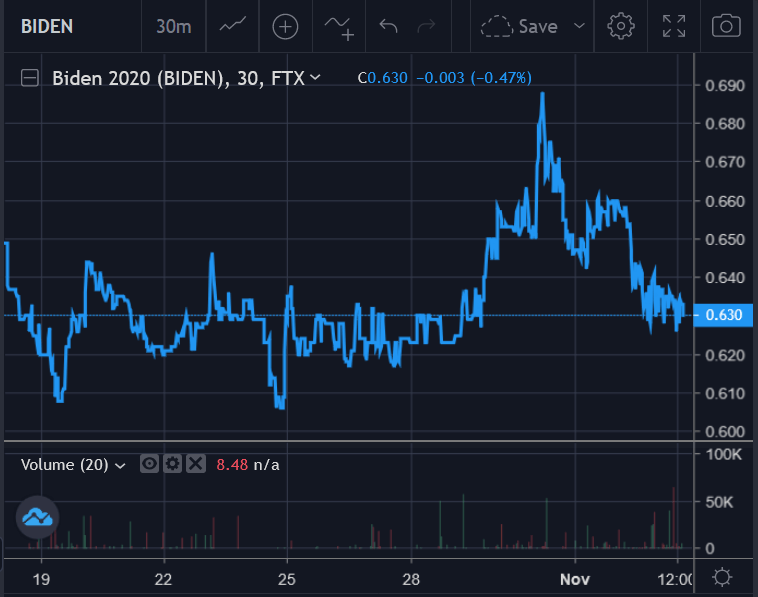 Also, looking at the wider picture over the last six months, we see a rise in the Biden contract, and a drop in the Trump one.
Furthermore, the betting platform Polymarket shows higher chances that Trump will lose.
Also, looking at 'YES Trump' and 'NO Trump' tokens issued by Augur, we see that the YES one went up, while the NO one dropped, per CoinGecko.com.
Augur also commented on the results they've seen, indicating larger support for Biden.
But they also noted the effect this election has had on prediction markets' volumes. For example, the volume for "Will Trump win the 2020 US presidential election?" on Polymarket is up to USD 3.32m.
Yet, others have commented on the odds and open interest for those markets betting on the election, but noting the gap that has formed between the prediction of the statistical models and that of the betting odds.
Ethereum (ETH) co-founder Vitalik Buterin offered two potential explanations for this "puzzle":
Bets on prediction markets incorporate the possibility of heightened election meddling and voter suppression, instead of assuming the voting process is fair;
Prediction markets are difficult to access for statistical/politics experts, and are too small for hedge funds to hire those experts, while certain (especially wealthy) individuals are more optimistic about Trump.
Others suggested that an "important difference is that polls weight participants equally, whereas prediction markets can be swayed by larger bidders."
Meanwhile, crypto portfolio management app Blockfolio reminded that, during the previous US presidential elections on November 8, 2016, the price of bitcoin (BTC) was USD 710, with a commenter arguing that "Price will be [USD] 260,000 at next election if it goes the same way the next four years."
Ballet crypto wallet CEO Bobby Lee also argued that "2021 will be the bull market year for Bitcoin. HODL tight!", adding that he expects priced to surpass USD 20,000 in the first quarter of next year.
Today, at 14:25 UTC, bitcoin is trading at USD 13,719, after it went up 2.4% in a day and 2.49% in a week. It's a 1,832% rise in four years.
US citizens are casting votes in the midst of the COVID-19 pandemic and a global recession, and specifically in the US, criticism of Trump administration's lack of response to either, while the next round of stimulus checks is still up in the air - and could remain there for a long time should Trump decide to contest the election outcome.
"One thing is probable: volatility is coming. On the bullish side for Bitcoin, central banks will continue to flood the world with money and stimulus packages, further setting the stage for BTC. On the bearish side, a contested election and a second wave of Covid-19 lockdowns could spell disaster for markets, dragging down BTC with it," Ty Young, Cryptoasset Research Analyst at Messari, said in a commentary today.
In the meantime, payments firm Ripple has joined Twitter and PayPal at the nearly 1,000 members-strong Civic Alliance urging for fair elections and healthy democracy.
____
More reactions:
__
__
__
__
__
____
(This article was updated at 14:49 UTC: a comment from an analyst at Messari was added).
____
Learn more:
The US Election: Pullback Possible, But Neither Trump Nor Biden Won't Stop Bitcoin
---