Tom Lee Has a New Price Target for Bitcoin - USD 40,000
Bitcoin is just at the beginning of its bull run, and it will easily surpass its all-time-high, said Fundstrat Global Advisors' research chief Tom Lee.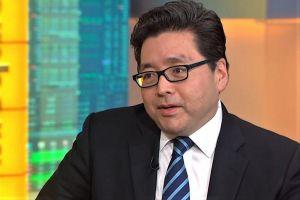 According to him, what could power the strong rise in Bitcoin's price is FOMO (fear of missing out). On Monday, in the note to clients Lee wrote that Bitcoin can reach as high as USD 40,000, Bloomberg reported, noting that it might happen "within a few months". However, Lee later tweeted that Fundstrat is "not predicting USD 40k by Dec.", without elaborating. In either case, according to the note, the trigger for FOMO would be a breach of the USD 10,000 level, supported by better market transparency and integrity.
In January 2019, he said that USD 25,000 per Bitcoin forecast is a good value for the cryptocurrency. Now, Bitcoin is trading above the USD 9,000 level for the fourth day in a row. It has been at this level only 4% of its history, Lee stressed in an interview with CNBC.
"We're deep into a bull market, and people are pretty silent about it", the bitcoin bull said. Facebook has just announced its Libra coin yesterday, but it's not slowing down Bitcoin, which saw a rise of 146% this year alone.
In regards to how it'll progress from now on, as a guest on CNBC's "Futures Now" on Tuesday, Lee said that Bitcoin will ultimately become a reserve currency in crypto. Furthermore, "I think bitcoin is easily going to take out its all-time highs" of USD 20,000 from December 2017.
Facebook's announcement is "a complete validation that mainstream is now focused on cryptocurrencies", Lee says, and it destroys the argument of believing in blockchain, but not in cryptocurrencies. Still, the main thrust of it revolves around the idea of decentralized finance, he said. "I think it is more targeted at stablecoin and creating a new kind of banking system, and it's very complementary to bitcoin." And while current developments are bullish for Bitcoin and bad for stablecoin and anyone who's been trying to do decentralized finance, as Lee explains, the stablecoins will likely not drop in value. Those that grow are those that are widely used, "that's why Tether's done so well, and I think Libra's ultimately going to be one of the dominant stablecoins", though convertibility will be an issue, says Lee.
_________________________________________
_________________________________________
CNBC added that Lee wrote in his latest note to clients that he felt there was a lack of conviction in regards to bitcoin's recent rally, based on his last week's attendance at the CryptoCompare Digital Asset Summit in London. He wrote that many in the crypto sphere were hesitant to agree that the crypto winter was indeed over, saying that they are worried about persistent volatility in altcoins, fundraising issues in the digital currency market, general bearishness, and remaining concerns from crypto's 2018 drop.
Meanwhile, Jehan Chu, co-founder and managing partner at Kenetic Capital, a blockchain investment and advisory firm, recently estimated that bitcoin will reach USD 30,000 by the end of the year. "We could go as low as the 6,000 level," he said in an interview with Cryptonews.com, but finds that various developments, increasing number of institutions coming into the crypto space, and the announcements by major companies might potentially cause a massive rally.
---