'This Stellar Airdrop is Different' as XLM Down 76% Since First One
Keybase and Stellar partnered for another massive airdrop of Stellar's native token, Lumens (XLM), which Keybase's CEO claims to be different from the previous giveaways, though many in the community are not convinced in its benefits. Nonetheless, the price of XLM dropped 76% since the first event of this kind was announced.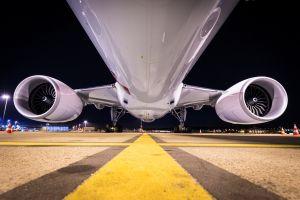 Max Krohn, CEO and co-founder of the encrypted chat app Keybase, told Fortune that this giveaway is different from those that came before it because everything is happening on a chat app, not on a cryptocurrency exchange "where people might be encouraged to cash out immediately." Krohn said that he hopes "people will transact with the cryptocurrency in-app, sending it to contacts and paying for various services offered by chat bots."
Keybase partnered with Stellar for what is likely the largest giveaway of Stellar's native token, Lumens (XLM) so far. As the announcement explains, XLM is made for cross-border payments, where a user can send one currency, and the recipient can receive the funds in the currency of their choice.
Starting with a gift of 100 million XLM (USD 6 million), to 300,000 Keybase users, the Stellar Development Foundation (SDF) will continue this airdrop with giving away 100 million XLM per month, divided equally among participants, for 20 months, making it a total of XLM 2 billion. A participant can't get more than USD 500 in XLM in total though. At the current price, the airdrop would be worth some USD 120 million.
Krohn said that they "hope to see everything from basic payment back for lunch to new things we haven't even thought about," and Denelle Dixon, CEO of SDF, added that: "We're extremely optimistic that by blasting out this 2 billion Lumens, we'll really be able to bootstrap the network—getting people to use this cryptocurrency for things other than just HODLing."
In an attempt to incentivize holders and investors, Stellar organized several airdrops recently and the price has dropped nonetheless. At the end of July, Binance announced a XLM 9,500,000 (then worth c. USD 775,000) initial staking reward airdrop. But even before that, back in November 2018, major cryptocurrency wallet Blockchain partnered with SDF to give away nearly half a billion XLM, worth USD 125,000,000 at the time. The token's price at the time was c. USD 0.25, which means that XLM dropped by 76% since. This giveaway has been paused. Blockchain and Stellar were not available for immediate comment.
"The airdrop will run for at least 3 months, with subsequent months subject to basic success metrics for the program," Stellar explains the latest airdrop, with Keybase's post adding that "SDF reserves the right to stop sending Lumens early, with one month notice."
Meanwhile, Nic Carter, co-founder of crypto market analysis firm Coin Metrics, tweeted in response to the airdrop, that there is "absolutely no way" to ensure the worth of these coins will actually be USD 118-120 million over a period of two years. "Unless Lumens has some almighty central bank defending a peg. Which they do not," he adds. He finds that "the flashy dollar-denominated a priori airdrop values often end up being totally off-base, if you care to evaluate these things after the fact. They exist just to inflate the perceived significance of the airdrop."
Others are also discussing "why are crypto airdrops still a thing" and trying to find any evidence that free tokens help increase a number of longer-term crypto adopters substiantialy.
In addition, Mati Greenspan, a senior market analyst at the eToro trading platform, said that "many hardcore bitcoiners, myself included, have been enticed by free coin."
At pixel time (10:37 UTC), XLM trades at c. USD 0.06 and is almost unchanged in the past 24 hour. It's down by 3% in the past week and by 18.5% in the past moth.
XLM price chart: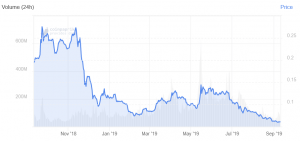 ---