This Japanese Company Mined Almost 600 BTC "Somewhere in Scandinavia"
Japanese internet provider GMO Internet has spoken about a mysterious Northern European cryptocurrency mining facility that it operates – claiming the average yearly temperatures at the location are an icy 0°C (32 °F).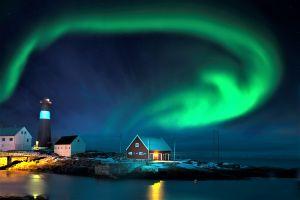 Speaking at a blockchain conference in Shibuya, Tokyo this week, GMO representatives talked of the company's latest mining project – claiming they constructed the facility "somewhere in Scandinavia" (although they refused to specify where) in temperatures as low as -10°C.
The company states that despite leaky roofs, the facility is now operational, and mined some 568 bitcoins (USD 3.7 million) by July this year – although it did not disclose how much it had spent on construction costs, electricity bills and other expenses in the same period.
Meanwhile, GMO stated that preparing the plant provided a serious challenge, with frequent blizzards, ankle-deep snow, icy roads and heavy rain hampering the building effort. The GMO team has installed 15,000 ASIC mining rigs in two warehouses at the site, with the hardware's energy consumption roughly equal "to that of 33,500 households."
Per Japanese media outlet Crypto Watch, GMO said they chose Northern Europe because of the region's low temperatures, which are advantageous for keeping mining equipment cool. The company also cited the fact that Scandinavia has become a leading renewable energy player as a major factor, as well as low electricity costs.
According to various analysts, the break-even price for miners is in a range of USD 6.400 and USD 8.000 per bitcoin and varies depending on the miner's efficiency.
As bitcoin hash rate — which measures computing power - is growing, so does mining difficulty. "The increased hash rate means people are here for the long-term because they're happy to just accumulate what they have, potentially even run at a loss," David Sapper, chief operating officer at cryptocurrency exchangeBlockbid Pty Ltd. in Melbourne told Bloomberg last month. At the same time, "they do sometimes have to clear house and dump."
However, Genesis Mining, a giant cloud mining operator, had to terminate customers who are unable to cover their "service fee" because of low mining profitability, as reported in August.
GMO considers itself a pioneer in Japanese cryptocurrency, and operates the GMO Coin exchange in addition to mining projects and its IP activities. The firm has also allowed its staff to receive a portion of their wages in cryptocurrencies. Last month, the company enlisted Borussia Dortmund forward and national team football star Shinji Kagawa to head its new marketing push.
---