Tether in the Spotlight After USD 9B Worth of Redemptions
Disclosure: Crypto is a high-risk asset class. This article is provided for informational purposes and does not constitute investment advice. By using this website, you agree to our terms and conditions. We may utilise affiliate links within our content, and receive commission.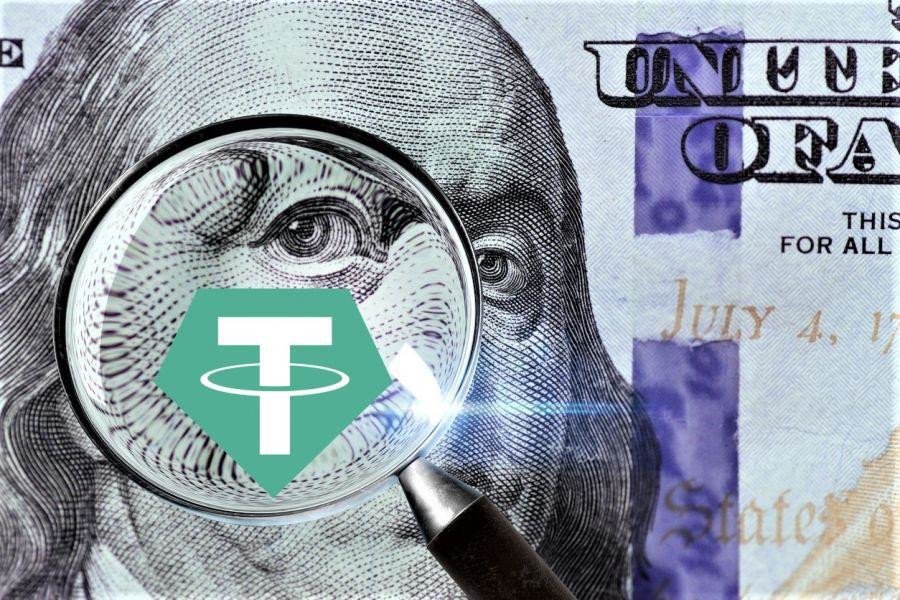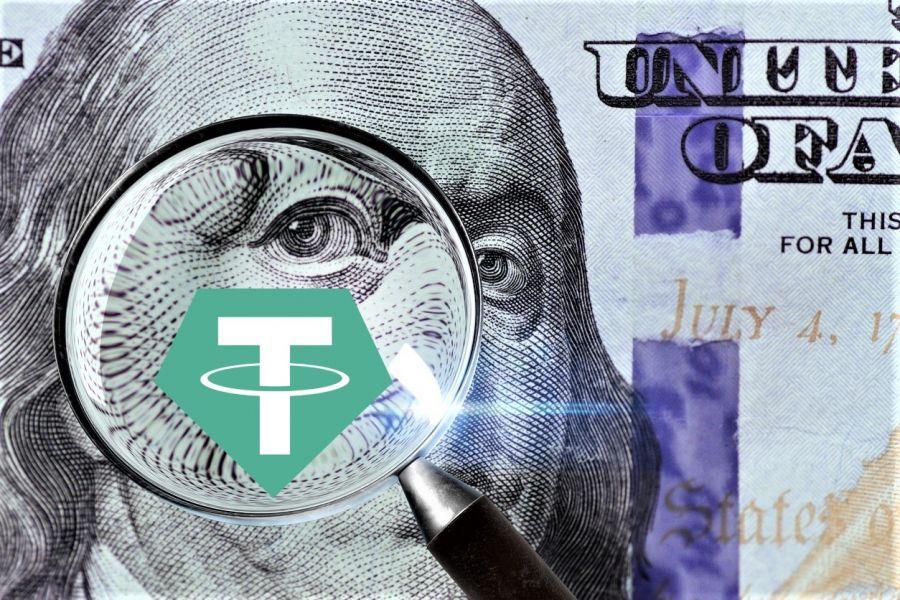 The popular stablecoin tether (USDT) is again the subject of unwanted attention after approximately USD 9bn has been redeemed for US dollars by users in the aftermath of the terraUSD (UST) collapse.
Today, Tether published a new assurance opinion completed by independent accountant MHA Cayman. According to the accountant's report, the company has reduced its commercial paper holdings over the prior quarter from USD 24.2bn to USD 20.1bn (as of March 31), and increased its holdings of US treasury bills, which are perceived as safer.
The redemptions have come despite USDT trading on exchanges within a rounding error of its USD 1 peg. At the time of writing (08:39 UTC), the stablecoin traded at USD 0.9989 according to coin tracking site CoinMarketCap, and USD 0.99917 per CoinGecko.
Tether price in May: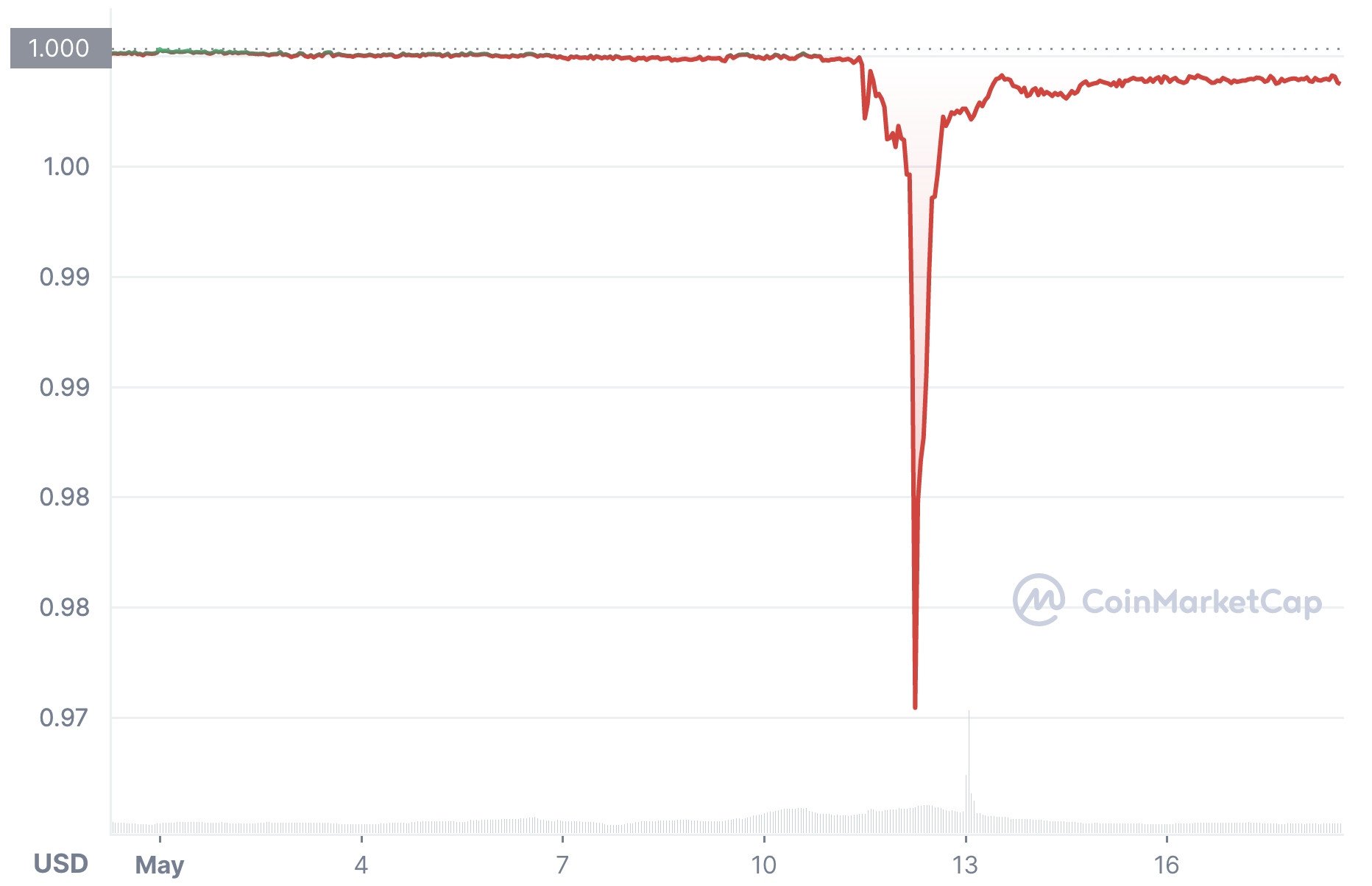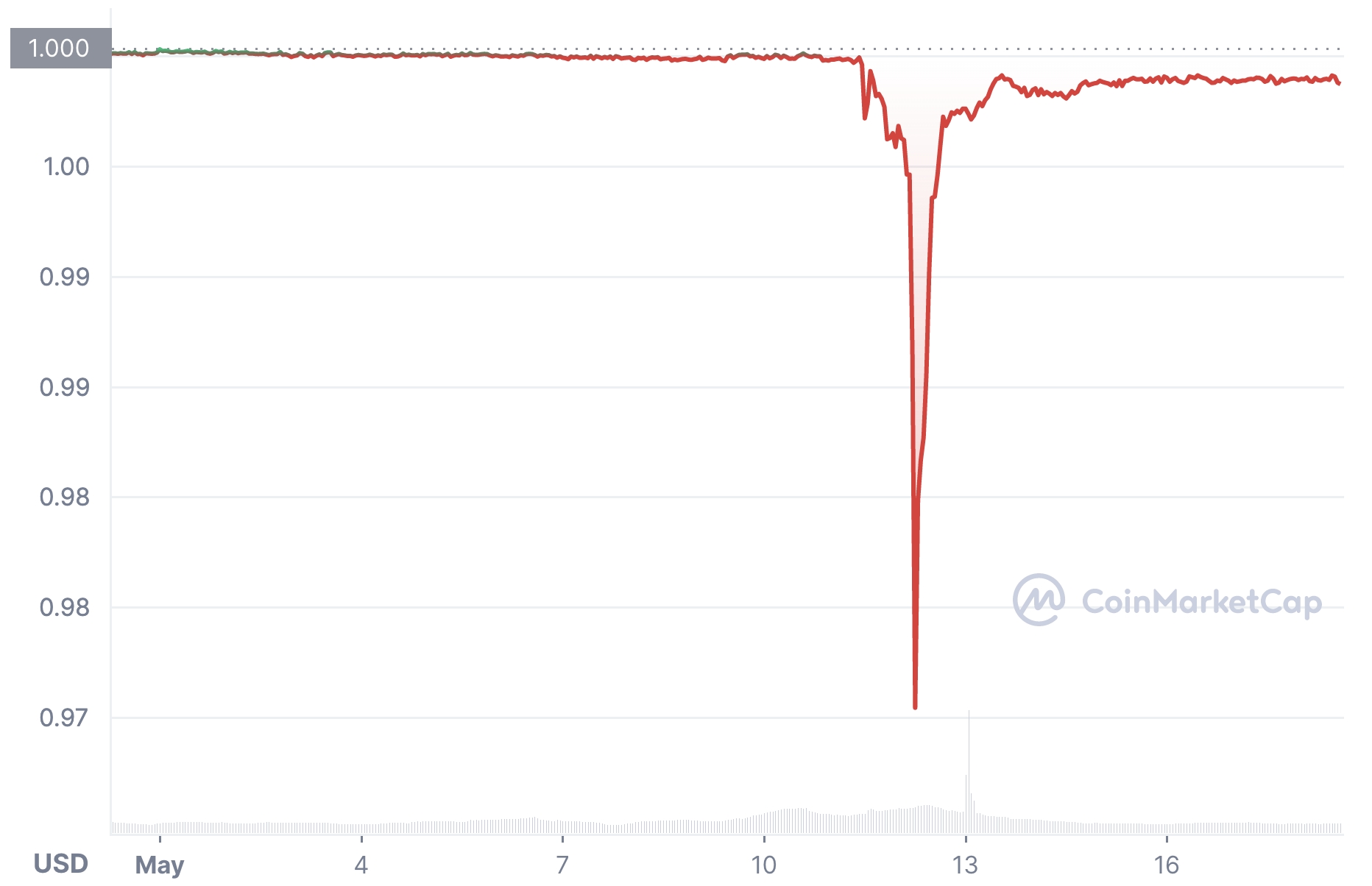 Still, it appears users have remained nervous since the collapse of UST, the Terra (LUNA) network's algorithmic stablecoin. And given that tether for years has been the subject of rumors that the stablecoin may not be fully backed, the nervousness among users was quick to hit that particular stablecoin in the days after UST's troubles started on May 9.
Commenting on the situation on Wednesday this week, Jim Bianco, president of the investment analysis firm Bianco Research, pointed out that a tether liquidity pool on the Curve (CRV) decentralized finance (DeFi) platform remains unbalanced.
"Not enough for it to break the peg, but enough that Tether consistently stays in the southside of USD 1.00 (0.998 or so) and DAI/USDC consistently stay on the northside of USD 1.00 (USD 1.002 or so)," the analyst wrote.
Bianco added that redemptions at the scale tether is experiencing now have not been seen in DeFi since the so-called 'DeFi summer' around the spring of 2020. As a result, the large redemptions are an entirely new situation for many of the most popular DeFi protocols today, he said.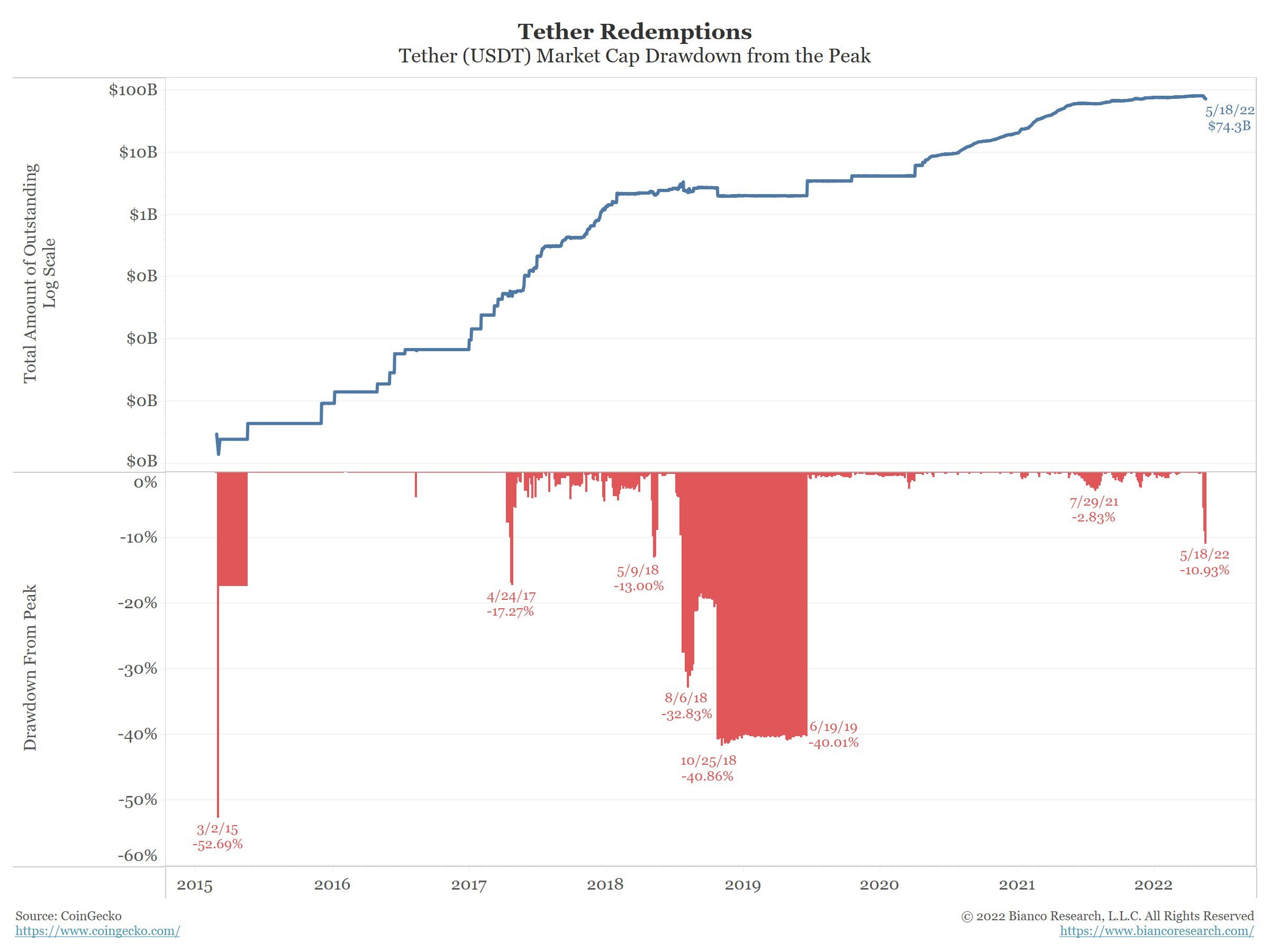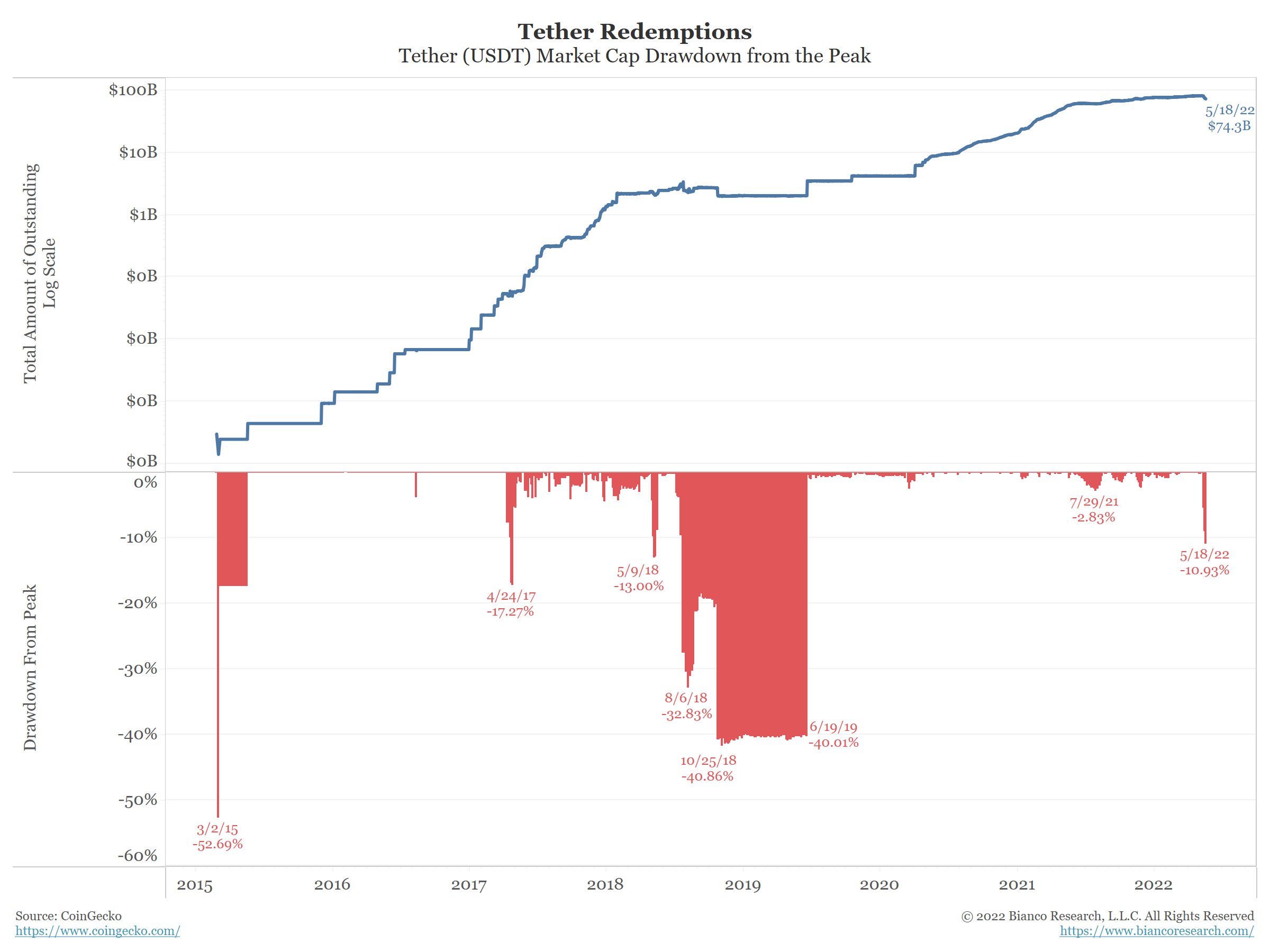 Others, including John Reed Stark, a consultant and Senior Lecturing Fellow at Duke University School of Law, were even more direct in their criticism of tether, saying that it resembles "the same ominous song [that] was sung by Madoff, Theranos & Enron."
"For former [US Securities and Exchange Commission] enforcement lawyers like me, it's deja vu all over again. No one knows the true nature of Tether's backing. Tether won't disclose, saying 'we don't want to share our secret sauce'," Stark tweeted.
Notably, some of the best-known veterans in the Bitcoin (BTC) and crypto space, including Adam Back, the CEO of Bitcoin development firm Blockstream, called the accusation "incorrect."
"Tether never redeemed below par, and it redeemed USD 7bil in a few days," Back said, while referring to an earlier Twitter thread where he pointed out that each USDT that has been redeemed, has been redeemed at 1:1 with the US dollar.
"Contrary to what news report USDt did NOT break it's peg AT ALL," the early Bitcoin user and computer scientist said.
Lastly, Zhu Su, the co-founder of crypto hedge fund Three Arrows Capital, and other analysts also argued that redemptions of USDT in no way prove that tether is unbacked. Instead, it "proves the opposite, which is that USDT is redeemable, in size, for USD," the popular investor wrote.
This proves the opposite, which is that USDT is redeemable, in size, for USD https://t.co/FI9Vk0LjFP

— 朱溯 🐂 (@zhusu) May 18, 2022
lol so first it was "Tether is unbacked, it can't process redemptions" then they process $9b worth of redemptions without incident and it's a sign of impending doom?

— nic 🌠 carter (@nic__carter) May 19, 2022
____
Learn more:
– Market Panic Puts Tether Peg Under Pressure
– Imagine Regulators Shutting Tether Down – What Happens to Bitcoin?

– Tether's Reserves
– USDT vs. USDC vs. UST: How Do They Compare?

– Legal Storm Brewing for Terra's Do Kwon & Co as 'Hundreds' of Investors Ready Complaints
– Small-cap Stablecoins Struggle to Maintain Peg as Crypto Market Crashes
___
(Updated at 15:40 UTC – updates in the second paragraph.)
---