Tether Claims They Have USD 1.8 Billion, Community Amused
Tether, the company behind the largest stablecoin by market capitalization, said it has a bank account with Bahamas-based Deltec Bank & Trust Ltd and the account holds USD 1.8 billion as of October 31st.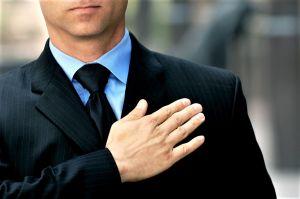 Tether has long caused controversy in the cryptoverse, due to concerns that it does not have the fiat holdings to fully back the tokens in circulation. They notably refused an official audit and kept silent about any banking relationships they might have. The coin has struggled in the past, mostly due to these concerns, having fallen around 14% at the time from its supposedly stable price. However, Tether is also one of the most-traded cryptocurrencies, mostly because they offer a trading solution on cryptocurrency exchanges that do not offer fiat-to-crypto pairs.
Now, as proof of its bank balance, Tether released a letter dated November 1st that appeared to come from Deltec, confirming "the portfolio cash value of your account with our bank was US$1,831,322,828" as of October 31. However, there is no person's name attached to the letter, and the signature is just a curved line.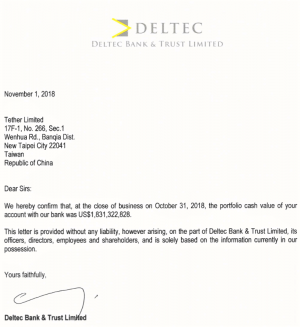 Further, the letter adds that it was provided "without liability, however arising, on the part of" the bank, its shareholders, directors, employees or officers; and the letter is "solely based on the information currently in our possession." Deltec, meanwhile, has still not commented at all - not even to confirm their relationship with Tether.
The community does not feel that their fears have been laid to rest with this declaration.
Reddit user u/elizabethgiovanni explains how this could backfire for them: "[...] if Tether goes belly up, stuff like this will be used against them for a whole slew of crimes (and heightened damages) for intentionally misleading and lying to the market [...] if they are lying, they're digging their grave deeper and raising the stakes for their eventual run in with authorities."
User u/trnbays looks at it from another perspective: "Having 1.8 billion in the bank and having 1.8 billion unencumbered collected balance with no loans against it (outside of its obligations to USDT) are two different things. I think it is entirely plausible they have 1.8 billion worth of assets in the bank. It is harder to believe those are all dedicated to backing tether and nothing else."
The price of the coin is USD 0.989426 as of the time of writing. However, the supply of the coin is rapidly falling. Cryptocurrency exchange Bitfinex - that has overlapping management and owners with Tether - has sent 630 million USDT to an address known as the "Tether treasury" in six large transactions from October 14th until around October 22nd. Tether also destroyed USDT 500 million last week. As a result, the market cap of the coin has fallen to around USD 1.75 billion, from its September peak of USD 2.8 billion. The company refuses to explain any of these actions.
Tether price chart: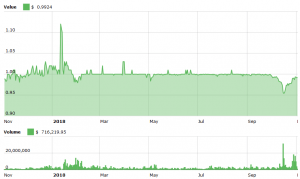 ---