Terra's Do Kwon Liquidated the South Korean Arm of Terraform Before LUNA & UST Crisis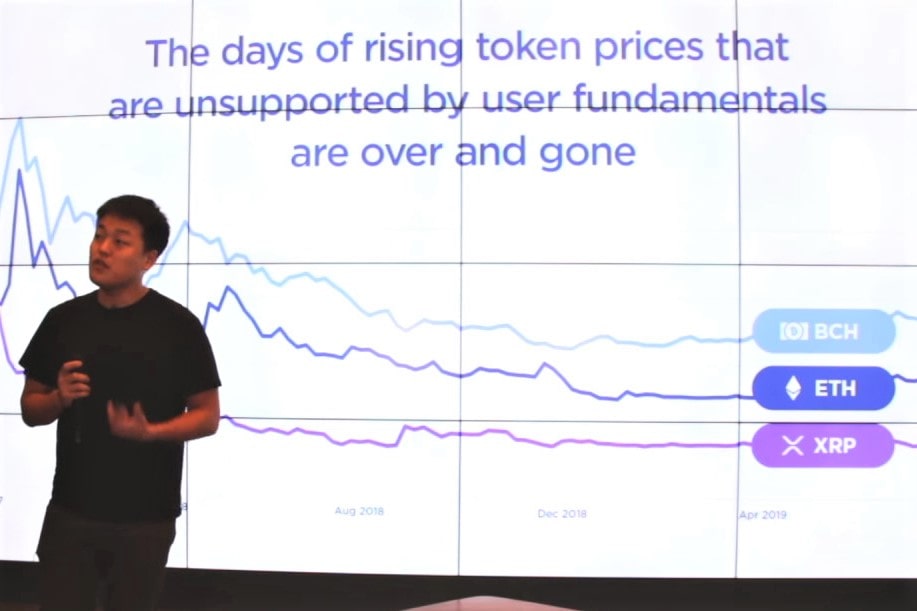 New reports fuelled speculations that Do Kwon (real name Kwon Do-hyeong) may have been aware of a storm brewing for the terra (LUNA) platform – and that the Terraform Labs mastermind may have taken action to dissolve domestic parts of his company as early as last month in anticipation.
As reported, the token spiraled close to zero last week and the terraUSD (UST) stablecoin lost its peg, leading to one angry investor breaking into Kwon's apartment complex to demand that his wife reveal his whereabouts.
Kwon has since responded with a "revival plan" involving a network hard fork and an ownership reset for 1 billion tokens. That plan was met with scorn by the likes of the Binance CEO Changpeng Zhao (CZ), who claimed that the new fork would be devoid of "value" and labeling Kwon's reasoning "wishful thinking."
However, Kwon may have bigger fires than this to fight. On Reddit, a social media poster who appears to have obtained a copy of a document – an authentic-looking form issued by the Supreme Court of South Korea – appears to show that the Busan-based firm was indeed liquidated on May 4, following an April 30 application. Kwon was named as the liquidator in question.
The data from the document in question matches exactly with reports from the South Korean press, who also claim to have obtained Supreme Court documents that indicate, per Digital Today, that "Terraform Labs Korea decided to dissolve its Busan headquarters and Seoul branch at a general shareholders' meeting on April 30, 2022."
The report, and others, produced photographic evidence to back their claims.
The report added that "the Terraform Labs Korea headquarters" was "liquidated on May 4, and the Seoul branch was liquidated on May 6." Again, according to the record of firms on the corporate register, the liquidator's name was listed as CEO Kwon Do-hyeong."
"Terraform Labs -- both as an entity and as a team -- have remained fully operational and steadfastly committed to carrying out the project's mission from day one. Winding down our Seoul and Busan branches was the conclusion of a process four months in the making, culminating in our official relocation to Singapore. Our focus is now on executing our plan to revive the Terra ecosystem," a Terraform Labs spokesperson told Cryptonews.com.
Kwon established the South Korean branches of Terraform Labs in 2019, a year after he co-founded the firm in Singapore. But the report noted that "questions were also being asked" in the crypto community about a number of other firms Kwon founded prior to launching Terraform – including one he resigned from in 2017.
Digital Today separately reported that both of South Korea's top financial regulators, the Financial Services Commission and the Financial Supervisory Service have launched "emergency measures" and "checks" aimed at investigating certain "trends" in the market – pertaining to LUNA. No further details on the nature of this investigation have been revealed thus far.
Meanwhile, the crypto livestreamer who has claimed responsibility for trespassing on Kwon's property has apparently turned himself in to the police. EDaily reported that the livestreamer, named only as A for legal reasons, had voluntarily surrendered himself into police custody on the morning of May 16 at Seongdong Police Station in Seoul.
Wearing dark glasses, a baseball cap, and a face mask, he was charged with breaking and entering, and as he made his way into the station, he told reporters:
"I will return after cooperating with the police investigation to the best of my abilities."
As Cryptonews.com reported last week, a popular AfreecaTV livestreamer named Chancers claimed responsibility last week after telling his viewers that he had "failed" and was "broke" because of his LUNA investments.
____
Learn more:
- Luna Foundation Says Nearly Entire Bitcoin Stack Spent, Promises Compensation to UST Users
- Vitalik Buterin & Binance CEO Chime In as Do Kwon Proposes Another Terra 'Revival' Plan

- After Terra's Collapse, Cryptoverse Reflects on 'Ponzi-like Assets', Role of VCs, and 'Ignorant' Crypto People
- Coinbase Sued Over Collapsed Stablecoin, but It's Not UST (Yet)

- Terra Blockchain Restarted, Binance Resumes LUNA & UST Trading Despite CZ Being 'Very Disappointed'
- It's Getting Personal - 'Broke' LUNA Investor Comes to Do Kwon's House, Plans to Surrender to Police
___
(Updated on May 21 at 12:50 PM UTC with a comment from the Terraform Labs spokesperson.)
---