Tamadoge Launching 1,000 New Rare NFTs Today – Best NFT Drop 2022?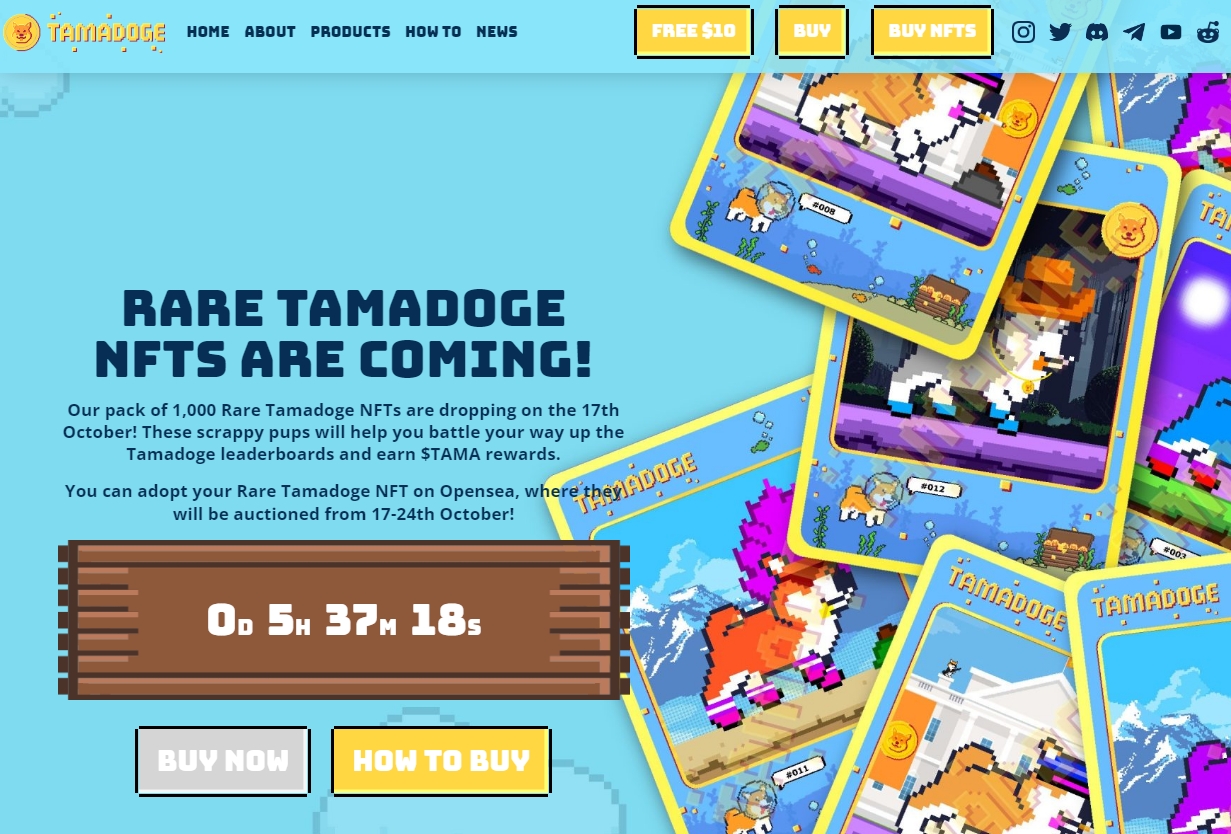 Disclaimer: The Industry Talk section features insights by crypto industry players and is not a part of the editorial content of Cryptonews.com.
Trending NFT project Tamadoge (TAMA) has been turning heads recently following the launch of its NFT collections. While the October 6th release of the ultra-rare NFT collection sold out quickly, becoming perhaps the best NFT drop in 2022, investors have another chance to acquire some Tamadoge NFTs thanks to the October 17th release of the rare Tamadoge pet collection.
What is Tamadoge?
Tamadoge is a new meme coin with a distinct focus on utility. In contrast to the majority of meme coins, which generate hype but provide little in the way of intrinsic value, Tamadoge blends some of the hottest sectors within cryptocurrency (play-to-earn, NFTs, and the Metaverse) in order to create a diverse and value-rich ecosystem that crypto enthusiasts love.
The project allows users to explore a Metaverse world known as the Tamaverse while raising 3D-animated NFT-based pets and interacting with other players. Leveling up a Tamadoge pet using items from the in-game store will reward the owner with Dogepoints, boost their leaderboard ranking and increase the share of the rewards pool to which the holder is entitled.
The Tamadoge NFT Collections
Recently, Tamadoge launched its first NFT collection – a series of 100 ultra-rare pets with boosted stats. While this collection sold out quickly, even briefly hitting the number 1 trending spot on OpenSea, Tamadoge is now launching its second collection, a series of 1,000 rare NFTs.
Each Tamadoge NFT features unique artwork and is attributed various stats that will affect the pet's performance in the upcoming Tamdoge arcade-style and flagship games. While the current Tamadoge pet NFTs will be usable in the mini-games, holders will also be airdropped a Tamadoge puppy once the full game is released.
The collection of rare Tamadoge NFTs will be auctioned on OpenSea from 3 pm UTC on October 17th until the 19th of October (3 pm UTC), providing ample opportunity for investors to participate in the event. Once the sale of the rare collection concludes, a drop containing 20,000 common Tamadoge NFTs is expected to be announced shortly after.
Considering the fact that the ultra-rare Tamadoge collection has gone from selling for roughly 1.5 to 3 ETH each to commanding a floor price of 5.99 ETH within the space of a week, we could see huge moves for the rare and common NFTs. It'll be interesting to see how things progress, but as it stands today, Tamadoge could be the best NFT drop in 2022. Check out the project today to learn more.
Related News and Analysis
---