SWIFT to Integrate Corda, XRP Price Jumps
Global banking payments network SWIFT has today announced that they will be integrating technology from enterprise blockchain software firm R3. The first version of the new service will use R3's blockchain platform Corda Settler, an application aimed to facilitate global cryptocurrency payments within enterprise blockchains.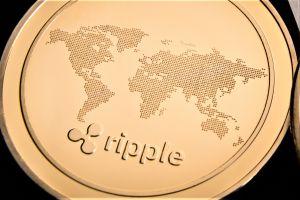 R3 said the XRP cryptocurrency is the first globally recognized cryptocurrency to be supported by Settler.
After the news, XRP has increased its gains to almost 8% in the past 24 hours (UTC 01:11 PM.)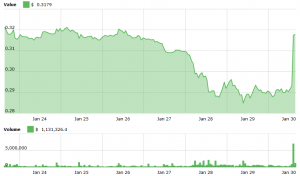 The formal plans for a Proof-of-Concept (PoC) with R3 came out in the form of a press release, which announced gpi [Global Payments Innovation] Link, "a gateway to interlink ecommerce and trading platforms with SWIFT gpi – the new standard in cross-border payments."
Earlier today, SWIFT CEO Gottfried Leibbrandt, in a joint panel with CEO of Ripple, Brad Garlinghouse, said, "Our new gpi platform is extremely interoperable and open, and we've always had links to other networks [...] we are announcing later today a Proof-of-Concept with R3 blockchain on trade, where you can initiate a payment on the trade platform, and then it goes into gpi. So we're exploring interconnectivity with a lot of things."
SWIFT's gpi service aims to streamline and increase the transparency of cross-border payments. The press release for the new service states, "gpi Link will seamlessly connect gpi members to multiple trade platforms thereby enabling gpi payment initiation, end-to-end payment tracking, payer authentication and credit confirmation. The gateway will enable the continuous monitoring and control of payment flows and the subsequent movement of goods by those trade platforms, while to ensure global integration and interoperability it will support application programming interfaces (APIs), as well as SWIFT and ISO standards."
The press release adds, "While the PoC initially addresses R3's DLT-based [Distributed Ledger Technology] trade environment, it will be extended to support other DLT, non-DLT and e-commerce trade platforms." The PoC will include bank and corporate participants, and a prototype should be demonstrated at Sibos, an annual banking and financial conference, in London in September 2019.
R3 has already gathered over 300 partners from across multiple industries, both the private and public sector, to collaborate on developing Corda. CEO of R3 David E. Rutter said in the release, "Following the recent launch of our Corda Settler, allowing for the payment of obligations raised on the Corda platform, it was a logical extension to plug into SWIFT gpi."
---