Sushi is Expanding to Avalanche While Ethereum Camp Fights High Fees
Major DeFi protocol SushiSwap (SUSHI) has announced its expansion to the Avalanche (AVAX) smart contract platform, while the Ethereum (ETH) camp is looking for new ways to curb its sky-high fees that force its users to look for alternatives.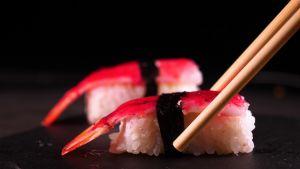 SushiSwap, which launched in the second half of 2020 during the height of the DeFi summer, has decided to offer its users another trading venue. Users can perform core swaps and liquidity mining on Avalanche as they do with SushiSwap on Ethereum, "but with lower fees and faster transaction finality," said the announcement.
"With Sushiswap's products and Avalanche's platform capabilities, it's going to be a match made in heaven for users," chimed in Emin Gün Sirer, CEO of Ava Labs, the team behind Avalanche.
SushiSwap is the largest ETH-based decentralized exchange (DEX) by liquidity with USD 4.6bn locked on its platform, according to DeFi Pulse. It's also the fourth largest DEX by trading volume (USD 284m in the past 24 hours, per Coingecko). At 10:08 UTC, SUSHI, ranked 42nd by market capitalization, is trading at almost USD 20 and is down by 2% in a day, trimming its weekly gains to 14%.
Meanwhile, since the launch of the Avalanche-Ethereum Bridge (AEB) on February 8 this year, said Avalanche, transactions have increased by 1,051% to over 626,000, and unique wallets increased by 1,752% to top 39,000. Additionally, in the last three weeks, the total value locked within Avalanche-based automated market makers (AMMs) has grown by 169%, from USD 102m to USD 275m, they said.
Avalanche said that the transactions on the network are confirmed "near instantly, fees are "a fraction of the cost," and DeFi apps are able to scale and perform "at parity to traditional finance applications." This is of note, as it contrasts the rising fees on the Ethereum network and long queues for confirmation. The DeFi craze has been one of the major fuelling agents behind the rising fees.
Per BitInfoCharts.com, the 7-day average transaction fee hit an all-time high of USD 24.9 last month. While it had dropped since, another rise can be noted over the past week, with the fee standing at USD 17.3 on March 15.
"The exodus is here," tweeted entrepreneur, author and Guardian Circle founder Mark Jeffrey, adding: "DeFi is moving to other chains to escape the gas crisis. Either ETH fixes this now — or it faces MySpacing." Jeffrey argued that "the greed of ETH miners is going to bring the chain down."
Hardcoded limit
That said, there is a new fee-related Ethereum improvement proposal (EIP) currently in discussion. EIP-3382 is "hardcoding the block gas limit because it's a critical parameter that should require network consensus and not be dictated by miners," said Philippe Castonguay, the EIP's author and Director of Product at Horizon Blockchain Games.
"Both Ethereum's proof-of-work and proof-of-stake designs assume that block producers are financially rational, but does not assume block producers to be benevolent," Castonguay argued. "Indeed, the block gas limit is one of the only parameters in Ethereum that is not dictated by node consensus, but instead is chosen by block producers."
As drastically increasing or decreasing this parameter could have serious, unintended consequences, said the author, it's "a critical parameter that should require node consensus to avoid any sudden harmful change imposed by a small number of actors on the rest of the network."
The EIP is currently in draft status, and it seems to be gaining support. Popular crypto researcher Hasu, for example, expressed his support as well, arguing that "the more control miners have over core protocol parameters, the more Ethereum must pay to incentivize their honesty."
Some other commenters, however, "strongly opposed to a hardcoded constant," as William Morriss wrote, as it "would need to be micro-managed every hard fork." He added that he "can support removing it from miner control since they have a propensity toward keeping it far below capacity to manage their operating costs."
The EIP follows the discussions on its popular sibling, EIP-1559 - as well as some miners' continual opposition to it, with "a show of force" being prepared for April 1. But EIP-1559, which is expected to bring the automatic setting of fees and token burn mechanism for each transaction, is accepted and is set to be included in the London network upgrade, estimated for July this year.
ETH is trading at USD 1,799, having gone up 1.5% in a day. It dropped 2% in a week.
___
Learn more:
- Ethereum Developers On Why They Don't See Cardano & Binance Chain As Rivals
- Some Ethereum Miners Call for an 'Educational' 'Show of Force'
- Binance Smart Chain Put to Political Test, as More ETH-Based Projects Use It
- Enjin New Solutions 'Bring Scaling to Ethereum, Remove Fees, Support NFTs'
- 'Scaling Coming to Ethereum in March', Optimism Announces Mainnet Launch
---