Stellar Flips BCH, Tether Flips LTC, and Coinbase Effect Disappears
A new day in the cryptocurrency market means new winners and new losers. The past few days have seen developments concerning the popular fiat-to-crypto exchange Coinbase, as well as a few coins swapping places on the crypto market cap ranking.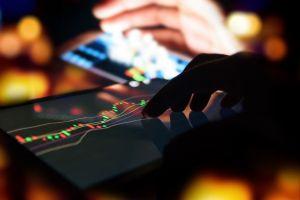 Let's go through these developments one by one:
Stellar overtakes BCH
After pushing EOS out of top 5 cryptocurrencies by market capitalization in November, Stellar (XLM) inches even higher in the hierarchy of crypto market. As Bitcoin Cash (BCH) continues to decline sharply, it has now lost its number 4 spot as the most valuable cryptocurrency to Stellar. The two coins first swapped places for a brief period on November 23, but this time the "flippening" appears to be more robust, with more than USD 400 million in market capitalization separating the two coins.
Bitcoin Cash has sold off heavily since an internal dispute in the BCH community ended with a split of the blockchain into two competing cryptocurrencies: Bitcoin ABC (now usually referred to simply as Bitcoin Cash) and Bitcoin SV (short for "Satoshi's Vision").
Tether flips LTC
A second flippening also happened recently when the most popular stablecoin Tether overtook Litecoin as the seventh biggest cryptocurrency. This is not surprising, given that Litecoin dropped by more than 40% in the past month, while the stablecoin is, well, more or less stable.
Despite the large amount of negative press surrounding Tether, which is also facing tough competition from a range of other stablecoins, it appears that stablecoins are still the preferred safe-haven when turmoil threatens the rest of the crypto market. As a result, Tether has managed to maintain most of its market capitalization in the past month, while other coins like Litecoin have continued to bleed.
Also, Litecoin's decline on the crypto market cap rankings came shortly after it was revealed that a Litecoin "new king whale" moved a huge amount of coins over the network on November 30. According to a report by Litecoin.com, the network saw almost 60% of its entire market capitalization move in just one day as un unknown whale transferred over 12 million LTC (USD 353 million) to 40 new Litecoin wallets.
If all of these coins belong to one person or company, it means that 15% of the total supply of Litecoin that will ever be created, is now owned by a single entity, as noted by the report.
Also, there are more changes among the top 10 cryptocurrencies, as Tron just pushed Cardano out of the list.
Top 10 cryptocurrencies by market capitalization:
(UTC 07:50 AM)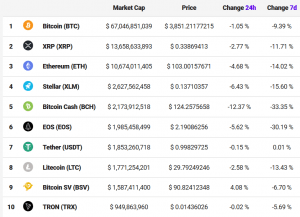 ____
Coinbase effect gone
Lastly, Coinbase has just announced that the privacy-focused cryptocurrency Zcash (ZEC) is now available for trading on the platform. According to the company, the new cryptocurrency is now available to all customers except residents of New York State and the United Kingdom due to local regulations.
Today's announcement marks a change from the company's previous ZEC listing announcement, as it now applies to the entire Coinbase platform, and not just the Coinbase Pro platform for more advanced traders.
Looking at the ZEC price, however, it seems clear that the so-called Coinbase listing effect has seriously faded in recent months. Over the past 24 hours (UTC 07:40 AM), ZEC is down more than 7%, versus a decline of just 1% for Bitcoin.
ZEC price chart: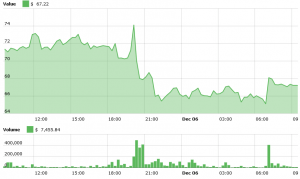 ---