South Korea Mulls Singapore-style Approach to Crypto Regulation
The South Korean financial regulator is looking to Singapore for inspiration as it forms new crypto sector policies, sparking anticipation that it may look to adopt a similar system.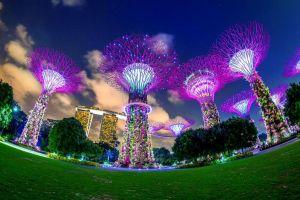 Singapore is known for having one of the most progressive approaches to crypto regulation in the world, and its crypto exchanges are policed by the central bank and chief financial regulator, the Monetary Authority of Singapore (MAS).
A number of leading international exchanges are headquartered in Singapore, where the MAS began requiring anti-money laundering (AML) and combating the financing of terrorism (CFT) protocols for trading platforms in 2018. Exchanges are also obliged to apply for operating licenses, flag suspicious transactions and keep their own funds separate from those of their customers.
Many of these provisions will be introduced in September this year when South Korean exchanges will fall under the regulatory umbrella of the Financial Services Commission (FSC). But after years of confusion about where exactly the buck stops with policy-making in the crypto sector, the FSC has recently been handed almost complete control over the industry.
As such, the FSC has been attempting to find its feet in the sector in recent weeks. As part of its preliminary work, it has summoned the nation's leading exchanges on three occasions for face-to-face talks and briefing sessions. And now, the regulator could be set to benchmark the MAS as it looks to fine-tune its operations ahead of September.
Per Newsis, an unnamed "key official in the financial sector" stated that the FSC was "reviewing the Singaporean model of licensing crypto exchanges." But the report's author added that, were an MAS-style system to be adopted, tokens themselves would also be subjected to regulatory scrutiny – meaning that "80-90% of cryptoassets" would need to be delisted, likely leaving only market-leading coins like bitcoin (BTC) and ethereum (ETH) on a "green-list."
The media outlet stated that the FSC had not yet made up its mind on the matter, with the regulator remarking that the Singaporean model was "just one of those" currently "under consideration," and that it "may or may not be adopted."
Regardless, the MAS example is reportedly one of those under close scrutiny. And readers may recall that the only major Asian bank to have launched a crypto exchange to date, DBS, has done so with MAS approval. On the other hand, the MAS last month warned that crypto investment may not be suitable for retail investors.
A senior operating officer at a South Korean top-10 by trading volume crypto exchange told Cryptonews.com there was room for some cautious positivity. The official asked not to be named, and for their exchange's identity to be kept a secret, but added:
"Singapore is a major crypto trading center, so that gives us some kind of hope. On the other hand, the FSC is being non-committal and hasn't highlighted which aspects of the MAS regulations it is studying or wants to adopt. It's too early for doom-and-gloom, but equally too early to celebrate anything."
___
Learn more:
- 'Confusion' as Regulator Chimes in Amid South Korean Delisting Spree
- 'Crypto Crisis Summit' in South Korea – as No Ministry Wants to Take Charge
- SEC to Provide Clarity on Token Distribution, Crypto-Based ETPs - Hester Peirce
- Solving These 7 Challenges Would Accelerate Bitcoin Adoption
---