Ripple Spent Less Lobbying but Had More Lobbyists Working With Trump's Staff
Compared to 2018, California-based blockchain startup focusing on payment technologies, Ripple, had more lobbyist but spent less on lobbying in the first three quarters of 2019, according to OpenSecrets.org – database of the Centre for Responsive Politics, a non-profit research group.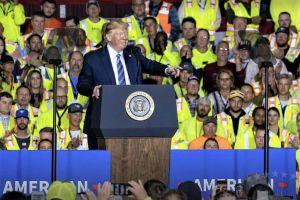 The data, based on numbers provided by the Senate Office of Public Records, shows that Ripple had USD 170,000 in lobbying expenditures in the first three quarters of 2019, or 48% less than in the same period in 2018 when it spent USD 170,000 in Q3 alone.
Ripple would have had to spend USD 280,000 in that last quarter of 2019 just to reach the amount spent the entire year before.
Nonetheless, the company had six lobbyists during last year representing their interests in front of officials, legislators and/or regulators, compared to five in 2018.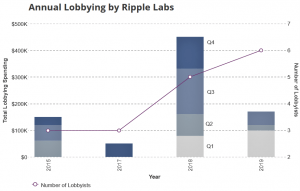 Three issues were lobbied by Ripple Labs in 2019: Science and Technology, Finance, and Banking, as well as one agency: Executive Office of the President, which consists of the immediate staff to the President, along with entities such as the Office of Management and Budget and the Office of the United States Trade Representative.
As for the hired firms, the available data for 2019 shows that USD 100,000 was spent on two Washington-based lobbying firms, ACG Analytics and Williams and Jensen. Robert Nicholas Wagener from the former was hired for the job, while the latter company had three people lobbying for Ripple: David E. Franasiak (also lobbied for TD Ameritrade, OTC Market Group, Security Trade Association, Colonial Pipline, Oklahoma Gas and Electricity, etc.), Joel Oswald (also lobbied for Visa Inc, Federation of Exchange Accommodators, Federal Home Loan Bank, etc.), and Christopher Wilcox (also lobbied for Compcast Copr, Roche Holdings, National Assn of State Treasurers, etc.).
These four are identified as "revolvers." The Centre defines the term "revolving door" as the common practice of government regulators, Congressional staff and members of Congress to take a job with lobbying firms and private sector organizations, which they used to oversee in many cases.
Additionally, Manager of Government Relations at Ripple, Ron Hammond, and Head of Research and Director of Regulatory Relations at Ripple, Ryan Zagone, were hired for in-house lobbying, the site states.
The bill for the lobbying of which Ripple allegedly hired these people is the Token Taxonomy Act of 2019, H.R. 2144, which was introduced in the U.S. House of Representatives in April 2019, with the goal to provide regulatory certainty for companies and regulators in the blockchain economy of the country, by clarifying existing rulings, judicial decisions, and initiatives. We reported on the draft on this bill already in December 2018.
Also as reported, in July 2019, Ripple executives sent an open letter to the U.S. Congress, urging the lawmakers to support crypto regulation that does not disadvantage U.S. companies and does not paint crypto assets with "a broad brush," but the one that "classifies digital currencies in a way that recognizes their fundamental differences."
Meanwhile, XRP is currently (10:55 UTC) trading at c. USD 0.23. It went up 4% in the past 24 hours and 16% in a week.
---