Ripple CEO Targeted by Scam Accounts on Twitter
Disclosure: Crypto is a high-risk asset class. This article is provided for informational purposes and does not constitute investment advice. By using this website, you agree to our terms and conditions. We may utilise affiliate links within our content, and receive commission.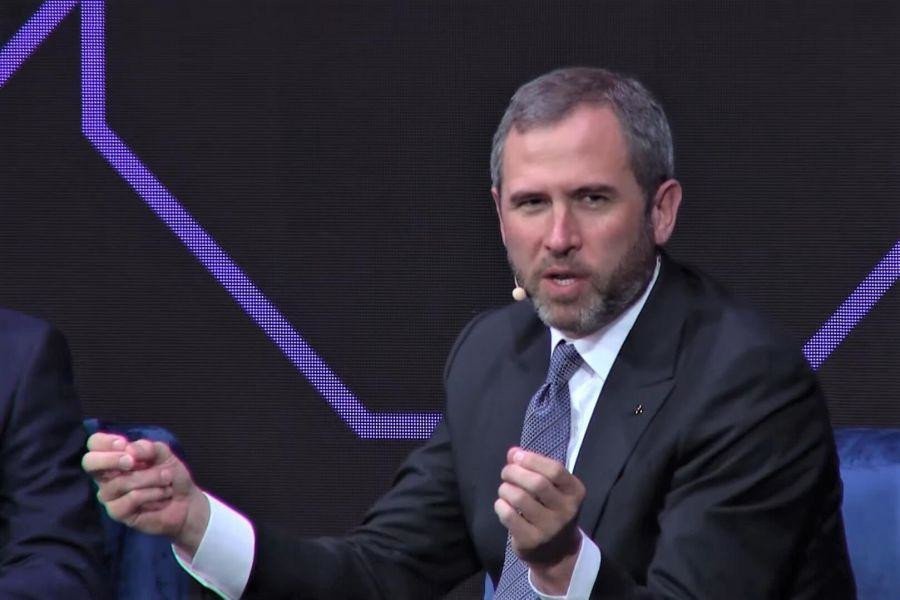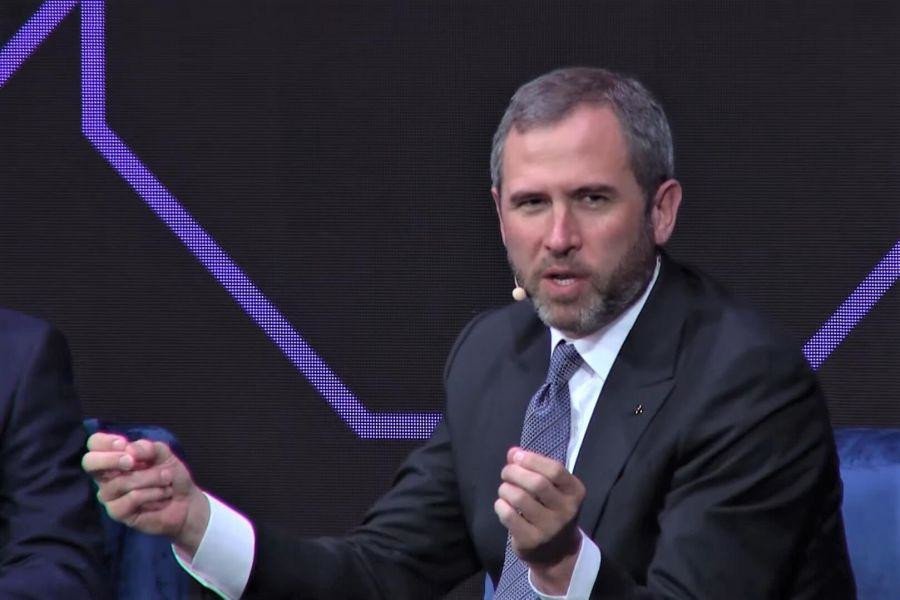 Brad Garlinghouse, CEO of the California-based start-up Ripple, called out Twitter for not taking (more) action against scam accounts – some of which being verified badge holders.
"I can't believe I'm still doing this," the CEO tweeted, directing his message to Twitter's support account.
Per his tweet, Twitter has numerous verified accounts that have been impersonating Garlinghouse and even replying to crypto-related tweets.
I can't believe I'm still doing this – @TwitterSupport, it's embarrassing when you can't distinguish a real profile from a fake one. Verified scam accounts are now replying to tons of crypto tweets with my image, @VitalikButerin's or @CZ_Binance's. (watch it happen to this tweet) pic.twitter.com/wx9LzR75YR

— Brad Garlinghouse (@bgarlinghouse) October 3, 2022
The email the CEO shared shows the Twitter Support team allegedly saying that a reported account is not in violation of the social media giant's misleading and deceptive identities policy.
Garlinghouse claimed that,
"It's been years of scammy reply guys on this bird app, and we're still waiting on any sort of action, while thousands (if not more) are taken advantage of."
There is also a question of if, and if so, how bots are connected to this issue.
At the time of writing, there seems to be only one verified Twitter account belonging to the CEO, followed by a number of accounts with variations of the same name.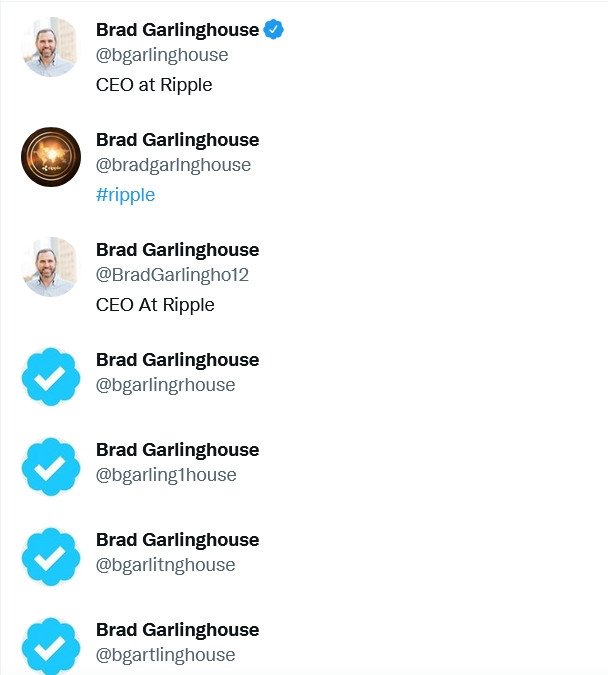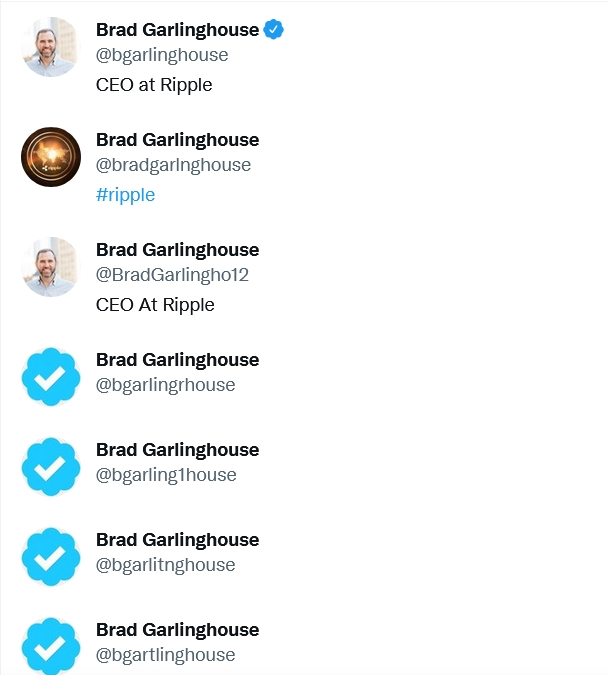 Other users, however, claimed to have taken screenshots of certain accounts that do indeed have the check mark, along with the CEO's name and picture – though the handles are noticeably different.
Be aware! Someone is pretending to be Brad Garlinghouse. The worst part is the blue check mark. Always check the Twitter handle as well and compare to the original. pic.twitter.com/vIekQa781n

— CryptoBull (@CryptoBull2020) October 2, 2022
__
Why am I seeing all these SCAM Brad Garlinghouse accounts getting verified? Get it together @Twitter. @bgarlinghouse is the one and only. pic.twitter.com/R26DiHzx61

— The Invested Captain (@CaptainInvested) October 1, 2022
__
This scamming POS has 162K followers but is using 'Brad Garlinghouse' name and profile image. It looks legit, except for the @ username section (the only thing fit). But it even has a check mark. Be careful out there (this guy is scamming people out of $XRP )@bgarlinghouse pic.twitter.com/xD4qRYd3m2

— Holo (@Holo_Thunder) September 30, 2022
Many other commenters have claimed to have seen numerous users impersonating Garlinghouse, with some arguing that verifying an account is actually easy – while some suggested that it's possible that scammers are buying verified accounts.
Meanwhile, this is far from the CEO's only battle with social media support teams and impersonators on these sites – rather, it seems to be a continuous fight.
Back in 2020, for example, the blockchain company announced a lawsuit against the video-sharing giant YouTube.
"Today, we are taking legal action against YouTube to prompt an industry wide-behavior change and set the expectation of accountability," the company said at the time, adding that "YouTube and other big technology and social media platforms must be held accountable for not implementing sufficient processes for fighting [scams]."
This wasn't the beginning either, as the company had complained and warned about Ripple- and XRP– related scams, as well as impersonating the company's executives for years before that.
Garlinghouse is not the only one targeted by these scam accounts either. Other well-known individuals include Ethereum co-founder Vitalik Buterin and Binance CEO Changpeng Zhao.
____
Learn more:
– Legal Woes: Coinbase Faces New Class Action, IRS Allowed to Investigate SFOX' Customers, Another Objection in SEC-Ripple War
– XRP Could Jump Fourfold if Ripple Wins Against SEC – Survey

– XRP Fans Celebrate as Ripple Co-Founder Finally Dumps Remaining Tokens
– Bitcoin & Crypto 'Tribalism' Hurts Entire Market, Ripple CEO Says

– FTX Crypto Exchange CEO Considered Buying Twitter with Elon Musk
– Whistleblower Claims Twitter Lied About Bots to Elon Musk, CEO Agrawal Calls the Accusations 'False Narrative'
---