Ripple CEO Attempts to Fight 'FUD' Against XRP
Ripple, a California-based blockchain startup focusing on the banking sector, and its CEO Brad Garlinghouse seem to have a reputation of nonchalantly handling all that comes their way, be it competition, criticism, or something else. But this time Garlinghouse decided to defend the company from, according to him, "FUD."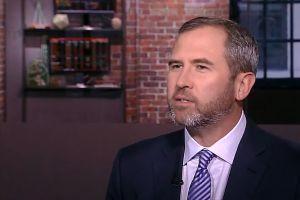 In a Twitter thread on August 27th, that seems to be addressed to Bloomberg, Garlinghouse starts off by saying that he's "always struck by the questionable sources" which are spreading FUD (fear, uncertainty and doubt) about Ripple and its XRP token, "Even more so over the last few weeks (Ripple's XRP sales, litigation etc)," he adds, "thus, I feel compelled to comment".
"I will say," writes Garlinghouse, "[The U.S. Securities and Exchange Commission] guidance isn't issued by the Commission and isn't law, rule or regulation. It's clear XRP is not a security and the UK and others have said as much. [...] XRP sales are about helping expand XRP's utility – building RippleNet & supporting other biz building w/XRP ie Dharma & Forte".
The Financial Conduct Authority (FCA), a financial regulatory body in the United Kingdom, said in July that "Unregulated cryptoassets (e.g. Bitcoin, Ether, XRP etc.) are not covered by the Financial Services Compensation Scheme and consumers do not have recourse to the Financial Ombudsman Service."
Meanwhile, the CEO continued defending his company stressing that Ripple hasn't increased, but decreased the "[XRP] sales by volume Q/Q and since then the inflation rate of XRP circulating supply has been lower than that of BTC and ETH."
However, in value, sales increased by 48% in Q2 compared to Q1. In either case, the company said that it "plans to take a more conservative approach to XRP sales" in Q3.
The Bloomberg article in question, compared XRP to other cryptocurrencies, claiming that while the other cryptos experienced an "astonishing recovery," with eight out of top ten currencies "posting outsized gains", Ripple tumbled some 20% but that it remains the third-largest currency despite losing USD 3 billion in market capitalization. The investors blame Ripple for this, says the article, because, according to the report by crypto market analysis firm CoinMetrics, Ripple has been selling XRP at an increasing pace, which Garlinghouse denies.
The article also mentions that there is "a rising concern" over the possibility that the regulators might find XRP to be an unregistered security and maybe even stop its trading. Kyle Samani, managing partner at crypto hedge fund Multicoin Capital, is quoted by Bloomberg as saying that "regulatory action is one of the major existential threats to Ripple and XRP, and for a good reason," which "understandably, has the XRP base rattled and questioning the long-term liability of the asset and Ripple."
Additionally, Eric Turner, director of research at Messari said that "Ripple keeps on selling [XRP] because it's the major source of revenue for them" and that he doesn't expect it to stop soon.
While some showed their support for Ripple on social media:
Other people don't have a favorable opinion of the startup and its CEO. Ryan Selkis, founder of the crypto research firm Messari, who previously criticized the company, said: "Implied annual inflation for XRP is 25% when you factor in structured selling agreements, which you'll never report (as usual). You all are something else."
Meanwhile, a Twitter personality 'Crypto Bitlord', who has 102,500 followers, started a Change.org petition with almost 2,500 signatures, titled "Stop Ripple dumping", saying that "Ripple continue dumping billions of XRP on us, crashing the price!"
At pixel time (13:09 UTC), XRP trades at c. USD 0.27 and is almost unchanged in the past 24 hours, is up by more than 2% in the past week, but is down by 13% in the past month an by 23% in the past 12 months.
XRP price chart: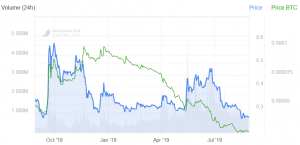 Read more: Ripple Gives Away USD 263M in XRP that Lost 27% of its Value this Year
---