Quant Price Prediction 2023 – 2030
Disclosure: Crypto is a high-risk asset class. This article is provided for informational purposes and does not constitute investment advice. By using this website, you agree to our terms and conditions. We may utilise affiliate links within our content, and receive commission.
Interoperability-focused crypto project Quant has been performing well recently, prompting investors to look for a Quant price prediction.
Throughout this guide, we'll be taking a detailed look at Quant, providing a Quant price prediction for 2023 to 2030, and discussing an alternative investment that offers even more potential for growth than Quant. Let's get started.
Quant Price Prediction Summary 
Below, we've summarized our findings in bullet point format. Detailed explanations for our Quant price forecast can be found later in the guide.
End of 2023 – If the QNT token continues its bullish momentum, it can reach a price of $200 by the end of 2023.  
End of 2024 – As the crypto markets have started regaining momentum, we expect 2024 to be a strong year for the crypto space. QNT can trade as high as $250 by 2024. 
End of 2025 – With Quant working to establish new partnerships, we could see QNT climb as high as $500.
End of 2030 – While the circulating supply will be an important factor, Quant could soar to $2,500 if the market conditions are favorable. 
Quant Coin Price History
Originally released in June 2018, Quant (QNT) is a cryptocurrency project focused on facilitating interoperability between networks via the use of an operating system known as an Overledger. Since its release, the project has built an impressive list of partnerships with high-profile entities, including the Digital Pound Foundation. 
Quant was first launched as an initial coin offering (ICO) with QNT tokens being sold for $1.51. The project raised an impressive $15 million from its ICO, with investors likely speculating that the project would grow significantly thanks to its inherent intrinsic value and plethora of uses within the crypto-sphere.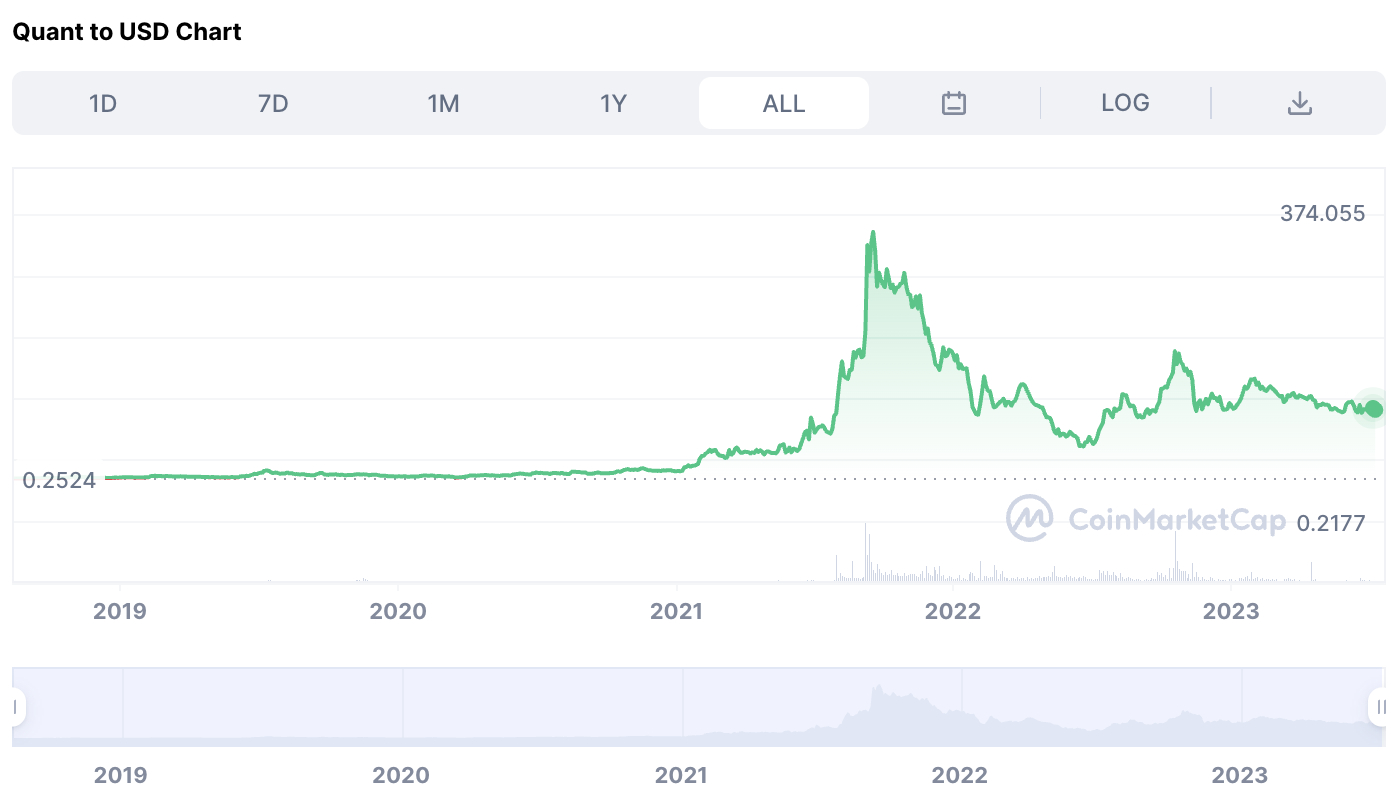 Following its official launch in late 2018, the QNT token quickly fell to around $0.25 as tokens acquired during the presale were dumped on the market. This is a common occurrence in an crypto private sale and not something to worry about.
November 2018 marked the launch of Quant's primary claim to fame, the Overledger. As hype built surrounding this event, the QNT token rocketed toward a high of $3.21, more than a two-fold increase compared to its ICO price.
Following the launch of Overledger, QNT slowly gained value as Quant began to rise in prevalence, and its ecosystem began to entice developers looking to develop cross-chain applications. This resulted in QNT tripling in value over a relatively short time, increasing to $15.74 by November 2020.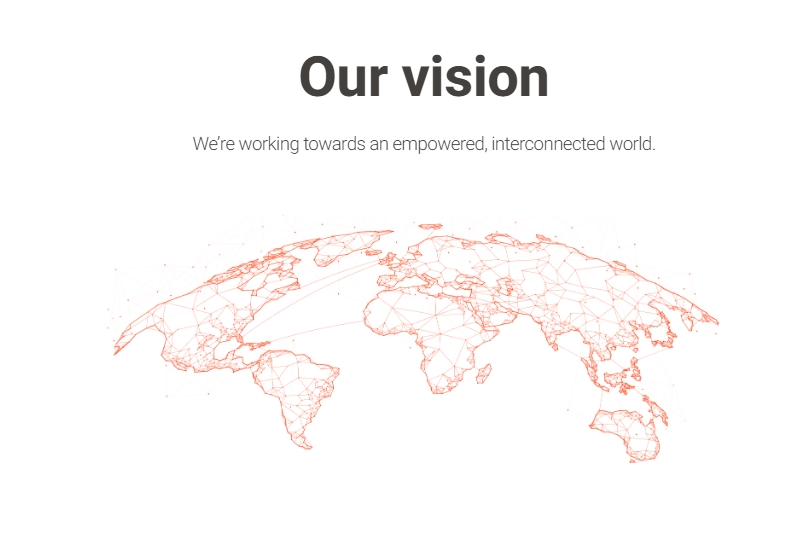 While QNT successfully posted near 1000% returns for its early investors within just two years, 2021 is when QNT became mainstream and really began to take off. Despite beginning the year at a price of just $11.02, the token quickly built up steam thanks to a number of upgrades and listings on centralized exchanges (CEX), including Binance and Coinbase. 
As a result of its various updates and exchange listings, the QNT token exploded in value, briefly hitting as high as $427, an increase of more than 3700% from its January 2021 lows. Naturally, this led Quant to be featured in a huge range of publications, further boosting the network's prevalence and cementing its status as one of the year's best altcoins.
While the asset yielded huge returns for early investors, QNT's growth halted. The asset struggled to maintain its swollen valuation and slowly decreased in value over the coming months. While 2021 provided a slight rebound for QNT, the token dropped sharply in the ongoing bear market, trading as low as $42.6 in June 2022. 
While the token's decline coincided with the overall downtrend in the crypto space, QNT provided massive growth in the coming months. QNT soared from the $42 mark in June to more than $200 in October 2022. After this price spike, the token corrected to $105 by the end of 2022. 
However, QNT soared to $160 by January 25th, 2023, marking more than a 50% jump in under 4 weeks. In the last trading week of January, QNT pushed back to the $135 level. After correcting by 4% on February 1st, the token soared by 10% on February 2nd, 2023. 
Quant performed inside volatile zones throughout the first quarter of 2023. February 2023's peak was followed by a gradual correction to $110 before bouncing to $113 by the end of March. The taken then followed a correcting trend in April, moving to lower regions before bouncing from $108. A minor retrace happened soon after and Quant is now trading around the $104 mark.
To summarize:
Late 2018 – Quant officially launched and immediately fell to $0.25.
Late 2018  – QNT surged to $3.21 ahead of the Overledger release.
November 2020 – After enticing developers to its ecosystem, QNT hit $15.74. 
Mid 2021 – During the 2021 bull run, the price of QNT soared to $419.20.
June 2022 – QNT was unable to sustain its huge growth, dropping to $44.46.
October 2022 – QNT soars past $200
January 2023 – The QNT token begins trading at $110
Q3 2023 – QNT is trading around the $104 mark
Don't invest unless you're prepared to lose all the money you invest. This is a high-risk investment and you should not expect to be protected if something goes wrong. Take 2 mins to learn more.
Quant Price Prediction 2023
With QNT performing well in recent months, things are looking promising for the Quant crypto price. The asset has already managed to bounce back from its June 2022 lows of $42 to a price of $160 towards the end of January 2023.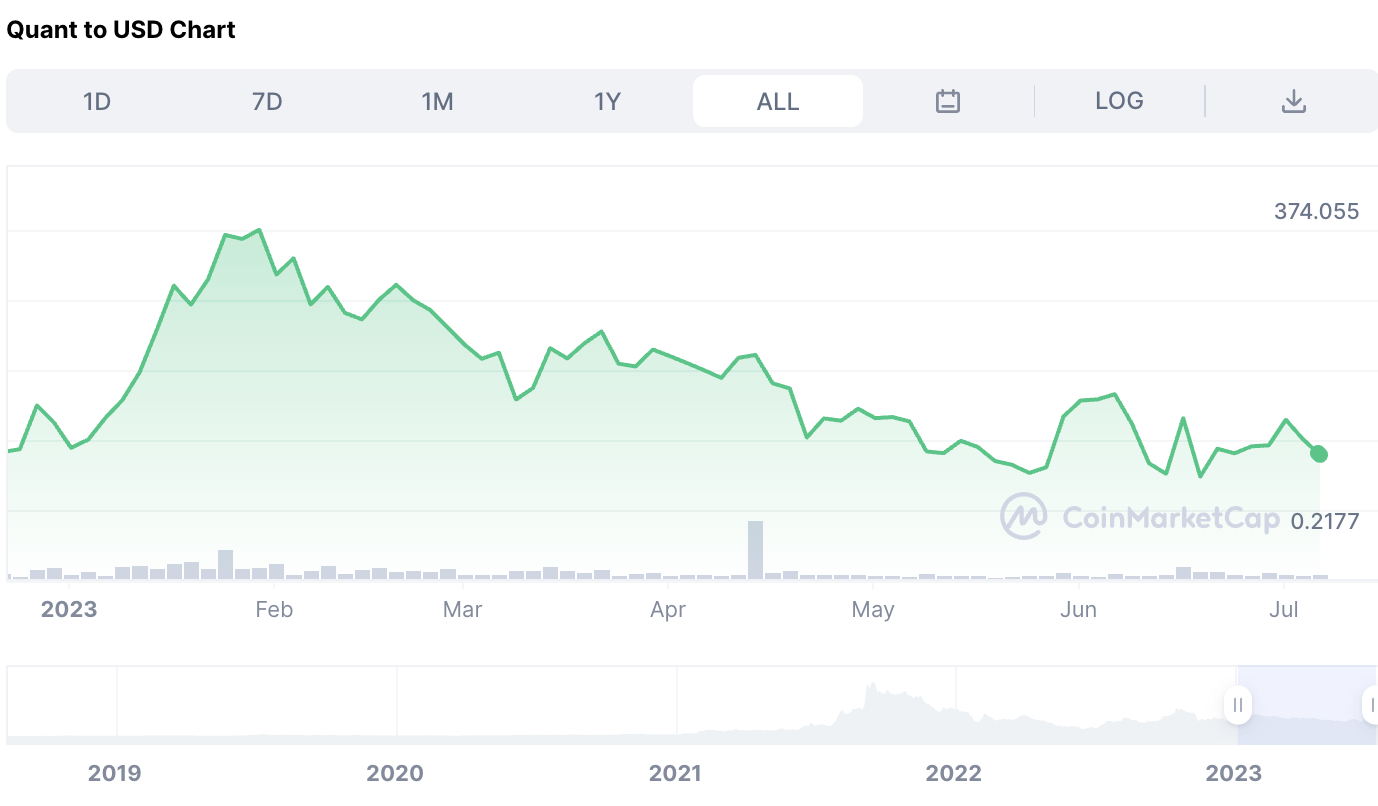 However, the $160 level acted as a resistance line, as the token corrected to $135 by the beginning of February. Currently trading at $104, QNT will look to break past its next newly formed resistance in the coming weeks and months. 
After the successful performance of Quant following the QNT surge, it seems likely that investors will continue to pile in, hoping to earn a profit. As per the technical analysis provided by TradingView, Quant is a 'Buy' as per the 1-month price charts. Moreover, by the end of 2023, we expect this cryptocurrency to trade between the $160 and $200 mark. 
Quant Coin Price Prediction 2024
Looking further ahead, by the end of 2024, Quant will have had plenty of time to begin picking up traction once again. 
If QNT remains bullish, we could see some impressive growth from the asset. However, if QNT flips bearish, it's likely we'll see the asset decline, testing key areas of support along the way. One of the key support zones could be around the $200 mark. In October 2022, QNT plunged from the $200 level to nearly $100 in the following month. 
As we move later into 2024, the price of Quant will be swayed in no small part by the outlook of the wider crypto market and the economy as a whole. When assets are growing, a greater number of investors get involved. Conversely, many potential investors often get scared off if the market is declining. 
As of now, the crypto market appears to have found a bottom, with some assets beginning to show signs of strength. This could lead to a very positive 2024 for crypto. Thus, we expect QNT to reach a high of $250 by the end of 2024. 
Quant Price Prediction 2025
Looking further ahead, for our Quant price prediction 2025, as long as there is no significant market crash, it's likely that QNT will have soared to a new all-time high, surpassing its previous top of $427.
In 2020, the distributed ledger technology market was valued at just $3 billion, with this figure expected to grow to $39.7 billion by 2025.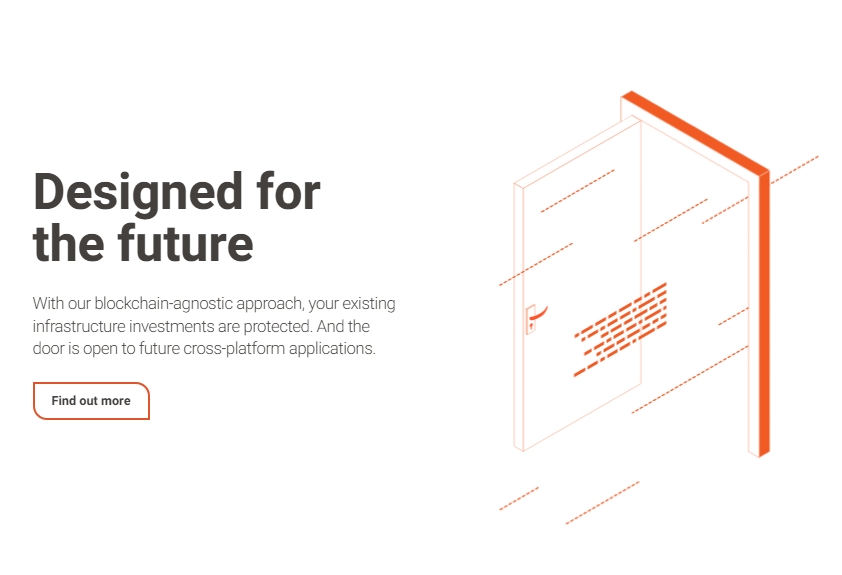 As a greater number of companies get involved with cryptocurrency and begin to implement blockchain technology, the need for the services provided by Quant will increase massively. This is likely to do wonders for the Quant crypto price. 
With Quant working hard to onboard new businesses and dream up new uses for Overledger, we'll likely see Quant unveil a list of new partners by 2025. This could be huge for the Quant token price. With the cryptocurrency already working with huge brands like Oracle and AWS, it wouldn't be a surprise to see a big name added to Quant's list of partners. 
By 2025, we may see QNT hit highs of around $500, with possible lows coinciding with the asset's previous all-time high of $427. 
Quant Price Prediction 2030
While it can be difficult to provide a precise estimate for so far into the future, there are a few factors that we can look at to determine where the price of Quant could head. 
Naturally, the rate at which cryptocurrency adoption increases will play a large part in the success and growth of Quant. As the number of investors and companies grows, demand for QNT can also increase. QNT also has a limited total token supply of 14.6 million. 
As seen with low-supply assets like Bitcoin, the demand often increases in the long term as investors are fighting for a limited number of tokens. PricePrediction.net, a crypto predictions website, has predicted an average price of $2,500 for QNT by the end of the decade. This would equate to more than a 15x price increase from current levels. 
Other platforms, such as BeInCrypto, have predicted a high of nearly $1,600 for QNT by 2030. With many analysts being bullish on the price of Quant, QNT is of the cryptos with the most upside potential.
Quant Price Potential Highs & Lows
In addition to outlining the reasoning for our Quant price prediction between 2023 and 2030, we've also included this easy-to-reference table highlighting each level.
| | | |
| --- | --- | --- |
| Year | Potential High | Potential Low |
| 2023 | $200 | $100 |
| 2024 | $250 | $200 |
| 2025 | $500 | $427 |
| 2030 | $2,500 | $1,600 |
Where To Invest In Quant?
To invest in Quant, we would recommend Binance, the world's biggest exchange by trade volume and monthly visitors. It has double the monthly visits and double the 24-hour trade volume of the next largest exchange – OKX. All of this growth happened within about 7 years, the exchange being founded in 2017. So there is no shortage of choice with Binance. 
It also has a large suite of products, including loans, futures, spot, NFTs, staking, project launchpads, and more. It also provides its own self-custody wallet, allowing users access to the world of Web3. This means assets can be swapped cross-chain at good rates.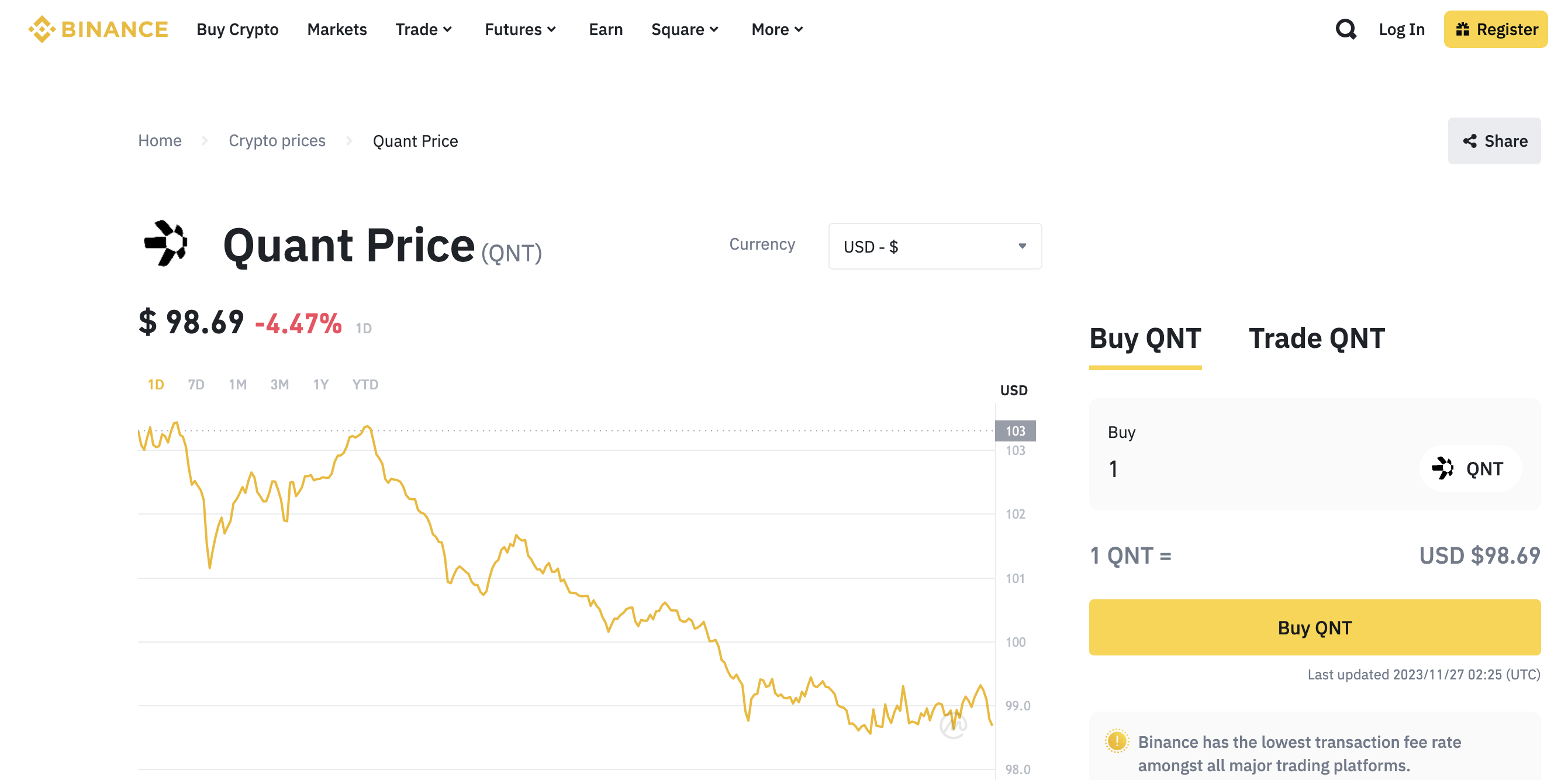 The standard fee is 0.1% for regular users, reduced by 25% for purchases made in BNB, the native token. There are no deposit fees whatsoever. Binance claims to have the lowest transaction fees among all major exchanges. It has a large list of coins and regularly adds new ones. 
Currently, QNT is priced at $98 on Binance. It should not take longer than 5 or 10 minutes to get a verified account with Binance, and signup is known to be quick. Additional verification is required depending on how much you wish to invest. 
Don't invest unless you're prepared to lose all the money you invest. This is a high-risk investment and you should not expect to be protected if something goes wrong. Take 2 mins to learn more.
Is Quant the Best Crypto to Invest in Today?
With Quant making headlines recently as one of the fastest-growing cryptocurrency projects, it's no surprise that investors would wonder whether it was the best asset to invest in today. As mentioned in our Quant price history, the token soared from $40 in June 2022 to more than $200 in October of the same year. 
However, the token has experienced high levels of volatility throughout 2022 and into 2023. After reaching a price of $200, the token dropped by nearly 50% in November 2022, and is still yet to recover today. Due to the unpredictable nature of the economic markets in the past few years, even the biggest cryptocurrency assets may not be safe bets.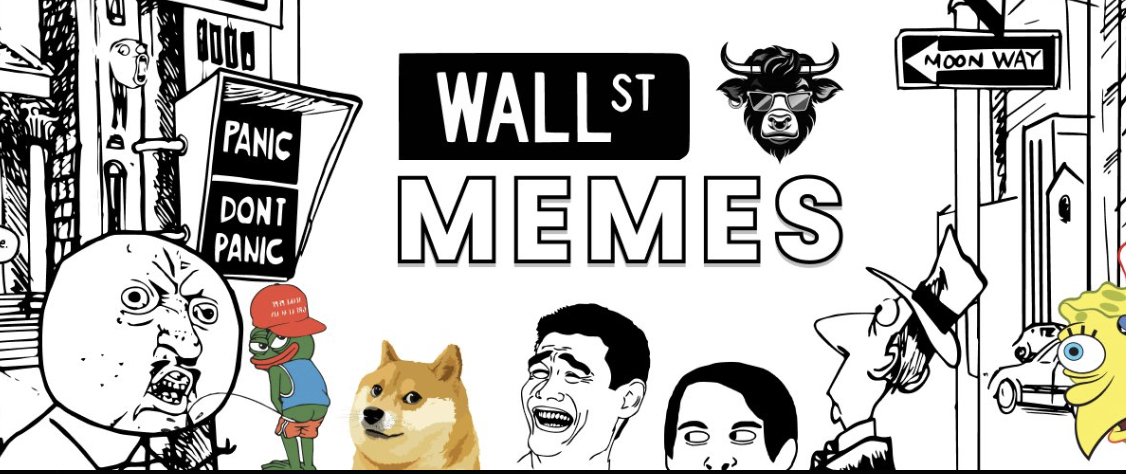 Wall Street Memes is an emerging memecoin project that combines humor, internet culture, and famous movie catchphrases to create an engaging cryptocurrency experience. Since its launch just a month ago, the project has achieved remarkable success, closing in at almost $13 million in its presale phase.
A considerable amount of tokens is set aside for community rewards, with a significant role played by airdrops within the project's ecosystem. Wall Street Memes has announced an exciting event: a $50,000 giveaway will be divided among five winners who actively follow the project's social media channels.
For those looking to maximize their potential gains, now is the ideal time to participate in the presale of Wall Street Memes. By joining early, investors can position themselves as early supporters of the project and potentially enjoy substantial benefits.
Furthermore, Wall Street Memes has caught the attention of Elon Musk on Twitter, as he recently interacted with the project's Twitter account.
With over a million followers on social media accounts, Wall Street Memes has garnered a positive community sentiment. Considering the project's current trajectory, early investors who participate in the presale could potentially witness significant returns in the upcoming weeks.
Conclusion
Throughout this guide, we've taken an in-depth look at what Quant does and provided a detailed Quant price prediction. However, during our research, we came across another project that could have more upside due to being early in its roadmap. 
Wall Street Memes is a community-powered memecoin project that has already amassed a massive social media following. It is leveraging its quirky origins and the community's sentiments towards memecoins to gain traction in the market. 
FAQs
Does Quant have a future?
Quant is one of only a few crypto projects that could be around long into the future. The project solves important issues within the crypto space and with it establishing a long list of powerful partners, it's unlikely to disappear anytime soon.  
When was Quant coin launched?
The Quant coin was initially launched in early 2018 as an initial coin offering (ICO) with tokens selling for $1.51. However, the asset was officially released in late August 2018 with the price of QNT quickly dropping to just $0.25 as ICO investors sold off their stockpiled coins. 
Is Quant a good investment?
While it's impossible to see for certain whether Quant will make for a good investment, things are looking very positive for the asset currently. With Quant already working with a number of high-profile entities and only picking up traction, we could see some impressive growth from QNT. 
What will Quant be worth in 2025?
Looking into the future, it's likely that Quant will be in the spotlight far more by 2025. We expect this token to reach a high of $500 by the end of 2025.
Will Quant reach $1000?
In the coming years, Quant has the potential to be one of the strongest performing cryptocurrency assets. As per our prediction, the QNT token can trade as high as $2,500 by 2030. 
Disclaimer: The Industry Talk section features insights by crypto industry players and is not a part of the editorial content of Cryptonews.com.
---