Private Jet Booking Company Claims Its Sales Grows on Bitcoin Payments (UPDATED)
UK-based private jet charter flight booking service PrivateFly has announced that bitcoin (BTC) payments accelerated this past January. (Updated on February 17: updates in bold.)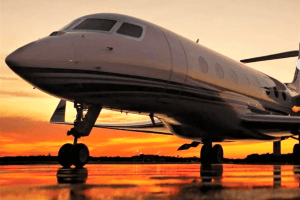 Payments in BTC generated 19% of the company's revenue last month, and 13% of the flights were paid in bitcoin. This is a robust increase compared with the typical 1%-2% monthly share of such payments PrivateFly posted in recent years. The company did not provide any other numbers.
The aviation business, which started accepting BTC in 2014, claims that the recent spike in bitcoin's value helped the company too.
"We've accepted bitcoin payments for many years now, but transactions in the cryptocurrency have really taken off in recent months, alongside its climb in value," PrivateFly said in a statement.
BTC jumped by around 180% in the past three months and, today, surpassed the USD 50,000 level for the first time, before correcting lower again.
Meanwhile, the company said that, in addition to bitcoin, it also accepts payments in other cryptoassets and stablecoins, such as ethereum (ETH), bitcoin cash (BCH), and USD coin (USDC), among others.
This said, payments made in other cryptocurrencies are negligible in comparison to bitcoin which currently dominates the company's cryptocurrency revenue stream, Adam Twidell, CEO of PrivateFly, told Cryptonews.com.
"And ever since we've seen a small proportion of clients choosing this option, for one-off flights or our Jet Account membership, which gives clients streamlined booking and additional benefits when they place funds on account with us. Clients pay us via BitPay, and we immediately transfer the funds into pounds, euros or dollars," according to the business.
Also, in response to the growing demand from its customers, the company decided to launch a new membership program, the Bitcoin Jet Account, which enables them to keep their funds in BTC.
"We saw that while some cryptocurrency-paying clients wanted to realize their gains, others wanted to hold onto their bitcoin, so their account balance would move in relation to traditional currencies (both positively or negatively of course)," according to PrivateFly.
Asked whether PrivateFly was considering to enable its customers to make payments in other cryptocurrencies, its CEO said that, for on-demand flights, PrivateFly processes payments via BitPay, so the carrier accepts the same cryptocurrencies BitPay does.
"As for the new Bitcoin Jet Account, this is currently only bitcoin-funded. PrivateFly has no immediate plans to accept other cryptocurrencies, but will keep this under review in the future," Twidell said.
The CEO said that, in terms of destinations, the flights funded by cryptocurrencies are very much reflective of the carrier's flights overall.
"Of course, the travel restrictions imposed by the pandemic have impacted travel patterns to a certain extent, but shorter flights are typically between European cities such as London, Geneva, Paris, Moscow or Nice, as well as to and from popular leisure destinations such as Palma, Ibiza or Malaga," Twidell said. "Typical longer flights include routes between Europe and the Middle East or North America."
As many carriers across the world are struggling to stay financially afloat due to the ongoing pandemic, numerous companies reach out to cryptocurrencies to generate additional revenue streams.
Last September, South Korean budget airline and Korean Air affiliate Jin Air joined forces with blockchain-powered travel and rewards points firm Mil.k to initiate a crypto-powered promotional offer for flight tickets. Earlier in 2020, another budget airline, Norwegian, announced it aimed to enable customers to pay for tickets using cryptocurrency within the year, hoping the new functionality would help improve its financial results. However, the company is currently subject to bankruptcy protection in Ireland, but claims that the government of Norway is ready to help the airline financially, per scandasia.com.
___
Learn more:
- Four Merchants Revealed How Bitcoin Payments Helped Their Businesses
- Yacht Sale Shows Luxury Goods May Benefit from Bitcoin Price Surge
- BMW Rolls Out Blockchain-powered Token Rewards Platform in South Korea
- How Blockchain Will Help Send People Into Space
- PayPal Touts Crypto For Its 'Super App,' But It Won't Buy Bitcoin Just Yet
- Amazon Building 'Digital Currency' Team for 'New Payment Product'
- No, Mastercard Is Not Adding Crypto Just Yet, It's About Stablecoins
---