Pi Coin Price Prediction 2023 – 2030
Disclosure: Crypto is a high-risk asset class. This article is provided for informational purposes and does not constitute investment advice. By using this website, you agree to our terms and conditions. We may utilise affiliate links within our content, and receive commission.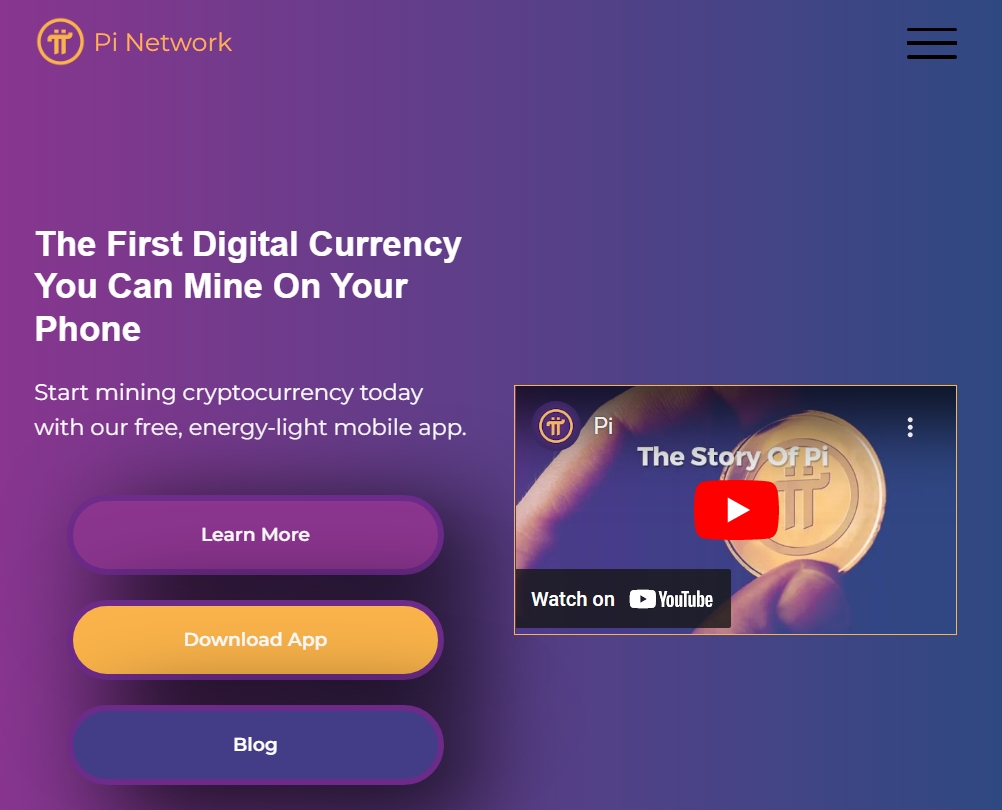 Disclaimer: The Industry Talk section features insights by crypto industry players and is not a part of the editorial content of Cryptonews.com. 
As one of the first projects to get involved with the mobile crypto mining craze, many investors are looking for a Pi coin price prediction to see whether the token is worth mining. 
Throughout this guide, we'll be taking a comprehensive look at the current price of Pi coin, the Pi coin future price, and discussing whether Pi is the best cryptocurrency to invest in right now. Let's get started. 
Pi Coin Price Prediction Summary 
For investors simply looking for a brief rundown of the potential price of Pi Coin, we've summarized each year below. 
End of 2023 – The mainnet release did go smoothly, which resulted in Pi peaking at above the $292 mark before retracing. Experts predict that the Pi coin will be worth $35 by the end of 2023.
End of 2025 – Should the Pi network ecosystem continue to expand, the token could be worth around $50 by 2025. 
End of 2030 – Moving onward to the end of the decade, if the Pi network can keep on growing and get a lot of applications created on the network, the token could climb as high as $100. 
History of the Price of Pi Coin
When it comes to looking at how Pi Coin has performed historically, the waters can get a little muddied. As the network's mainnet still remains yet to be launched, there's previous price data to go on. However, that doesn't mean we'll be shooting blind. There's still plenty of information we can gather from how the project has been operating over the past year. 
Firstly, as Pi Coin operates a bit differently from traditional crypto assets like Bitcoin and Ethereum, it's worth taking a second to understand how Pi Coin works. The idea of the Pi Network was to allow people to mine crypto directly from a smartphone. With Pi gaining over 30 million users at its peak, this concept was clearly a smash hit. 
Rather than joining the ranks of the best upcoming ICOs, Pi Coin has instead opted to allow users to mine coins on the testnet which will then be transferred across to the mainnet once it launches. By taking this approach, the Pi Coin team has managed to create a strong and loyal community that has a vested interest in the success of the project. 
In order to provide its earliest supporters with the best value, the Pi Team choose to incrementally half the mining rewards for users as certain milestones were achieved. This initially took place when Pi Coin surpassed 100,000 users, then again, at 1 million, once more at 10 million users joined the network, and there will  be a final halving at the 100 million user milestone.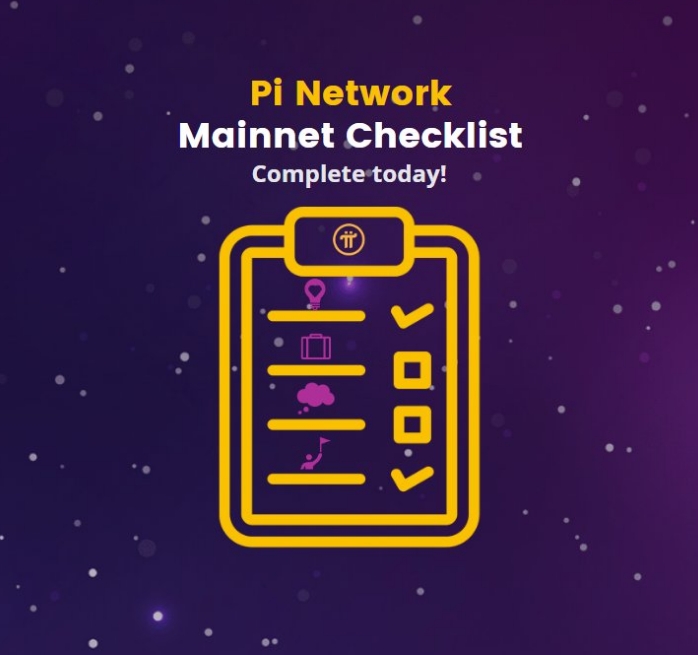 In contrast to assets like Bitcoin which feature a fixed supply, the Pi network uses a system that allocates coins based on user count. So for each user (up to 100 million users), a number of coins are pre-minted that can then be mined by the user over their lifecycle.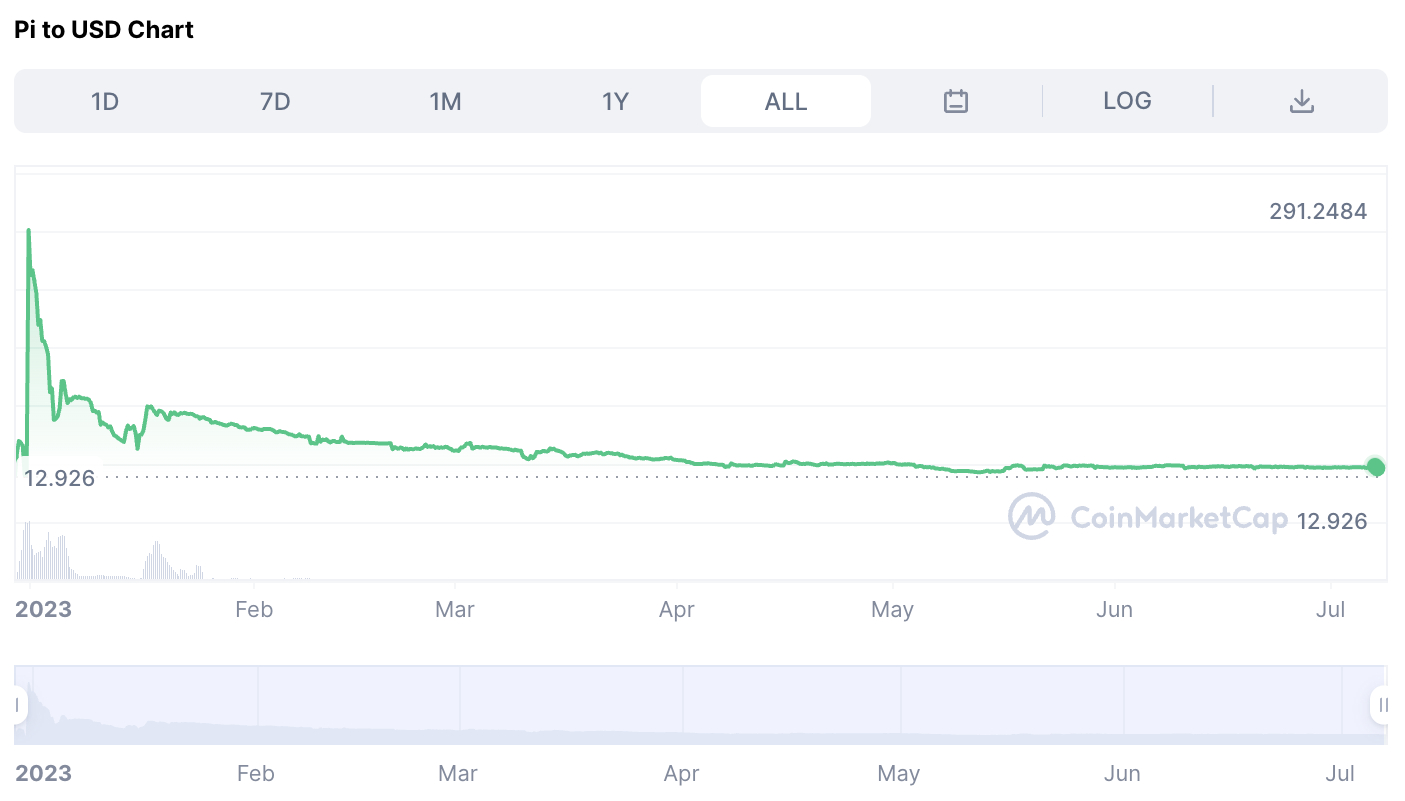 Shortly after Pi ended up on cryptocurrency exchanges, such as Huuobi, BitMart, HotCoin Global, Biconomy, SupeEX, and XT.com, it hit the ground running. Fuelled by the recent interest in Bitcoin as well as its own merit, Pi rose up in value and peaked went from $30 to $292 within a short time. It was due to the massive anticipation that was building up for this token for the past 2 years. 
January 2023 saw the token going through a massive drop to $44 before bouncing to $88, followed by finding an accumulation range around the $48 range. The token continued to correct through Q1-2023, and at the time of writing, it is hovering around the $22 mark.
In summary:
Pi Coin Launched in 2019
Pi currently lacks a value and won't until the mainnet is launched
The Pi Network hit 100,000 users in June 2019
The Pi Network hit 1 million users in April 2020
By December 2021 Pi had over 30 million users
Several exchanges launch Pi 'IOUs' in December 2022, sending price soaring
Pi Network confirms it is NOT affiliated with any exchange listings yet
Mainnet launched in early 2023
Initial interest in Pi was high, leading to the Pi price going up to $292 before retrace. 
The retrace has been gradual throughout the first quarter of 2023. At the time of writing, Pi Coin has been trading around the $22 mark. 
Pi Coin Background
With almost 40 million people owning a Pi wallet and actively mining, a huge buzz was generated during the launch. That led to many people accumulating tokens to sell once it reaches its peak, and then happened when the token hit hte $292 mark. 

With the value of cryptocurrency largely driven by supply and demand, these two parties will essentially battle it out upon the release of the coin. If there is more buying pressure, we could see a huge rally. Conversely, if the selling pressure is higher, the price of Pi could suffer until those planning to sell as soon as possible are shaken out of the market. 
To get an idea of how the coin might perform it's worth taking a look at the Pi whitepaper. It states that the total supply of Pi can be calculated by combining total mining rewards, total referral rewards, and total developer rewards. 
The huge hype and interest around the coin was shown in the last month when a number of exchanges unofficially 'listed' the coin in the form of IOUs.
That caused the price to see an incredibly large pump of nearly 1,500% with the inauthentic Pi coins reaching a price of more than $300 each.
Pi is in Enclosed Mainnet with no external connectivity permitted. Pi Network isn't affiliated with and hasn't authorized any exchange listing. Such listings may not operate on real Pi. Participation may result in loss. Trust only official Pi channels: https://t.co/BZtL2zQOrj

— Pi Network (@PiCoreTeam) December 29, 2022
However, the Pi Network told its followers on social media that the project had not authorized any exchange listing and participation may result in a loss. The statement read: 
Pi is in Enclosed Mainnet with no external connectivity permitted. Pi Network isn't affiliated with and hasn't authorized any exchange listing. Such listings may not operate on real Pi. Participation may result in loss. Trust only official Pi channels. 
The huge surge in price does show the level of interest in the token, however, but such a pump would – in live market circumstances – lead to a massive dump with early miners selling their coins at a huge profit.
Pi Coin Price Prediction 2023
The goal of the Pi network is to create a decentralized cryptocurrency smart contracts network allowing people to create applications within the Pi network, with Pi miners acting as validators.
Since the Pi token has currently been trading inside the accumulation range, it can be said that the selling pressure has subsided. While there is no clear detail about when the Pi Mainnet will be launched, articles say that developers are hard at work working out the final kinks of the open mainnet. It means that we may see the developments of dApps on the mainnet, which would then dictate PI's price movements in 2023.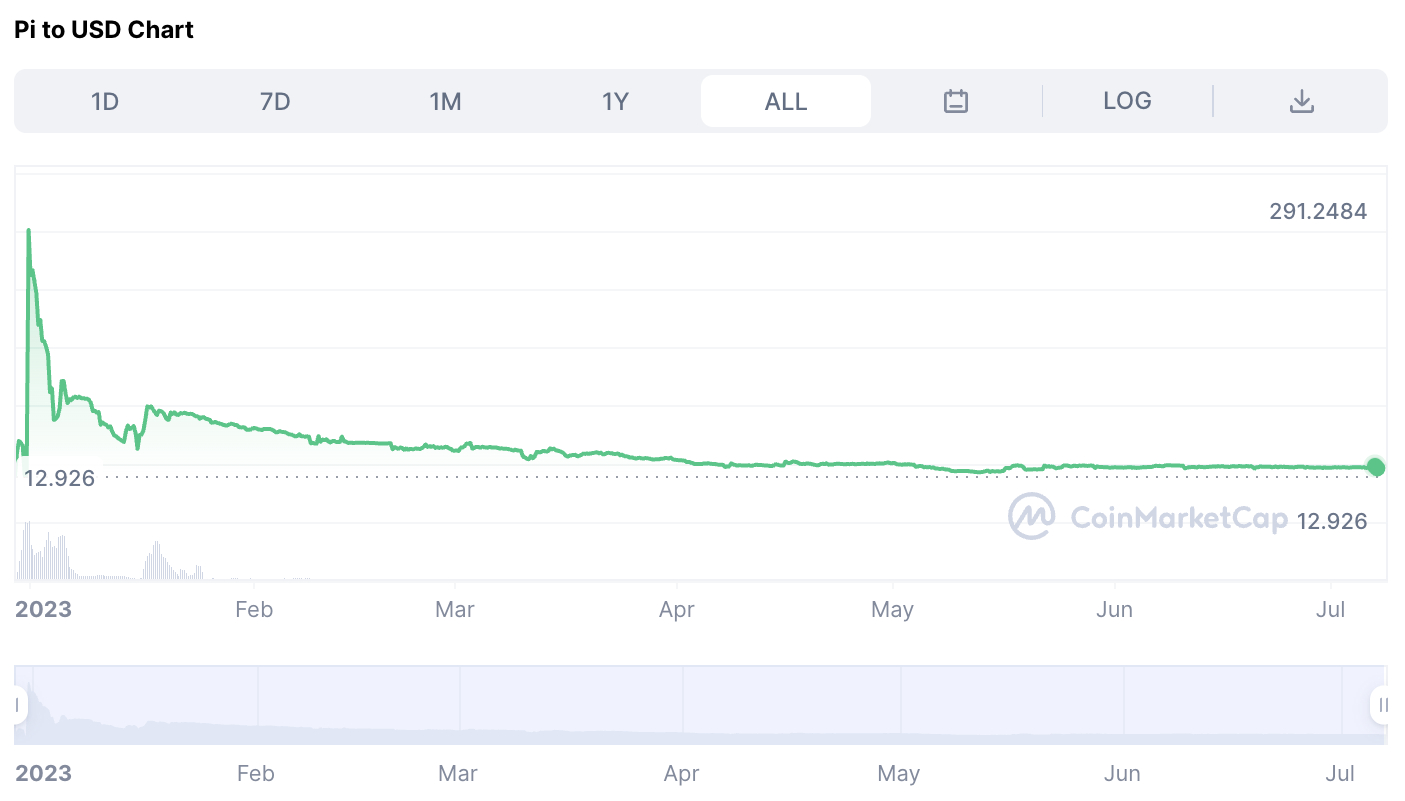 Furthermore, the number of users within the network will continue to increase, in turn, boosting the supply. Estimating a 20% rate of growth in order to account for the hype generated by the mainnet launch and use cases slowly being unveiled, that would place the total number of Pi users at approximately 43.5 million with the total token supply at 300 billion. 
With Ethereum being regarded as one of the best altcoins, we'll refer to its historical growth once again. By October 2018, the project had around 44 million unique wallets and a market cap of around $25 billion following a few months of downturn. 
Pi launched with a lot of fanfare on the cryptocurrency exchanges and peaked at $292 before retracing. While the token is trading at $22 at press time, it could go up to $35 by the end of this year. 
Pi Coin Price Prediction 2025 
Moving on to 2025, we can expect to see a larger number of developers get involved with the Pi ecosystem as a result of its heavy decentralization, low-cost transactions, and energy-efficient nature. Depending on the crypto landscape at the time, this could lead to a large jump in our Pi coin price prediction. 
Assuming a 15% yearly increase in the number of Pi users as hype from the mainnet launch dies down but the number of applications on the networks increases, we could see around 57.5 million people using the Pi network with a total token supply of around 395 billion. 
With these figures, a low-end Pi coin price prediction of $50 and at its peak, we are predicting that it will cross the $300 mark. 
Pi Coin Price Prediction 2030
Jumping further into the future, by 2030 we'll likely see all the allotted number of Pi tokens in circulation hit its cap as the project's goal of 100 million users will likely be hit. As it stands today, the team has not revealed whether mining rewards will be eliminated in favor of another consensus mechanism or if another reward halving will occur. 
Some analysts expect to see the global cryptocurrency increase annually by a compound average growth rate (CAGR) of approximately 11.1%. If the Pi network is managed correctly, it makes sense that the Pi cryptocurrency value would grow at a similar rate. Therefore, our Pi coin price prediction places the asset at a low of around $0.25 and a high of around $0.70. 
Predicting the price movements of cryptocurrencies is far from an accurate science but with many analysts using technical indicators to forecast the future of these digital assets some crypto traders have also been looking for Bitcoin price predictions. Considering that BTC is the largest cryptocurrency on the market, it's health and price trajectory usually has a major influence on other popular altcoins. 
Pi Coin Price Potential Highs & Lows
In order to make it easy for an investor to quickly find out how much Pi coin is worth in a specific year, we've included this handy comparison table.
| | | |
| --- | --- | --- |
| Year | Low Pi Coin Price Prediction | High Pi Coin Price Prediction  |
| 2023 | $22 | $300 |
| 2025 | $35 | $310 |
| 2030 | $40 | $500 |
Where to Buy Crypto Coins
Although Pi might not be available to purchase yet, due to Pi's high user count, it makes sense that the asset will be listed on some of the world's top exchanges. Regulated broker Binance is often at the forefront of the crypto industry when it comes to adding exciting new projects, so we could expect to see it listed on the platform sooner rather than later. 
Pi Coin 'IOUs' are listed on several exchanges, including Huobi and XT.com – however, the Pi Network confirmed to its social media followers that these are not authorized and should not be purchased.
Binance – World's Biggest Exchange With Huge Product Suite
Binance was founded in 2017 by Chengpeng Zhou and has since grown to be the biggest and most well-known crypto exchange in the world. It has launched two of its own cryptos, BUSD and BNB, and has a gigantic suite of products for customers.
This includes a dedicated NFT marketplace, loans, staking APY, educational facilities, futures, spot, P2P, mining pools, trading bots, launchpads, and more. Pi is currently listed on the Binance exchange and retails at $34. Its 24-hour trading volume is $280,000.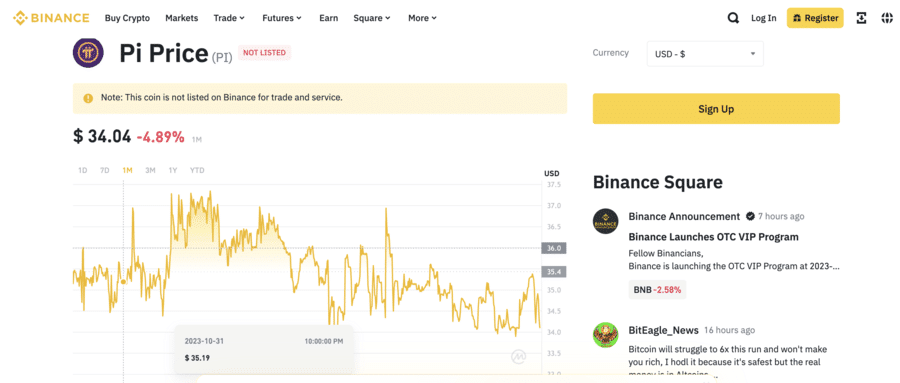 Along with keeping your funds in the exchange, Binance offers a decentralized wallet application. This acts as a bridge between Web3 and the world of centralized exchanges. Tokens can be swapped cross-chain at a good price. This is a fully self custodial wallet solution. 
Binance registration should take less than 5 minutes in terms of verifying your name and email. You will need to submit some KYC information to make larger trades.
At the time of this writing, the exchange has over 50 million monthly visits and nearly $11,000,000,000 in 24-hour trade volume. Monthly visits and 24 hour trade volume are both more than twice that of the next leading exchange – OKX. 
There is a standard 0.1% fee for regular users, discounted by 25% for BNB purchases. There are no deposit fees. 
Don't invest unless you're prepared to lose all the money you invest. This is a high-risk investment and you should not expect to be protected if something goes wrong. Take 2 mins to learn more.
Is Pi Coin the Best Crypto to Invest in Today?

While Pi Coin is an interesting project that could perform rather well, it's not yet available to purchase, making it impossible to invest in Pi Coin today. However, we've done the research and found another early-stage project that has already proven to be one of the best crypto presales of the year.
Wall Street Memes – Leading Memecoin of 2023 with a Massive Social Media Following
Wall Street Memes ($WSM) has emerged as an influential player in the meme coin landscape, securing almost $13 million during its presale at the time of writing. With a proven track record, the project's team successfully launched the "Wall St Bulls" NFT collection, raising $2.5 million by selling out all 10,000 pieces in just 32 minutes.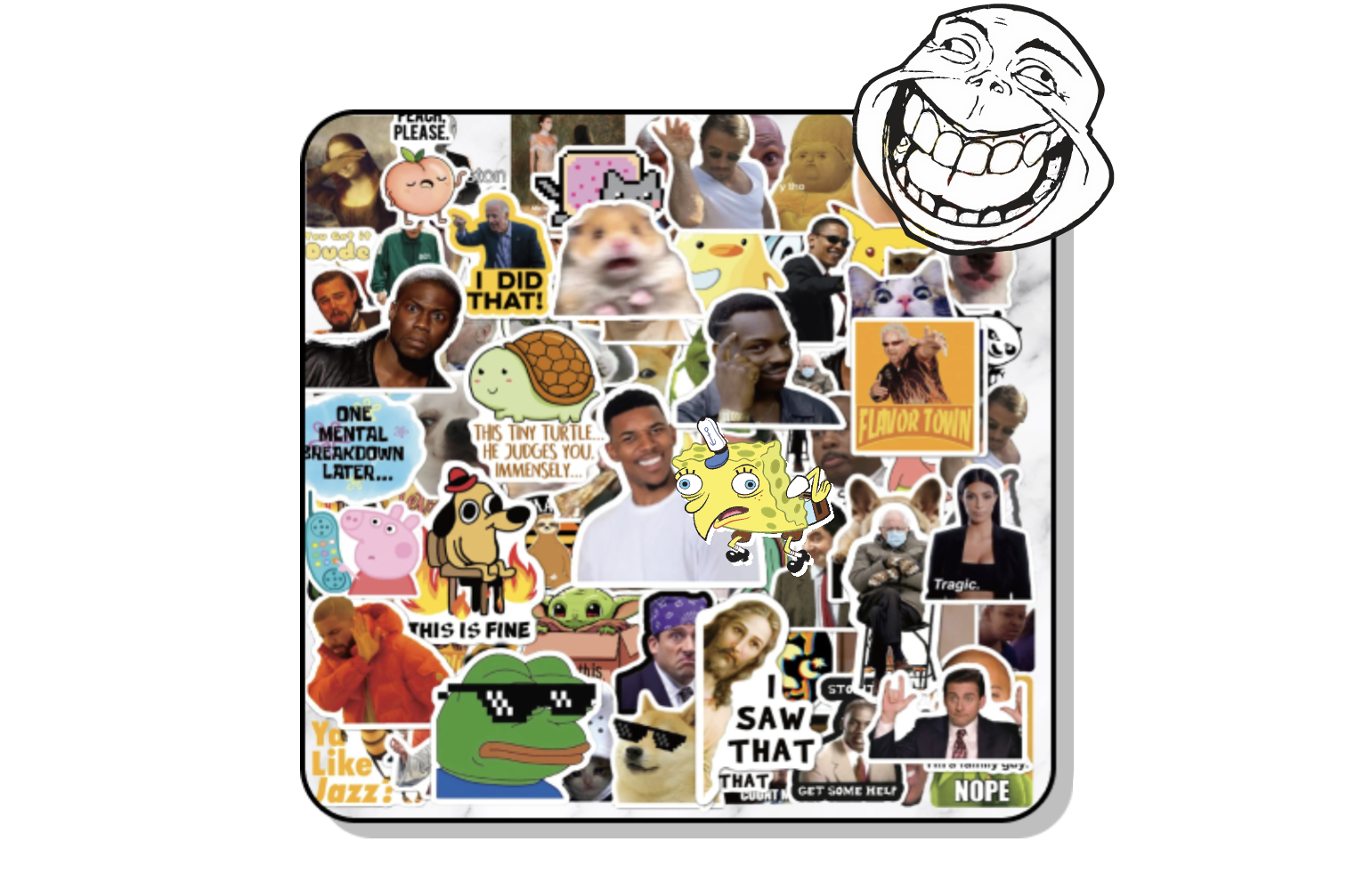 What distinguishes Wall Street Memes is its thriving community of over 1 million followers across various social media platforms. Renowned for its engaging and humorous financial market content, the project aims to deepen community involvement through the $WSM token.
The project's unique tokenomics set it apart from its counterparts. Unlike other meme coin projects, the team has decided against reserving any $WSM tokens for themselves. Instead, they have distributed the entire token supply of two billion $WSM among the community.
This approach aligns the developers' incentives with $WSM holders, emphasizing the project's commitment to community-driven success.
To further ignite excitement, Wall Street Memes has introduced a $50,000 airdrop as part of the presale celebration. By participating in social media-related tasks on the official Discord server, community members have a chance to win a share of the prize in $WSM tokens.
Conclusion
Throughout this guide, we've taken a detailed look at the Pi Coin project, provided our Pi Coin price prediction, and discussed an alternative crypto project with enormous promise. 
While Pi Coin 'IOUs' are pumping in price on several exchanges, it is important to remember the project itself has not authorized any listings and told users not to participate.
Wall Street Memes is another potential alternative to Pi Coin, available to buy now at the presale.
FAQs
What will Pi Coin be worth in 2023?
By 2023, the Pi Coin open mainnet should be released and the ecosystem will have had some time to mature. As a result, we expect to see lows of $22 and highs of $300
What will Pi be worth in 2025?
With more time to grow, the Pi network ecosystem will likely have expanded in a big way as developers look toward efficient smart contract platforms. As such, our Pi coin price prediction places the asset at around $35 on the low end or $400 if it performs well.
What will Pi Coin be worth in 2030?
While it's hard to offer an accurate estimate so far into the future, as the global adoption of cryptocurrency picks up, we could see Pi Coin trade for between $40 and $500. 
What was the starting price of Pi Coin?
Pi Coin's starting price was $12.9 before its upswing to $292. The token has now retraced and is accumulating around the $27 mark.
What was Pi Coin's highest price?
The highest point Pi was able to reach was $292 shortly after the release of its mainnet. The token has now retraced around the $27 mark. But the marketing conditions may push it further up soon.  
Is Pi Coin a good investment?
Pi Coin has multiple upsides. However, its initial mining fundamentals have been put into question as of late as the world is now veering towards proof-of-stake. That said, the development of an Open Mainnet is ongoing, which will likely be released by the end of 2023 that will tell us more about whether it might be a worthy investment later. That said, the current market signals state the Pi will remain in the accumulation range for a long time – at least, until major news about it arrives. 
---