Paxos, Protego & Anchorage Face 'Regulatory Volatility' in US
American crypto-focused banks are facing a struggle to stay onside after a leading American lawmaker petitioned Michael Hsu, the new Acting Comptroller of the Office of the Comptroller of the Currency (OCC) to "reassess any conditional national trust charters and halt the approval of any additional charters to non-bank entities" – and effectively embark on a reversal of his predecessor's pro-crypto policies.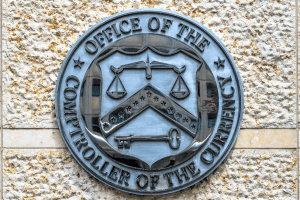 Source: Adobe/Andriy Blokhin
In a letter to Hsu, Ohio Senator Sherrod Brown, the Chairman of the Senatorial Banking Committee, wrote:
"I am concerned about a number of national trust charters granted by the prior leadership of the OCC. As you may be aware, I have long been concerned about the OCC's expansive view of its authority to grant charters to financial and non-financial companies."
The former Acting Comptroller Brian Brooks is the CEO of Binance.US, and Paxos, Protego and Anchorage have all since received conditional OCC national trust charters, in line with Brooks' pro-crypto policies.
But Brown appears confident he can persuade Hsu into taking a very different regulatory course. Although the senator did not overtly ask Hsu to unpick Brooks' ruling, he pulled no punches, writing,
"A firm that cannot meet the rigorous requirements applicable to other banks should not be allowed to present itself to the public as a bank. Paxos, Protego and Anchorage seek to broaden access to cryptocurrencies and other risky and unproven digital assets and emerging technologies to traditional bank customers."
He complained that the firms in question were now "highlighting their federally-chartered status."
"These companies suggest that the OCC's approval of their charters guarantees their business model is as safe, stable and dependable for customers as a local community bank. The fact is […] the OCC is not in a position to regulate these entities comparably to traditional banks," he said.
In a particularly thorny barb aimed at Brooks, Brown wrote,
"It is also unclear whether the OCC engaged in the appropriate due diligence to stand behind this 'seal of approval' before granting these charters. Former Acting Comptroller Brian Brooks actively encouraged cryptocurrency companies to apply for a national trust charter because it had 'relatively easy requirements' and is 'just a faster charter to get.'"
But Brown said that charter approvals could "lead customers to underestimate the risks" of crypto and even "undermine faith in the safety and stability of the entire banking system."
For his part, Hsu has said he would "keep an open mind" on the matter. He said he was committed to "ensuring that OCC-supervised banks operate in a safe and sound manner" and "comply with laws and regulations."
And in a statement to the House Financial Services Committee yesterday, Hsu referred to Brooks' move to create an Office of Innovation that "updated the framework for chartering national banks and trust companies and interpreted crypto custody services as part of the business of banking," claiming that he had asked "staff to review these actions."
But Brown may be cheered by Hsu's insistence that his "broader concern" was that "these initiatives were not done in full coordination with all stakeholders."
He added,
"[The initiatives do not] appear to have been part of a broader strategy related to the regulatory perimeter. I believe addressing both of these tasks should be a priority."
Hsu went on to add that "some are concerned" that "providing charters to fintechs will convey the benefits of banking without its responsibilities."
"Others are concerned that refusing to charter fintechs will encourage [the] growth of another shadow banking system outside the reach of regulators. I share both of these concerns. We must find a way to consider how fintechs and payment platforms fit into the banking system, and we must do it in coordination with the Federal Deposit Insurance Corporation, the Federal Reserve and the states," the OCC chief concluded.
On Twitter, the Avanti (a digital asset-focused bank) founder Caitlin Long's three-letter response to Brown's letter was "wow," while the Yale-NUS College Associate Professor Andrew Bailey quipped that "regulatory volatility" was on the menu in Washington.
___
Learn more:
- With Banks Turning to Bitcoin, Is It Finally Time to Long the Bankers?
- Regulatory Kaleidoscope Challenges Crypto Industry - Crypto.com CCO
- Ripple Execs Blast SEC's 'Perplexing' Actions in String Of Interviews
- DeFi Sector May Face Threat from New EU Crypto Regulations – Survey
- Regulatory Kaleidoscope Challenges Crypto Industry - Crypto.com CCO
- Regulators Ponder Strategy As Bitcoin & Co Are Too Large to Ignore
- Can't Beat Crypto Regulators? Educate Them
- Task Force to Tell Washington: Ramp Up Crypto Exchange Regulation
---