11 Coins to Buy Ahead of the Next Crypto Bull Run
Disclosure: Crypto is a high-risk asset class. This article is provided for informational purposes and does not constitute investment advice. By using this website, you agree to our terms and conditions. We may utilise affiliate links within our content, and receive commission.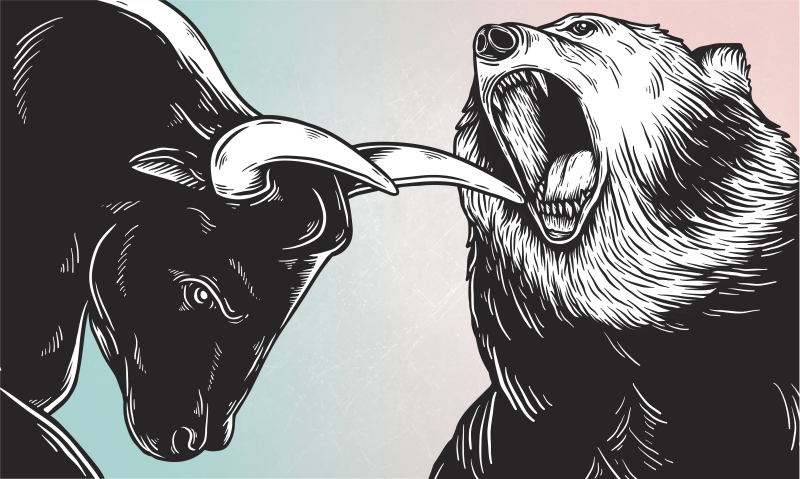 Disclaimer: The Industry Talk section features insights by crypto industry players and is not a part of the editorial content of Cryptonews.com.
The crypto market witnessed a huge decline in 2022. For many investors, however, this represents the perfect opportunity to buy digital assets – before the market enters the next crypto bull run. 
In this article, we discuss 11 cryptocurrencies that are expected to do well during the next crypto bull run.
Top Coins to Add to Your Portfolio Before the Next Crypto Bull Run
Here are the 11 top coins that investors can consider adding to their portfolio before the next cryptocurrency bull run:
Bitcoin ETF Token – Top bull run crypto that could perform exceptionally well if SEC ratification of BTC ETFs takes place. The presale has raised $550K so far and further offers a 25% token burn, a steeply discounted presale, and a PoS annual percentage yield nearing 450%. 
Bitcoin Minetrix – Exciting PoS cryptocurrency is tokenizing cloud mining to make it cost-effective and safer for customers. Get cloud mining credits by staking the $BTCMTX token. The presale has collected over $310K in a few days. 
Wall Street Memes – Popular meme platform has more than 1 million followers across social media channels such as Instagram and Twitter. In the $WSM token presale, Wall Street Memes raised more than $25 million, before listing on the OKX exchange. 
Launchpad XYZ – Web3 platform built to help crypto traders and investors find the next big opportunity. Includes an alpha signals Telegram group that has made multiple 1,000%-plus calls – $1.6 million raised in its presale.
eTukTuk – A green crypto project tackling climate change by transitioning to electric TukTuks in Sri Lanka. With potential earnings for drivers rising by 400% and the presale of its $TUK token ongoing, the initiative also aims to promote charging infrastructure and financial inclusivity.
Chimpzee – The Chimpzee ecosystem is a unique network of passive-earning features, including Shop2Earn, Trade2Earn, and Play2Earn. Each platform offers various ways to make profits, all while contributing to environmental and animal conservation. It has raised over $1.3 million in just a few weeks.
yPredict – A trending new crypto trading platform that utilizes AI to create predictive trading models. The $YPRED token, now in presale, has secured over $3.8 million.
Cardano – Smart contract blockchain network with lower fees and faster speeds than Ethereum.
XRP – Global payments network for cheap, fast transactions across multiple currencies.
Basic Attention Token – Decentralized digital advertising framework built on the blockchain.
EstateX – Crypto project aiming to revolutionize real estate by turning properties into fractionalized, tokenized assets that anyone can invest in.
Finding the best future crypto projects can put investors in good stead before the next bull run – that is if these tokens manage to take off. 
Below, we explain what makes the above-mentioned cryptocurrencies potentially good choices for long-term investors. 
A Closer Look at the Best Coins for the Next Bull Run
In this section, we dive deeper by presenting comprehensive insight into the best coins to invest in for the next bull run as well as the next altcoin season.
1. Bitcoin ETF Token – Essential Bull Run Coin With Discounted Presale And 25% Token Burn
Bitcoin ETF Token ($BTCETF) is the best bull run coin on our list, for several important reasons.
This token is unique due to its market-orientated roadmap that ties in with key events in the broader economy. 
The main roadmap milestone is SEC approval of BTC ETFs, an event that many expect to happen in the near future.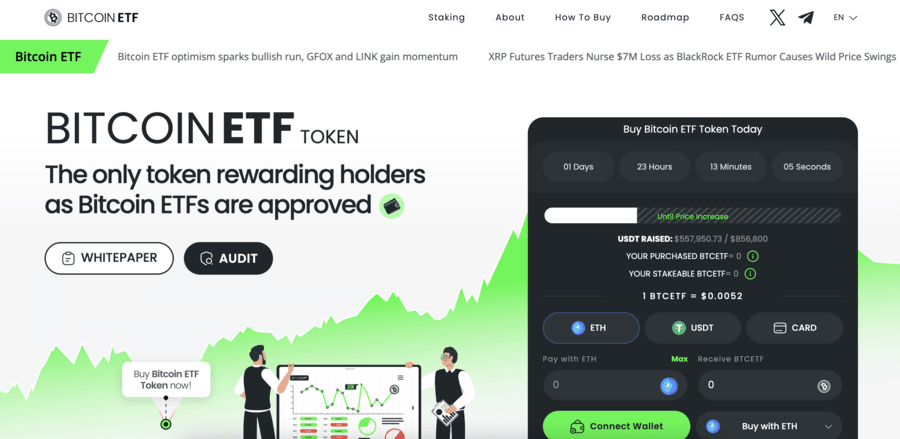 If approval occurs, the ERC20 token could 10x or more, taking into account the fact that it has been created with this exact scenario in mind. It is positioning itself strategically for the approval,  and could benefit enormously when it does. 
Other important roadmap milestones include the native $BTCETF coin hitting $100M in trade volume and the price of Bitcoin breaking through the $100K mark. As each milestone is achieved, there is a 5% token burn, a move that serves to stimulate price appreciation for the native token. 
There is a 2.1 billion token supply with a 525 million burn. Of the remaining, 840 million tokens are available in the presale, 525 million are reserved for staking, and 210 million are allocated to DEX liquidity.
The token price is $0.0050 in round one and will rise to $0.0068 by round ten, the final round. This is an increase of nearly 40%, and the ERC20 coin further provides a 450% APY, at present. 
The incentives, combined with the potential approval later this year or in early 2024, make this the perfect bull run token. 
Moreover, no tokens have been kept by the founding team and the presale scored extremely well in its rigorous third party smart contract audit. These are positive signs in terms of overall transparency. 
Further information can be obtained from the Bitcoin ETF Token Whitepaper, as well as the Twitter channel.
| | |
| --- | --- |
| Presale Started | 6 Nov 2023 |
| Purchase Methods  | ETH, USDT, BNB, MATIC, Card |
| Chain | Ethereum |
| Min Investment | None |
| Max Investment | None |
2. Bitcoin Minetrix – Revolutionary Stake-to-Mine Crypto Offering High Staking Rewards, Buy on Presale Before Price Rises 
One of the best cryptos to collect ahead of the next bull run is Bitcoin Minetrix. This new proof-of-stake cryptocurrency has recently launched $BTCMTX, the native token, on presale. With the successful start of this ten-round event, investors can purchase the token before the price hikes by the end of the presale.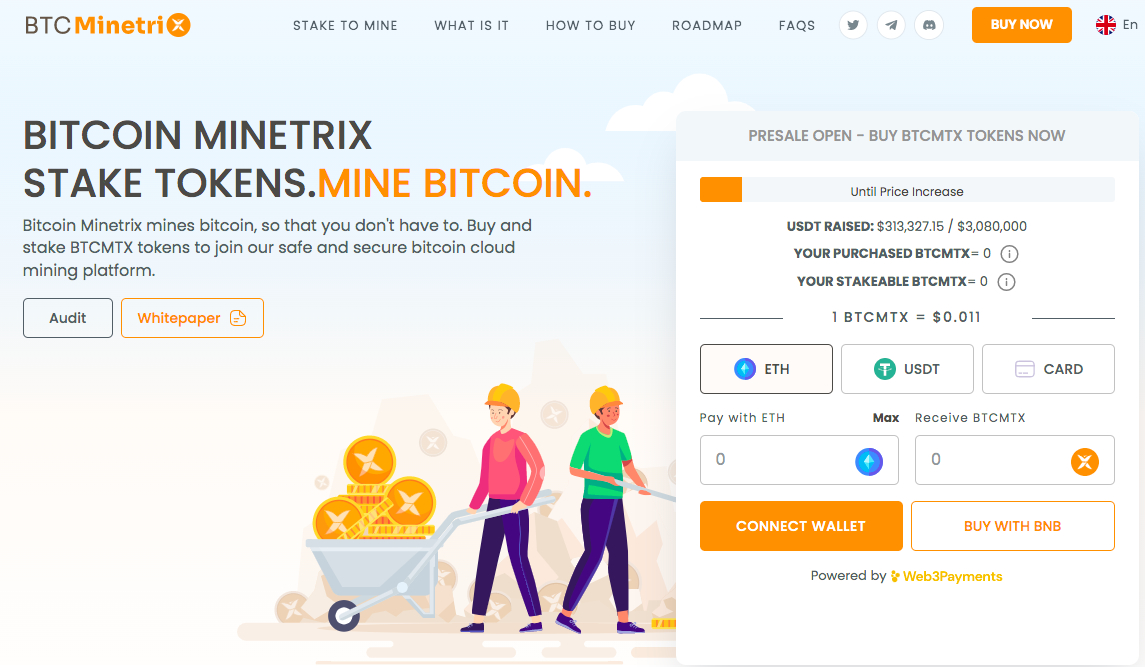 Currently, $BTCMTX is priced at only $0.011 per token. The price will increase by 8.1% by the tenth and final round to $0.0119 per token. The presale will allocate 2.8 billion tokens equally across the rounds. In only a few days, Bitcoin Minetrix has raised more than $310K. One of the reasons for this is due to the high staking yields and cloud mining opportunities. 
Bitcoin Minetrix will tokenize the cloud mining process by offering individuals with cloud mining credits. These can be earned by staking $BTCMTX on an Ethereum-powered smart contract. While many cloud mining corporations offer rented mining time, they engage in dubious activities to scam investors. 
Since Bitcoin Minetrix is the first to tokenize the cloud mining process, the credits will be stored on a digital ledger. The only way to leverage these credits is by burning them in the ecosystem. You can burn the credits to earn Bitcoin mining power. The mining power will get you allocated mining times and a share of mining revenues. 
By the next bull run, Bitcoin Minetrix will have completed its presale and launched the stake-to-mine concept. As more token holders receive APYs and cloud mining credits, the $BTCMTX can increase. By the end of the presale, Bitcoin Minetrix expects to raise $32 million. 
Once the token is listed on crypto exchanges, the increase in trading volume can help the price go up further. Read the Bitcoin Minetrix whitepaper and join the Telegram channel to learn more about this new crypto project. 
| | |
| --- | --- |
| Presale Started | 26 Sept 2023 |
| Purchase Methods  | ETH, USDT, BNB |
| Chain | Ethereum |
| Min Investment | $10 |
| Max Investment | None |
3. Wall Street Memes – Popular Meme Coin Raised $25M on Presale, Now Trading on OKX Exchange
Wall Street Memes is a flagship token project from an already-established brand, whose supporters put it on the map before its first presale stage.
Today, the network boasts over a million social media followers. Through the $WSM presale, this new cryptocurrency raised more than $25 million. After completing a successful presale, $WSM conducted its initial exchange offering on 26 September 2023. The token was listed on OKX – one of the most popular cryptocurrency exchanges in the world.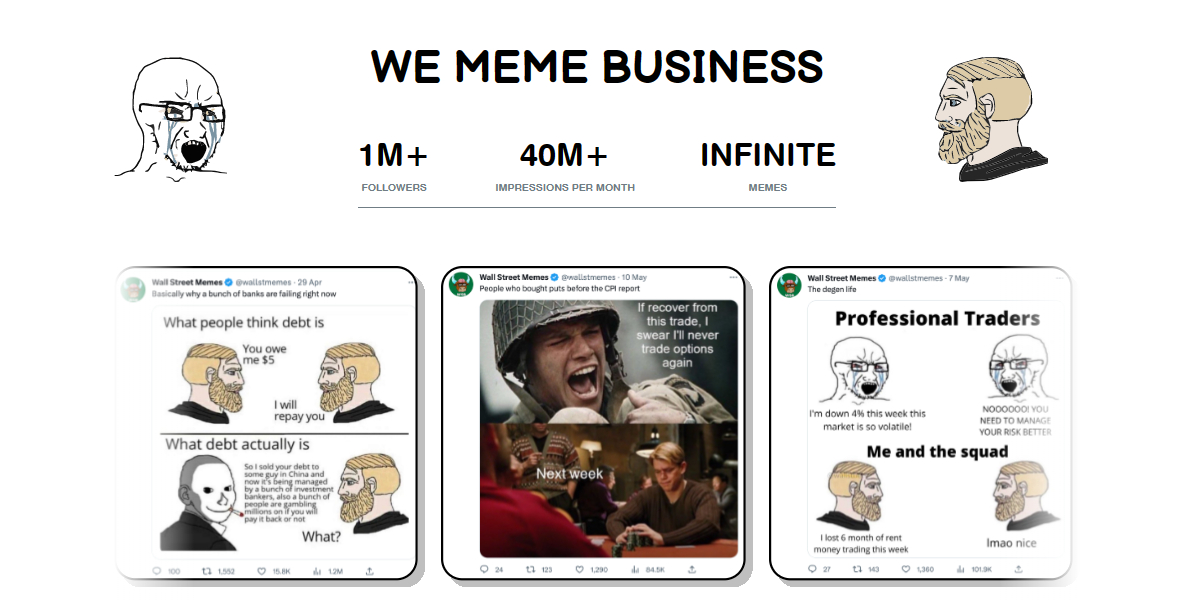 $WSM can also be purchased on the Huobi exchange. The secret behind Wall Street Memes' success lies in two components — creators and campaigns. 
Developers behind the ecosystem are known for the Wall ST Bulls OpenSea NFT collection, which attracted unprecedented attention in October 2021. The collection of 10,000 unique NFTs sold out in 32 minutes after an influx of retail traders decided to invest in cryptos following the GameStop fiasco.
The same group of developers saw meme virality as a new opportunity for profit. Once again, they utilized the Ethereum blockchain technology to create a project that will help investors earn considerable returns in little time. Their first community rewards token — Wall Street Memes — went into presale on May 26, 2023. Thanks to their followers and Elon Musk's social media interaction.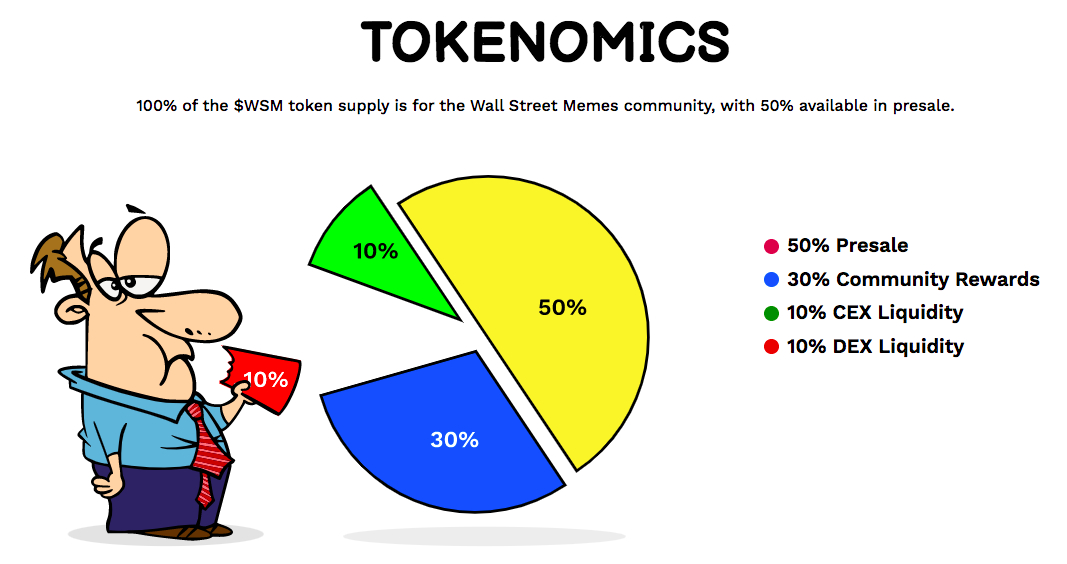 Unlike other meme coins, $WSM has some utility as a stake-to-earn token, with the current APY an estimated 65%.
If you're still in two minds about investing, join WSM's Telegram and other social media platforms. You'll find updates on the project's development, upcoming events, and ways to earn rewards before the token's official market launch. 
4. Launchpad XYZ – Web3 Dashboard for Crypto Traders and Investors 
Launchpad XYZ is a new Web3 dashboard built with the needs of crypto traders and investors in mind. It aims to reduce the information overload that plagues many crypto investors and create a single, actionable dashboard for finding the next big opportunity.
In Launchpad XYZ, users can research everything from top-moving crypto tokens to new presales to dominant NFTs. The platform offers a combination of tried-and-tested analytical tools along with custom metrics like the Launchpad XYZ Quotient. This is a single number that boils down whether an asset is worth investors' attention or not.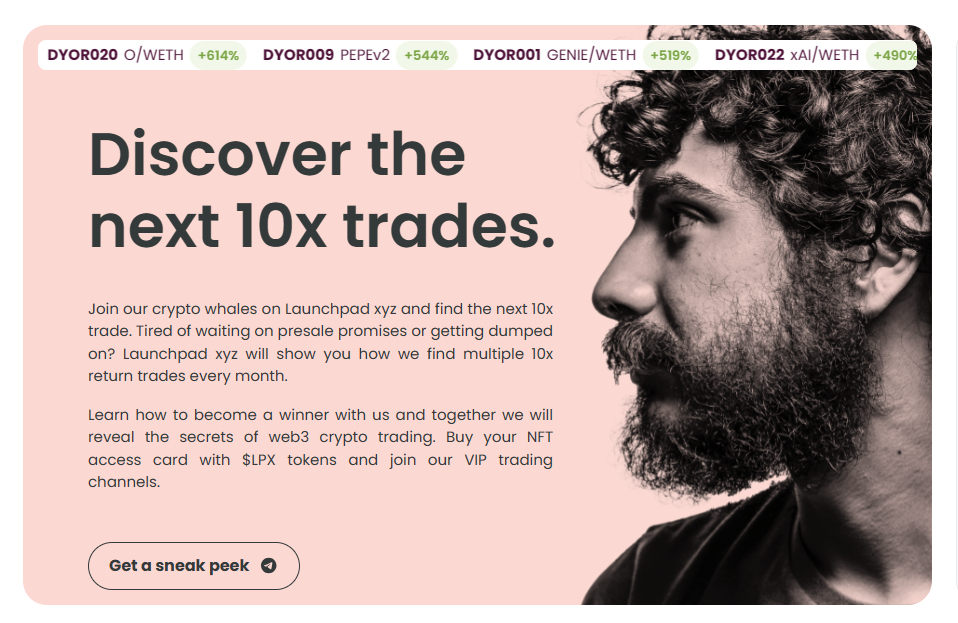 Launchpad XYZ is also building its own decentralized trading terminal and NFT marketplace. These resources will make it easier for traders to go from research to action all in a single platform.
At the heart of Launchpad XYZ is the platform's native $LPX token. This is an ERC-20 token that will provide significant benefits for Launchpad XYZ users, including reduced fees on the Launchpad DEX and access to exclusive presales and NFT mints. The Launchpad XYZ whitepaper covers the $LPX token in detail.
The $LPX token is on presale now, and investors are clearly excited about it – Launchpad XYZ has raised more than $1.6m, with tokens available for $0.0445.
While there's no guarantee that this project will be a hit, those presale figures are promising. In addition, early investors stand to earn a gain of 100% between the first round of the presale and the project's initial exchange offering.
Interested investors can join the Launchpad XYZ Telegram group to get the latest updates on the presale.
| | |
| --- | --- |
| Presale Started | 27 April 2023 |
| Purchase Methods  | ETH, USDT, Credit Card |
| Chain | Ethereum |
| Min Investment | None |
| Max Investment | None |
5. eTukTuk – Green Crypto Project With EVs That Can Increase Drivers' Revenue By 400%, Offers Staking Rewards
eTukTuk is a new green crypto initiative that addresses urgent global issues like climate change and economic inequality. 
It's focused on transitioning traditional fuel-based TukTuks to electric alternatives, particularly in Sri Lanka. It can greatly cut carbon emissions and operating expenses, potentially increasing driver earnings by a stunning 400%.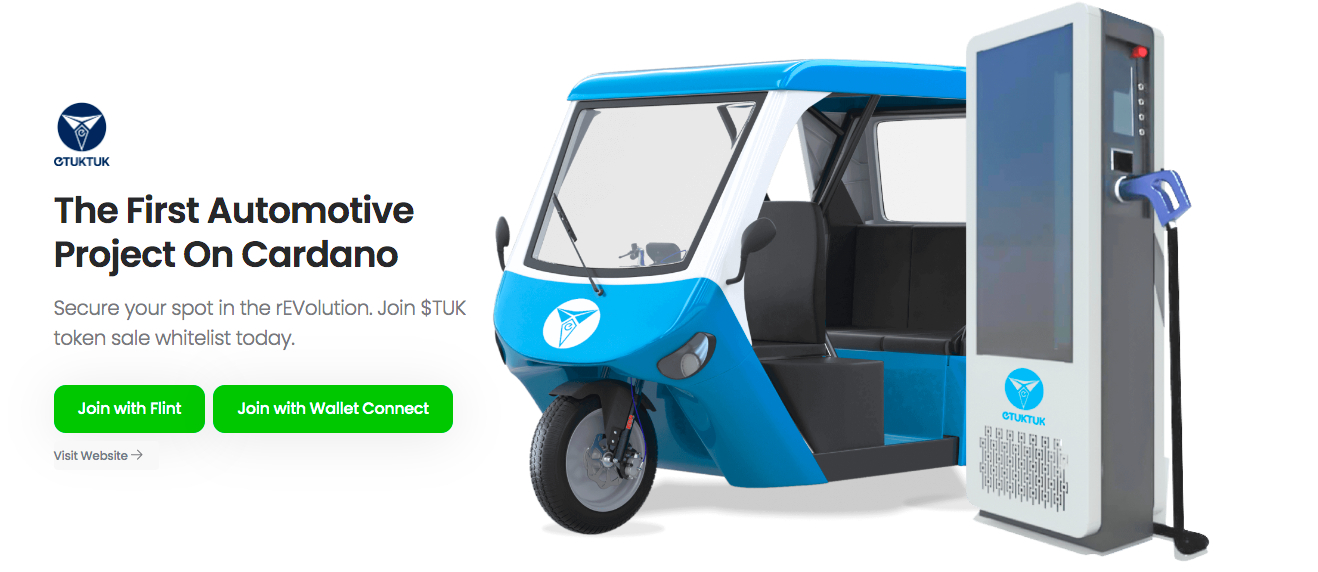 The ongoing presale of $TUK tokens, still in the whitelisting phase, marks a step towards its upcoming listing on different exchanges. This platform is particularly relevant in Sri Lanka, where TukTuks is a popular transportation method, and eco-awareness is increasingly prevalent.
Additionally, through local collaborations, eTukTuk looks to create a strong network of Electric Vehicle Supply Equipment (EVSE) and solar charging stations.
The project's scope extends beyond green transport, including accessible and widespread charging infrastructure. The reputable Capital Maharaja Group, owning a 20% stake, supports eTukTuk's aim of financial inclusivity. 
eTukTuk also intends to use blockchain for digital ID distribution, promoting broader financial involvement in developing countries.
As per eTukTuk's whitepaper, token holders can contribute to the operation of charging stations by staking their tokens and earning enticing annual returns. The $TUK token, mainly used for transactions at EV charging stations, also plans to share profits with local partners managing these facilities.
To get the latest updates, you can join the eTukTuk Telegram channel.
6. Chimpzee – Hot New Green Crypto With Passive Income Opportunities, Raised Over $1.3 Million
Chimpzee is a unique crypto platform that merges digital incentives with eco-friendly practices through its CHMPZ token, broadening the everyday use of blockchain.
10% of the tokens and a slice of the profits from Chimpzee are set aside for environmental efforts. The company's collaborations with green organizations highlight its dedication to protecting the environment.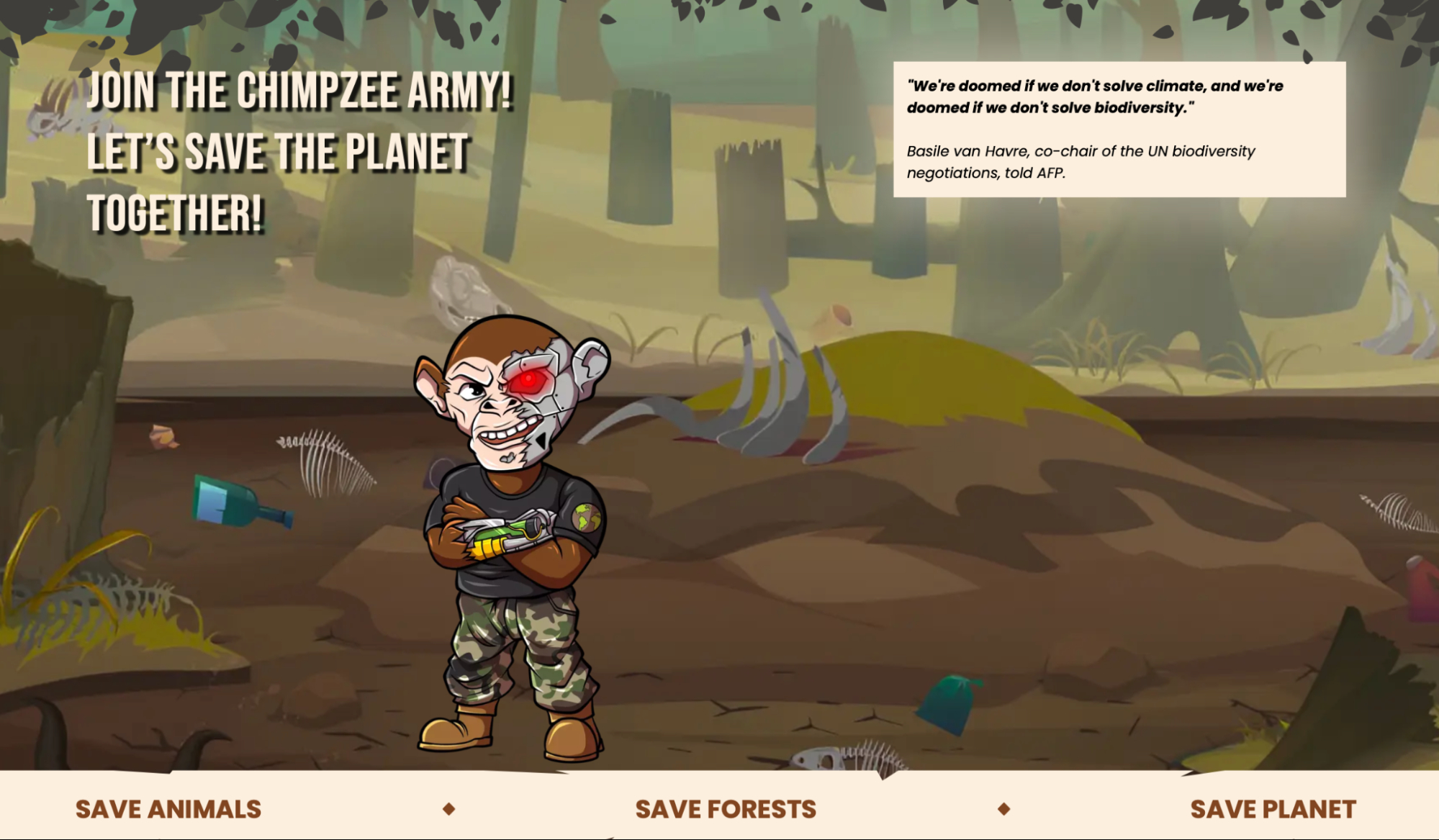 With over $1.3 million raised, the CHMPZ presale appeals to investors and highlights strong community backing.
As per the Chimpzee whitepaper, Play-to-Earn, Shop-to-Earn, and Trade-to-Earn are the project's central features, allowing users to gain rewards while positively impacting the environment.
Play-to-Earn: The Zero Tolerance Game allows players to win CHMPZ tokens by achieving game goals, making the experience more rewarding.
Shop-to-Earn: Chimpzee's retail outlet allows users to earn tokens by selling branded products, with part of the proceeds going to environmental charities.
Trade-to-Earn: Chimpzee operates an NFT market that shares trading commission revenues with users.
The limited Chimpzee Diamond NFT passport, available in the initial presale stages, offers exclusive perks such as 20% staking APY and an AI-powered mobile app that assists in growing CHMPZ ownership.
The mobile app, powered by AI, generates distinct avatars for NFT passports. These can be used in a play-to-earn game, supporting environmental efforts and boosting passive income.
Also, Chimpzee's environmental contributions include planting 20,000 trees and a $15,000 donation to the WILD Foundation for elephant conservation. Updates on these activities can be tracked via the Chimpzee Telegram channel.
| | |
| --- | --- |
| Token  Symbol | CHMPZ |
| Token Supply | 200 Billion |
| Presale Supply | 40 Billion |
| Network | Ethereum |
| Purchase Methods | ETH, USDT, Credit Card |
7. yPredict – Emerging Platform That Offers AI–Based Analytical Trading Insights
yPredict is a platform that harnesses artificial intelligence (AI) to offer traders insights into the crypto markets. The $YPRED tokens allow users to buy monthly access to specialized models developed by leading AI professionals and seasoned traders. 
Using AI technologies like Natural Language Processing (NLP), these models enable the platform to perform sentiment and technical analyses and interpret various trading charts. To get started, users must buy $YPRED, the platform's native crypto.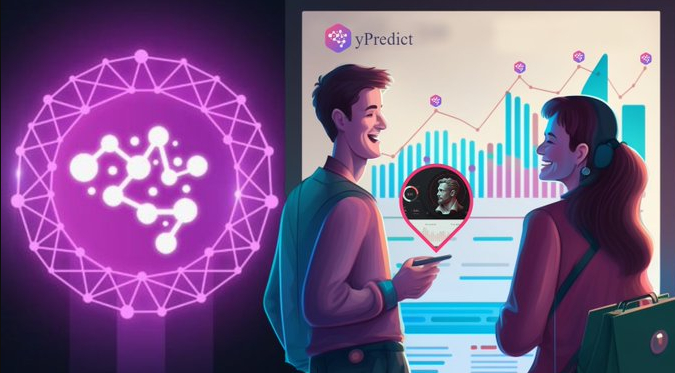 While $YPRED is currently in its penultimate presale stage with tokens priced at $0.10 – they will rise by 20% to $0.12 in the final round.
The $YPRED token offers multiple ways to earn passive income. For instance, current token owners receive 10% of the revenue from new platform subscriptions, and 15% of all swap fees are shared into a staking pool.
On yPredict, individuals can learn about cryptos and generate income through the Learn2Earn feature. Members can tap into educational content to increase their crypto understanding and earn $YPRED tokens by completing quizzes and tests.
Traders can speculate on the future of digital assets through the play-to-earn functionality. The highest performers are awarded additional tokens.
Consider reading the yPredict whitepaper for further details on yPredict and the full scope of what it offers. To keep up with all the updates, join the yPredict Telegram channel.
| | |
| --- | --- |
| Presale Started | Q1 2023 |
| Purchase Methods  | ETH, MATIC, BNB, USDT, Card |
| Chain | Polygon |
| Min Investment | None |
| Max Investment | None |
8. Cardano – Fast Blockchain Platform Offering Smart Contracts
Cardano is a crypto platform that allows developers to build and deploy decentralized applications. One of the main reasons why investors should keep an eye on ADA during the next crypto bull run is its underlying technology. 
The Cardano blockchain uses a unique consensus algorithm that enables it to scale much more efficiently than other networks. It is built on the proof-of-stake consensus, which means that the platform processes transactions swiftly and at low fees. This makes it one of the best platforms for developing dApps based on smart contracts. 
ADA is the native cryptocurrency of the Cardano ecosystem. It is part of a new breed of digital currencies that are focused on providing users with real-world utility and features. In other words, if the adoption of Cardano increases, ADA could be a notable coin to hold during the next crypto bull run.  
Beyond its technical superiority, ADA also offers users a wide range of useful features that make spending and storing digital currency easy and convenient. One of these features is the ability to send ADA directly to email addresses, making it a great choice for merchants looking to accept cryptocurrency payments.
As of writing, ADA is trading at around $0.40 per token, which gives it a market capitalization of over $13 billion. This places it in the top 10 most valuable cryptocurrencies by market cap. Moreover, investors can buy Cardano and use it for staking or as a payment option. 
Although the Cardano price is down like the rest of digital coins in 2023, it is still one of the fastest-growing cryptocurrencies. Given its strong fundamentals, ADA is one of the top digital coins to have the capability to witness a price hike in the next crypto bull run. 
Your capital is at risk. Crypto asset investments are highly volatile and speculative.
9. XRP – Global Payments Network Adopted by Top Banks
XRP, also known as Ripple, is one of the most popular cryptocurrencies in the market due to its applications in the fintech space.  It is the native cryptocurrency of the Ripple Consensus Ledger (RCL). The digital token was created in 2012 to offer a fast, cheap, and secure payment system to enable banks to send money across borders. 
It has shown its ability to outperform traditional payment systems in terms of speed, efficiency, and cost-effectiveness. Although the Ripple network has previously faced regulatory challenges, it remains one of the most searched cryptos in this space.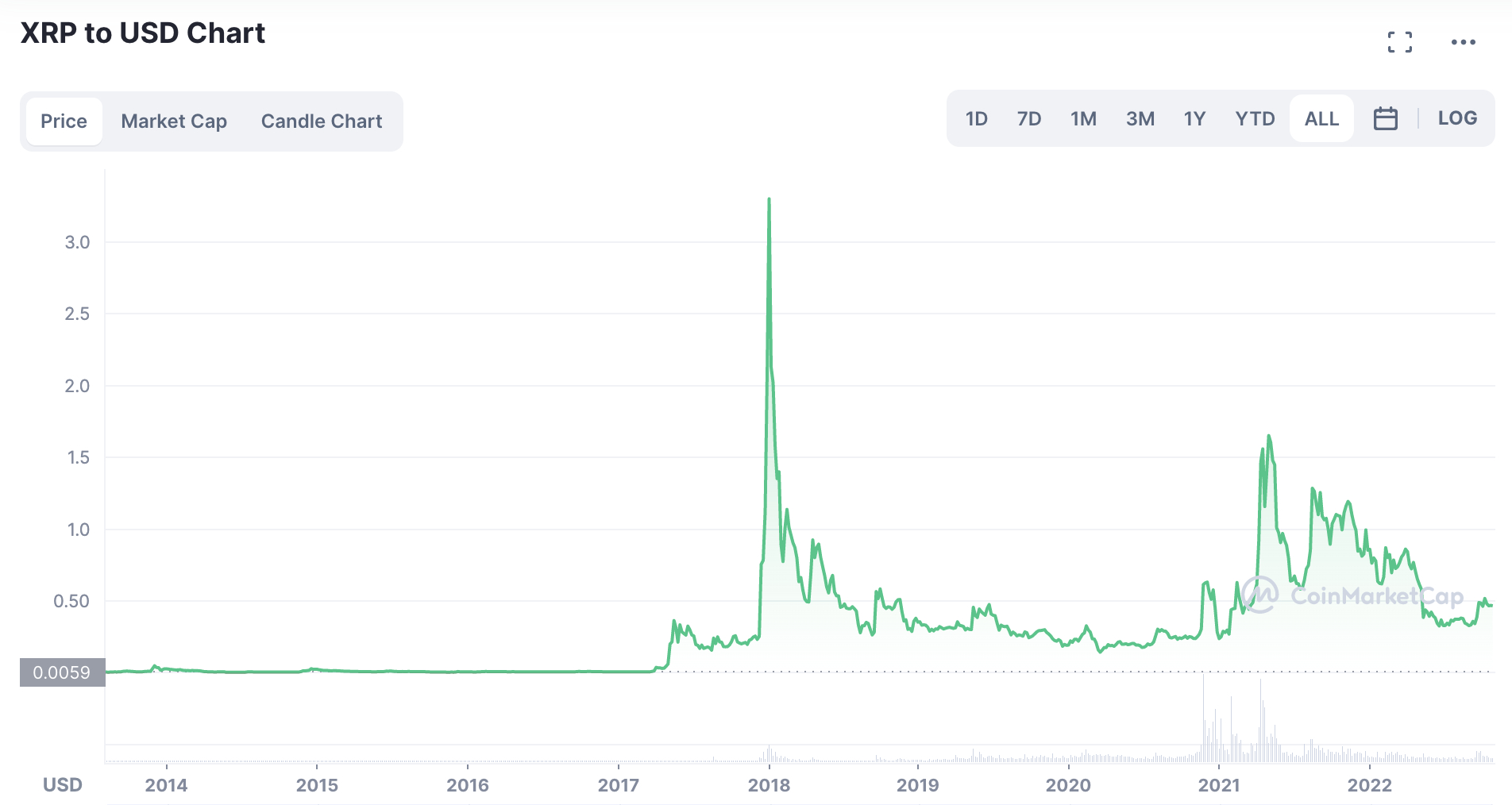 Ripple has experienced rapid growth since the XRP token was launched in 2012. With that said, XRP still trades well below its 2018 all-time high. As of writing, the price of XRP remains below $0.50.
Your capital is at risk. Crypto asset investments are highly volatile and speculative. 
10. Basic Attention Token – Decentralized Digital Advertising Framework  
Basic Attention Token is a crypto platform focused on digital advertising. The aim of the project is to correct the inherent inefficiencies of the conventional digital advertising industry. The project intends to address privacy issues that put consumers' data at risk.
BAT uses blockchain technology to deliver more efficient and targeted ads. As such, BAT gives users control over their own data, allowing them to monetize their attention while browsing the web and earn rewards in the form of BAT tokens.
In addition to this, BAT integrates with Brave, which is widely regarded as the world's first privacy-centric browser. In 2020, Brave acquired BAT, which led to a notable rise in the value of the token.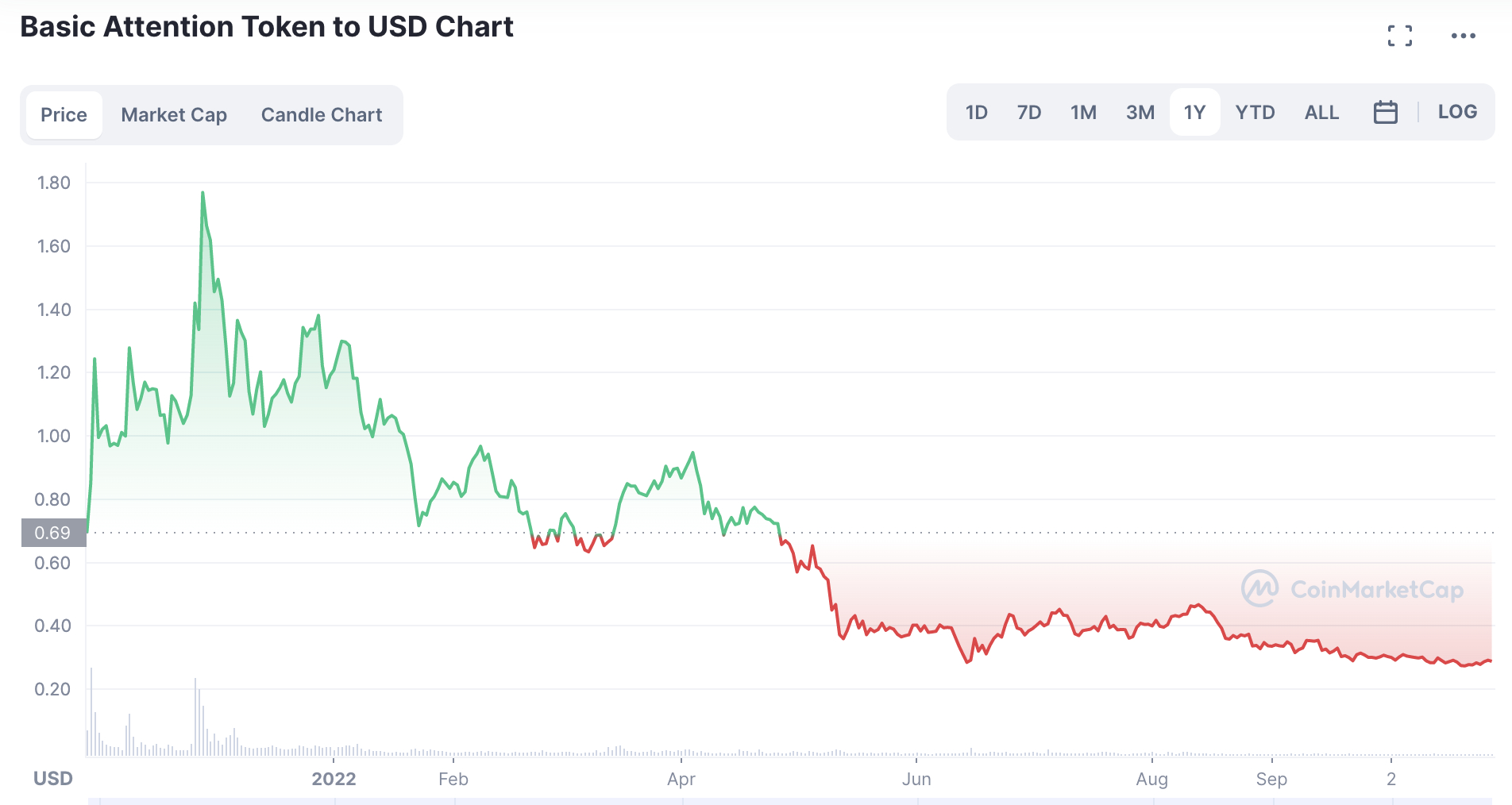 Since then, BAT has established itself as a rapidly expanding utility token, with over 1.5 million verified creators accepting this digital coin as payment. Moreover, the BAT token has been bridged with both the Ethereum and Solana blockchains, expanding its reach and potential use cases. 
BAT also gives users the ability to support their favorite content creators by sending them BAT tokens directly on the platform. This allows users to truly 'pay with attention', contributing directly towards the creation and distribution of quality content that they enjoy most.
Basic Attention Token creates a win-win situation for users, advertisers, and creators. All things considered, many argue that BAT is one of the best cryptos with the most upside. 
Your capital is at risk. Crypto asset investments are highly volatile and speculative.
11. EstateX – Crypto Project Aiming to Revolutionize Real Estate
EstateX is a groundbreaking project that aims to revolutionize the real estate industry through the use of blockchain technology. The project is based on the concept that the real estate industry has become increasingly complex and out of reach for many potential investors. And therefore, real estate needs new and fresh alternatives.
EstateX believes it has the solutions for the existing problems in the real estate sector and envisions making investing in properties much easier and affordable for the average citizen.
The platform will use ESX, its own cryptocurrency, as the primary means of payment. Investors can use ESX to buy a share of real estate for as little as 100 EUR.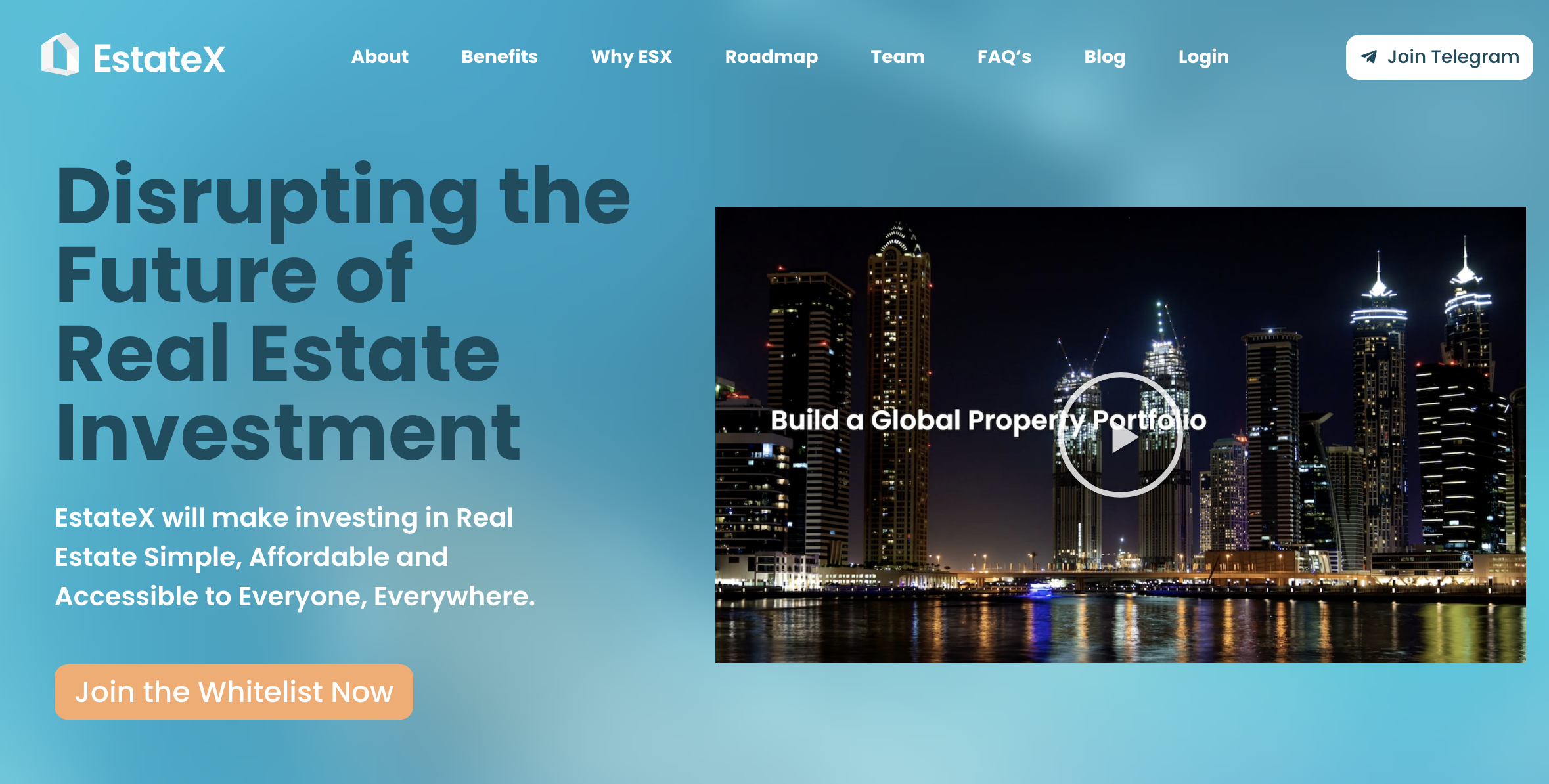 Similarly,  EstateX provides token holders with a say in the properties the company purchases by allowing them to vote in its governance. Additionally, the platform intends to expand the ESX token's functionality so that it can be used as a payment option in the near future.
Interested investors can join the EstateX whitelist as the platform will debut its crypto soon through a presale. 
With its simplified and streamlined process for real estate investing, EstateX is a potentially attractive option for the next crypto bull run.
What is a Crypto Bull Run?
A 'bull run' is a term used to describe an extended period of time where there are more buyers than sellers in the market. When a crypto bull run is in place, market confidence is high and broader demand for tokens often outweighs supply.  This subsequently leads to a rise in the value of the wider crypto market. 
Crypto bull runs are typically associated with increased media attention and investment interest, which leads to more people buying into the market and pushing prices up further. 
A bull run can last for weeks, months, or even years until the market eventually reaches a point where it is no longer sustainable, and prices begin to decline.
Crypto bull runs are often compared to stock market bubbles, as they share many similarities. Both tend to be driven by speculation and hype rather than fundamentals. And both can end up causing widespread damage when they eventually burst.
The latest crypto bull run began in mid-2020 and lasted until late 2021. During this time, the value of Bitcoin and many of the best altcoins soared to record highs. Ultimately, many investors are looking to load up on cheap cryptocurrencies before the next Bitcoin bull run begins. 
When is the Next Crypto Bull Run?
Looking at the cyclical pattern of the markets, many analysts predict that the next crypto bull run is expected to take place in the build-up to Bitcoin's halving. This will take place in mid-2024. 
However, there is no sure way of knowing when the next bull run will occur, which is why risk-adjusted positions should be entered. 
Nonetheless, some of the most prominent factors that can motivate the markets to move bullish include:
Increasing demand from buyers: When people want to buy a cryptocurrency, the price will go up. This is because there are more buyers than sellers in the market. 
FOMO (Fear of Missing Out): This is when people buy a cryptocurrency because they are afraid of missing out on the potential profits that can be made. When the price of a particular coin starts to rise, more and more people want to get in on the action, resulting in even more buying pressure and an increase in value.
News and events: Whenever there is positive news or events related to a particular cryptocurrency, this can result in a broader price increase. This is because investors become more confident in the future prospects of the coin and are more likely to buy it.
Innovation in the crypto space: Another important factor is innovation within the cryptocurrency space. If there are new crypto projects being developed, this could lead to more interest from investors and result in a wider valuation increase.
Bulk investments by crypto whales: When large investors, often referred to as "whales", buy up a large amount of a particular coin, this will often cause the price to go up. This is because their buying pressure creates more demand for the coin, leading to an increase in value.
Aside from the above, global economic conditions can also influence the attitude of crypto investors. In other words, if the overall financial market is bullish, investors are more encouraged to take a risk on cryptocurrencies. 
Investors should keep an eye on all of these factors in order to try and predict when the next bull run might occur.
Should You Invest Before a Bull Run?
Investing before a bull run is often seen as a smart move by investors. By buying assets during a market downturn, investors can benefit from the eventual increase in prices that happens during a bull run. 
However, there are also some risks associated with investing before a bull run. After all, there is no guarantee that crypto prices will ever recover to previous highs. 
Despite the risks, investing before a bull run can be a favorable move for investors who are willing to take on additional risk. 
By carefully monitoring the market and making informed investment decisions, investors can maximize their chances of success and generate returns even in a tough economic environment.
Conclusion
While there are no guarantees in this space, many investors believe that the next cryptocurrency bull run is inevitable. As such, many investors are preparing their portfolios accordingly. The cryptocurrencies discussed in this article are potentially a great place to start.
One crypto to get ahead of the next bull run is Bitcoin ETF Token. It's a novel concept with a market-orientated roadmap tied to key events in the broader crypto economy. If SEC approval of BTC ETFs takes place, the token price could skyrocket. 
Aside from this, the presale provides a high APY, a 25% token burn, and a steep presale price discount. 
FAQs
When is the next crypto bull run?
This is a challenging question to answer, considering that there are many factors that can affect the price of cryptocurrencies. However, some analysts believe the next Bitcoin bull run is expected to occur when BTC mining rewards are halved again. This is expected to take place in 2024. This is based on historical patterns and the current state of the market. While there are no guarantees, this is when most analysts believe the next big rally will take place.
What is the next big cryptocurrency?
There are many contenders for the title of the "next big cryptocurrency." Our favorite would have to be Bitcoin ETF Token ($BTCETF), with a regulatory focus and multiple incentives for investors. The presale features 10 rounds, with price increases at each. 
---