13 Best Cheap Crypto to Buy in 2023
Disclosure: Crypto is a high-risk asset class. This article is provided for informational purposes and does not constitute investment advice. By using this website, you agree to our terms and conditions. We may utilise affiliate links within our content, and receive commission.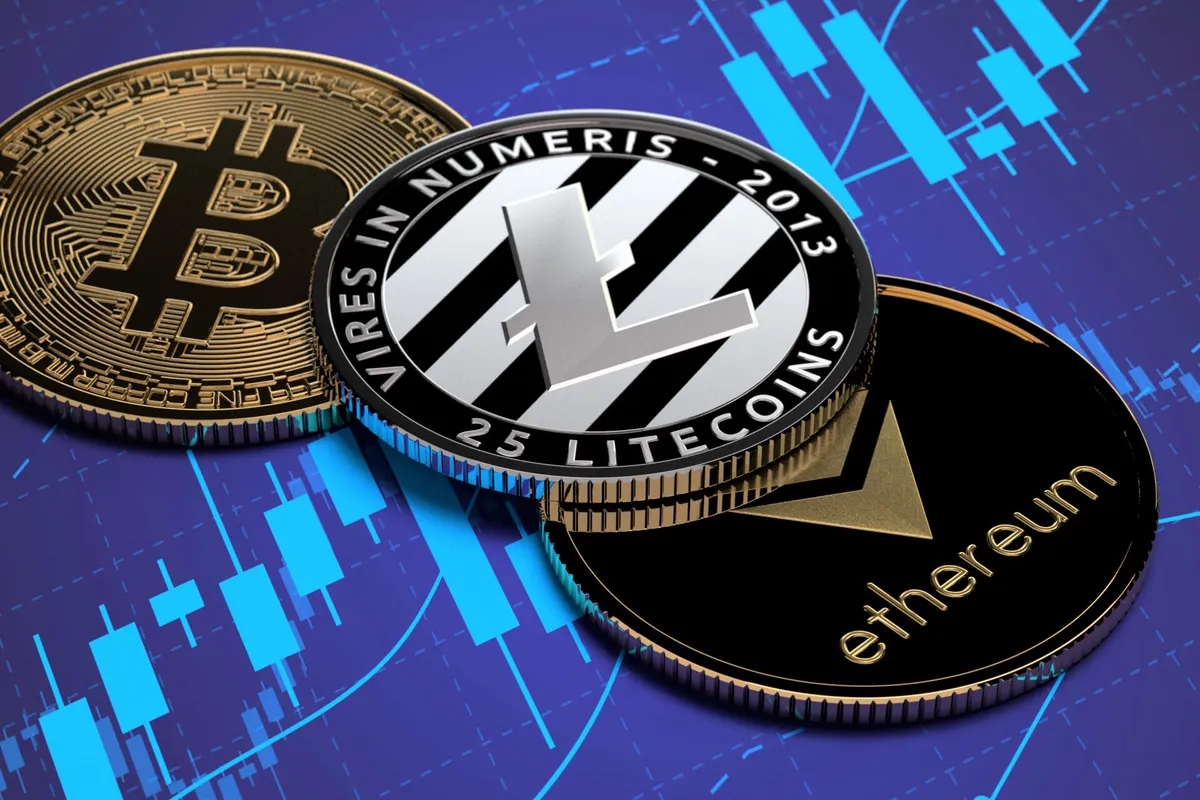 Disclaimer: The Industry Talk section features insights by crypto industry players and is not a part of the editorial content of Cryptonews.com.
With the crypto market yielding impressive gains for investors that get in early on strong projects, many people aim to find the best cheap crypto to buy. 
Throughout this article, we take a look at some of the best cheap cryptos to invest in, explain how to find the cheapest cryptocurrencies packed with potential, and offer guidance for investors trying to decide whether low price crypto would make for a good investment. Let's get started. 
The Best Cheap Crypto to Invest in 2023
To ensure that investors looking for the best cheap crypto to invest in have plenty of options, we've opted to include a range of projects fulfilling different objectives within the crypto space. 
Bitcoin ETF Token – A new crypto presale based on events around the spot Bitcoin ETF approval by the SEC with 500% staking APY, currently available for $0.0052 apiece.
Bitcoin Minetrix – With its innovative stake-to-mine framework, the platform offers a way for users to generate passive Bitcoin mining income. It simplifies the process, especially for beginners, by eliminating hardware and cost barriers. The platform secured over $1 million in just two weeks post-launch.
Meme Kombat – Newly launched meme coin that offers a play-to-earn element through the Battle Arena, an AI and blockchain powered game where players wager on the outcomes of the battle. Currently available on presale for $0.1667, more than $500k has already been raised.
Launchpad XYZ – Offering data insights and presale alerts and fostering an environment for informed investment decisions through its native LPX token, which is priced at $0.0445 during the presale – more than $1.8 million raised.
yPredict – offers an advanced suite of crypto analytics tools and prediction models developed by AI experts while operating on a transparent and KYC-verified platform. More than $4.2 million raised, with tokens available for $0.10.
XRP – A transactional cryptocurrency for international transfers and currency conversion. Hold $XRP to make instant transactions at a low cost.  
Chainlink – This crypto project focuses on integrating external data sources into blockchain applications.
Terra Classic – This blockchain was created following the collapse of Terra Luna and the UST stablecoin. 
Stellar – Cheap crypto with fast settlement and low fees. This cryptocurrency was created as an alternative to XRP.
Dogecoin – One of the first meme tokens that was named after the popular Doge meme.  This meme token has been favored by Elon Musk.
Decentraland – One of the largest customizable metaverse worlds. Hold $MANA tokens to purchase land on a virtual environment. 
Chiliz – Cryptocurrency project that is facilitating the creation of sports fan tokens.
Filecoin – Cryptocurrency utilizing blockchain technology to reshape data storage.
Analyzing the Best Cheap Cryptocurrencies 
Now that we've taken a brief look at some of the lowest price crypto coins that could grow exponentially over the coming months, it's time we take a deeper look at the inner workings of each.
1. Bitcoin ETF Token – Overall Best Cheap Crypto With Over 500% Staking APY And Up To 25% Token Burn Mechanics
Bitcoin ETF Token is a new token presale built around the spot Bitcoin ETF approval by the Securities and Exchange Commission (SEC). The token presale runs in 10 stages where each stage will have a higher token price than the previous stage. This makes it prudent to buy as early as possible if you're planning to participate in the token presale.
For example, in the first stage, you can buy $BTCETF tokens for $0.0050, which goes up to $0.0068 in the last stage. That's a 36% difference in price. Despite that, this is still the cheap compared to many other crypto tokens.
Participate in the $BTCETF token presale by connecting your Ethereum wallet, such as MetaMask, to the token presale site and use ETH, USDT or card to make the purchase. You can buy $BTCETF tokens with MATIC and BNB, but this isn't recommended as you won't be eligible for the staking APY.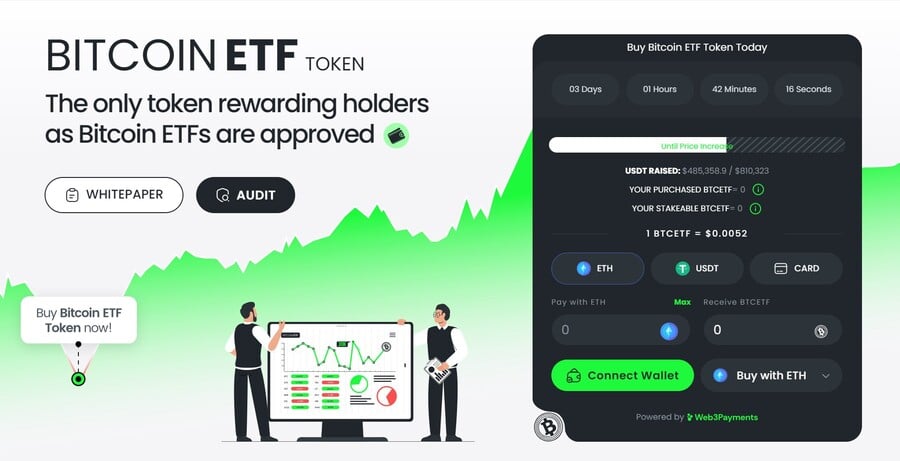 Being built around the spot Bitcoin ETF approval process, the token benefits every time a milestone around the ETF approval is reached, such as the approval itself, the launch of the first spot Bitcoin ETF and having $1 billion in assets under management. With each milestone, the team will burn 5% of the total supply until 25% of the entire token supply is removed from circulation.
Another rewarding feature is the staking, which has 500% APY at the moment. This number will drop, of course. The more tokens are bought and staked, the lower the APY will go. If you buy the presale, make sure to stake as soon as possible to take advantage of the high APY early on.
Follow Bitcoin ETF Token on X and join the Bitcoin ETF Token Telegram channel to get more information about the spot Bitcoin ETF approval process and the Bitcoin ETF project. Also, read the Whitepaper for more details. 
| | |
| --- | --- |
| Presale Started | 6 Noe 2023 |
| Purchase Methods  | ETH, USDT, BNB, MATIC and Card |
| Chain | Ethereum |
| Min Investment | None |
| Max Investment | None |
2. Bitcoin Minetrix – A Crypto Token With a Unique Bitcoin Stake-To-Mine Model For Passive Earnings
Bitcoin Minetrix is an emerging cheap crypto that has caught investor attention due to its next-gen eco-friendly approach to Bitcoin cloud mining.
Within just two weeks post-launch, the platform secured over $1 million showing its promising upside potential and the surging interest from the investor community.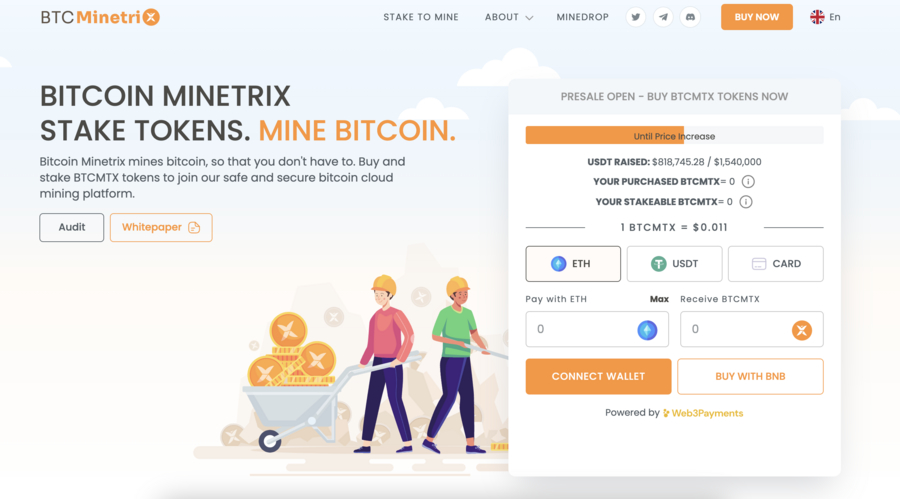 The native $BTCMTX token's initial price is $0.011, projected to climb to $0.0129 by the 20th and final presale phase. The total token supply is 4 billion, with notable mining, staking, and community initiatives allocations.
At the heart of Bitcoin Minetrix is its innovative "Stake-to-Mine" model. Traditional Bitcoin mining has long been criticized for its environmental footprint. 
Bitcoin Minetrix addresses this concern by offering an eco-friendly solution that differs from energy-intensive practices. 
Users stake the platform's native token, $BTCMTX, to receive non-tradable mining credits. These credits, once burnt, offer users Bitcoin mining power, a method that refines and simplifies the entire mining process, mitigating risks associated with conventional cash contracts that dominate older mining models.
Per the Bitcoin Minetrix whitepaper, the project has set a clear roadmap for its financial aspirations. With a hard cap target of $32 million, they intend to channel these funds towards platform growth and reinvestment.
Prioritizing user experience, Bitcoin Minetrix offers an integrated dashboard with a comprehensive overview of their mining activities.

From insight into hashing power and mining credit earnings to projections on daily, weekly, and monthly rewards, all essential data is available at a glance. Plus, mobile compatibility allows users to monitor and engage in Bitcoin mining on the move seamlessly.
Currently offering an impressive APY exceeding 700%, the platform is a high-yield prospect, particularly in bearish times. The initial two weeks saw over 55 million tokens staked, highlighting strong community confidence.
The platform's token also underwent an audit by Coinsult to reinforce trust. The platform's presale website accepts ETH, BNB, and USDT payments. 
You can enter the Bitcoin Minetrix Telegram channel to stay updated with the latest developments and announcements.
| | |
| --- | --- |
| Presale Started | 26 Sept 2023 |
| Purchase Methods  | ETH, USDT, BNB |
| Chain | Ethereum |
| Min Investment | $10 |
| Max Investment | None |
3. Meme Kombat – Exciting Meme and Play-to-Earn Coin Available on Presale
Meme Kombat ($MK) is an exciting new cheap meme coin to buy that is currently enjoying a successful presale, with more than $500k raised so far.
However, the project doesn't follow the usual meme coin template and has huge utility that could see it make huge strides in the coming months.
During the presale, buyers can immediately decide to stake tokens and earn an annual percentage yield of 112% for as long as it lasts.
Its bigger utility is the play-to-earn Battle Arena, where players can wager on the outcome of battles between characters that represent popular meme coins such as Pepe, Wojak, Floki and Milady.
The battles are underpinned by artificial intelligence and blockchain technology, with all results immutable, transparent, and fair, with winnings paid out immediately to the winners.
Players not only wager on the outcome of battles but there are also a variety of side markets to engage in, adding extra elements of strategy and intrigue to the game.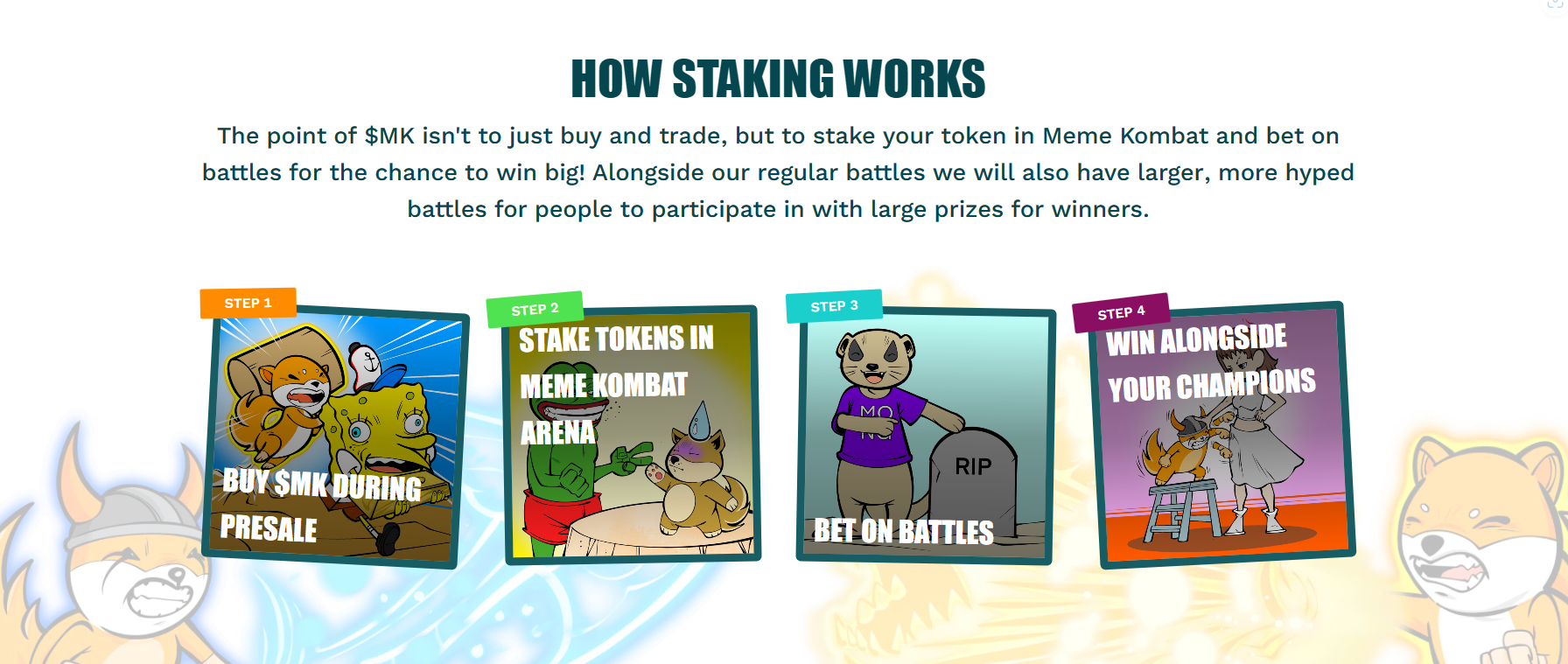 In fact, the doxxed and public-facing developers – another rarity in the meme coin space – says the Battle Arena will have a seasonal outlook, meaning new themes, characters, and game modes are released regularly.
There is a total supply of 120 million MK tokens with 50% (60 million) allocated to the presale at a cost of $0.1667 each. There is just one stage of the presale with all tokens offered at the same price. For more info and the latest news on the project, join the Telegram group.
| | |
| --- | --- |
| Presale Started | 21 Sept 2023 |
| Purchase Methods  | ETH, USDT, BNB |
| Chain | Ethereum |
| Min Investment | $10 |
| Max Investment | None |
4. Launchpad XYZ – Navigating Web3 with Insightful Investment Opportunities
In response to the constantly evolving Web 3.0 landscape, Launchpad XYZ is rapidly emerging as a promising crypto with a relatively low price. The platform simplifies collecting and displaying data like crypto market sentiment, aiding users in making educated financial choices.
The LPX token, the platform's proprietary token, is currently available in a presale for $0.0445 USDT. Investors purchasing at the present rate can capitalize the upside toward $0.07 USDT in the coming weeks.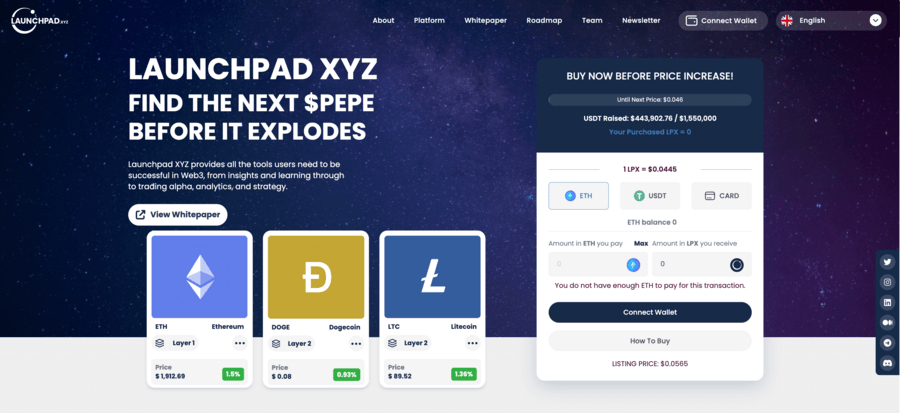 The platform provides timely alerts about NFT events, P2E game launches, upcoming crypto presales, and other essential project details, helping users make sound investment choices. Crypto presales are often high-risk but also present an opportunity for high returns. For instance, platforms like Tamadoge stand out as projects with high return potential.
Launchpad XYZ's whitepaper reiterates its commitment to newcomers and seasoned investors seeking insights on Web 3.0 investment avenues. The platform serves as a critical node in the Web 3.0 business ecosystem, with the introduction of a decentralized exchange (DEX) set to reinforce this role.
The LPX token is integral to Launchpad XYZ's functioning. Staking 10,000 $LPX offers benefits like reduced trading fees on the DEX and early access to beta versions of several P2P games.
Staking at least 10,000 LPX tokens for 90 days unlocks these premium features, underlining the value of $LPX.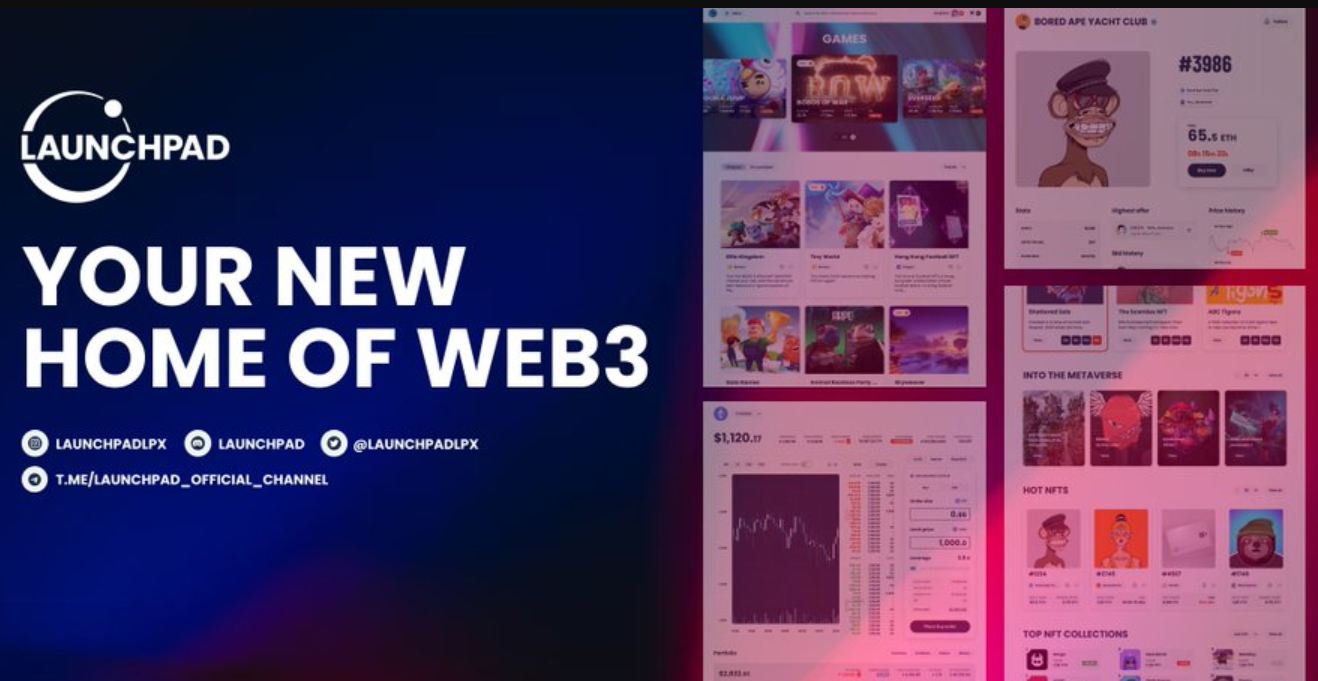 The platform offers a range of useful metrics for various utility tokens, including liquidity, expert evaluations, tailored indicators, and arbitrage prospects.
By delivering up-to-date data on Web 3.0 investment activities, Launchpad XYZ assists users in uncovering untapped opportunities. More than $1.8 million has been raised.
Users eager to stay informed can subscribe to the Launchpad Telegram channel.
| | |
| --- | --- |
| Presale Started | 25 April 2023 |
| Purchase Methods  | ETH, USDT, Credit Card |
| Chain | Ethereum |
| Min Investment | 100 LPX |
| Max Investment | None |
5. yPredict –  Advanced Crypto Analytics and Precise AI-Powered Predictions
Besides its intuitive trading dashboard, yPredict offers a comprehensive suite of advanced crypto analytics instruments. Specialists in AI leverage Natural Language Processing (NLP) and other sophisticated AI techniques to build prediction algorithms.
During the initial coin offering (ICO), a single $YPRED token can be purchased cheaply at $0.10, with the debut price of $0.12 USDT assures investors of an appreciating value over the upcoming months.
To cater to the growing demands of the algorithmic trading sector, yPredict has joined hands with financial mathematicians and AI pioneers to craft its predictive models. These models play a crucial role in monitoring market variations and evaluating the value of digital currencies.
Alongside technical examination and EA indicators, the platform delivers various other valuable tools. Its high-end pattern identification technology enables traders to detect ascending and descending market trends promptly.
The development squad behind the yPredict coin is completely transparent and has undergone KYC verification, and its smart contract operates on the adaptable Polygon blockchain.

The yPredict whitepaper highlights that $YPRED token holders can receive 10% of the subscription earnings post staking their tokens. Also, the total tokens in circulation will never exceed the one billion mark.
More than $4.2 million has now been raised. To stay updated with the most recent platform announcements, one can subscribe to the yPredict Telegram channel.
| | |
| --- | --- |
| Presale Started | Q1 2023 |
| Purchase Methods  | MATIC, ETH, USDT, BNB, Credit Card |
| Chain | Polygon |
| Min Investment | 200 YPRED |
| Max Investment | None |
6. XRP – Transactional Cryptocurrency for International Transfers and Currency Conversion
Created in 2012 by David Schwartz, XRP is a transactional cryptocurrency specializing in international money transfers and currency conversions.
 The project is currently in the midst of a lawsuit with the securities and exchange commission  (SEC) which has kept the price low. However, the token has recently been seeing some impressive growth as the conclusion of the suit edges closer.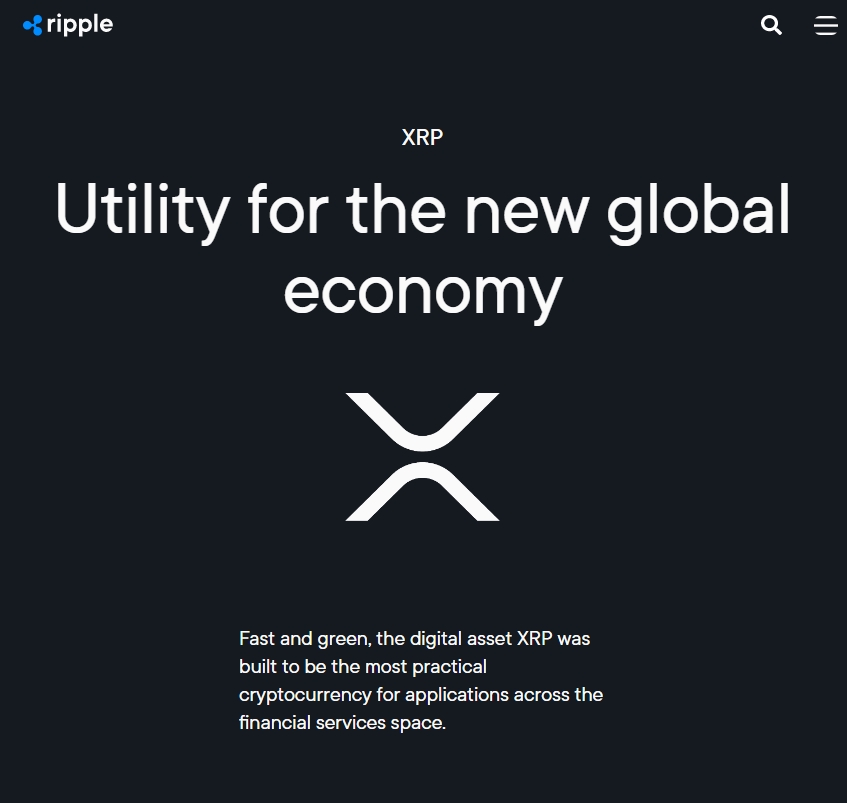 While its use as a transactional cryptocurrency is the reason XRP is commonly considered one of the best altcoins on the market, in 2021, XRP launched the XRP Ledger (XRPL) allowing people to build decentralized applications on the network, similar to the Ethereum network. This massively broadened XRP's use case, boosting its utility significantly.  
All in all, XRP is perhaps the best cheap crypto to buy for investors that prefer blue-chip crypto projects. Its price has been held down due to its dealings with the SEC, however, with things seemingly getting closer to a resolution, the price of XRP has the potential to explode. As such, the transactional low price cryptocurrency is worthy of consideration. 
7. Chainlink – Crypto Project Implementing Off-Chain Data into On-Chain Applications
Chainlink (LINK) is a cryptocurrency project specializing in implementing off-chain data sources into on-chain applications. The project has been thriving since its release due to Chainlink offering an important service that massively expanded the potential use cases for blockchain-powered applications.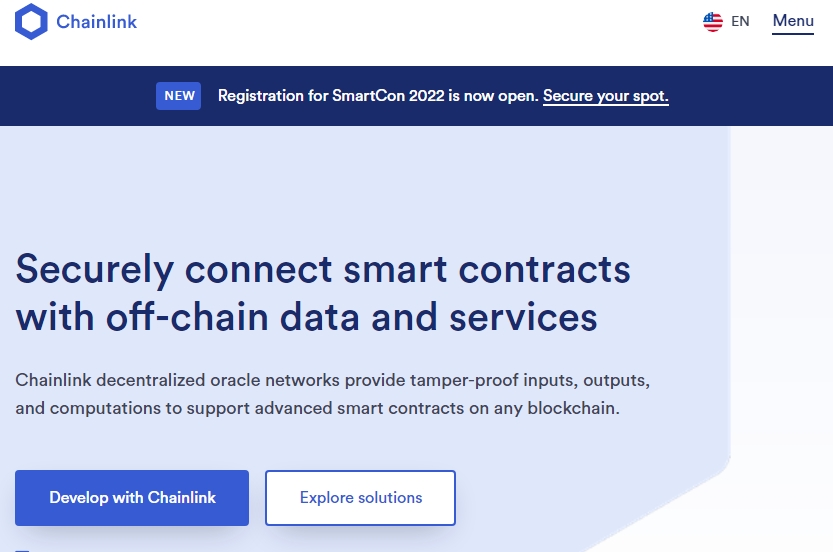 One of the main reasons why LINK is often touted as being one of the best cryptos to buy is its extensive list of partnerships. As the project was one of the first in its sector, it has enjoyed a first-mover advantage which helped Chainlihnk to become a key player in the crypto space. Some of the project's partnerships include Aave and data providers like Brave New Coin. 
Few of the cheapest cryptocurrencies to invest in can rival Chainlink when it comes to utility and partnerships. As such, the project seems poised to continue dominating the off-chain data implementation market. The LINK token remained fairly strong throughout 2022's market-wide downtrend, highlighting the strength of Chainlink.
8. Terra Classic – Trending Low-Cost Crypto Growing Quickly
Following the collapse of Terra Luna and the UST stablecoin, holders of LUNA voted to create a new blockchain called Luna 2, with the original Luna being renamed to Luna Classic (LUNC). While the project lost investor confidence during the collapse of UST, the LUNC token has been performing surprisingly well in recent months.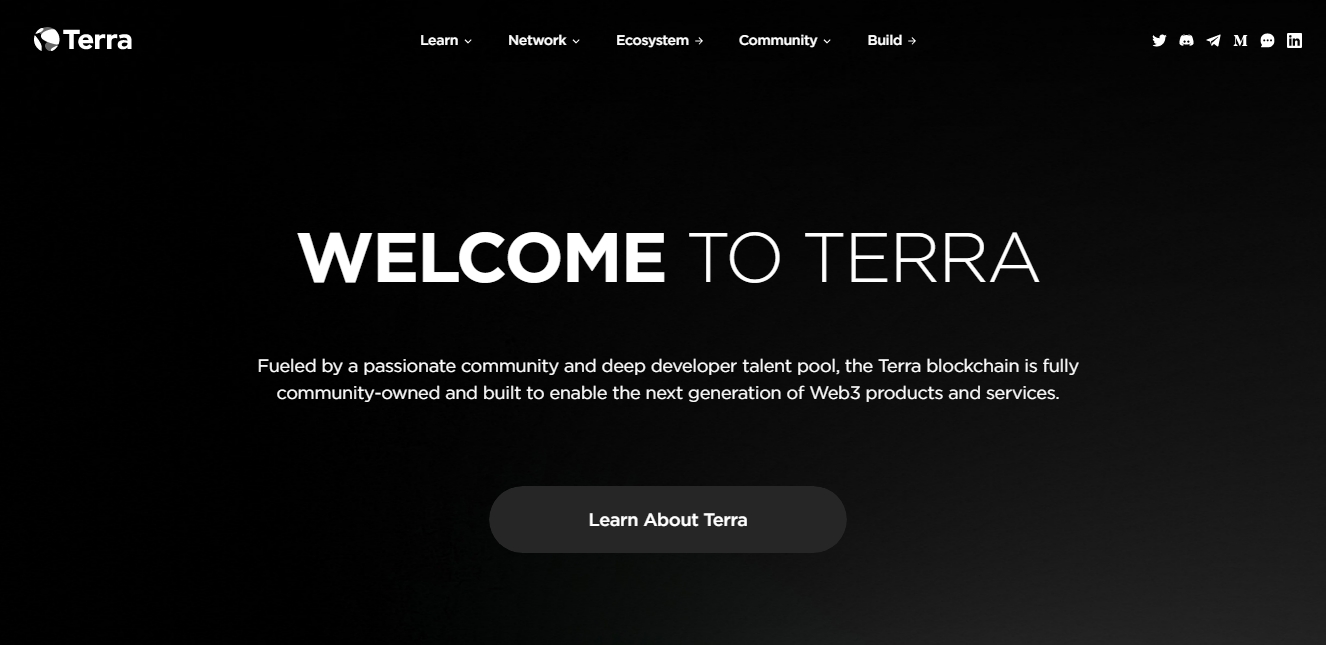 Although Luna dropped by over 99% after trillions of tokens were minted as the project's algorithm attempted to build collateral in an attempt to re-peg UST with the dollar, the LUNC token has since risen in value by over 200%, making it one of the best-performing assets of the past few months. 
Some investors aim to push a proposal that will have an additional 500 million LUNC tokens minted in order to facilitate the creation of a new stablecoin. However, it seems unlikely that investors will forget about the issues plaguing UST anytime soon. Nevertheless, LUNCH remains perhaps the best cheap crypto to invest in. 
9. Stellar – Cheap Crypto with Fast Settlement and Low Fees
Stellar (XLM) is a transactional cryptocurrency similar to XRP. In fact, Stellar was initially created after one of XRP's founders, Jeb McCaleb, forked the XRP network after disagreements arose surrounding the future direction of the project. Since then, Staller has grown significantly and remains consistently within the ranks of the 30 largest crypto assets.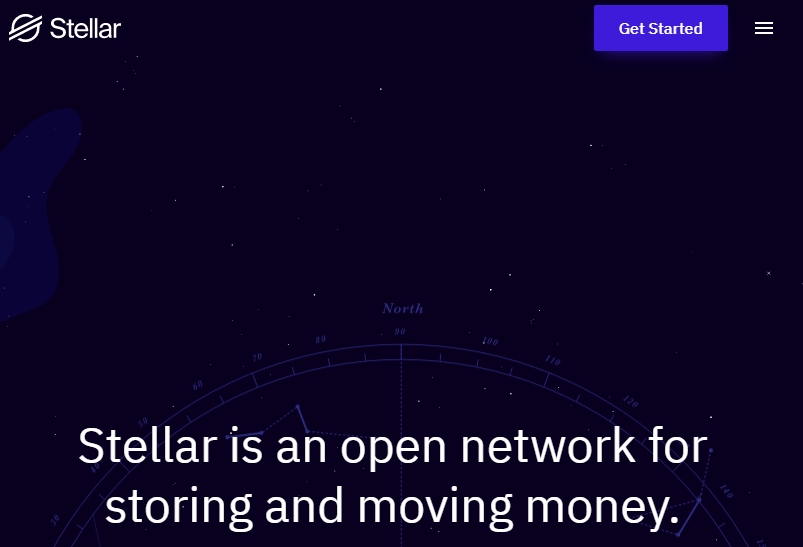 The Stellar network specializes in fast settlement for the lowest possible cost. As such, it has gained favor with payment providers like MoneyGram. Stellar has done well to build a reputation as a solid alternative to XRP. As such, it seems likely that the project will have a place within the blockchain-powered financial industry of the future. 
Stellar is a solid project that has the potential to perform extremely well if it's able to partner with a few key financial institutions. While the token has thus far struggled to provide investors with substantial gains, it briefly exploded in both 2018 and 2021, meaning it's likely that history could repeat itself. With that in mind, Stellar is one of the best cryptos under 1 dollar right now.
10. Dogecoin – The Orginal Meme Coin Favored by Elon Musk
Dogecoin (DOGE) is a popular meme coin that was popularized by Elon Musk during the fabled 2021 bull run. Despite originally being created in 2013 as a joke, the project has since become a valid cryptocurrency project that frequently sits within the 10 largest cryptocurrencies by market capitalization.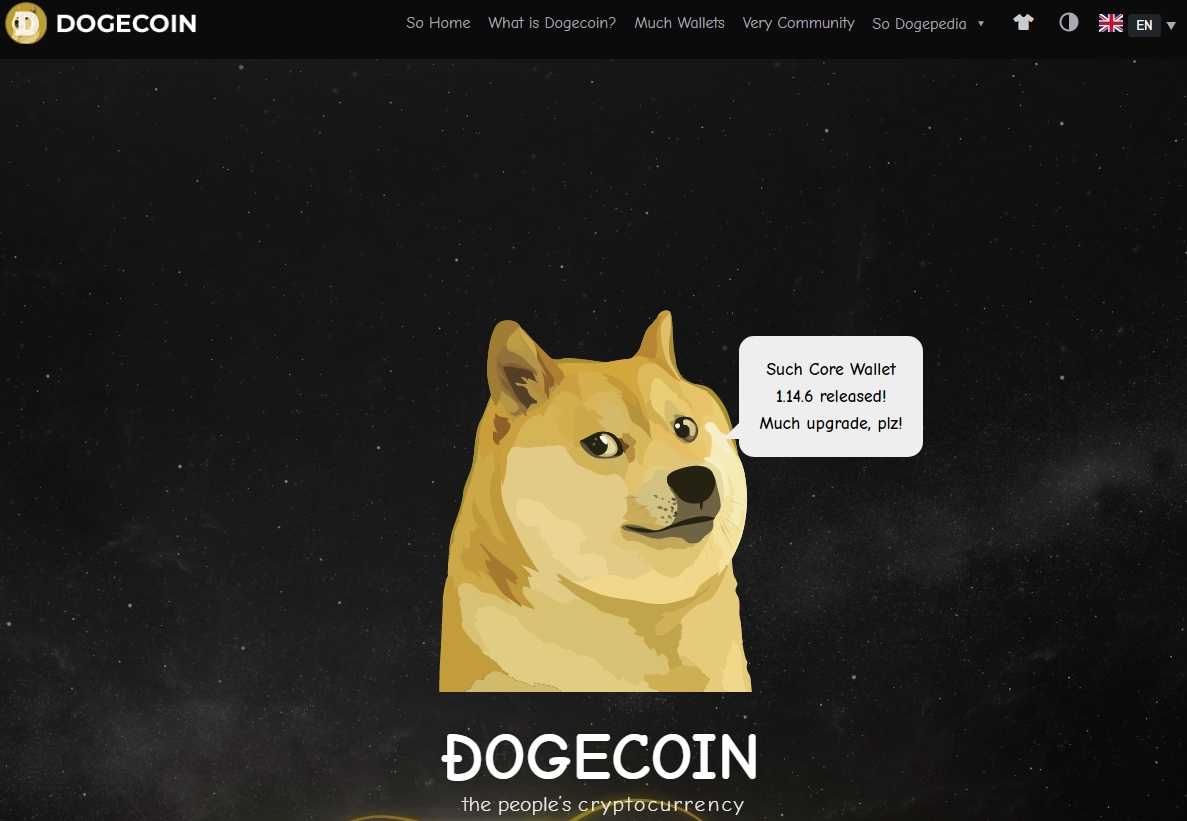 As a fork of Litecoin, which itself is a fork of Bitcoin, Dogecoin benefits from strong fundamentals, good security, and ample decentralization. Similar to Bitcoin, the Dogecoin network uses the proof-of-work consensus mechanism to validate transactions. However, the supply of DOGE is uncapped, meaning the token is inflationary. 
While Dogecoin may have initially been created as a joke, it has since become a force to be reckoned with in the crypto market. Due to the token increasing in value by over 16,000% within just 5 months during 2021, some speculators anticipate DOGE to explode during the next bull run, as such, the project is worthy of consideration for investors looking for the best future cryptocurrency project.
11. Decentraland – The Largest Customizable Metaverse World
Next on our list of the best cheap crypto to buy is Decentraland (MANA). While many low price cryptos lack mainstream appeal, Decentraland has become one of the most widely known cryptocurrency projects as a result of the recent Metaverse boom. This has enabled the project to attract thousands of investors and cement itself as one of the go-to Metaverse worlds.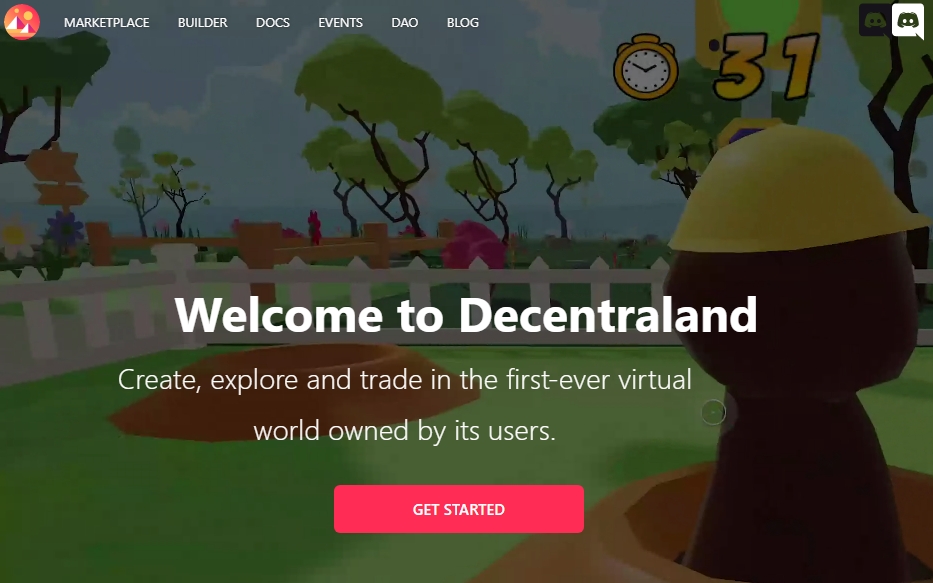 Decentraland allows people to create imaginative buildings on parcels of NFT-based land using a series of in-build tools specialling tailored to creators. It's possible to create a huge variety of projects within the Decentraland world, with some ingenious users building office spaces, play-to-earn experiences, and NFT museums. 
The project was a smash hit in late 2021 and with the Metaverse only growing in prevalence, it seems likely for the MANA token to increase in value alongside it. With Decentraland at the forefront of the Metaverse trend, MANA is one of the 15 best Metaverse coins currently available. 
12. Chiliz – Cryptocurrency Project Facilitating the Creation of Sports Fan Tokens
Chiliz (CHZ) is a powerful project focused on facilitating the creation of fan tokens to be used within the Sociois ecosystem. The project has done well to build up a plethora of partnerships with sports teams over the past few years, which has helped Chiliz to attract mainstream attention.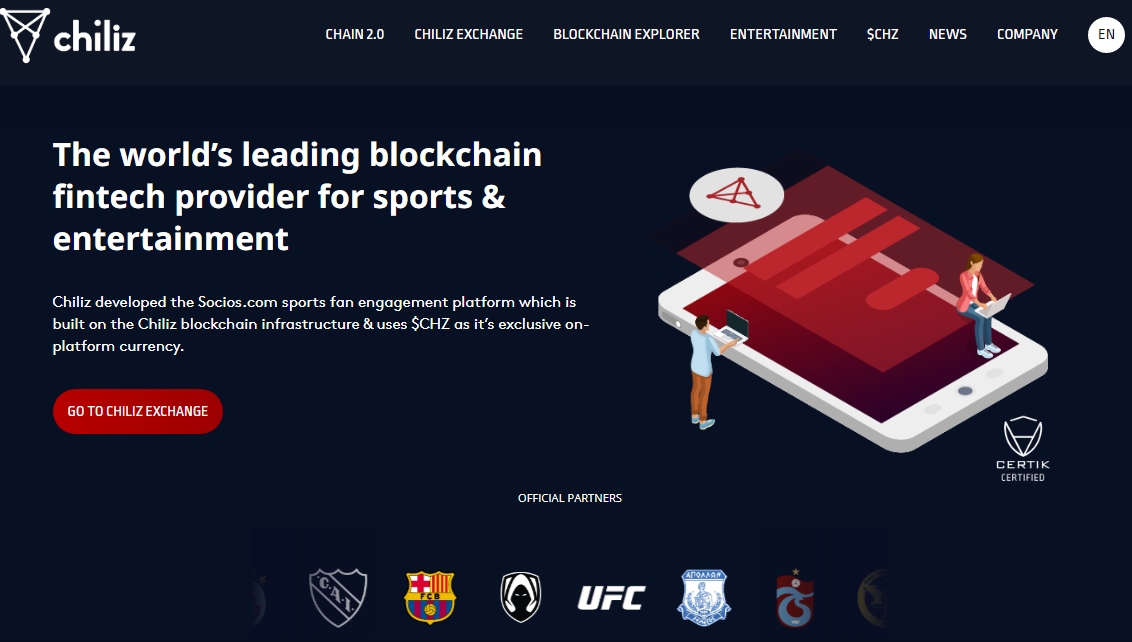 Chiliz allows sports teams to create cryptocurrency tokens designed to boost engagement with fans. While each fan token has different uses, they commonly allow people to vote on various decisions relating to sports teams such as the design of the team's bus or which motivational message gets said to a team prior to a large game. 
For Investors trying to locate the cheapest crypto to invest in, CHZ is a solid choice. With the World Cup slated to begin soon, it's likely that Chiliz will enjoy a reasonable boost in demand which could send the token soaring. As such, it could be worth checking out Chiliz in order to get exposure to one of the best long term crypto projects.
13. Filecoin – Cryptocurrency Utilizing Blockchain Technology to Reshape Data Storage
Out of all the lowest price crypto coins that we've discussed, Filecoin (FIL) is one of the most intriguing. The project aims to revolutionize the way data is stored by creating a decentralized platform that pairs those needing storage with people owning extra needed storage devices.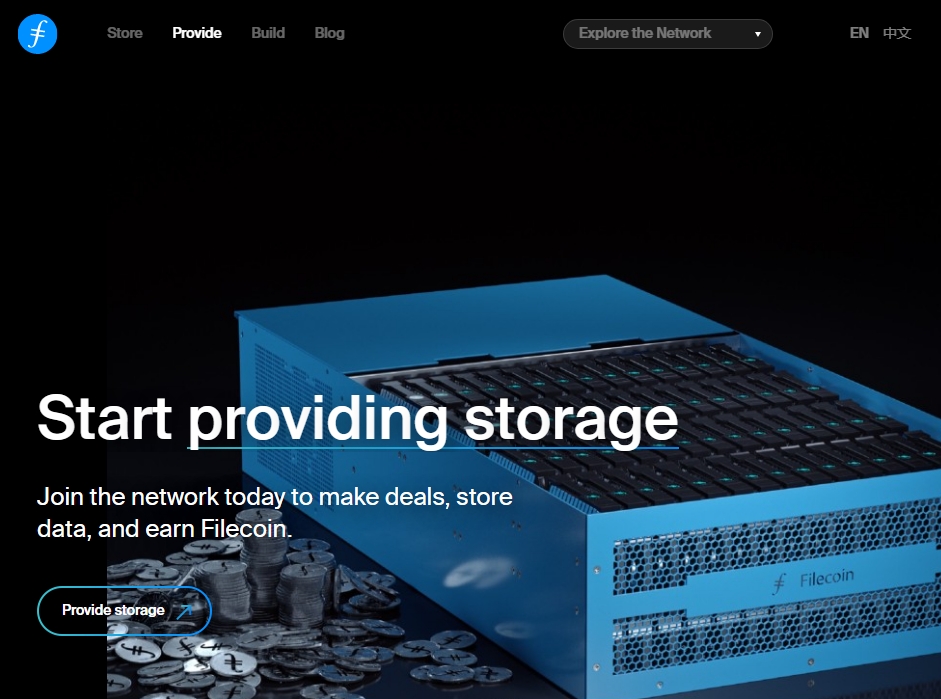 This system promises to reshape the way important information is stored by eliminating the issues that arise from centralized cloud storage solutions. The FIL token is used to incentivize storage providers and miners that validate transactions on the network. Filecoin is one of the few low price cryptocurrency projects focused on improving data storage, and as such, could perform well. 
While Filecoin might not be the cheapest crypto to buy on our list, considering the intrinsic value offered by the project, it's well deserving of its valuation. As more companies look toward decentralized solutions for data storage, we could see Filecoin become far more mainstream which would cause the FIL token to grow exponentially. 
How to Find the Cheapest Cryptos with Potential
When it comes to finding the best cheap crypto to invest in, there is a wide range of techniques that can be employed to streamline the process. 
To help ensure that new investors have all the tools required to find the best cheap crypto to buy, we've revealed a few of our favorite techniques. 
Perhaps the fastest way to find the lowest price crypto coins worth investing in is to have a careful look at platforms like CoinMarketCap which aggregate cryptocurrencies based on market cap (or various other factors). It's a good idea to look for a project that has fallen significantly from its highs and seems to be holding well at a certain level. 
Another great technique that can be used to search for the cheapest crypto to invest in is browsing social media. It's common for a project to tease large updates on platforms like Twitter and Telegram prior to release. This can provide investors with crucial information that be used to decide whether is project is valued lower than it should be. 
Lastly, investing in a project before the masses is a great way to profit from a low price cryptocurrency. Searching for the best crypto presales can help an investor to find early-stage projects that haven't yet been picked up on by the masses. With that said, it's important to carefully consider whether a low price cryptocurrency project is actually worth investing in prior to committing to a purchase. 
Deciding Whether Cheap Cryptocurrency is a Good Investment
While hunting for the best cheap crypto to buy is all well and good, it's crucial to perform the proper due diligence when it comes to deciding whether cheap crypto is a good investment. Below, we've shared a few ways people can determine whether an asset has any merit as an investment.
Intrinsic Value
One of the easiest ways to determine whether low-price crypto is worth investing in is to inspect its utility. A project that boats great utility and has plenty of intrinsic value will perform far better during market decline than an asset that's valued solely for its hype or use as an investment. 
Innovation
While it's crucial for a project to have ample utility, it's equally as important for it to be innovative. If there's a well-established player in a certain sector, it will be far harder for a new project to gain market share. However, if a cryptocurrency is innovative and solves a problem before any other project, it will have a much greater chance of performing well as an investment. 
Tokenomics
One of the core driving forces behind the value of any asset is supply and demand. If demand outpaces supply, an asset will rise in value. Conversely, if an asset has more supply than demand, it will decrease in price. As such, taking a look at a project's tokenomics is crucial to understanding whether it'll be a good investment. Typically, projects with a low supply will gain value faster. 
The Team
As the team behind a project is in charge of shaping it into the best version of itself, researching the people behind the project is a big help when it comes to finding the cheapest cryptocurrency to invest in. If a project has a strong, doxed team with a track record of delivering on promises, the project will have a far greater chance at success compared to those without a good team. 
Conclusion
Throughout this guide, we've taken a look at the lowest price cryptocurrencies, discussed how to find the best cheap crypto to invest in, and explained the process of determining whether a certain asset has merit as an investment. During our research, one project offered the most upside potential for the lowest price.
One of the best cheap cryptocurrency assets to invest in 2023 is Bitcoin ETF Token. Bitcoin ETF Token is a speculative token based on events around the spot Bitcoin ETF approval by the SEC. It has already raised around $500,000 within the first week of the presale and is now in stage two with a token price of $0.0052.
FAQs
What is the cheapest cryptocurrency to buy?
One of the cheapest cryptos to buy is Bitcoin ETF Token, currently priced at $0.0052 during its second presale round. $BTCETF's price will increase throughout the different stages of its presale. 
What is the cheapest crypto with the most potential?
While we've reviewed the cheapest cryptocurrencies with huge room for growth, Bitcoin ETF Token presenting itself as the top pick and has already raised around $500,000 within the first week of the presale.
---