18 Best Altcoins to Buy in 2023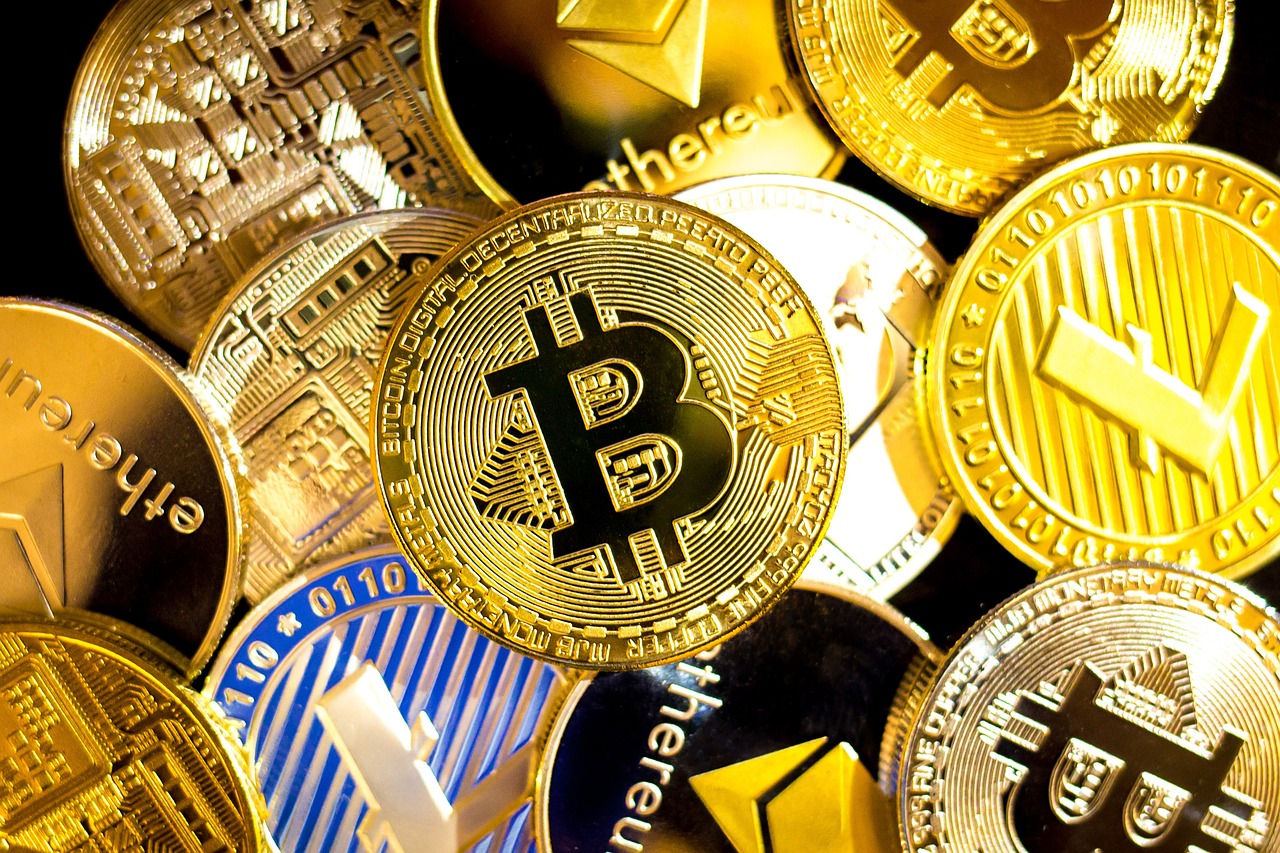 Disclaimer: The Industry Talk section features insights by crypto industry players and is not a part of the editorial content of Cryptonews.com.
Although Bitcoin is the largest and most well-known cryptocurrency on the planet, oftentimes figuring out the best altcoins to buy can yield superior returns.
Throughout this article, we'll be taking a look at the best altcoins to buy, exploring what an altcoin is and why they make good investments, as well as outlining exactly how altcoins can be purchased. Let's get started.
Best Altcoins to Buy in 2023
Below, we've rounded up some of the best altcoins to buy right now and provided a short description of each. In the following section, we dive deeper into the specifics, providing a mini-review of our selected assets.
Bitcoin Minetrix - A new stake-to-mine cryptocurrency, Bitcoin Minetrix reduces the entry barrier for users looking to engage in cloud mining activities. Bitcoin Minetrix will tokenize cloud mining and offer credits through its Ethereum smart contract. $BTCMTX is priced at $0.011 on presale.
Meme Kombat - This exciting new meme cryptocurrency is offering high staking APYs to presale token holders. Users can stake the $MK token to wager in the play-to-earn Battle Arena and earn exciting rewards.
Bitcoin BSC - Bitcoin clone combined with the powerful BNB Smart Chain for PoS rewards, low-cost transactions, eco-friendly design, and token interoperability. Has now raised $5 million in just three weeks since launch.
TG.Casino Token - Presale token offered by an upcoming KYC-free and fully licensed Telegram casino. By holding $TGC, the native token, users can earn huge staking APYs, get access to casino games, and earn free NFT rewards, as well as be part of a profit-sharing system. The presale has raised over $200k.
Launchpad XYZ - The all-in-one launchpad for accessing and partaking in all Web3 activities including accessing decentralized exchanges, trading terminals, and investing in presale projects. The $LPX token has raised $1.75 million in its presale.
yPredict - This is an AI-based cryptocurrency analytics and data-driven platform. Hold $YPRED tokens to earn a share of rewards from staking pools and win through the P2E ecosystem. More than $3.9 million raised in its presale since launch.
eTukTuk - An innovative eco-friendly platform tackling the issue of carbon emissions with its electric TukTuks. Alongside the decreased operating cost of maintaining vehicles, it offers staking rewards on its native crypto, $TUK. Presale has just launched with $60k raised.
Chimpzee - New crypto presale that will help fund wildlife conservation and fight climate change while earning a passive income. More than $1.35 million raised in its presale.
Scorpion Token - Earn up to $10,000 in daily passive staking rewards depending on casino performance. Over $1 million raised so far.
Wall Street Memes - This altcoin has been launched by the popular Wall Street Memes community, boasting a following of more than 1 million users and offering staking rewards. $WSM raised around $25 million in its hugely popular presale, and listed on the OKX exchange on September 26.
BTC20 - Hot new crypto recreating the thrill of Bitcoin's early days by leveraging a green proof-of-stake model for sustainability. The platform offers staking benefits for passive income - now live on DEXs with a fully diluted market cap of $25 million.
Pikamoon - Compelling new altcoin and play-to-earn Metaverse based around NFT creatures called Pikamoons. Players use their companions to traverse the vast open world of Dreva. More than $4 million raised in the presale.
RizzMonkey - A new meme token, $RZZMNKY is priced at $0.000005367 on presale. The token will rise by 16.7% upon its exchange listing, which will take place in Q3 2023 - $125k raised so far.
XRP20 - The appeal of Ripple combined with DeFi staking, a deflationary burn mechanism, trending news, and a low entry price of $0.000092, a fraction of what it would have cost to purchase early-stage XRP.
Ethereum - The largest altcoin in terms of market capitalization. Ethereum is used as a blockchain for developing decentralized applications, as it deploys smart contracts.
Chainlink - Cryptocurrency platform that implements off-chain data sources into on-chain applications
XRP - Peer-to-peer cross-border payment network. The XRP token offers low fees, fast transactions and high transparency to users.
BNB - The native cryptocurrency powering the Binance exchange. Hold BNB tokens to get discounts when trading with one of the largest crypto platforms in the world.
Top Altcoins to Invest in Reviewed
Looking for the best altcoins to research before the next altcoin season? Now that we have an understanding of each project and its offerings, let's dive into the reviews.
1. Bitcoin Minetrix - Get Huge Staking Returns and Mining Credits with this Stake-to-Mine Crypto, Presale has Just Launched
Bitcoin Minetrix ($BTCMTX) is a revolutionary new stake-to-mine cryptocurrency through which investors can earn cloud mining credits and mining power on Bitcoin. For those looking to engage in mining activities without the high entry barrier, Bitcoin Minetrix offers a simple solution.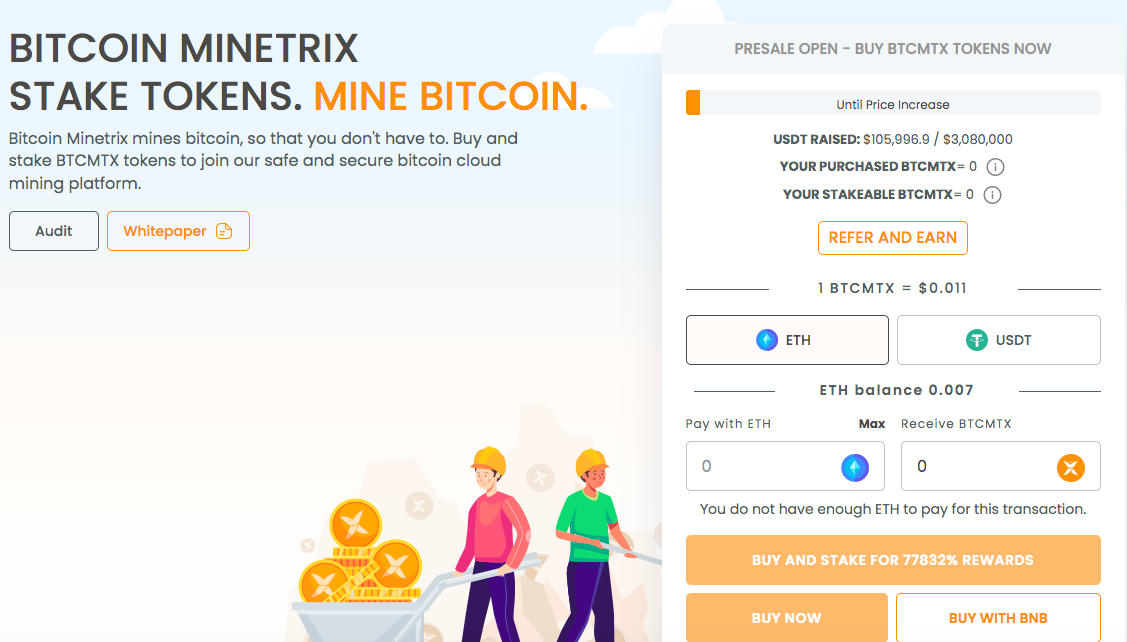 Bitcoin Minetrix will tokenize cloud mining by leveraging the $BTCMTX token. All one has to do is purchase $BTCMTX on the presale and stake their holdings. Bitcoin Minetrix has a 4 billion token supply, and has allocated 2.8 billion tokens across ten presale rounds. Currently on phase one, $BTCMTX is priced at $0.011 per token.
The current staking APY (Annual Percentage Yield) on $BTCMTX is a staggering 7,700%, which will eventually reduce as more tokens are staked on the Ethereum-powered smart contract. Staked token holders will earn passive income in the form of cloud mining credits.
While these credits cannot be traded, investors can burn them on the ecosystem to earn Bitcoin cloud mining power. This allows one to get allocated mining time and a share of mining revenues. This is a cost-efficient solution to other cloud mining services due to the high costs of operations and the prevalent third-party scams.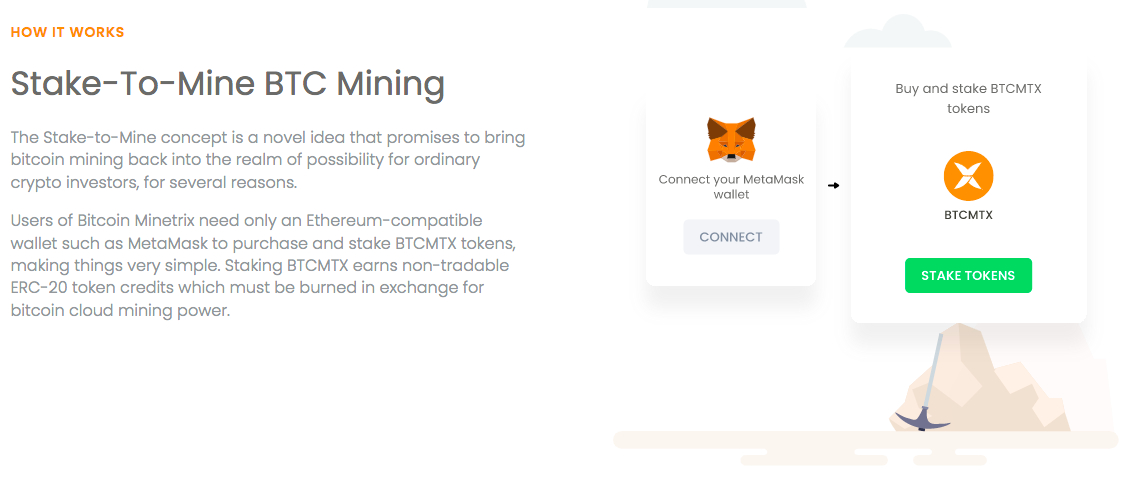 By tokenizing the tokens, investors can join a decentralized platform that is secure to use. The presale requires investors to make just a $10 investment to get started. Interested investors can buy $BTCMTX during the first round before the price increases.
Go through the Bitcoin Minetrix whitepaper and join the Telegram channel to stay updated with this cryptocurrency.
| | |
| --- | --- |
| Presale Started | 26 Sept 2023 |
| Purchase Methods | ETH, USDT, BNB |
| Chain | Ethereum |
| Min Investment | $10 |
| Max Investment | None |
2. Meme Kombat - Multi Utility Meme Coin Offering Staking Rewards and Wagering Options on a Battle Arena
The top altcoin on our list is Meme Kombat ($MK), which is a meme project that has recently released on presale. However, Meme Kombat sets itself apart from other meme tokens by offering a low token supply, staking returns, and battle rewards.
This innovative blockchain brings together our love for memes and gaming. On the Battle Arena, users can stake their $MK tokens to wager on multiple battles. The characters within the battle comprise of popular meme coin avatars such as Spongebob, Pepe, and Wojak.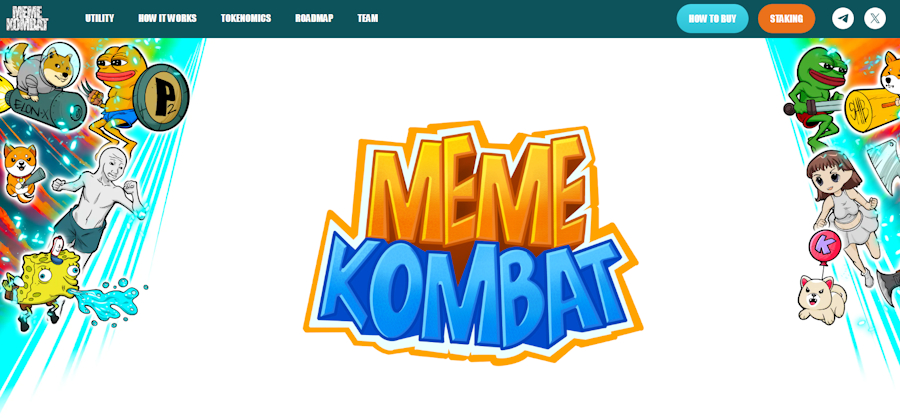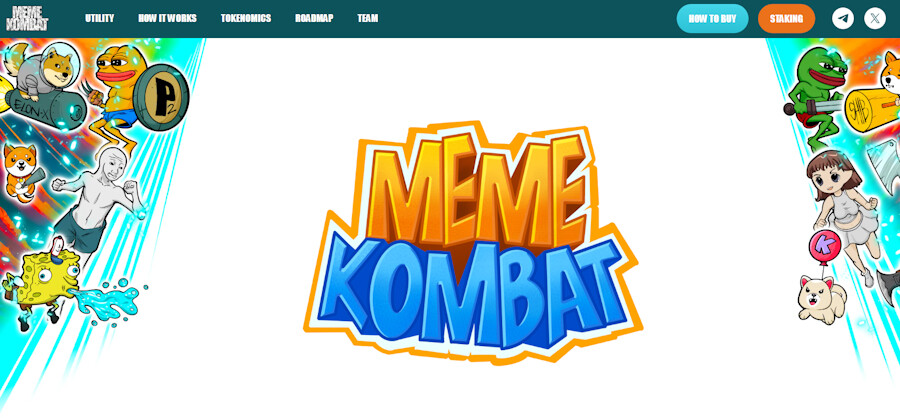 The battle arena will feature a play-to-earn element, as long as multiple wagering modes including Player v Player betting and Player v Game betting. The project is powered by AI and blockchain technology meaning all outcomes are immutable, transparent and fair.
The $MK token can currently be purchased on presale for just $1.667, and will automatically be staked. Therefore, you will earn a live APY of 112% as soon as you enter the presale.
According to the Meme Kombat whitepaper, the platform will release the platform by the end of Q3 2023. This will give users access to the play-to-earn battles and staking features.
Furthermore, Meme Kombat will be released in seasons, each offering new gaming and reward-earning opportunities.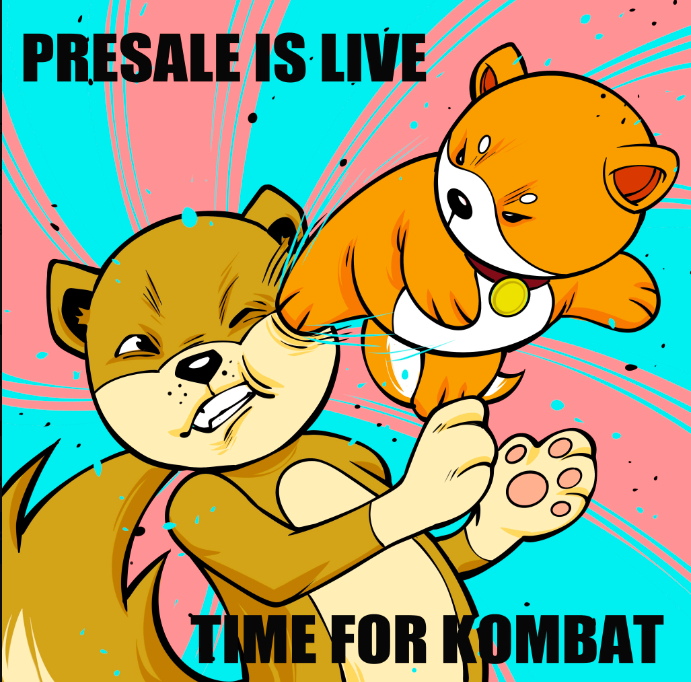 Notably, Meme Kombat has a low token supply of only 12 million. The project has not reserved any tokens for the team, and is one of the first meme cryptos which features doxxed and public-facing developers.
By allocating 30% of the token supply for staking and battle rewards, Meme Kombat wants to gain long-term loyalty by promoting collaborative growth. The presale is offering 50% of the supply, and aims to raise a hard cap of $10 million. Another 10% of this altcoin's supply will be offered via community rewards, and 10% will be used for DEX allocation.
Join the Meme Kombat Telegram channel to stay updated with the project.
| | |
| --- | --- |
| Presale Started | 21 September 2023 |
| Purchase Methods | ETH, USDT |
| Chain | Ethereum |
| Min Investment | $5 |
| Max Investment | None |
3. Bitcoin BSC - New Altcoin Combining BTC with the BNB Smart Chain, 120-Year Token Release Schedule, & PoS Rewards
Bitcoin BSC ($BTCBSC) is a new altcoin that has been inspired by Bitcoin but placed on the far superior BNB Smart Chain for increased utility and performance. The staking schedule as well as the token price/supply are identical to Bitcoin in 2011, but the platform offers smart contract functionality, speed, security, staking, lower fees, and a much-reduced carbon footprint.
To this effect, there are 21 million tokens in total with 6.125 million of them available in the presale, priced at $0.99. Investors can take advantage of a next-generation edition of Bitcoin at an early bird price and the presale has already seen huge success, with $5 million raised in just three weeks.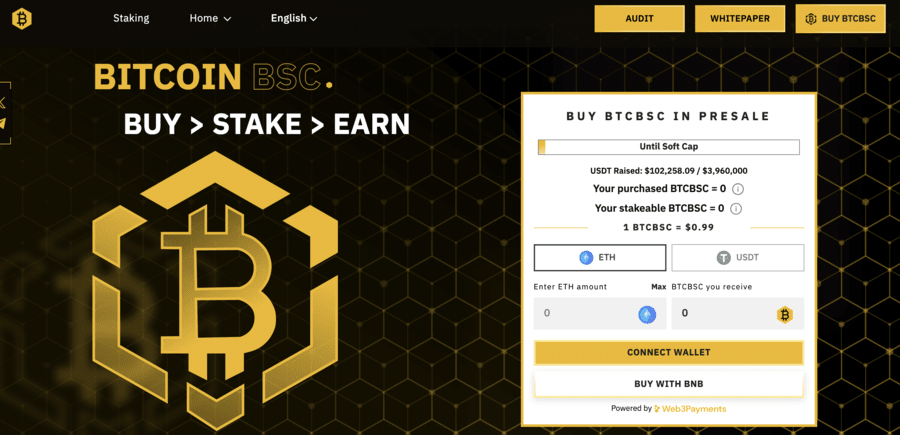 Many lament being late to the crypto world, wishing they had been able to hear about Ripple, Stellar, Binance, or Shiba Inu before they became mainstream.
This is what Bitcoin BSC is offering, though it should be understood that the token has no official relationship and is actually designed from a different blockchain. It is not a fork, like Bitcoin Gold or Bitcoin SV.
The PoS APY for this token is very impressive, currently around 104% at the present time, with more than half a million tokens added to the staking pool already. Yields will be reduced as more tokens are staked, but are likely to still outperform rewards for other leading PoS tokens such as Ethereum, Cardano and Solana.
The staking rewards are proportional to the percentage invested as a total of the staking pool.

As with the original Bitcoin blockchain, rewards are generated every 10 minutes, with a total vesting period of 120 years. A 7-day lock applies for staked coins. 29% of the token supply is allocated to the presale, with 69% to the staking and 2% to DEX liquidity.
For those taking part in the presale, MetaMask or Wallet Connect can be used to execute the transaction. Prior to investment, it is important to read the whitepaper and participants will also want to consider visiting the Twitter and Telegram pages.
| | |
| --- | --- |
| Presale Started | September 2023 |
| Purchase Methods | ETH, USDT, BNB, Credit Card |
| Chain | BNB Smart Chain |
| Min Investment | $10 |
| Max Investment | None |
4. TG.Casino Token - Fully-Licensed Telegram Casino Powered by the Multi-Use $TGC Token, Over $150K Raised on 1 Day
TG.Casino ($TGC) is a brand-new online crypto-focused casino platform. This is fully licensed, and can be accessed directly via Telegram.
The TG.Casino will take advantage of Telegram's security infrastructure to offer seamless deposits and withdrawals via crypto tokens and is also now offering a presale for its native token.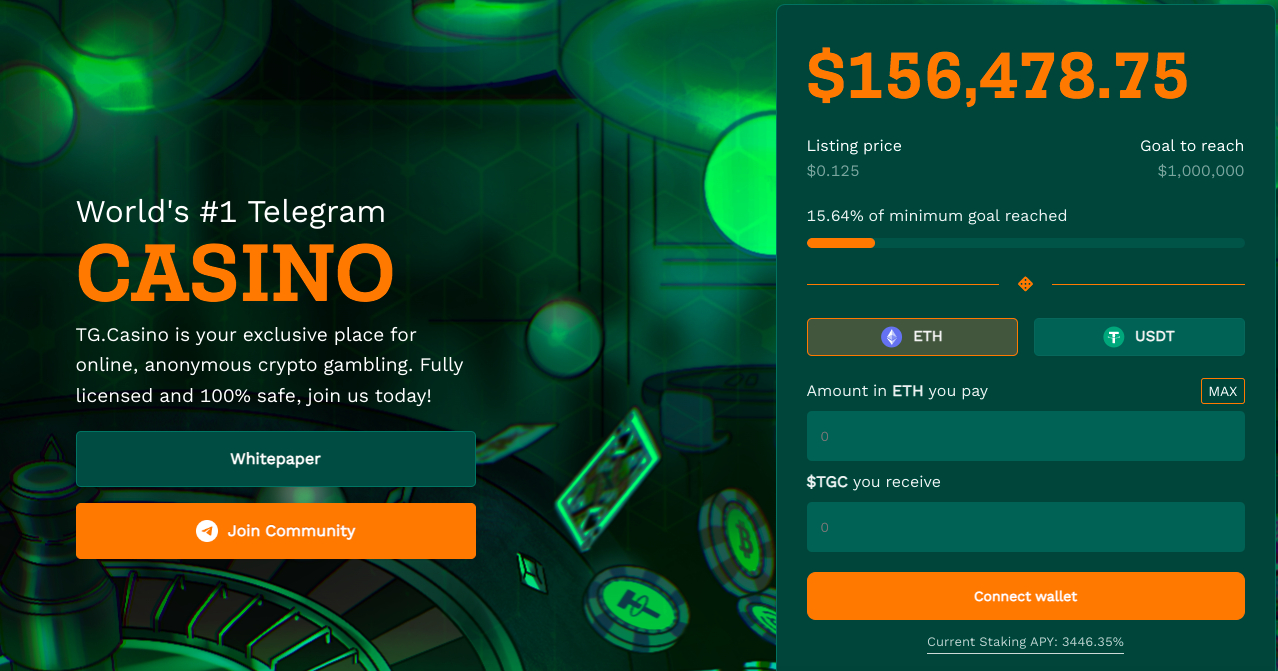 Since users can directly join the casino through Telegram, they can bet anonymously and do not need to complete any KYC requirements to get started. $TGC, the native cryptocurrency, can be used to access exclusive casino games. Furthermore, the token will also be rewarded to players within the ecosystem.
$TGC can also be staked to earn APYs as high as 3,412%. From a 100 million token supply, the TG.Casino presale has allocated 40 million tokens. Over $155K has been raised in a day, and more than 1 million coins have been staked on the ecosystem.
Users can also benefit from TG.Casino's buyback and burn mechanism. The casino will use a portion of its profits to buyback $TGC tokens.
40% of these tokens will be burnt, and the rest will be sent as rewards through a staking pool. 20% of the supply is reserved for staking bonuses, and another 10% will be given as player rewards and bonuses.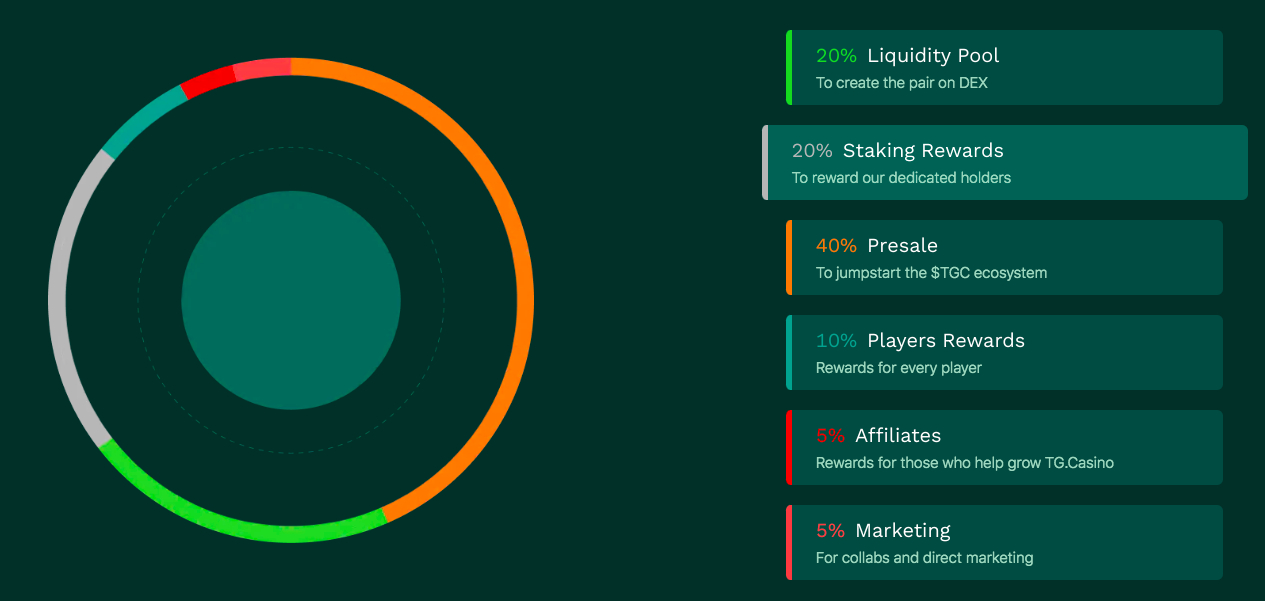 Presale investors that purchase a minimum of $5K worth of $TGC tokens can also earn free NFTs and post-launch rewards. Once the casino releases, users will be able to acces a live casino ecosystem and a sportsbook.
TG.Casino will also offer a 150% welcome bonus of up to $30,000, along with 500 free spins. For more information, read the TG.Casino whitepaper and join the Telegram channel.
| | |
| --- | --- |
| Presale Started | 21 September 2023 |
| Purchase Methods | ETH, USDT, BNB |
| Chain | Ethereum |
| Min Investment | None |
| Max Investment | None |
5. Launchpad XYZ - New Web3 Ecosystem with Recently Launched Presale
Launchpad XYZ is a Web3 ecosystem that offers simple access to some of the top blockchain projects and the power to have full custody over all of your assets.
One can access some of the top Web3 experiences on Launchpad XYZ, whether it be access to NFTs, play-to-earn games, or presale investment opportunities.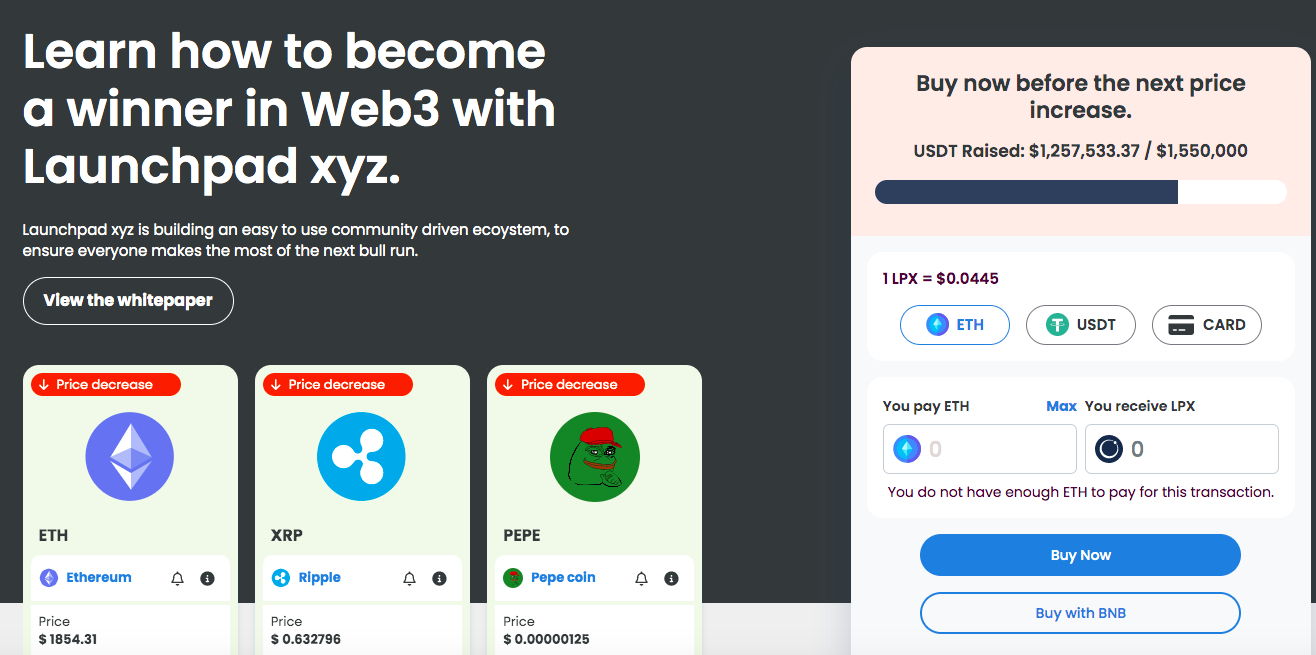 Across all the Web3 ecosystems, Launchpad XYZ leverages $LPX, the native cryptocurrency. Built on the Ethereum network, this ERC-20 token is currently available to purchase during its first presale round.
By holding $LPX, users can trade fractionalized assets through Launchpad XYZ's decentralized exchange (DEX). One can also access peer-to-peer trading opportunities and hundreds of crypto pairs on the DEX.
By staking $LPX tokens on the DEX, users can access a discount on the exchange fees. Those interested in NFTs can use Launchpad XYZ to search through all the NFT marketplaces and analyze which assets are in high demand.
While Launchpad XYZ is a new project, it offers additional utility in terms of learning opportunities. One can gather in-depth data for hundreds of coins, compare liquidity among different exchanges, and access trading insights from top traders.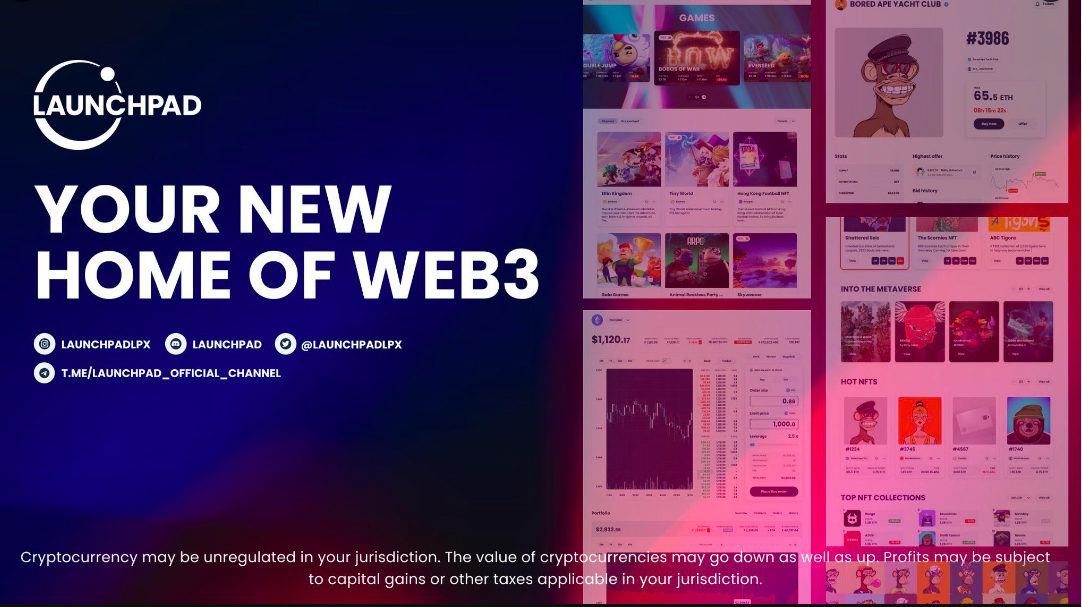 One of its top features is already live and providing value for its members - the alpha signals Telegram group has made multiple 1,000%-plus calls in the last month.
Through Launchpad XYZ's play-to-earn hub, users can browse through a variety of P2E games and wager on the outcomes while watching others play. By offering all these features, Launchpad XYZ predicts that it will be able to onboard at least 10 million users in the Web3 space in the coming years.
$LPX has a 1 billion total supply, 25% of which has been divided across ten presale rounds. The token is priced at $0.0445 and more than $1.75 million has been raised in the presale so far.
Read the Launchpad XYZ whitepaper and join the Telegram channel to stay updated with this new crypto project.
| | |
| --- | --- |
| Presale Started | 27 April 2023 |
| Purchase Methods | ETH, USDT, Credit Card |
| Chain | Ethereum |
| Min Investment | 100 LPX |
| Max Investment | None |
6. yPredict - Crypto Analytics Platform offering Multiple Income Earning Opportunities
yPredict is a cryptocurrency analytics platform that offers predictive analytics and models on various digital assets.
By holding $YPRED, the native cryptocurrency of the ecosystem, one can earn passive income through different income streams.

The $YPRED altcoin can be used to purchase subscriptions to predictive models on yPredict's financial marketplace. Financial data scientists offer these models, sharing their future outlooks on the marketplace. Notably, the models are only introduced after being properly reviewed by the yPredict decentralized autonomous organization.
yPredict uses multiple features through which they offer data-driven insights on the crypto markets. One of which is AI-driven tools such as Natural Language Processing. In this tool, AI is used to study the buying sentiment and behavior of certain tokens.
yPredict also uses AI trading signals and multiple chart patterns to determine the trajectory of different cryptocurrency tokens. While there is no guarantee that new tokens such as $YPRED will offer huge returns, the token can be staked to generate rewards within the ecosystem.
For instance, staked token holders receive 15% of all the swapping fees on the ecosystem. Furthermore, 10% of all revenues generated from the platform subscriptions are distributed to token holders.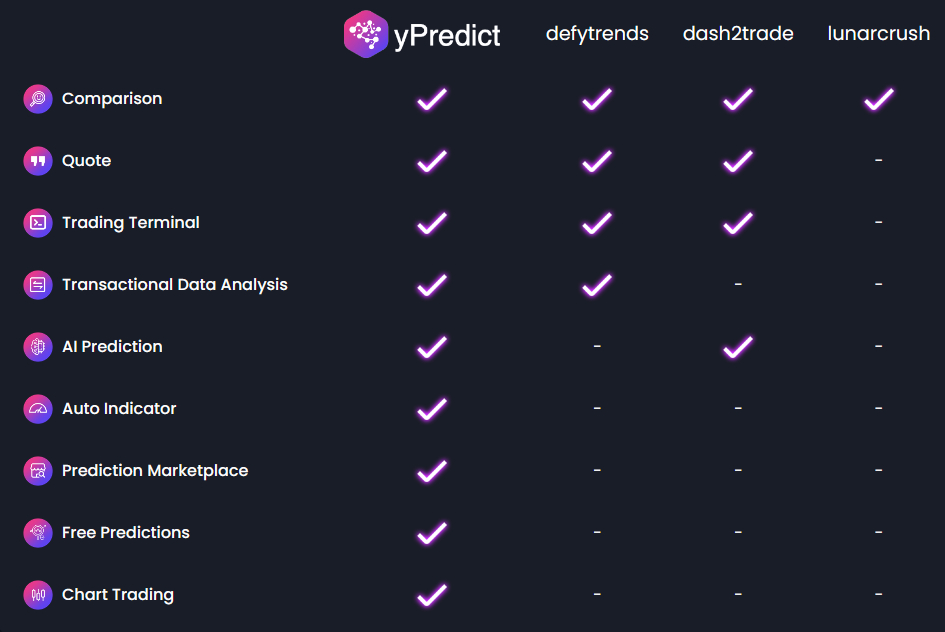 Since there is also a tax on buying and selling the token, there is a possibility of lower volatility. A 7% selling tax will be implemented on $YPRED, out of which the fees will be used for marketing, development, and liquidity purposes.
$YPRED has a total supply of only 100 billion tokens. As the platform staking increases, the reduced supply can play a role in determining the future price. Currently, the token is priced at $0.10 during the ongoing presale. The price will jump 20% to $0.12 upon listing.
yPredict has now raised more than $3.9 million since the presale started. Read the yPredict whitepaper and join the Telegram group to stay informed about this project.
| | |
| --- | --- |
| Presale Started | Q1 2023 |
| Purchase Methods | MATIC, ETH, USDT, BNB, Credit Card |
| Chain | Polygon |
| Min Investment | 200 YPRED |
| Max Investment | None |
7. eTukTuk - Helps Reduce Carbon Emissions With eTukTuks, Increasing Drivers' Revenue by 400%
eTukTuk, a new eco-friendly initiative based on the BSC blockchain, prepares for launch in Sri Lanka with a twofold mission - environmental protection and financial inclusion.
This project aims to replace traditional fossil fuel-reliant TukTuks with their electric counterparts, mitigating carbon emissions while offering economic advantages.

Electric TukTuks bring significant cost reductions in operation and maintenance, potentially boosting driver income by an impressive 400%. At press time, the project's native crypto, $TUK, has just launched its presale and has already raised $40k.
Sri Lanka, home to a vast fleet of millions of TukTuks, can provide a solid base for eTukTuk's journey to kick off.
With the strong backing of The Capital Maharaja Group, a significant conglomerate in Sri Lanka, eTukTuk's goal of affordable and accessible electric vehicles and charging stations have become more feasible.
Incorporating blockchain tech, eTukTuk promotes financial inclusion by assigning digital identities, narrowing the economic divide. As per the eTukTuk whitepaper, It doubles as a socio-economic tool, aiming to make a mark beyond transportation.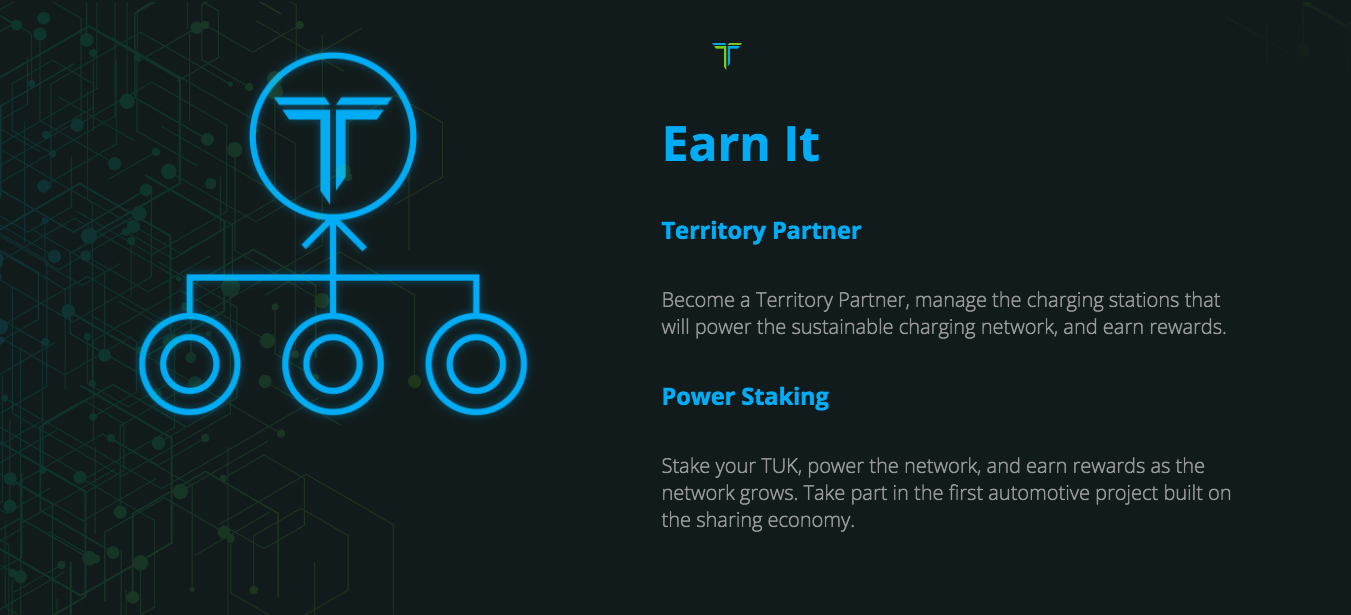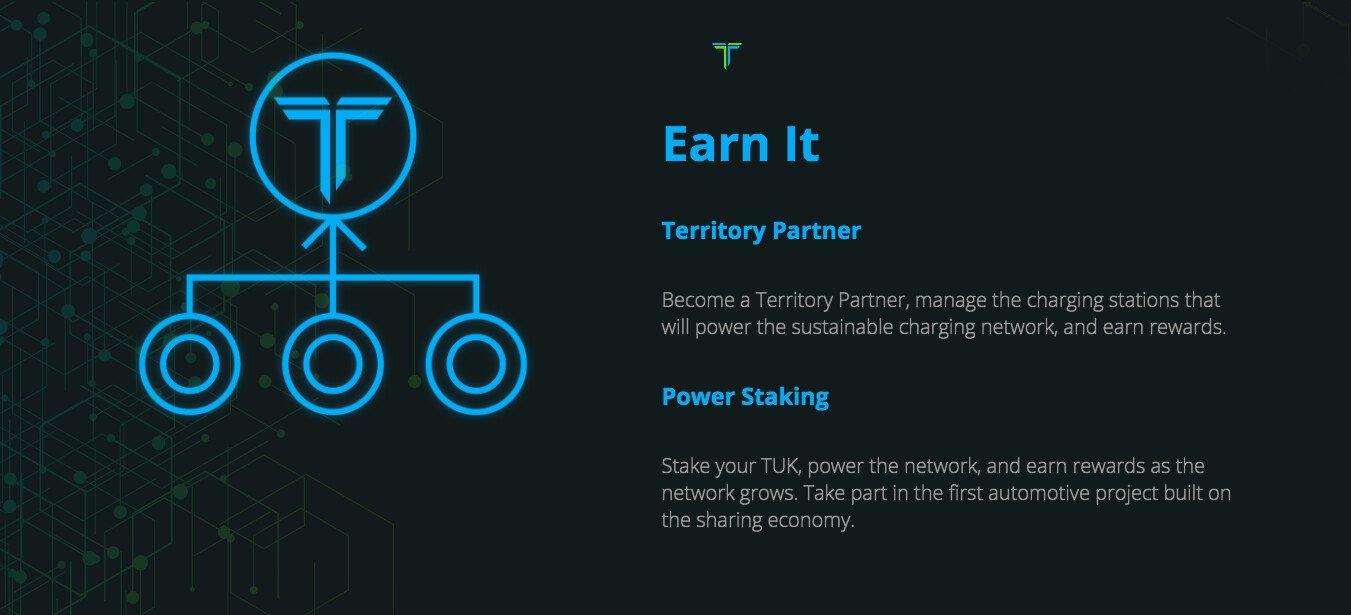 Token holders can support charging station operations by staking their tokens, earning annual yields in return. This unique staking method sets eTukTuk apart, further showing its innovative approach.
eTukTuk seeks to create a future where transportation and economic growth harmoniously coexist without affecting the planet's health. You can join the eTukTuk Telegram group for the latest information.
8. Chimpzee - A Crypto Token That Does Good for the World
Although many cryptocurrency projects are developing innovative financial solutions, there is a scarcity of functional environmental and social solutions. However, a new trend is emerging, with a handful of pioneering initiatives leading the way.
Chimpzee is one of these projects, with a primary focus on safeguarding the planet and its wildlife. Chimpzee provides various features that enable users to generate passive income while simultaneously contributing to environmental causes and is closing in on $1.4 million on the presale.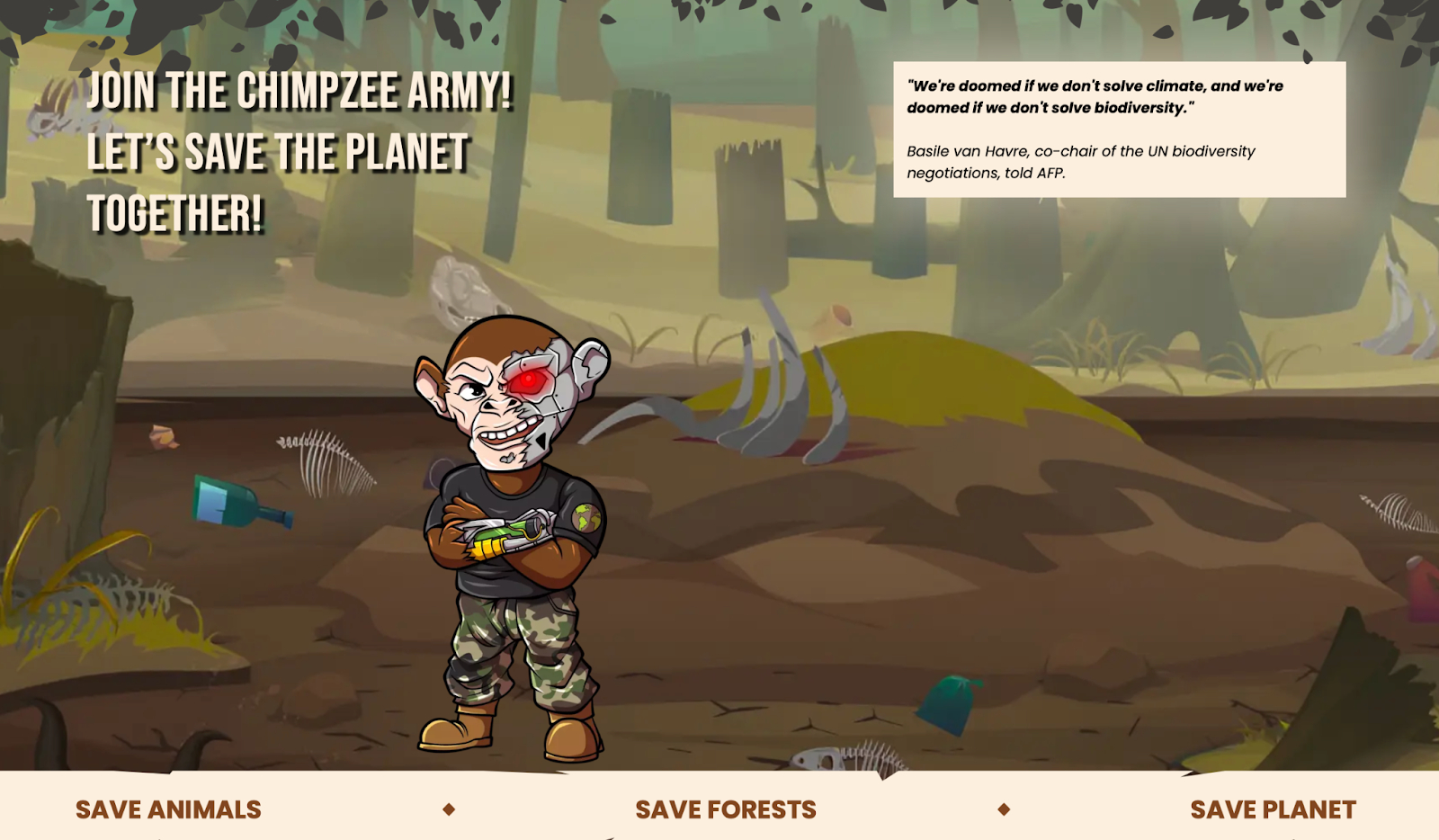 These features, including Play-to-Earn, Shop-to-Earn, and Trade-to-Earn, can be accessed via the Chimpzee shop, NFT marketplace, and Zero Tolerance Game. The team has dedicated 10% of the token supply and a share of the profits to support organizations committed to these causes.
Earning passive income in the most profitable manner is achievable by possessing a Chimpzee NFT passport, which allows users to obtain extra CHMPZ tokens, rewards and advantages by interacting with different components of the ecosystem.
To participate in the Chimpzee presale and acquire these exclusive passports when they become available after, a total of 40 billion CHMPZ tokens will be available across four rounds. In the current round, the price per 1 CHMPZ starts at 0.00085 USDT. It will be listed at $0.00095.
Receiving an opportunity to mint the Chimpzee Diamond NFT passport after the presale offers users the most significant rewards, with the highest earning potential as the supply is limited. Those who miss out on the presale must pay a higher price for the passports and wait until after the whitelist NFT passport prelaunch, which is exclusively available to presale investors.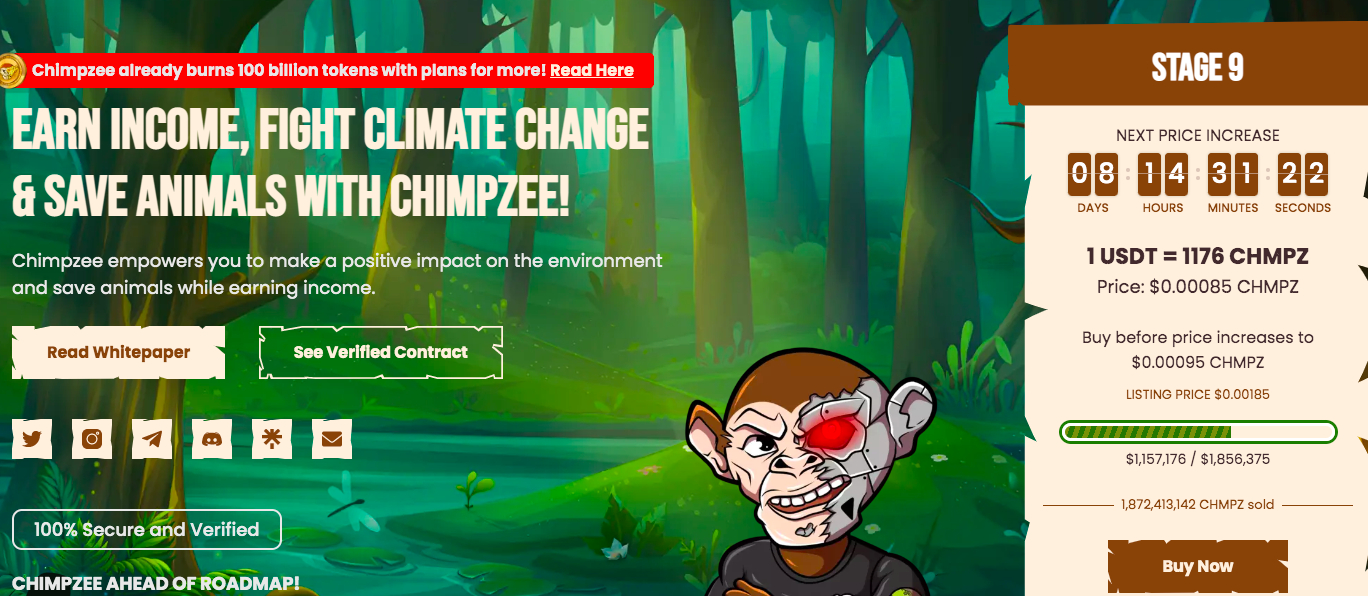 Only participants in the first round will have access to mint the Diamond NFT passport in the exclusive pre-launch whitelist event. Chimpzee has the potential to make a substantial impact in the field of environmental projects and is definitely worth monitoring. Availing the opportunity to participate in the presale early on comes with irresistible benefits.
| | |
| --- | --- |
| Presale Started | Q2 2023 |
| Purchase Methods | ETH, USDT, Credit Card |
| Chain | Ethereum |
| Min Investment | None |
| Max Investment | None |
9. Scorpion Token (SCORP) - Earn Up To $10,000 USDT in Daily Passive Staking
Scorpion Casino is the future leading eGambling platform that lets users earn up to $10,000 USDT in daily passive staking, depending on the casino's performance. The project is on a mission to build the number-one online social gambling platform that seeks to provide a fun and seamless gambling experience while simultaneously allowing everybody to earn.
Licensed and regulated by the Curacao EGaming licensing entity, Scorpion Casino can boast over 210 casino games, with an additional 160 live games. The platform hosts all the popular games you would expect from a major casino, including blackjack, roulette, poker, and slots. In addition, the games are highly polished as the casino is connected with all the major gaming providers, including Evolution, NetEnt, EGT, and AMATIC.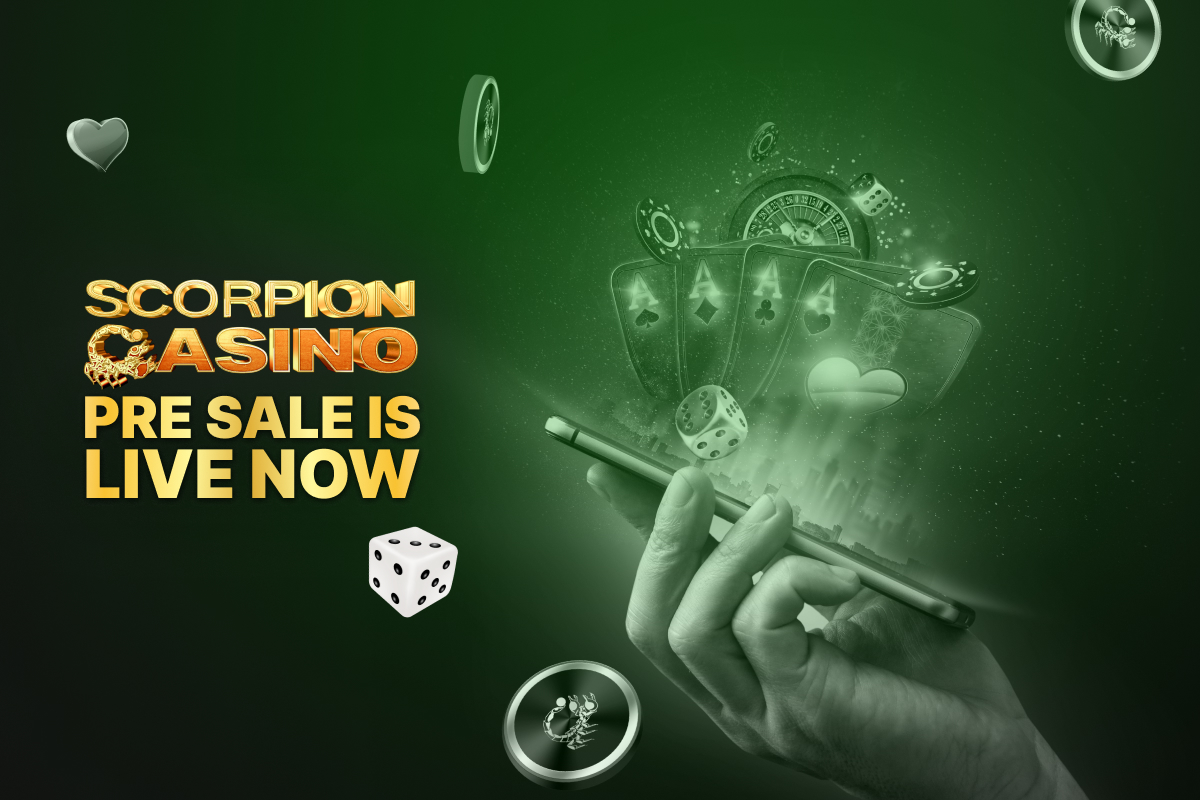 In addition to the traditional table games, Scorpion Casino also hosts a sports betting section, allowing users to bet on the outcome of their favorite sports games. The sports section has all the major leagues integrated for popular sports such as soccer, tennis, golf, basketball, horse racing, boxing, and MMA.
The passive staking earnings are provided through a redistribution tax that's baked into the smart contract for the token. A 2% tax is leveraged on all transactions, which is re-distributed to all SCORP holders. As a result, holders will see their token balance increase when holding the token as the casino gains more adoption.
Furthermore, the token is actually deflationary due to the 1% burn tax that is levied on each transaction. Over time, the total supply for SCORP will continue to decrease, making the remaining tokens more scarce and valuable.
The project is currently hosting a presale for its native token, SCORP. The native token will be the exclusive payment method for the entire ecosystem and will be the default betting currency across the casino and sports gaming products. However, the casino also accepts major cryptocurrencies, such as BTC, ETH, and BNB.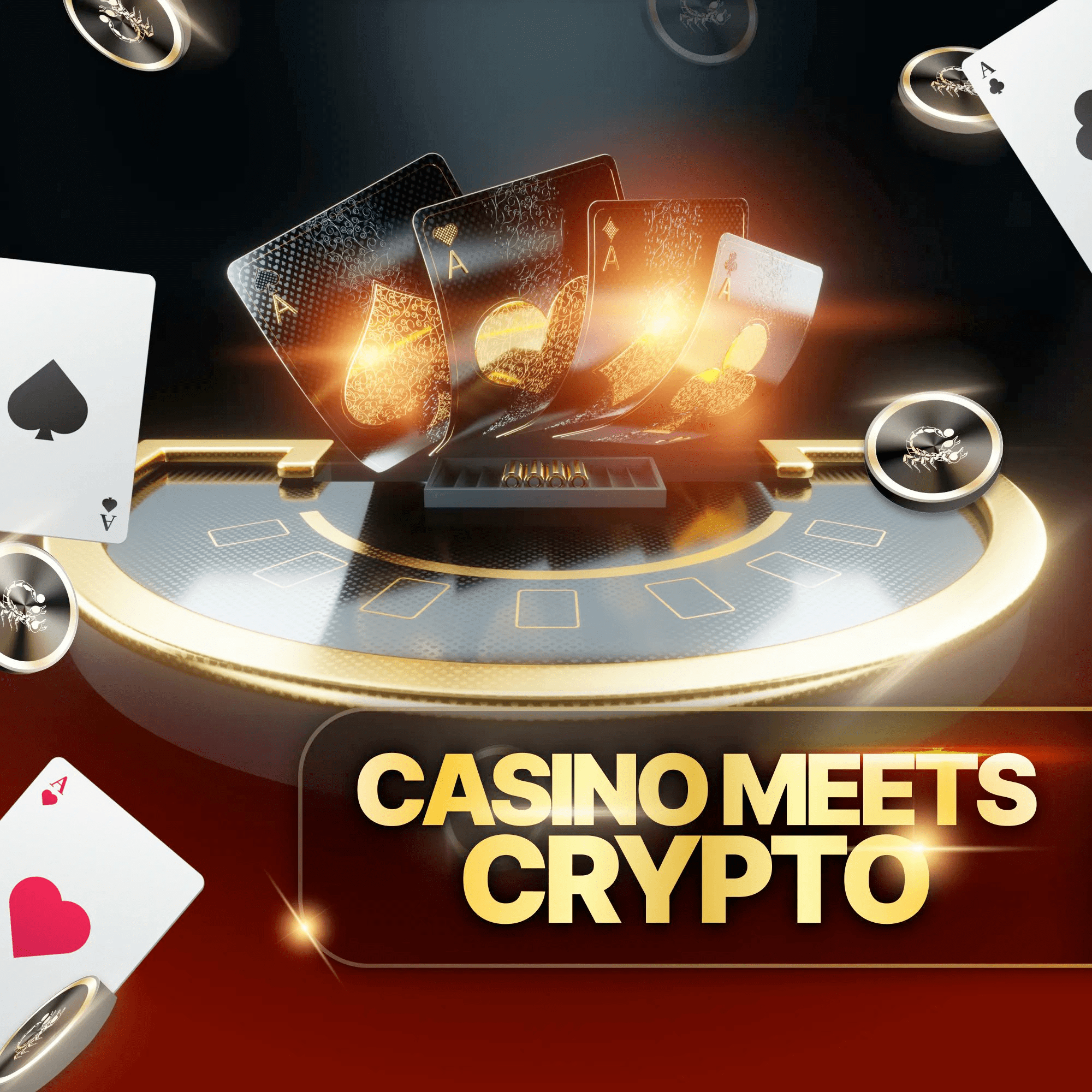 Investors who purchase more than $1,000 SCORP in the presale are automatically enrolled in the Elite Scorpion Members Club, which provides multiple benefits, including;
A VIP service
Cashback on the casino
Extra staking rewards
Addition SCORP tokens
Furthermore, those that use the exclusive bonus code Scorpion20 when making their purchase can get an extra 20% tokens on their investment - $1 million has now been raised in the presale.
The project has announced that it has already secured a top-tier centralized exchange listing for when the presale ends, which will be announced close to the conclusion of the presale.
| | |
| --- | --- |
| Presale Started | Q2 2023 |
| Purchase Methods | BNB, ETH, USDT |
| Chain | Binance Smart Chain |
| Min Investment | $10 |
| Max Investment | None |
10. Wall Street Memes - Community-Driven Meme Coin with Huge Following, Recently Listed on OKX Exchange
While meme tokens can be a risky investment, Wall Street Memes's $WSM token offers a competitive edge over the other available tokens in this space.
Wall Street Memes is a popular community that has amassed a following of more than 1 million people across social media and that huge following has been shown in the hype for the presale - which has been one of the best ever having raised more than $25 million. After the presale ended, Wall Street Memes listed $WSM on the OKX exchange - one of the largest tier-one crypto exchanges in the world.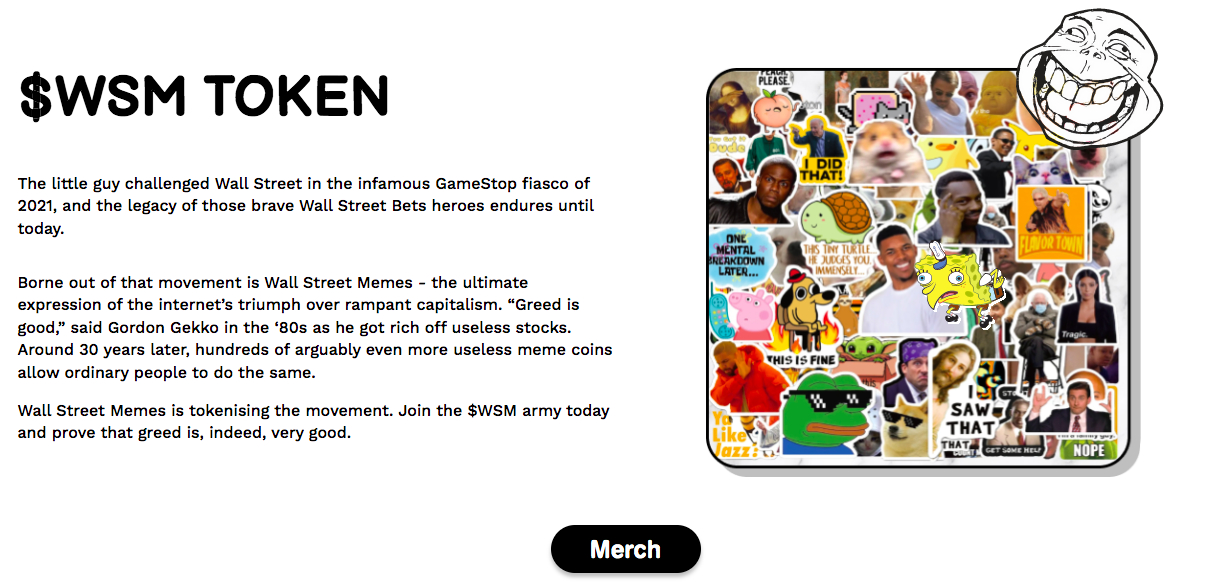 Moreover, this community has also launched its own NFT collection - Wall Street Bulls. The first collection sold out 10,000 Ethereum-based NFTs in just half an hour when it launched. This is a clear example of how this strong community can help raise funds through the ongoing $WSM token presale.
On Twitter alone, Wall Street Memes has a following of more than 200k and the world's richest man, Elon Musk, has also interacted with this platform's Twitter handle. Wall Street Memes also offers staking rewards to token holders.
The project's tokenomics state that $WSM will have a total supply of 2 billion coins. 50% of the tokens were offered on presale, while 30% of the supply will be reserved for community rewards, whole 20% will be saved for DEX and CEX liquidity.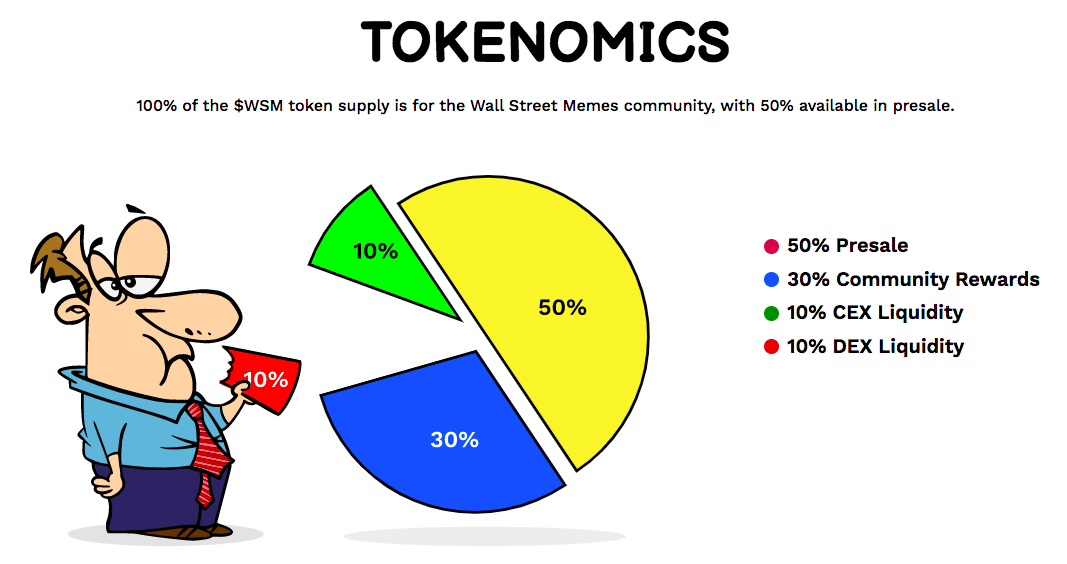 Notably, that means there is no team allocation, halting any talk of a rug pull and putting the project in the hands of the community.
Full details on the IEO will be released imminently. Join the Wall Street Memes Telegram channel to stay updated with this cryptocurrency project.
11. BTC20 - New Crypto Inspired From Bitcoin's Origins with High Staking Rewards, $25m Market Cap
BTC20 is an emerging crypto capturing Bitcoin's original spirit and blending it with modern blockchain innovations.
Its mission: to recreate the buzz Bitcoin generated in 2011 and offer a unique opportunity for investors who missed Bitcoin's early days.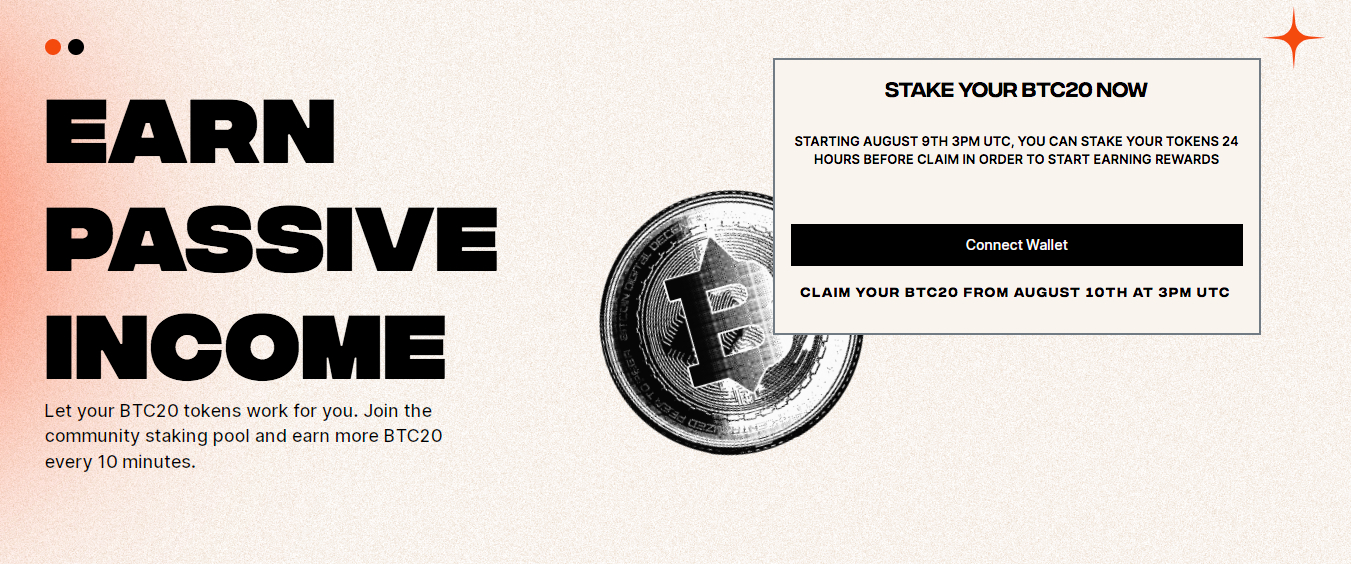 In doing so, it offered 6.05 million tokens as initial supply via two presale phases. The project showed strong and immediate community backing, with the presale selling out in just two weeks - the project has now grown to have a fully diluted market cap of $25 million with tokens valued at $1.50 each.
BTC20 will use a proof-of-stake model instead of Bitcoin's energy-intensive proof-of-work system to ensure long-term sustainability.
The BTC20 whitepaper prioritizes 'staking,' allowing token holders to earn passive income by locking their tokens in the network. This strategy not only profits investors but also strengthens network security. The platform aligns with the idea of 'true' decentralization by offering 100% tokens to the public.
Just like Bitcoin, the supply of BTC20 will be limited to 21 million tokens. Of these, 14.95 million tokens are dedicated to staking, guaranteeing a fair distribution of rewards among early investors. These stakers will get a fixed amount of BTC20 tokens for every confirmed block, mirroring Bitcoin's original release strategy.
Around 70% of the circulating supply is currently locked in the staking pool, proving investor confidence in the long-term prospects of the token.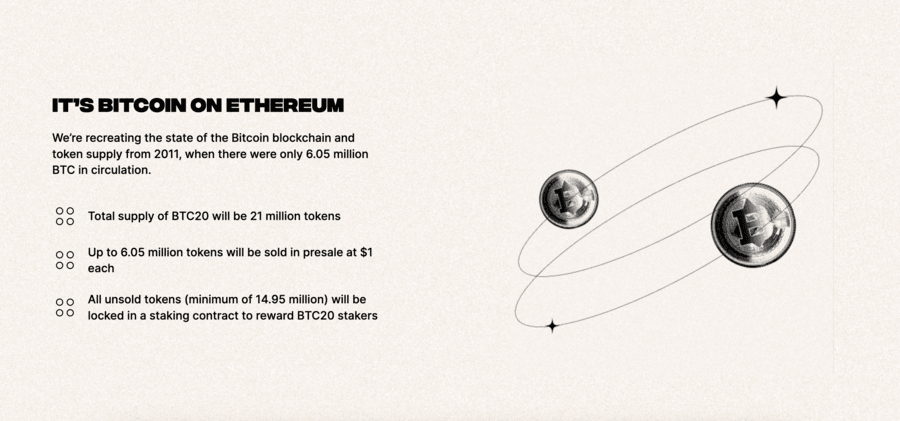 The minting of tokens is planned over an estimated 120 years, ensuring a stable and sustainable growth of token supply, much like Bitcoin's model. BTC20's roadmap includes forming strategic partnerships, building decentralized apps (dApps), and granting governance rights.
Interested investors are encouraged to join the BTC20 Telegram group to stay updated.
| | |
| --- | --- |
| Presale Started | 17 July 2023 |
| Purchase Methods | ETH, USDT |
| Chain | Ethereum |
| Min Investment | 10 Tokens |
| Max Investment | None |
12. Pikamoon - Compelling New Altcoin and Play-to-Earn Metaverse
Pikamoon is an open-world RPG adventure game inspired by the famous Pokemon game and TV series. It also borrows elements from FIFA and Fortnite, but its NFT creatures, Pikamoons, are modeled after Pikachu and the rest of the gang.
Pikamoon is a play-to-earn metaverse with its own native cryptocurrency, the $PIKA token, which has already raised more than $3.85 million in its presale. It's used to power and maintain the ecosystem but also as an in-game currency.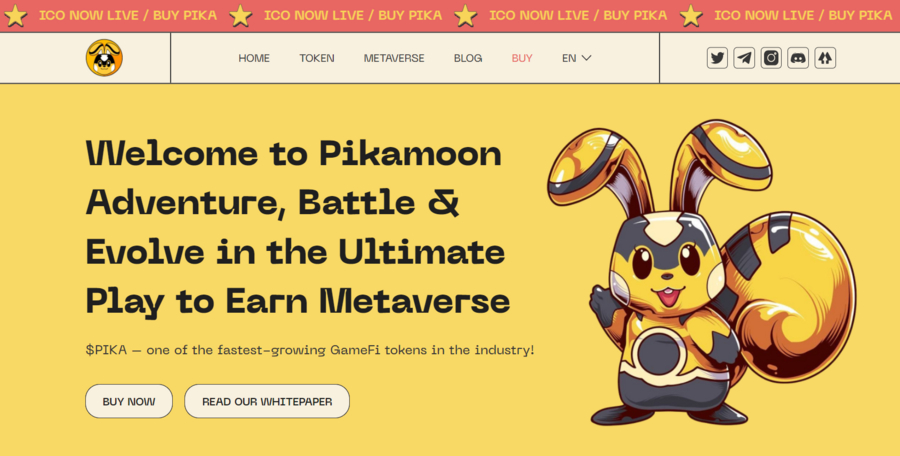 As the whitepaper explains, the world of Pikamoon is filled with thousands of companions, and players get to capture and improve them. You can subsequently use them to explore the world of Dreva, meet NPCs, complete quests, and combat other Pikamoons. Your Pikamoon will evolve and improve over time, and you'll also earn additional $PIKA tokens to invest in your companions.
As of now, there are 18,012 minted NFT companions that will be awarded for free to initial holders once the game starts.
You can even use the tokens to buy items in an in-game marketplace with a unique system where 5% of all used tokens are burned. This leads to a diminishing total supply of $PIKA tokens, which should drive their value up, making this an altcoin with great potential.
The Pikaverse is currently in the presale stage, and you can only purchase $PIKA tokens for now. The tokens are priced at $0.0006.
To stay in touch with the project and learn more about the upcoming game, follow the official Telegram.
| | |
| --- | --- |
| Presale Started | April 2023 |
| Purchase Methods | USDT and ETH |
| Chain | Ethereum |
| Min Investment | None |
| Max Investment | None |
13. RizzMonkey - New Meme Coin is Priced at $0.000005367 on Presale, Will Rise by 16.7%
The next altcoin on our list is $RZZMNKY, the native token of the RizzMonkey ecosystem. This new meme token is currently on presale and is looking to collect a hard cap of more than $2.17 million.
At press time, RizzMonkey has already raised more than $49K. Currently on stage two of a three-round presale event, $RZZMNKY is priced at $0.000005367 per token.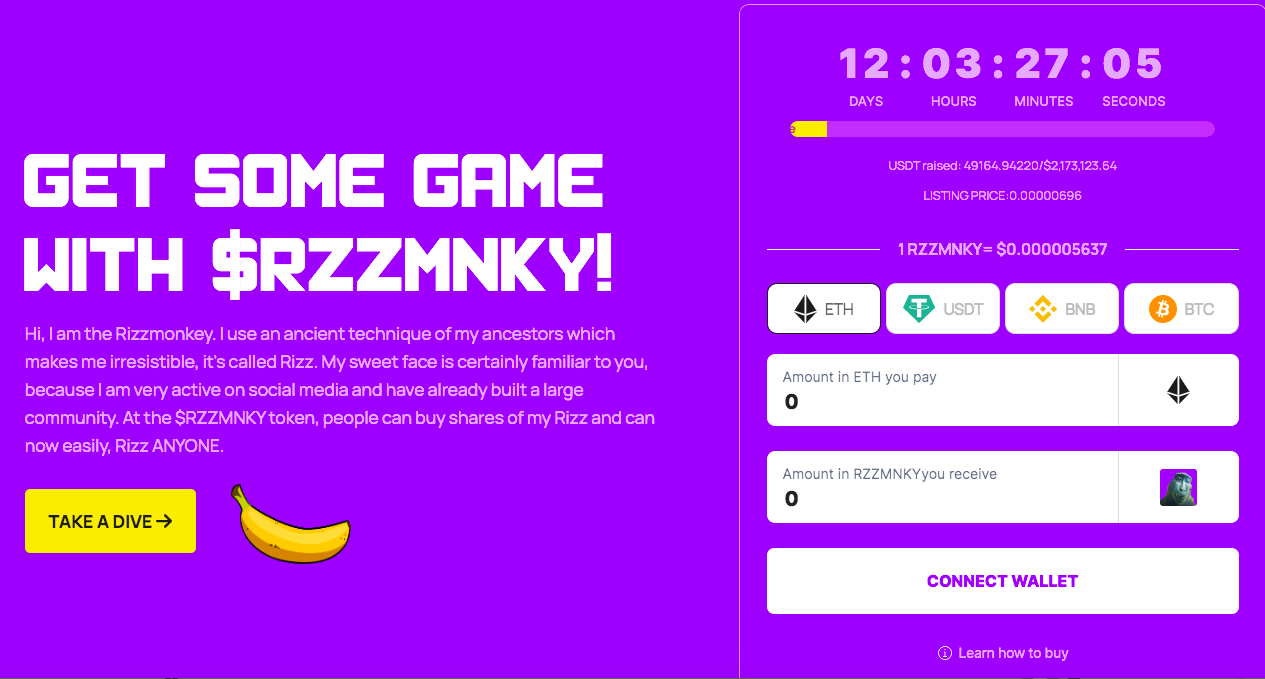 The token price will rise to $0.000006264 by the third and final presale stage.
Moreover, $RZZMNKY will be launched on crypto exchanges at $0.00000696. This equates to a 16.7% price increase from current levels. From a total token supply of 696 billion, 55% has been allocated for the ongoing presale.
20% of the altcoin's supply has been distributed to the team, while 10% will be used to maintain DEX (Decentralized Exchange) liquidity. Another 10% will be used for the exchange listings and to maintain CEX liquidity.
The remaining 5% will be used to market the project. To stay updated with the project, you can join the Rizzmonkey Telegram channel, which has a following of more than 4,500 people. Interested readers can also go through the RizzMonkey whitepaper to learn more about the project.
14. XRP20 - Novel Ripple Derivation with Staking Rewards, Presale Sold Out Within 3 Weeks
Imagine if you had gotten into a major crypto like XRP before it blew up? While it's impossible to go back in time, a certain Web3 project is aiming to recreate the experience by combining the theme of Ripple (XRP) with novel features that make it more appealing to a modern audience.
A new coin called XRP20 enables individual investors to purchase a Ripple (XRP) version for a price 30 times lower than that of the original coin ($0.0028 against $0.000092). Retail investors were not permitted to buy XRP at its initial coin offering (ICO) in 2012, but XRP20 gives them a second shot with a token with a Ripple theme.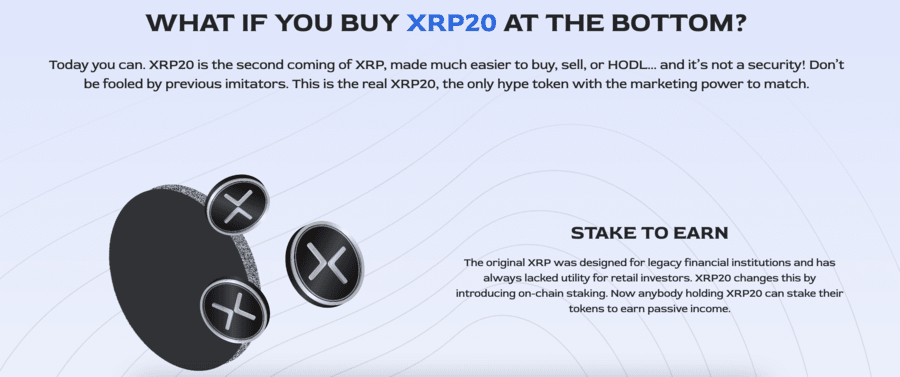 XRP20 raised $3.68 million in less than 3 weeks, demonstrating how interested people were in this token. The claiming date has yet to be finalized, but it is still possible to benefit from an estimated 57% APY in the meantime.
Recently, Ripple prevailed in a legal battle with the SEC, which had a favorable impact on the currency's price. In addition, it is set for Coinbase relisting. It could also potentially be listed on the Kraken exchange.
A variety of factors could help to make XRP20 one of the best altcoins in 2023. XRP20 does more than merely copy a popular coin targeted at major financial institutions. Retail investors can profit from staking with XRP20. The ability to purchase XRP20 at the lowest price feasible and stake it to generate passive income is what makes it useful.
The smart contract has a deflationary function that makes sure that 0.1% of each transaction is burnt, and it also reserves 10% of the supply for burning. This has the dual advantage of allowing currency staking for rewards and the potential for price increases due to token burning.
The burning mechanism increases scarcity which can have positive price implications, especially over long time horizons.

A total of 40 billion tokens are available in the presale, which constitutes 40% of the total supply of 100 billion. 10% (4B) go towards DEX liquidity while the remaining 10% (4B) go towards the burn allocation. The presale soft cap is $1,850,000 while the hard cap is $3,680,000.
Please understand that XRP20 has no connection to XRP or Ripple Labs, and that the coin is speculative in nature. All investments carry an inherent risk, and XRP20 states as much on its website. Find out more about the project by tuning in to Telegram or Twitter.
| | |
| --- | --- |
| Presale Started | August 2023 |
| Purchase Methods | ETH, USDT. |
| Chain | Ethereum |
| Min Investment | 100 XRP20 |
| Max Investment | None |
15. Ethereum - Largest Altcoin and Originator of Smart Contracts
Ethereum (ETH) is the king of altcoins. It's the second-largest cryptocurrency on the market, beaten only by Bitcoin.
Furthermore, Ethereum fathered the ERC standard used by many of today's best altcoins to watch. But is Ethereum a good investment right now?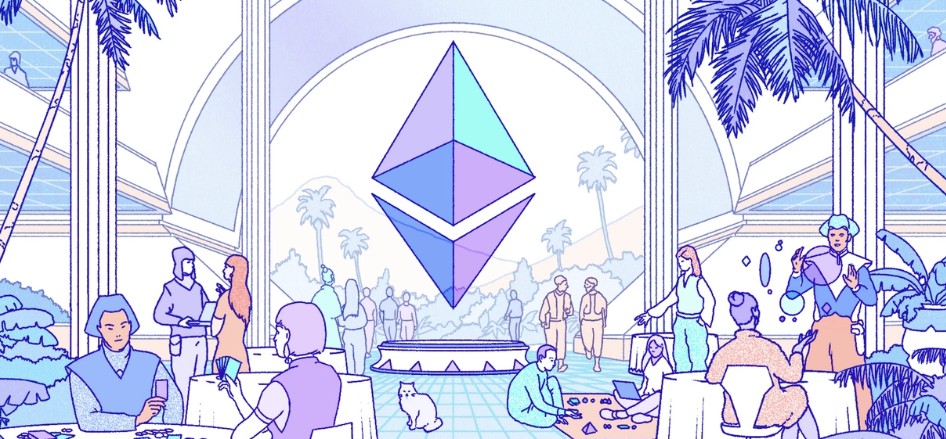 Many investors consider Ethereum to be the best crypto to buy now and for good reason. The project has consistently proven itself able to weather any bear market while still providing the same great service to its users.
A large portion of the most popular altcoins utilize the ERC standard and with the upcoming Ethereum update expected to improve throughput, this is unlikely to change anytime soon. It's also considered to be one of the best VR cryptos as it powers many of the new projects on the market.
With the amount of value the project offers, Ethereum is one of the best altcoins to buy and a worthy addition to any well-diversified portfolio.
16. Chainlink - Popular Project Bringing Off-chain Data On-Chain
Chainlink (LINK) is packed full of intrinsic value and is one of the most popular altcoins currently available.
The project's core value proposition is the ability to implement off-chain data sources into on-chain applications, something that has drastically increased the functionality of Web3 projects as well as other cryptocurrencies.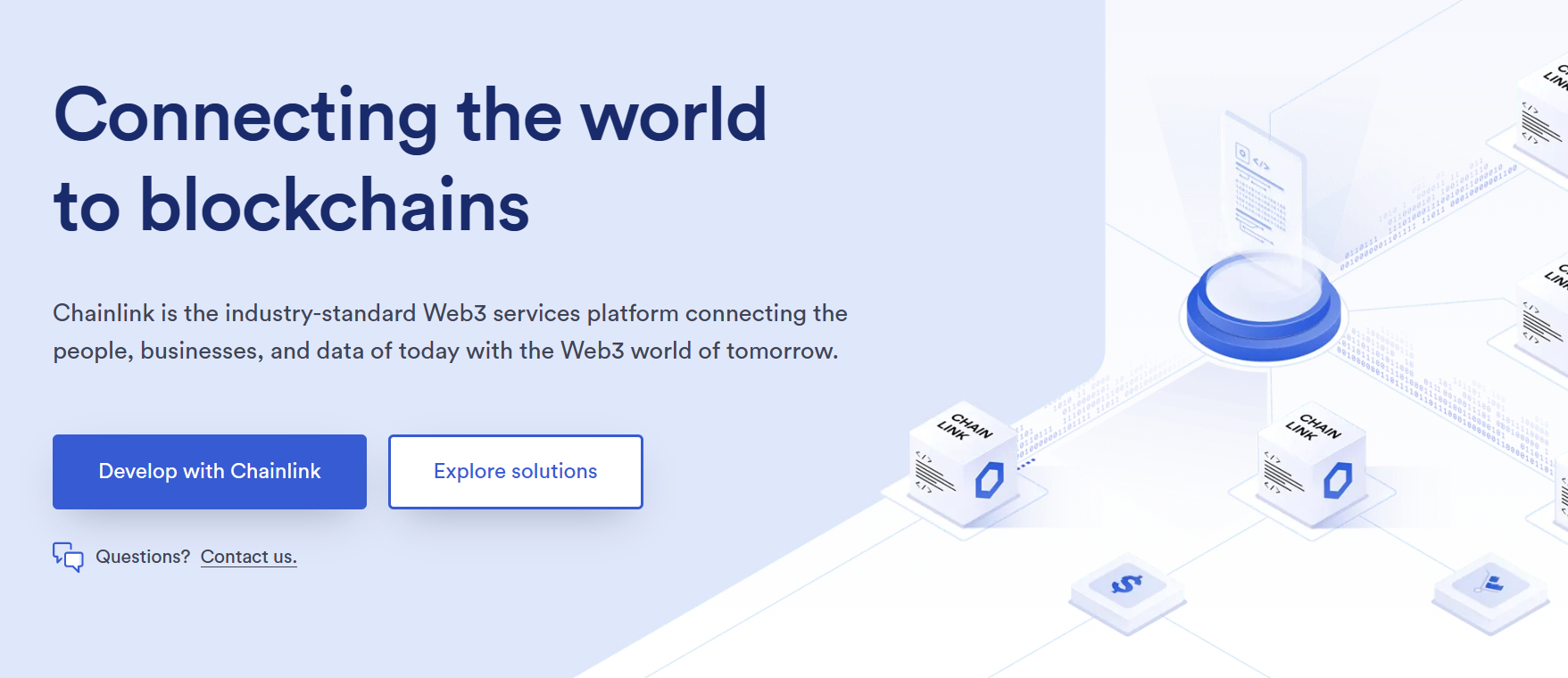 Few of even the best altcoins to watch can compete with Chainlink in terms of industry partnerships. Due to the nature of the project, it's in the interest of other cryptocurrencies to join Chainlink in order to improve their own offerings. This has resulted in Chainlink's technology being incorporated in a range of high-profile projects like Aave.
Overall, Chainlink is one of the best altcoins to buy right now. Even during the current market downturn, it has remained strong and as it uses the ERC standard, the upcoming Ethereum merge will likely award LINK a slight boost in value.
17. XRP - Transactional Cryptocurrency Touted as being the Future of Currency Exchanges
XRP is a transactional cryptocurrency that many investors believe could be the future of banking. The token was created by David Shwartz as a more cost and energy-efficient alternative to Bitcoin with Ripple Labs being created soon thereafter in order to create use cases for XRP.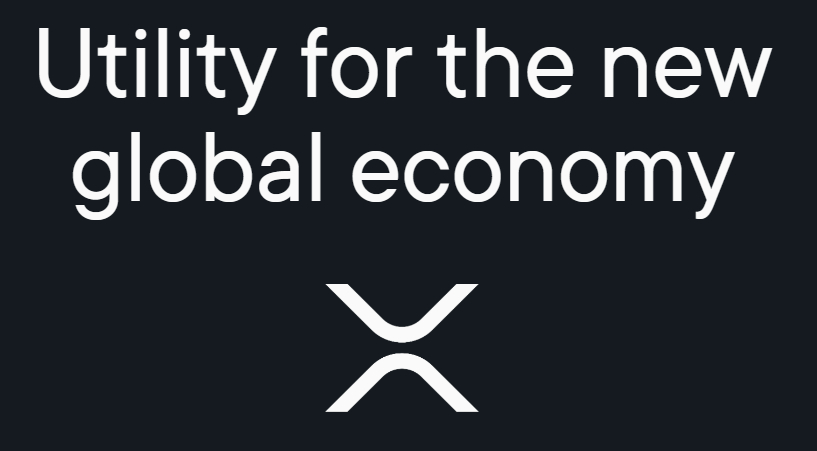 While Ripple and XRP are currently in the midst of a lawsuit from the Securities and Exchange Commission (SEC) regarding the unlicensed selling of securities, many speculate that XRP could explode following the suit's conclusion. Like Chainlink, XRP has a huge number of partnerships with financial institutions and banks including the Bank of America, MoneyGram, and American Express.
Being launched in 2012, XRP cannot be counted alongside new altcoins but it remains one of the best altcoins to buy. With its partial win over the SEC in a long standing court trial, it can also be regarded as born anew.
The price certainly reflects this, trading at $0.71 at the time of this writing, rising sharply after the SEC court victory.
18. BNB - Cryptocurrency Powering the Binance Ecosystem
BNB sometimes referred to as Build and Build, is the propriety token of the world's largest exchange (by volume), Binance.
Despite originally launching as a rather basic blockchain designed primarily to reduce fees on the Binance exchange, BNB has since expanded into the smart contract sector and is commonly used to power new altcoins like Battle Infinity.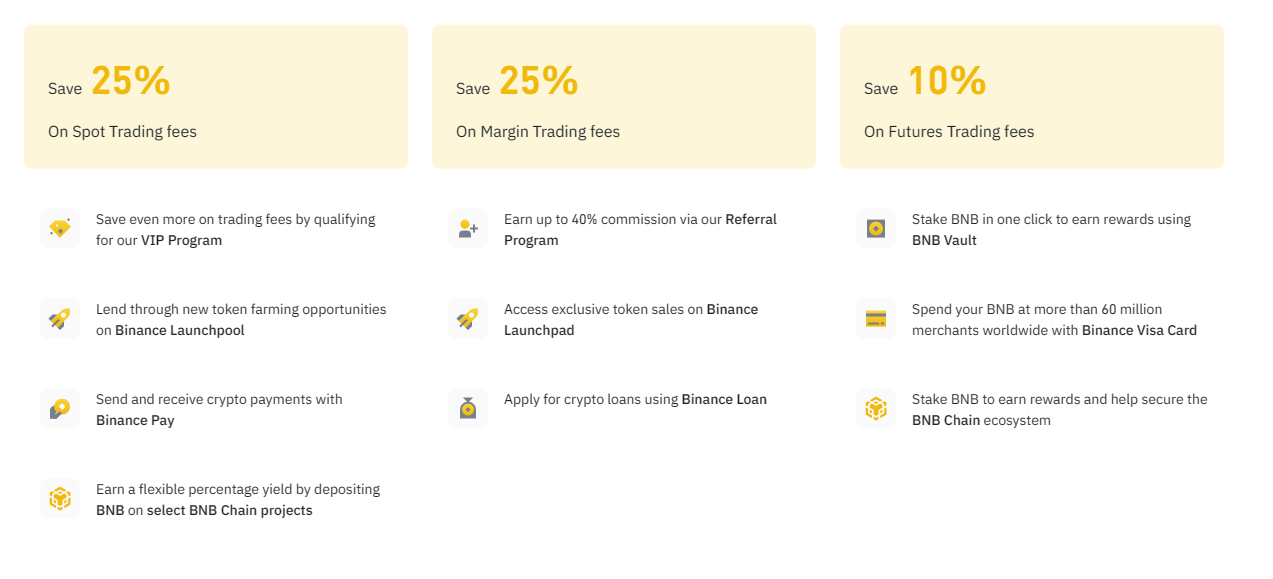 The value of BNB absolutely exploded in early 2021 as investors everywhere were looking for the next project to rival Ethereum and with the BEP standard based on ERC, it was a clear contender. The release of the Binance Smart Chain also created immense demand for BNB as it's used to fuel all transactions on the network. The majority of BNB price predictions suggest that this utility token could reach an ATH of $2,000 by the end of 2030.
All in all, BNB is one of the best crypto to buy Reddit and still offers massive upside potential. The Binance Smart Chain (BSC) ecosystem is only growing as a result of its low costs and similarities with the ERC standard, making it one of the top new altcoins to invest in this year.
What is an Altcoin?
Altcoins are made up of a brought spectrum of projects and are not limited by category, consensus mechanism, or intended use.
Altcoin simply means alternative coin. As such, any alternative (to Bitcoin) can be considered an altcoin. In practice, this means that every cryptocurrency other than Bitcoin is classed as an altcoin.
Can Altcoins Make for a Good Investment?
With Altcoins being made up of such a large variety of projects, some will make for good investments while others will slowly fade into obscurity. Below, we've shared a few reasons why altcoins can make an excellent addition to a well-balanced portfolio.
Technology
One of the most interesting aspects of altcoins is the technology they possess. With cryptocurrency already being an emerging technology, altcoins can provide access to subsectors like decentralized finance, the Metaverse, and P2E gaming.
The best altcoins to buy will typically feature new and exciting features, making them an excellent way to get to the forefront of technology.
Among those listed here, Launchpad XYZ wants to create a gateway for mass adoption to Web3 while yPredict is utilizing artificial intelligence to help crypto traders and investors. XRP20 uses staking technology to enhance a regular "dumb" token into something that rewards users.
All these projects utilize blockchain technology in different ways to provide utility and a solution to a real-world issue.
Diversification
As we mentioned, there is a massive variety of different altcoins available and as such, they can make for an excellent diversification tool. With altcoins spanning every sector within cryptocurrency, regardless of how a portfolio is composed, there will be an altcoin able to reduce an investor's exposure to a specific sector, effectively reducing risk.
Room for Growth
While Bitcoin is regarded as being a safer, blue-chip crypto, its larger size means it's more difficult for the price to move substantially in either direction. However, altcoins will have lower market caps, meaning that less demand is required for them to be pushed upward or downward.
Meme coins can often show explosive growth, but investors have to be careful about which projects they choose. Not only do some meme coins have a very short shelf life, but many are also outright scams.
As such, altcoins can make for excellent growth vehicles, provided the proper due diligence is done prior to investing.
How to Choose the Best Altcoins to Buy
With there being so many different altcoins on the market, an investor needs to narrow down their search criteria to find worthwhile projects. Sometimes you need more than just the best crypto signals to know which crypto project is worth investing in. We'll be sharing a few quick tips to help find the best altcoins to buy.
Whitepaper - One of the most effective techniques to weed out lackluster projects is thoroughly reviewing a project's whitepaper. The best altcoins to buy will always feature a well-written whitepaper that clearly explains exactly what the project does as well well as its plans for the future. If a cryptocurrency makes a lot of promises without explaining how they will be achieved, it's best avoided.
Social Media - Taking a look at social media can be a great way to determine how investors feel about a project and whether it has a strong community. While stats like followers can be easily purchased online, it's much harder to fake an active community consistently commenting and sharing so these are both factors to look out for when trying to find the best altcoins for 2023.
Utility - While it's possible for some projects to perform well and offer great returns through hype alone, it'll never be conducive to long-term growth. Instead, it's better to look out for utility-focused projects that provide a useful service or product. These altcoins will always have a demand regardless of hype or the market, making them far safer long-term investments.
How to Buy the Best Altcoin - Bitcoin Minetrix
To ensure that no investor is left unable to buy the best altcoin, we've detailed exactly how to buy $BTCMTX tokens below:
Create Crypto Wallet - Before accessing the $BTCMTX presale, investors can download a cryptocurrency wallet such as MetaMask or Wallet Connect.
Buy ETH/BNB/USDT - An ERC-20 token, $BTCMTX, can be swapped with similar assets such as ETH, BNB, and USDT. Purchase Ethereum, BNB or USDT from a suitable crypto exchange and transfer the assets to the crypto wallet.
Connect Wallet and Buy MK - Visit the Bitcoin Minetrix website and click on 'Connect Wallet'. Follow the on-screen instructions to complete the process. Afterwards, one can choose to buy WSM with ETH, BNB or USDT. Enter the amount to swap and confirm the purchase.
Claim Tokens - Investors can claim the $BTCMTX tokens after the presale ends. To do so, visit the presale website.
Where to Buy Other Altcoins
While Meme Kombat is the best new altcoin and an excellent all-around project, some investors will want to purchase another token from our list. To do this, they will require a top-of-the-line broker.
eToro - Buy the Top Altcoins with just 1% Commission
eToro was founded in 2007 and has since grown to become a leading broker for cryptocurrency and stocks thanks to its fantastic feature set. The broker is regulated by leading tier-1 bodies including the FCA, ASIC, and CySEC.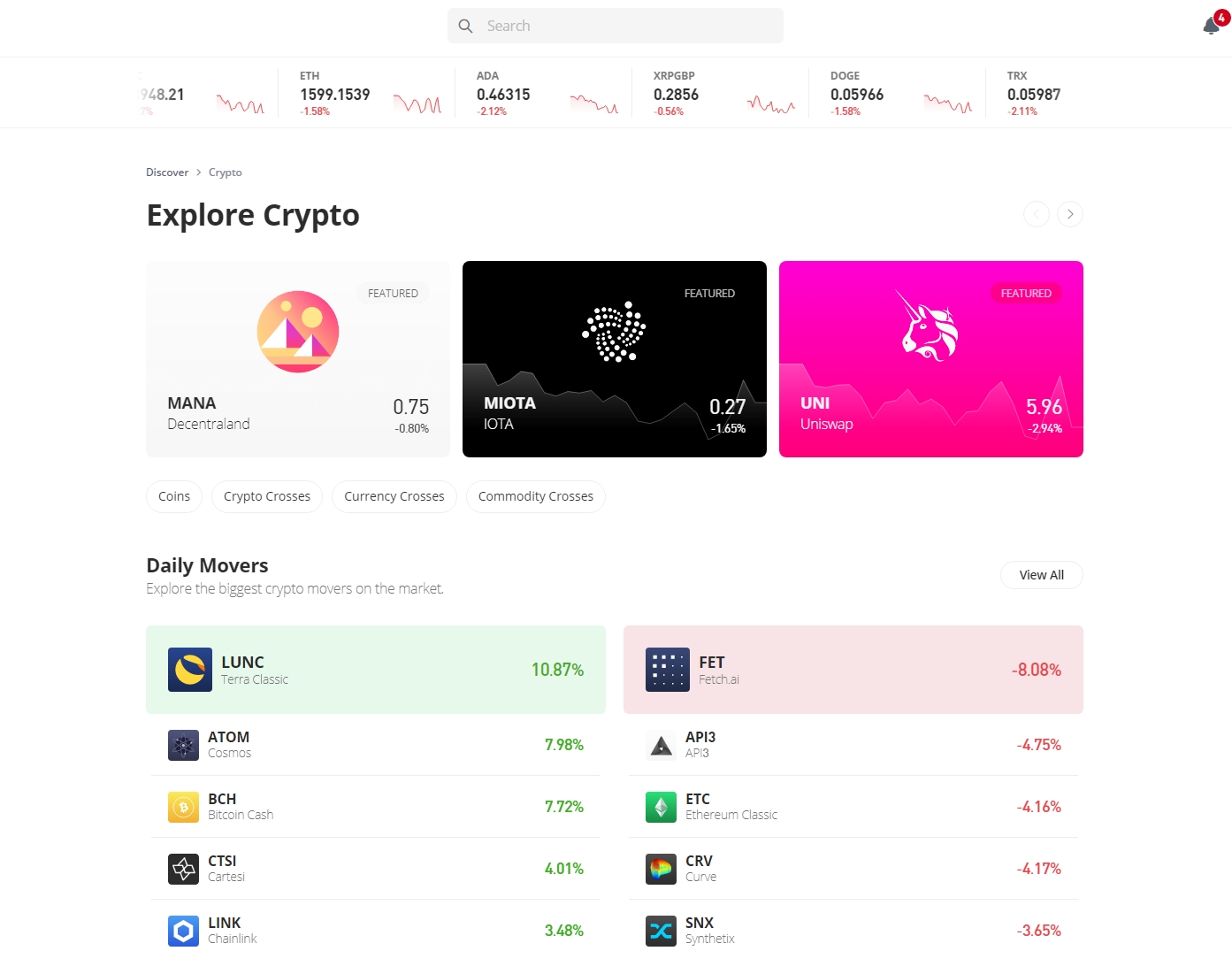 With security always a large area of concern for crypto investors, it's crucial for a broker to protect its clients. eToro secures personal details before they're sent to the server by using SSL encryption but that's not all. The majority of client funds are stored offline and untouchable in cold storage, preventing the risk of clients losing funds due to eToro getting compromised.
While eToro is great for those employing a buy-and-hold strategy, it's also a great broker for traders. It provides its users with a range of charting tools, useful when it comes to determining key price points and figuring out when to enter a trade. Furthermore, eToro allows users to set both limit and market orders, allowing users to fine-tune their entry points.
In addition to investing and manually trading, eToro supports social trading. This allows users to choose a trader they like and automatically mirror their trades, excellent for beginners trying to earn a profit or learn strategy.
Overall, eToro is an excellent platform for both beginners and more experienced investors. It offers a wide range of tools and through its various platforms, a great deal of customizability. As such, eToro is the number one broker for investors looking to stock up on altcoins.
Cryptoassets are highly volatile and unregulated. No consumer protection. Tax on profits may apply.
Conclusion
We've taken a look at some of the best altcoins to buy, discussed the benefits of altcoins, and explained how to choose the find altcoins with the highest potential. However, throughout our research, we determined that one particular project boasts the most potential.
One of the top altcoins right now is $BTCMTX, the native cryptocurrency of Bitcoin Minetrix. This is a stake-to-mine platform that provides staked token holders with cloud mining credits. Users can burn these credits and get access to Bitcoin mining power.
The $BTCMTX token will be available through ten presale rounds, where 70% of the 4 billion token supply will be allocated.
Latest Altcoin News
FAQs

What is an Altcoin?
Put simply, an altcoin is an alternative cryptocurrency to Bitcoin. As such, the vast majority of cryptos can be considered altcoins, with the term transcending category or intended purpose.
What is the number one altcoin to buy now?
Bitcoin Minetrix ($BTCMTX) is one of the top altcoins to watch right now. The cryptocurrency can be staked to earn huge APYs, and cloud mining credits. The platform tokenized cloud mining, and allows users to access Bitcoin mining power.
$BTCMTX is currently priced at $0.011 during the first presale round.
Which altcoins have the most room for growth?
While each of the projects we've reviewed has plenty of room for an upside move, recently released projects Bitcoin Minetrix, Meme Kombat, Bitcoin BSC, TG.Casino Token, Launchpad XYZ, and yPredict are all in their presale or small market cap projects that have not reached the wider market yet. Presale and low market cap projects offer low entry prices and greater potential for growth.
How many different altcoins are available?
It's impossible to provide an exact number of available altcoins as new crypto projects are released daily. Currently, there are over 2,000 altcoins on the market, with this figure continually growing.
How can I invest in altcoins?
There is a plethora of ways to invest in altcoins. The best altcoin to buy, $MK, is now on presale. Whereas other top altcoins can be easily bought using regulated broker eToro.
What is the top new altcoin?
Out of all the altcoins available to invest in right now, Bitcoin Minetrix presents the best opportunity. However, Meme Kombat, Bitcoin BSC, and TG.Casino, are viable investment options.
Are altcoins worth buying?
As there are so many different altcoins, some will be worth buying while others are best avoided. However, each of the projects we've reviewed has solid fundamentals and could make for a great investment.
---