Best Crypto ETFs to Invest in 2023
Disclosure: Crypto is a high-risk asset class. This article is provided for informational purposes and does not constitute investment advice. By using this website, you agree to our terms and conditions. We may utilise affiliate links within our content, and receive commission.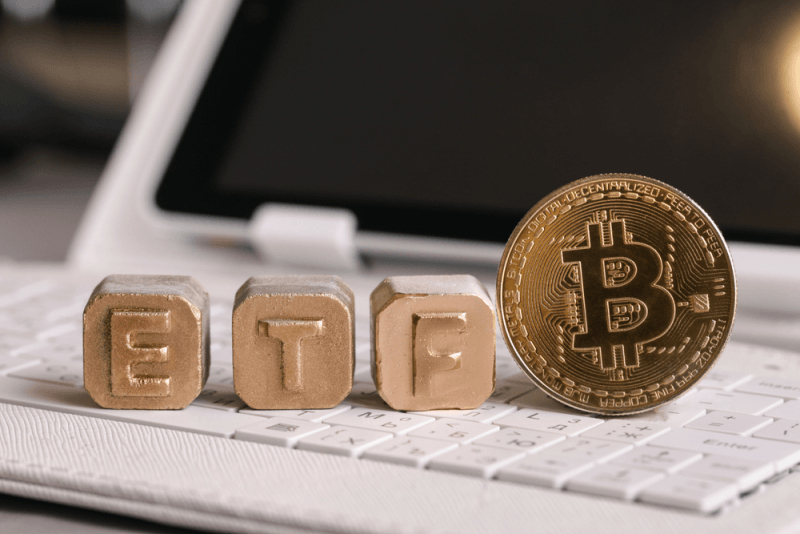 Disclaimer: The Industry Talk section features insights from crypto industry players and is not a part of the editorial content of Cryptonews.com.
A crypto ETF offers exposure to a basket of digital assets. Relevant ETFs (exchange-traded funds) in this space allow investors to easily diversify into crypto without having to handpick individual tokens. 
ETFs are considered a smart way to invest as they allow for professional management of portfolios, risk management, lower fees and some tax benefits – however, they have been criticized as they are passive and offer less diversification and lower yields than other methods of investing.
In this guide, we analyze the best crypto ETFs to consider for 2023. 
Best Crypto ETFs to Buy Ranked
Below is a list of top crypto ETFs to watch in 2023:
Bitcoin ETF Token – The ideal crypto ETF alternative with the benefits of presale investment. Bitcoin ETF Token is an ERC20 implementation that aims to capitalize on SEC approval of crypto ETFs and offers a huge 11,500% APY, with an early bird discount in its 10-stage presale.  
Bitcoin Minetrix Crypto Presale – Technically not an ETF, this new presale is allowing $BTCMTX token holders to get tokenized cloud mining credits and high staking yields. Bitcoin Minetrix will offer allocated Bitcoin mining power to users. The presale has raised nearly $3 million. 
Fidelity Advantage Bitcoin ETF – The Fidelity crypto ETF is set up as an easy option for those who want to invest in Bitcoin but do not want to go through the process of finding a crypto wallet and opening an account with a crypto exchange.
ProShares Bitcoin Strategy ETF – This is an ETF investing in and tracking the price of Bitcoin futures contracts, which allows them to lock in a price and hedge the risk of volatility associated with BTC.
Bitwise Crypto Industry Innovators ETF – This is a fund that allows investors to passively diversity into the Bitwise Crypto Innovators 30 Index, made up of 30 companies in the market, including the likes of MicroStrategy and Coinbase Global.
Ark Fintech Innovation ETF – The Ark crypto ETF is an actively managed fund that tracks businesses that seek long-term growth in the financial technology sector.
Global X Blockchain ETF – Similar to Ark, Global X instead tracks businesses related to the blockchain industry, including 25 tech and Bitcoin mining companies, with notable holdings from Riot Blockchain and Coinbase Global.
eToro's CryptoPortfolio – Another ETF alternative, eToro is a highly-trusted and highly-rated crypto broker that allows investors to diversify their holdings and invest in a wide range of cryptos and other financial assests.
Read on to learn more about the best crypto ETFs on the above list – including the assets they track and the benefits of investing in them. 
Analyzing the Best Crypto ETFs
As the blockchain space gains more popularity, cryptocurrency ETFs are becoming increasingly common. The main purpose of ETFs is to gain diversified exposure to the crypto market, with professionals handling your portfolio – as well as the tax benefits they can provide.
That being said, the ultimate goal for most traders is to maximize their returns from their crypto investments. In this regard, there might be better alternatives to investing in a cryptocurrency ETF, which offer greater potential for high returns, although with more risk attached.
In the following sections, we review the best crypto ETFs available in the market today. 
But first, we discuss some of the top projects in this space that have the capability to potentially bring in more attractive gains than conventional crypto ETFs. 
1. Crypto Presales – Better Alternative to Crypto ETFs
While crypto ETFs come with many advantages, they might not be the best way to maximize profits from the growth of digital assets. The main reason for this is that crypto index ETFs are often designed with a long-term approach in mind meaning investors may not be able to benefit from short-term price changes. 
Hence, many investors might find that the smarter option is to look for the best crypto presales emerging in the market. Crypto presales provide investors the opportunity to be part of an exciting new venture before it is launched to the public. Moreover, during presales, new digital tokens are offered at a hugely discounted rate – often more than 50% of the stated exchange listing price. 
This means that when the specific crypto is listed on an exchange, investors will be able to sell them – potentially for a notable profit. However, investors should note that presales come with greater risk attached as they are brand new to the market and do not have an established market. It is vital investors conduct independent research and due diligence before purchasing presale tokens.
With this in mind, we will now discuss two of the top crypto presales that investors might consider today:
Bitcoin ETF Token (BTCETF) – Best Crypto ETF Alternative Tied To Regulatory Approval, Offers High APY and Powerful Token Burn
Bitcoin ETF Token ($BTCETF) is the best alternative to crypto ETFs. It's not technically an ETF, but its success is intimately tied to the approval of Bitcoin ETFs by the SEC. This means that it can benefit from ETF approval, but can further provide benefits that are not available with direct investment.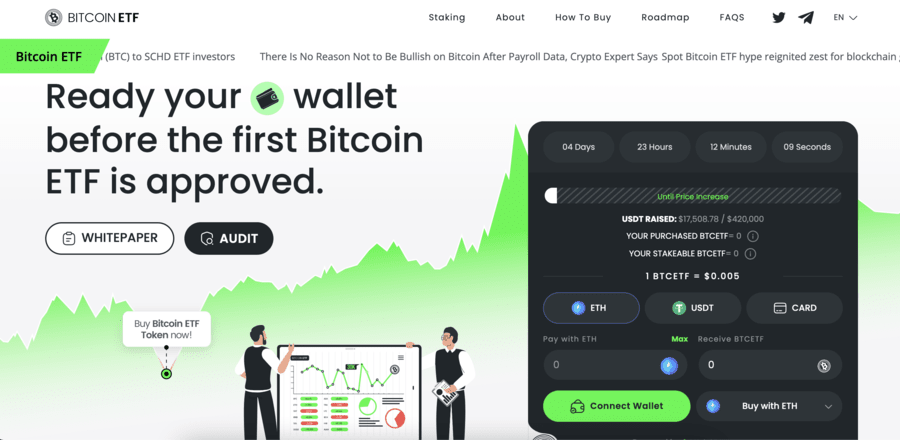 These benefits include a high APY of 11,500% as well as structured price appreciation. In stage one of the 10-stage presale, the price per $BTCETF is $0.005. By stage 10, this price will increase to $0.0068. These are two powerful benefits that are not seen with direct crypto ETF investment. 
Another advantage is token burning. Of the 2.1 billion tokens, 25% (525 million) are set to be burned. This is done through a 5% burning tax on each transaction. This is reduced by 1% at specific BTC ETF related events, such as when the SEC approves the ETF and when the ETF goes live for trading. Token burning helps to promote scarcity and tends to push up the price of all remaining tokens.
Perhaps the biggest advantage is that Bitcoin ETF Token could appreciate much more upon approval, in comparison to the crypto ETFs themselves. While the ETFs might appreciate by 20% – 50%, Bitcoin ETF Token could hit 10x, according to some researchers. While nothing is guaranteed, crypto presales can often have more upside in comparison to established, well-known, and regulated products.
If SEC approval does happen this year or next, it could be an excellent coin to have at hand, as it offers market positioning and many incentives for investors, including APY and tiered price increases. 
Plus, Bitcoin ETF Token has conducted a comprehensive third-party smart contract audit, with no serious issues found within its codebase. 
For more information on this new presale, examine the Bitcoin ETF Token Whitepaper in detail, and connect to the socials (Bitcoin ETF Token Twitter and Telegram) for essential alerts and notifications.
| | |
| --- | --- |
| Presale Started | 6 November 2023 |
| Purchase Methods  | ETH, USDT, BNB, MATIC, Card |
| Chain | Ethereum |
| Min Investment | NA |
| Max Investment | None |
Bitcoin Minetrix – Stake-to-Mine Crypto Offers Viable Alternative to Crypto ETFs
While Bitcoin Minetrix is not a cryptocurrency ETF, it offers unique earning opportunities to investors through its new token, which is currently soaring on presale. This revolutionary project is the first to tokenize cloud mining.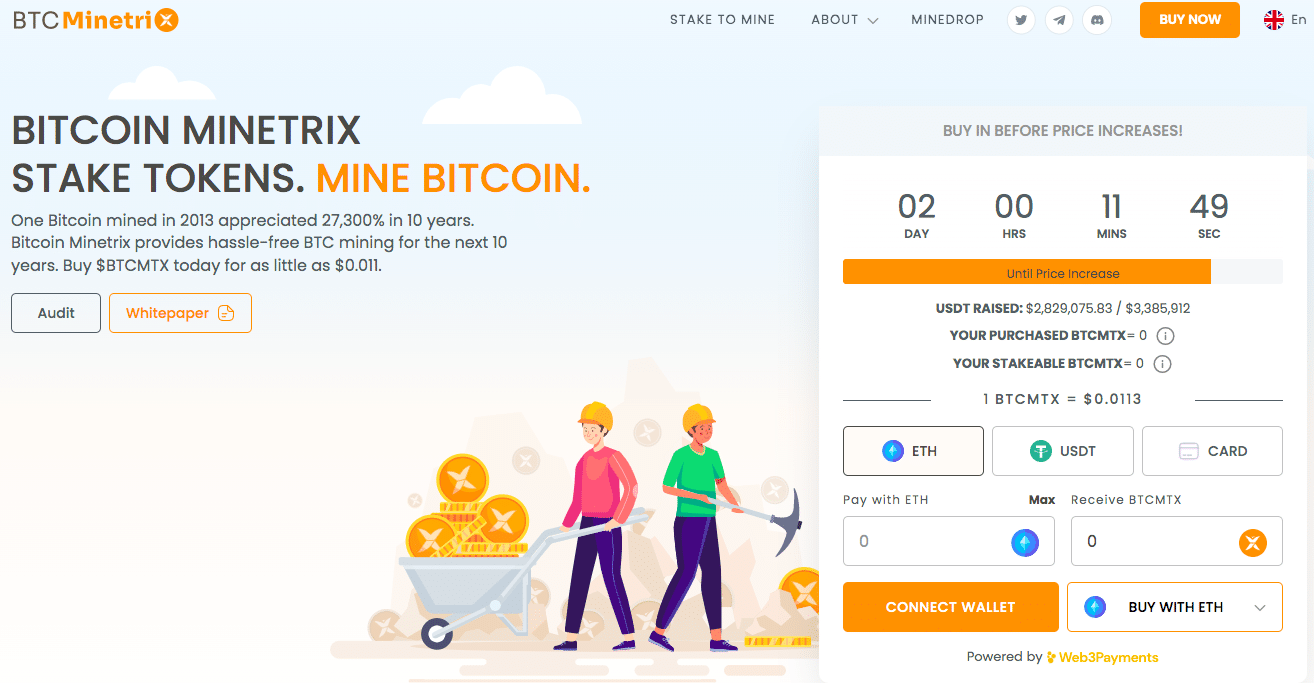 Through cloud mining, everyday people can access rented mining time which is offered by third-party corporations. This reduces the entry barrier to mining due to the high costs of setting up mining rigs and purchasing advanced mining equipment. However, multiple scams and dubious activities taking place in the cloud mining space makes this an unreliable concept. 
Therefore, Bitcoin Minetrix has decided to decentralize cloud mining by offering ERC-20 tokenized cloud mining credits. Since these credits are recorded on a distributed ledger, they cannot be duplicated or stolen. Thus, investors have more transparency and autonomy over their holdings. 
To earn the credits, users can stake $BTCMTX – the native cryptocurrency. After purchasing these tokens through the ongoing presale, you can stake your holdings on Bitcoin Minetrix's Ethereum-powered smart contract. Not only will you generate these credits, but Bitcoin Minetrix will also offer annual staking yields as high as 200%. 
While these ERC-20 tokens cannot be traded, they can be burned on the ecosystem to earn Bitcoin cloud mining power. This mining power is used to get allocated mining times, which allows one to potentially earn a portion of crypto mining revenues.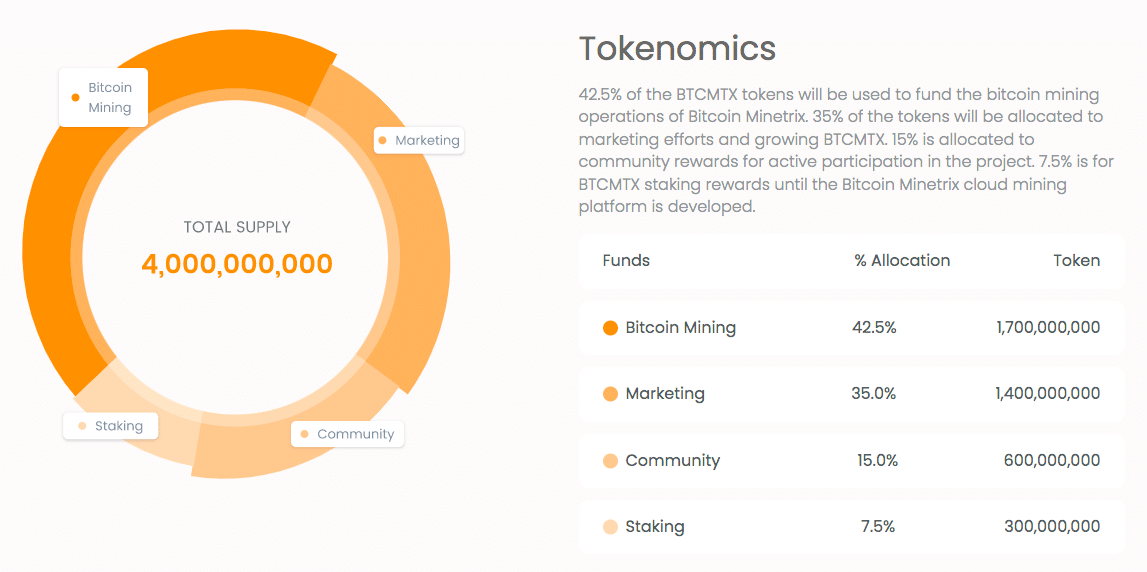 For all these use cases, $BTCMTX is emerging as one of the fastest-growing cryptos. In only a few weeks since the presale launched, Bitcoin Minetrix has raised over $2.8 million. At press time, $BTCMTX is priced at $0.0113 per token. By the final presale stage, the price will surge to $0.0148 – a 30% price jump. 
Bitcoin Minetrix has a low supply of 4 billion, and is allocating 70% of the supply across 39 presale rounds. Stay tuned for more presale updates and project developments by reading the Bitcoin Minetrix whitepaper and joining the Telegram channel. 
| | |
| --- | --- |
| Presale Started | 26 Sept 2023 |
| Purchase Methods  | ETH, USDT, BNB |
| Chain | Ethereum |
| Min Investment | $10 |
| Max Investment | None |
2. Fidelity Advantage Bitcoin ETF – Easy Alternative to Buying Bitcoin Directly
This Fidelity crypto ETF is mainly targeted at investors who want to gain exposure to Bitcoin but do not want to go through the hassle of opening an exchange account or finding a digital wallet. Instead, investors can easily buy, sell, and trade the Fidelity Advantage Bitcoin ETF via traditional brokerage accounts. 
In return, the Fidelity Advantage ETF offers secure storage of Bitcoin. This fund was launched in late 2021 and is traded on the Toronto Stock Exchange. The fund is managed by Fidelity's Canadian arm.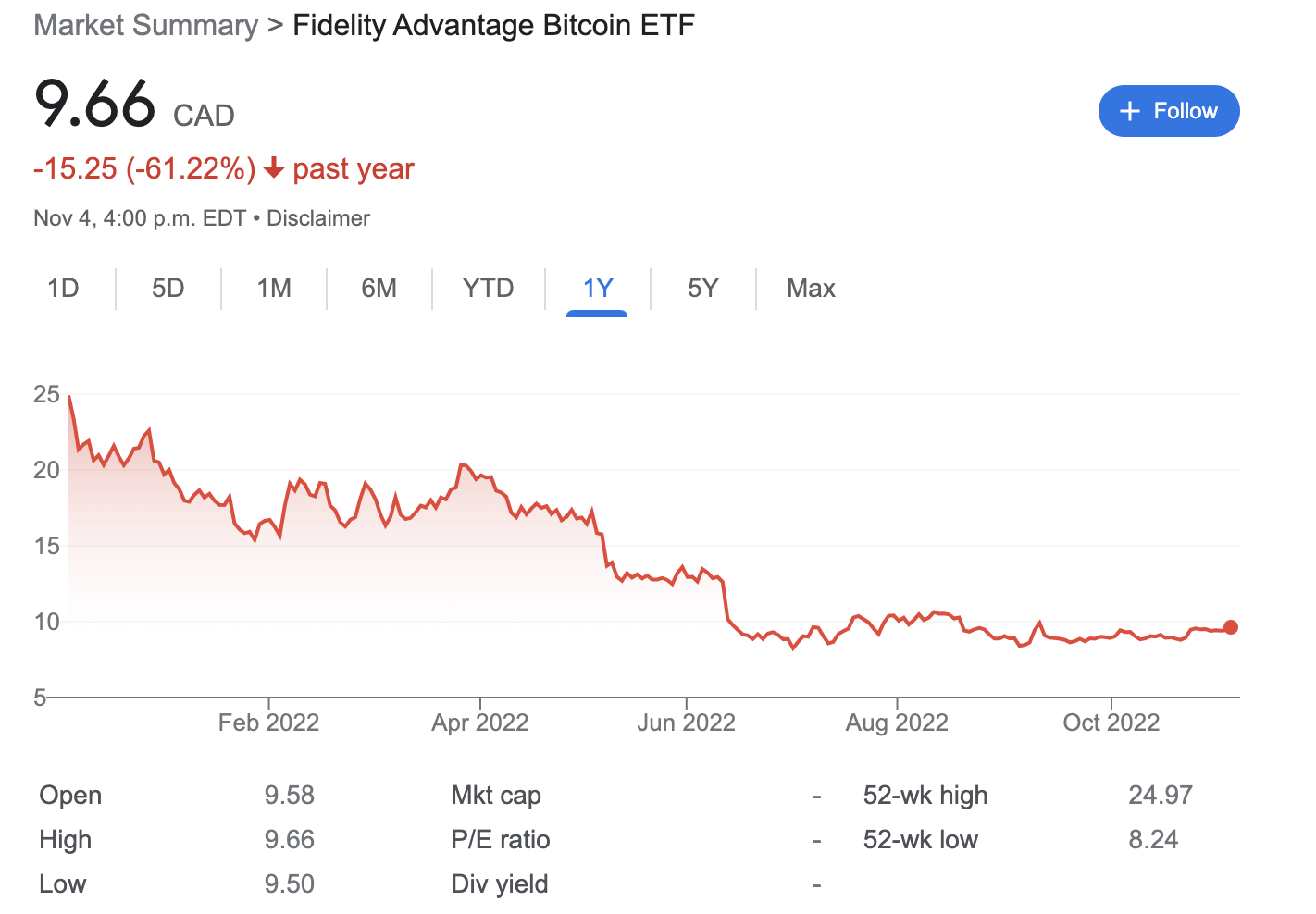 The Fidelity Advantage Bitcoin ETF allocates 100% of its funds to buying physical BTC coins – which are stored in secure cold wallets. Meaning, this is one of the best cryptocurrency ETFs to offer direct exposure to Bitcoin. However, at the same time, there is no room for diversification here – which might be discouraging for many investors. 
The management fee for this Fidelity cryptocurrency ETF is 0.40%. On top of this, there is also a management expense ratio of 0.96%. Since its inception, the value of this crypto ETF has dropped by around 62%. 
3. ProShares Bitcoin Strategy ETF – Cryptocurrency ETF Investing in Bitcoin Futures Contracts
As with equities and commodities, the crypto space also has a substantial derivatives market. In fact, crypto traders often opt to deal with futures, which allows them to lock in a price, thus hedging the risk of volatility associated with the digital asset. The ProShares Bitcoin Strategy fund, with the crypto ETF ticker BITO, tracks the prices of Bitcoin futures contracts. 
Crucially, traders should bear in mind that future contracts don't always track the spot price of digital assets accurately. This difference in price is called a 'tracking error'. While it is not entirely possible to avoid, the BITO ETF has done a solid job of tracking the price of Bitcoin since its inception.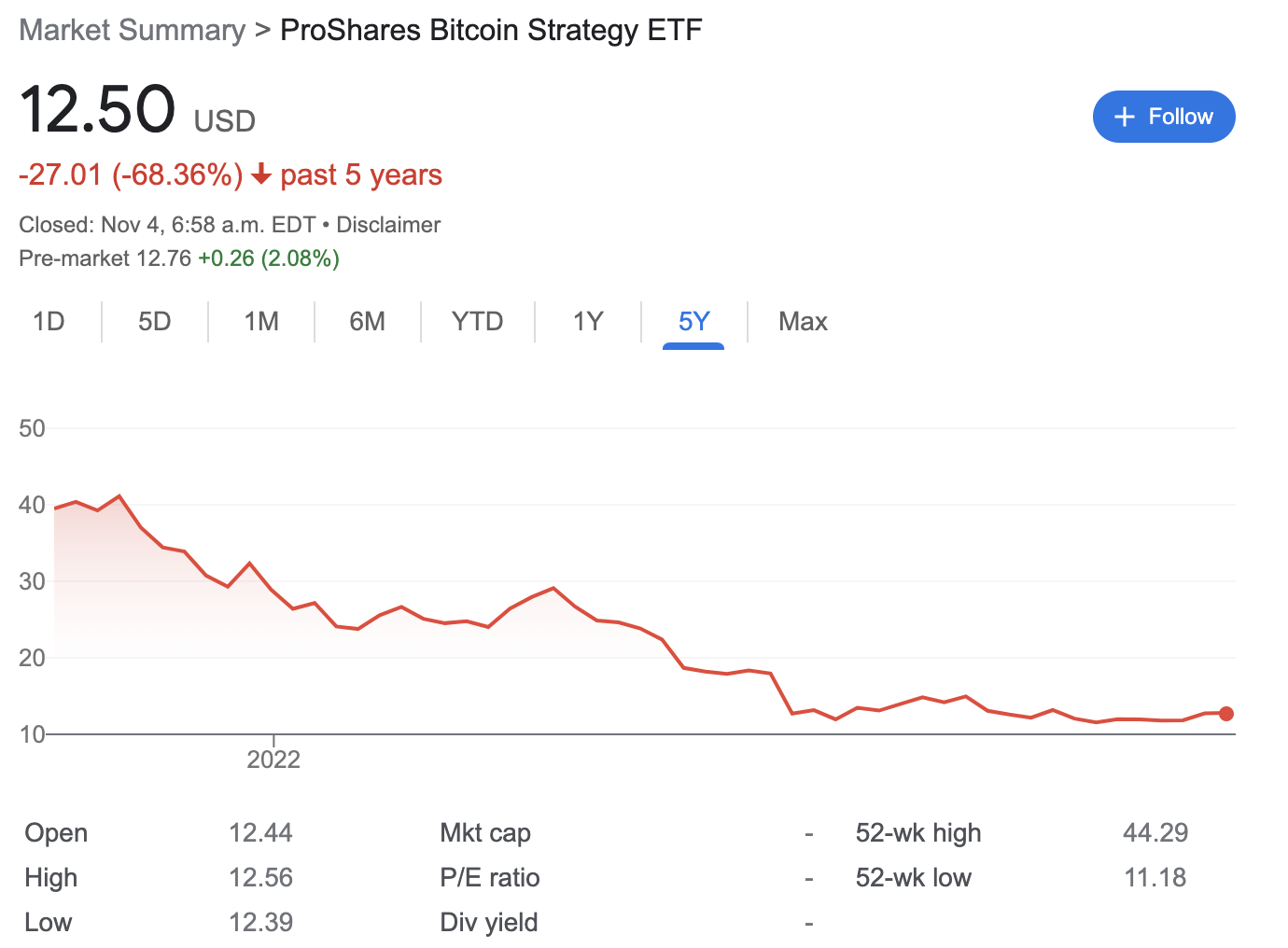 This cryptocurrency ETF was launched in October 2021, and since the beginning of 2022, has gone down by around 68%. On the other hand, the price of Bitcoin has decreased by nearly 63% during the same time. 
While tracking error could be a reason for this disparity, the difference may also be due to the fees associated with this ETF. The Fidelity cryptocurrency ETF has a relatively high expense ratio of 0.95%. 
4. Bitwise Crypto Industry Innovators ETF – Diversify Into Crypto-Related Companies
The Bitwise Crypto Industry Innovators ETF is a passively managed fund that tracks the Bitwise Crypto Innovators 30 Index. This crypto index fund comprises stocks of 30 companies that are involved in the digital asset market. Some of the top holdings of this crypto ETF stock include Microstrategy, Coinbase Global, Silvergate Capital, Marathon Digital, and Hut 8 Mining. 
As is clear, this top crypto ETF has diversified into several sectors – such as financial services, mining, digital payments, and more. This crypto index ETF was launched in 2021 and has lost nearly 80% in value over the past 12 months.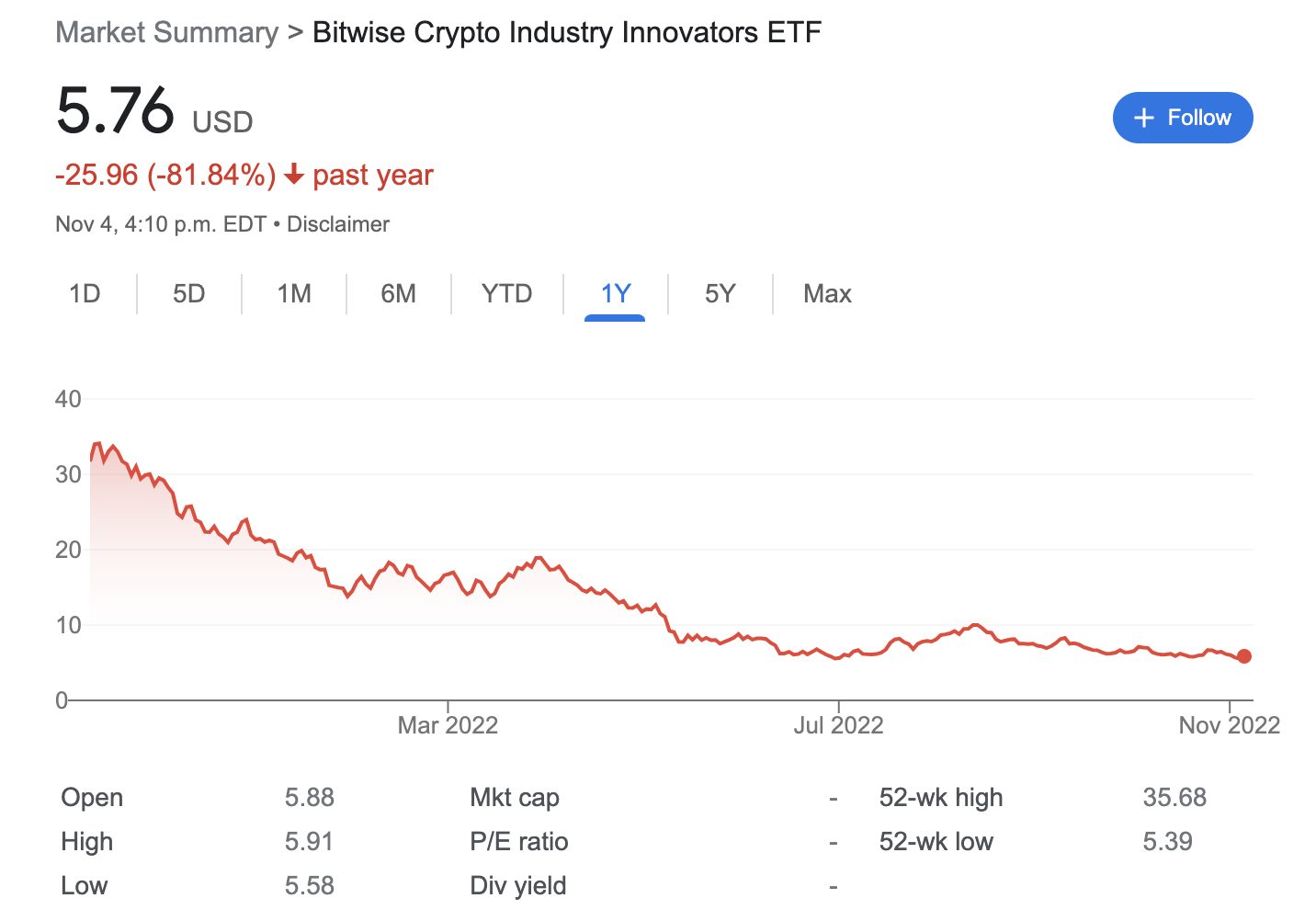 Since all the stocks in this fund have 75% of their net holdings in digital assets – this suboptimal performance doesn't come as a surprise. After all, the wider crypto market is embroiled in a prolonged bearish phase. 
When compared with the others ETFs for cryptocurrency listed in this guide, this fund has a low expense ratio of just 0.50%. 
5. Ark Fintech Innovation ETF – Best Crypto ETF for Tech Investors 
Ark is one of the leading investment-service providers that offer ETFs related to the crypto space. Its Fintech Innovation ETF is an actively managed fund that tracks businesses that seek long-term growth in the sector of financial technology. 
The top holdings of this Ark crypto ETF include companies relying on blockchain technology and providing services such as transaction innovations, customer-facing platforms, and more. 
The Ark Fintech Innovation ETF was listed on the NYSE in 2019. Over the past year, the value of the ETF has declined by around 70%. If choosing this ETF, investors will also have to take into account the expense ratio of 0.75%. 
This fintech ETF has 31 holdings, which include Coinbase, Block, and Roblox. In other words, ARKF is the best crypto ETF for those who wish to gain indirect exposure to digital assets – while diversifying into companies operating in sectors such as the metaverse, blockchain tech, and crypto exchange services. 
6. Global X Blockchain ETF – High-Growth ETF Tracking Blockchain Companies 
This is another new crypto ETF that tracks the performance of businesses related to the blockchain industry. 
It invests in 25 tech and Bitcoin mining companies – with the latter profiting from the underlying blockchain technology. Some of the notable holdings include Riot Blockchain and Coinbase Global. 
As is evident, this cryptocurrency ETF stock fund is not a pure play; however, it does offer good proxy exposure to the blockchain space. 
Moreover, it also has a 0.9 correlation with the price of Bitcoin – which means that the performance of BTC tokens can have a direct impact on the value of this ETF. The Global X Blockchain ETF comes with an expense ratio of 0.5%.
7. eToro's CryptoPortfolio – Invest in Top 20 Digital Assets by Market Cap
Investors do not need to search for the best crypto ETF providers to benefit from diversification. Instead, a select number of brokers also offer managed portfolios that function more or less like ETFs. For instance, eToro, a leading online broker, has a unique feature called Smart Portfolios. 
eToro's Smart Portfolios are curated collections of assets that track a specific theme. The broker has dozens of Smart Portfolios, some of which are focused on the crypto market.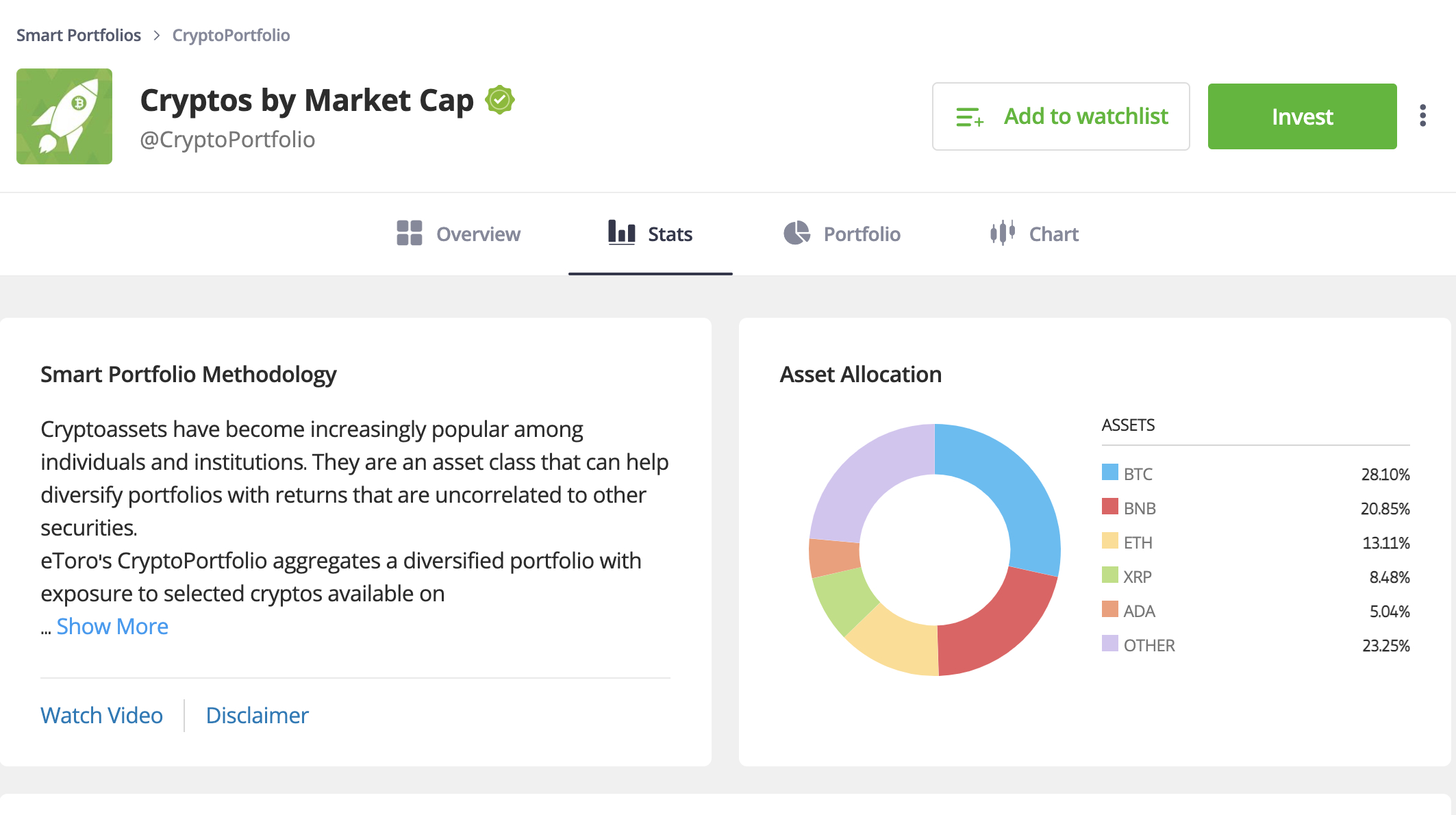 The CryptoPortfolio, in particular, consists of the top 20 digital currencies based on market cap. This includes Bitcoin, Ethereum, Binance Coin, Solana, Cardano, Ripple, Polkadot, and 13 others. 
The CryptoPortfolio is periodically rebalanced to ensure that it aligns with its market capitalization objectives. Since this is not technically a cryptocurrency funds ETF, investors do not need to worry about tracking errors or management fees. Instead, investors receive a fully managed and diversified portfolio of cryptocurrencies. 
What is a Cryptocurrency ETF?
A cryptocurrency ETF is an exchange-traded fund that tracks the price of one or more digital assets. The main advantage of crypto ETFs is that they allow investors to gain exposure to the blockchain market without taking direct possession of digital tokens. Moreover, cryptocurrency ETFs are the easiest way to build a diversified portfolio. 
That being said, diversification isn't the only reason for investors to prefer crypto ETFs. For many investors, crypto ETFs simplify the process of investing in digital currencies. For instance, when investing in digital tokens via ETFs, there is no need to learn about how to store cryptocurrencies safely or sign up with an exchange.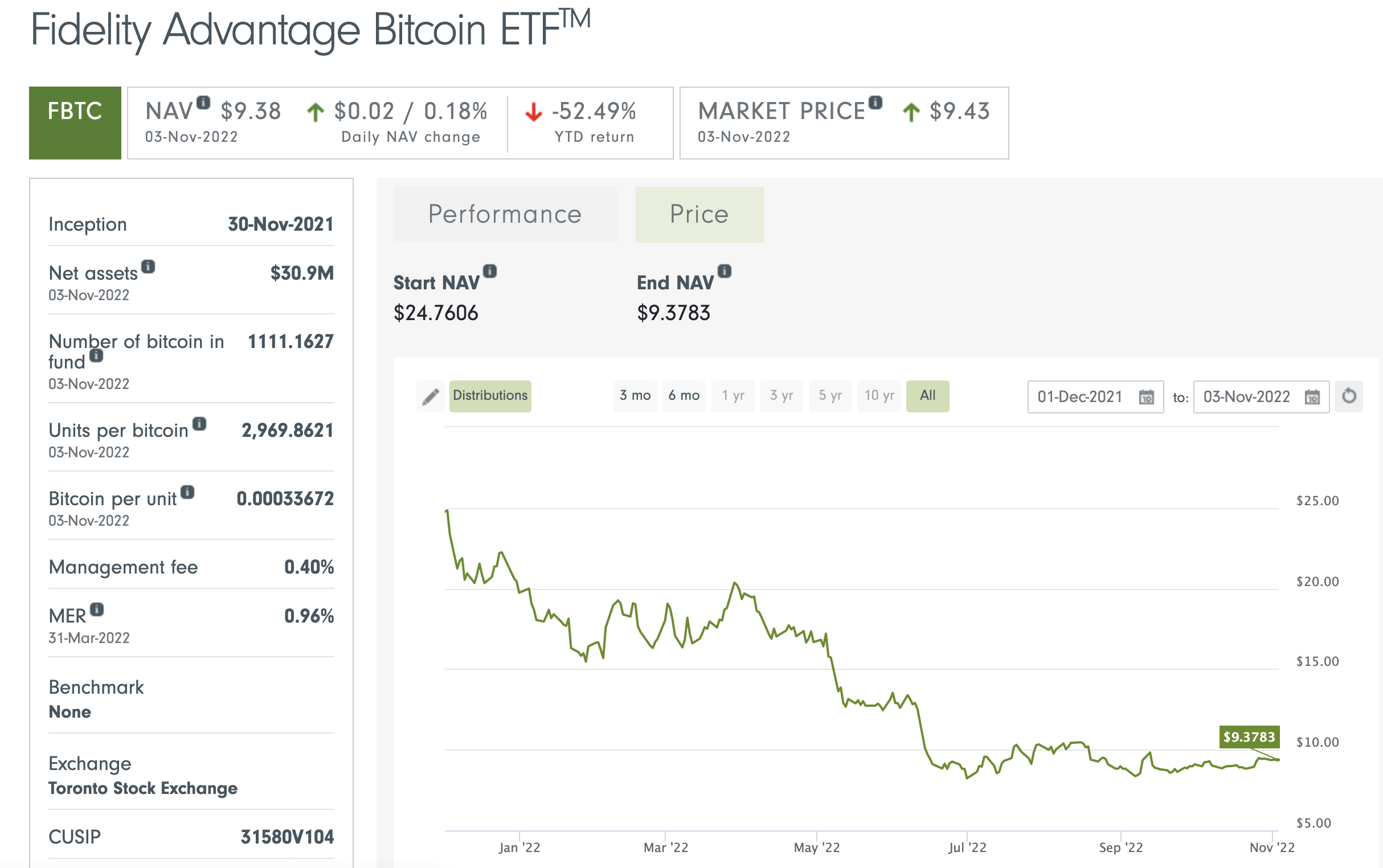 Instead, an ETF for crypto can be accessed via traditional online brokers. Some of the best crypto ETFs are launched by established brokerage platforms – such as Fidelity, Ark, and ProShares. Furthermore, crypto ETFs also give investors room to decide how they want to gain exposure to the blockchain market. 
To elaborate – while some ETFs directly hold cryptocurrencies in their funds, others track derivatives – such as futures contracts. Additionally, there are also crypto ETFs that hold equity positions in companies that are related to blockchain technology. 
All that being said, crypto ETFs remain speculative investments, and as such, they still carry a significant risk of volatility. 
How do Crypto ETFs Work?
Finding the best crypto ETF can be a tough challenge for investors. After all, as our cryptocurrency ETF list has pointed out, there are several diverse choices available out there. 
As such, it is important to understand the different options. 
How a crypto ETF performs will ultimately depend on the assets it tracks. Based on the type of underlying asset, crypto ETFs can be broken down into a few broad categories:
ETFs that are physically backed by cryptocurrencies – such as the Fidelity Advantage Bitcoin Fund
ETFs that track the price of crypto futures – like the ProShares Bitcoin Strategy ETF
ETFs that have holdings in crypto-related stocks – like the Global Blockchain ETF
Investors can choose the best crypto ETF for their portfolio based on their risk appetite and the exposure they seek to the blockchain space. 
Are Crypto ETFs Worth Investing in? 
Investors who own the best crypto ETFs may benefit from the following:
Diversification
Perhaps the most obvious attraction of crypto ETFs is that they can give exposure to a group of digital currencies. 
The best cryptocurrency ETFs track a broader range of assets. Some crypto index ETFs follow the performance of not only digital currencies but also companies operating in this sector.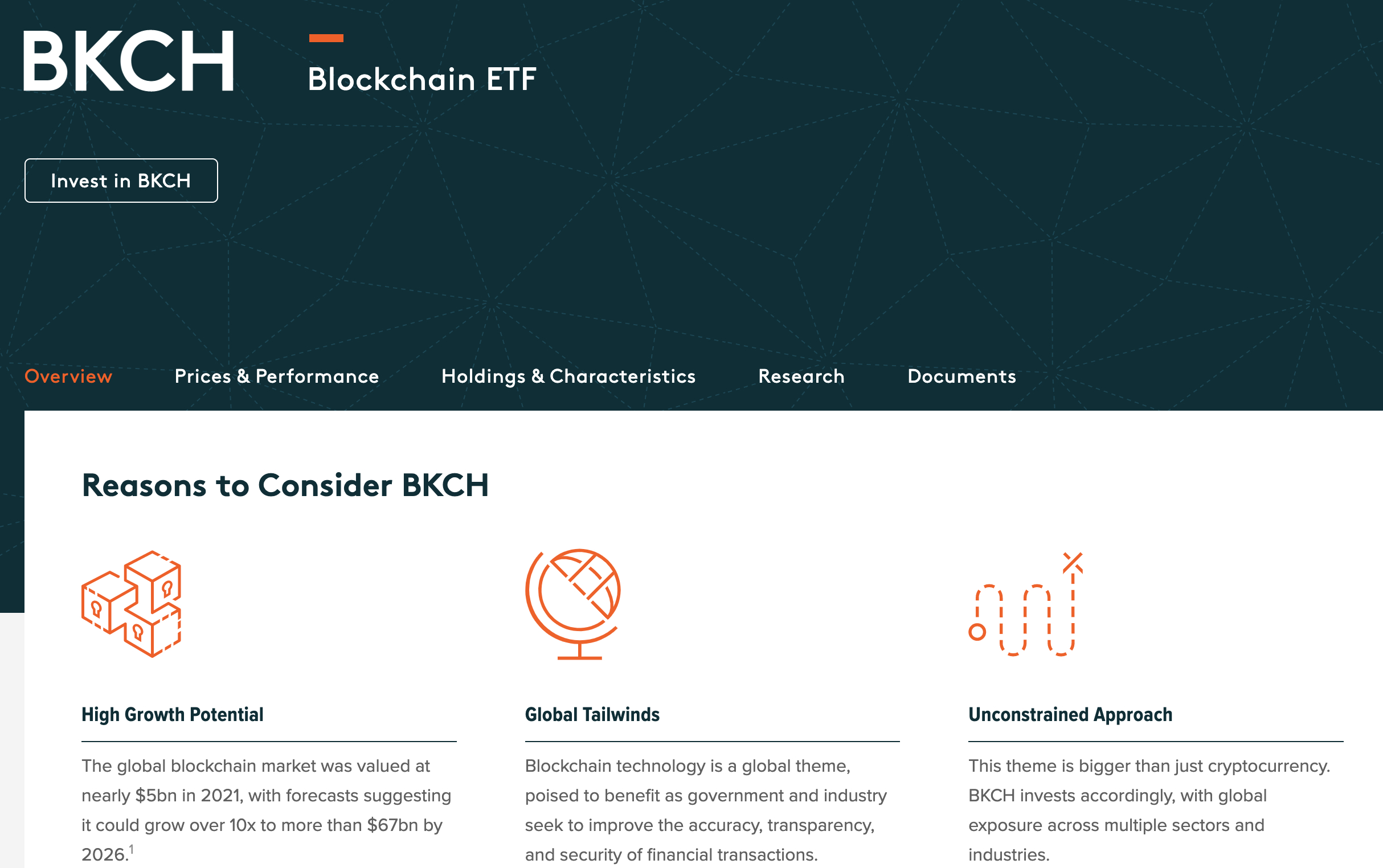 For instance, the Fidelity Crypto Industry and Digital Payments ETF track the performance of blockchain and digital payment companies. This top crypto ETF holds several dozen stocks – operating in the tech industry and the financial services sector. 
Similarly, the Global Blockchain and the Ark Fintech ETFs provide investors with a great level of diversification. This means that cryptocurrency ETFs provide traders with the chance to branch out their investments not only within the digital-asset space but also in the equity market. 
Crypto ETFs are Actively Managed
When buying individual cryptocurrencies, investors should regularly follow the market and adjust their portfolios accordingly. 
On the other hand, the best crypto ETFs are managed by the provider. In most cases, there will be a fund manager who studies the market and rebalances the cryptocurrency ETF from time to time. 
This ensures that the ETF will continue to be adjusted based on market conditions. For instance, the fund manager might increase the allocation of the cryptocurrencies with the most potential and reduce the exposure to digital coins that are more volatile. 
In other words, with cryptocurrency ETFs, investors will not have to worry about or have to keep up with the market at all times – nor rebalance their portfolio manually.  
Crypto ETFs can be Traded Like Stocks 
Another advantage of crypto ETFs is that they can be traded like equities. 
For instance: 
Cryptocurrency ETFs can be purchased on margin – by borrowing money from the broker. 
Crypto ETFs can also be sold short, making it possible for investors to make profits with the falling prices of digital assets. 
ETFs also allow investors to manage risk by investing in funds that track derivatives such as futures and options. 
Since ETFs are traded like stocks, they can also be accessed via traditional online brokers. This means that investors need not learn how to use a crypto exchange, nor do they have to worry about safely storing their digital assets. 
Risks of Crypto ETFs
The biggest risk associated with cryptocurrency ETFs is volatility. The price of digital assets can swing heavily on a daily basis, sometimes – even in a matter of minutes. Daily corrections of more than 10% are not uncommon in the crypto space. 
In fact, the price of cryptocurrencies can remain depressed for many months before they go up. Therefore, cryptocurrency ETFs are best suited for risk-tolerant investors.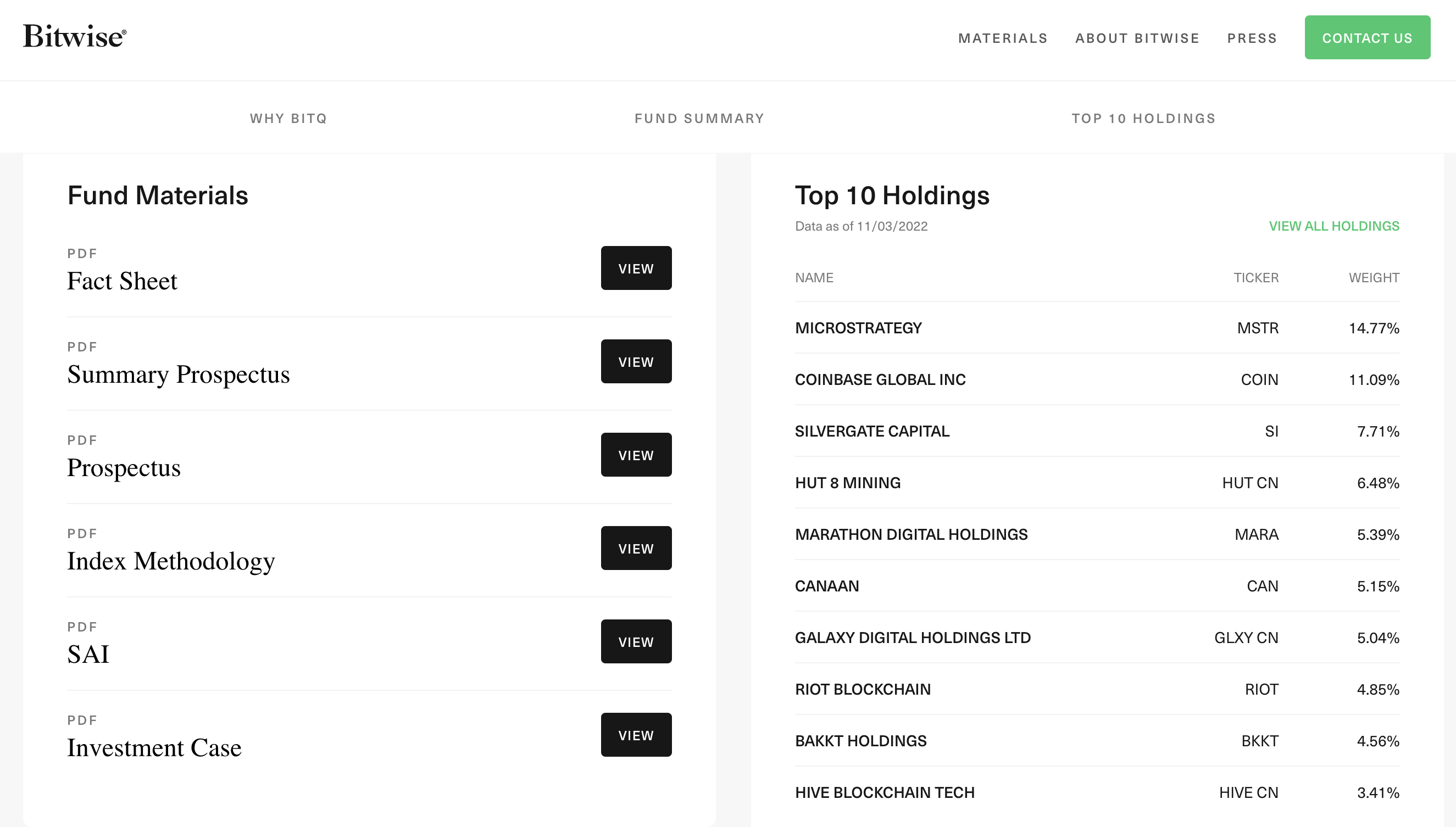 Moreover, unlike digital assets, crypto ETFs do not trade 24/7. This means that after-hour and weekend fluctuations in the price of cryptocurrencies can leave ETF investors with sudden losses – when the market reopens. 
In simple terms, investors should be aware of these fluctuations when trading crypto ETFs over the long term.
Crypto Presales: a Better Alternative to Crypto ETFs?
Earlier in our guide, we offered an overview of why crypto presales might be a better alternative for investors, especially for those who seek to generate profits in the shorter term. In this section, we offer some additional insight into crypto presales. 
A cryptocurrency presale is a way for new blockchain projects to raise funding. In many ways, crypto presales or ICOs can be compared to stock IPOs as they allow investors to get an advantage by getting the first crack at discounted tokens. 
When these crypto presale tokens are finally launched on an exchange, they might be listed at a higher price – when compared to their presale rates. As such, the key is to identify the best upcoming ICOs to invest in and, most importantly, at the right time. 
However, as noted above, crypto presales are much riskier than ETFs and investors should understand their own risk tolerance and complete thorough research before purchasing tokens from any crypto presale project.
Conclusion
This guide has listed and analyzed the best crypto ETFs available in the market right now. To sum up, crypto ETFs can be bought and sold via traditional brokerage platforms, and they also facilitate diversification. 
However, crypto ETFs cannot be traded 24/7 – meaning investors can face volatility issues when the market is closed. Therefore, many argue that investing in crypto presales is the better alternative to making profits in this market as they offer higher rewards and more control, although they also present a higher risk.
Bitcoin ETF Token is our top choice for the best crypto presale. It offers huge APY and all the benefits of crypto presales, while still remaining intimately tied with the crypto ETF markets. The token retails at a discount in its early presale stage. 
It could explode in value by far more than the actual ETFs themselves, should approval occur this year or next. 
FAQs
Is there a crypto ETF?
Yes, there are several crypto ETFs available in the market today. However, the biggest gains in this space are not associated with ETFs but with crypto presales. Crypto presales allow investors to buy digital assets at a discounted price. Moreover, the best crypto presales come with a high upside potential, which means that investors can maximize profits if and when the price of the digital asset goes up. 
Which crypto ETF is best?
The best crypto ETF for those who seek direct exposure is the Fidelity Advantage Bitcoin Fund – which invests in physical Bitcoin. Alternatively, investors can also consider ETFs that track crypto futures or stocks in the blockchain space. 
Can you buy crypto in an ETF?
As our crypto ETF list highlighted, there are several exchange-traded funds that offer direct exposure to digital assets. Investors can also opt for managed portfolios that consist of a basket of digital assets – such as the Smart Portfolios offered by eToro. 
Does Vanguard have a crypto ETF?
Those searching for a Vanguard cryptocurrency ETF will unfortunately be disappointed. There is no Vanguard crypto ETF trading in the market as of writing. However, Vanguard does support the Grayscale Bitcoin Trust, which is an investment vehicle that solely invests in and derives value from the price of BTC.
Are there any Ally crypto ETFs?
Although Ally is a popular investment brokerage platform, it does not support any ETF for cryptocurrency.
---