Market Sentiment: Positivity Among Top Coins Is Taking Over
Out of the top 10 coins by market capitalization, six are above the negative line in terms of market sentiment, while one is in the neutral waters, according to Predicoin, a crypto market sentiment data analysis service. The average score comes up to 5.41, an improvement compared to last week (5.02.)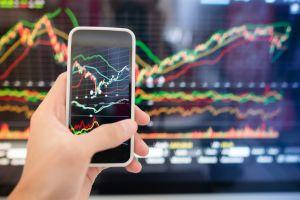 Moreover, the market is in green today. Bitcoin just broke the USD 3.900 level (UTC 4:40 AM,) last time seen on January 10, while ether surpassed USD 146 and other top coins are registering gains of 6% - 22% in the past 24 hours.
During the past week, the sentiment towards Stellar saw an increase of 22.7%, followed by Bitcoin Cash and EOS with 7.8% and 7.7% respectively, while TRON and Ripple improved the least at 0.4% and 1% respectively. However, it must be noted that none of the top 10 coins have had their sentiment score drop after the past week - whereas last week, Stellar sentiment dropped by 9.3%, so Stellar's recovery this week is strong.
Sentiment change among the top 10 coins:
(5 is neutral, below 5 is negative, above 5 is positive.)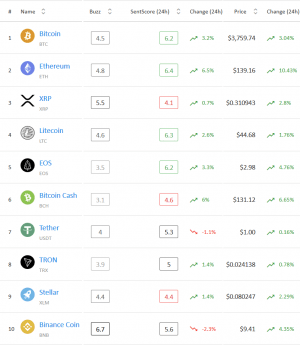 Part of the improved sentiment surrounding Stellar comes possibly from its Stellar v10.2.0 release, which introduced many new stabilizing elements and added new technical features, launched on February 14th. However, the sentiment around the coin is still negative at 4.6 compared to last week's 3.6.
Bitcoin Cash's high weekly improvement score is also a surprise compared to last week, when it was the fastest dropping coin by sentiment score out of the top 10 - but it's still far from winning, given that it now scored 4.6 total.
The only loser that kept dropping compared to last week is XRP with a score of 4.1, compared with last week's 4.4. The drop coincided with the announcement that banking giant, JPMorgan plans to launch JPM Coin, which sparked debates whether it poses any risk for XRP.
As of Monday (UTC 10:28 am), the clear winners of the week are Ethereum , Litecoin , Bitcoin and EOS. In the more neutral range are Binance Coin, Tether, and TRON, although the fact that their scores are not below 5 could arguably mean they are winners as well. Tether and TRON are newcomers compared to last week, when Bitcoin, Ethereum, Litecoin, EOS, and Binance Coin were the only ones on the winning list.
Bitcoin SentScore in the past 7 days: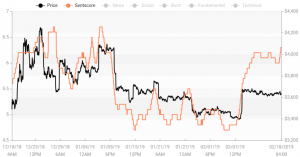 Ethereum can thank its technical aspects (7.9) for such a high score, while the buzz around it still needs some improving (4.8). Litecoin's situation is similar: its technical aspect is rated a whopping 8.7, but the buzz around is only at 4.6, certainly affecting the total score. Meanwhile, XRP (this week's biggest loser) needs most work on those same technicalities which were rated at only 2.7, but its strongest point were the news surrounding it, which scored 5.5.
Meanwhile, Predicoin co-founder and CMO Pierre-Alexandre Picard, highlights their buzz indicator. The strongest buzz is around Binance Coin.
"There is an interesting correlation between the buzz in the past days, weeks and price growth, supported by a positive trend of news and social sentiment (and claims by Binance CEO that the exchange can survive any bear market,) the CMO said.
Meanwhile, the weakest buzz is around Bitcoin Cash.
"It means a lower level of interest for this coin, even if news and social sentiment are positive, not surprising with all the uncertainty following the fight between Bitcoin ABC and Bitcoin SV," he added.
_____
Methodology:
Predicoin measures the market sentiment by calculating the SentScore, which aggregates the sentiment from news, social media, technical analysis, viral trends, and coin fundamentals based upon their proprietary algorithms.
As their website explains, "Predicoin aggregates trending news articles and viral social media posts into an all-in-one data platform, where you can also analyze content sentiment," later adding, "Predicoin combines the 2 sentiment indicators from news and social media with 3 additional verticals for technical analysis, coin fundamentals and buzz, resulting in the SentScore which reports a general outlook for each coin." For now, they are rating the top 30 cryptocurrencies by market capitalization.
---