Kakao Blockchain Platform Unveils 'USD 65bn' Governance Council List
South Korean companies – and the country's government – are continuing to put their faith in the growth of blockchain technology.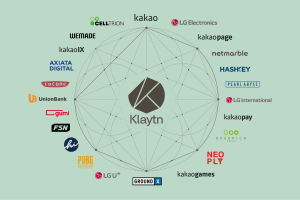 The mainnet of Kakao Group's blockchain platform Klaytn went live on June 27, in conjunction with 34 partner companies.
Per New Daily, Ground X, the Kakao subsidiary charged with conducting Kakao's blockchain operations, claims that 20 companies with a "total market capitalization of around USD 65 billion" will make up Klayton's governing council.
Among Klaytn's first offerings are an RPG game title called Klaytn Knights – created by domestic game developer Biscuit, as well as a game called Axie Infinity, developed by a Vietnamese company.
The council's membership had been largely under wraps until the mainnet launch, but a list has now been made available. The members include some South Korean IT giants, such as LG Electronics and LG Corporation, as well as gaming companies Netmarble an WeMade . Other major Asian companies are also on the list, including UnionBank of the Philippines and Malaysian telecommunications conglomerate the Axiasta Group. Kakao Group's own Kakao Pay subsidiary is also listed among the council's members.
Moreover, Klaytn warned that they have recently noticed that there is an ongoing crowdsale for fake KLAY(Klaytn Token) via fraudulent channels. "We are not making ANY sort of token sales for the public," the plaform said.
Elsewhere in the country, blockchain startups welcomed the news that the regulatory Financial Supervisory Commission (FSC) will make changes to investment rules, allowing for larger investments in fintech startups.
Per Fn News, the FSC had previously insisted that investors could only put 15% of their total investment stakes into fintech companies. However, the new guidelines will remove all limits on fintech and AI-related investment – although cryptocurrency-related investment is still largely off-limits for major venture capital companies.
And South Korean banks are showing no sign of letting up with their drive to commercialize blockchain technology.
_____________________________
_____________________________
Paxnet reports that Shinhan Bank yesterday announced its intention to use blockchain technology to qualify and verify loans. The bank also wants to create a blockchain-powered authentication service, as well as a "digital asset service" and an OTC (over the counter) derivative trading platform.
Rival KEB Hana Bank, meanwhile, stated that it intends to use blockchain technology to power an overseas settlement service that it has already piloted in conjunction with a Taiwanese partner this year. KEB Hana has since launched a second pilot in conjunction with a Thai bank, and also wants to use blockchain technology to power a platform that would allow customers to redeem their loyalty points, miles and coupons while abroad.
---