Justin Sun Talks BTT and Tron Version Upgrade
Justin Sun, founder and CEO of smart contract platform Tron, did an ask-me-anything (AMA) session on the Binance English Telegram group, where he answered questions about the BitTorrent Token (BTT) and its further development, hinted at a new social media app for BTT, and talked about the imminent TRON mainnet upgrade.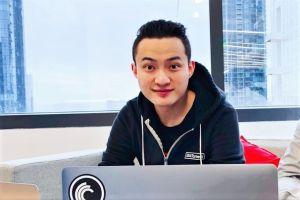 The BitTorrent Token will be partly used to push mainstream adoption, Sun said. "We expect over 100 million active users will get to know about cryptocurrency and the first one they will experience will be BTT. For reference, Bitcoin has only 10 million," he said without specifying what this number is based on.
"The 100 million users [of BitTorrent] are the targeted users, and they share a lot of similarities with crypto users. Firstly, they are interested in decentralized technologies and are using peer-to-peer technology. Secondly, the majority of BitTorrent users are males between 25 and 35 years old, which is also a group very interested in cryptocurrency. Therefore, when the 100 million users receive BTT airdrops, they will start to wonder what BTT is, and what cryptocurrency is, and start to investigate."
Meanwhile, as reported in the beginning of February, BitTorrent and uTorrent users were hiding their interest in the new token successfully, as their forums lacked any discussions pertaining to them.
Sun also commented on BitTorrent's airdrop, which began this February: "This is a program to give our users early access to our product and to encourage them to stick with us for the long term. We are not only airdropping to TRX holders but also giving the BTT token to BitTorrent users through the clients."
Aside from the goal of using BTT to incentivize bandwidth sharing, the team is also looking into decentralized storage and a decentralized content distribution network. "Right now we're working to assemble a team to research this option and will share the preliminary plan and announcement with our community soon," Sun said without further elaborating.
As for future plans and use cases for BTT, Sun said, "We are currently working on a new live/social media app and looking for ways to integrate BTT on it! By doing that we aim to empower a new generation of content creators to distribute their content without middleman and offer a very authentic channel for the fans to connect with their idols and the content creators with their audience," later adding, "We will be giving more details very soon."
Meanwhile, Tron's upgrade is set to happen today, February 28th, (the same say as the Ethereum's upgrade) as the smart contract platform prepares to increase its appeal to institutional users. According to Sun, the hard fork will deliver institution-handling capabilities, as well as other features such as multi-signature abilities and account management options.
"Multi-signature is essential to institutional investors and investors with high net worth, because institutional investors usually use institutionalized approaches to keep cryptocurrency assets, which are managed by multiple parties and with multi-layer procedures. Therefore, multi-signature allows multi-layer management of cryptocurrencies. It's fair to say that without multi-signature, there will not be institutional investors. We also announced a partnership with BitGo, the largest cryptocurrency custodian company. This paves the way to institutional investors," Sun explained.
Moreover, as reported earlier in February, Tron appears to have its sights firmly set on the South Korean gaming market – and has inked a three-way deal with one of the biggest crypto and blockchain industry organizations in the country, as well as a large group of gaming companies.
The TRX coin is down 0.29% in the past 24 hours, trading at around USD 0.024 as of the time of writing: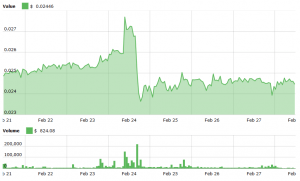 ___
Meanwhile, BTT is down by almost 6%: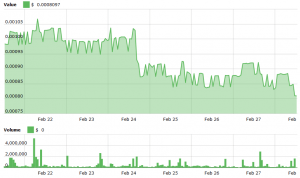 ---